Latest News
Press releases, our latest news, and visits to other clubs by our President and club members
Tuesday 19th Jun 2018
Press Release in Southport Visiter about Amy's Swag.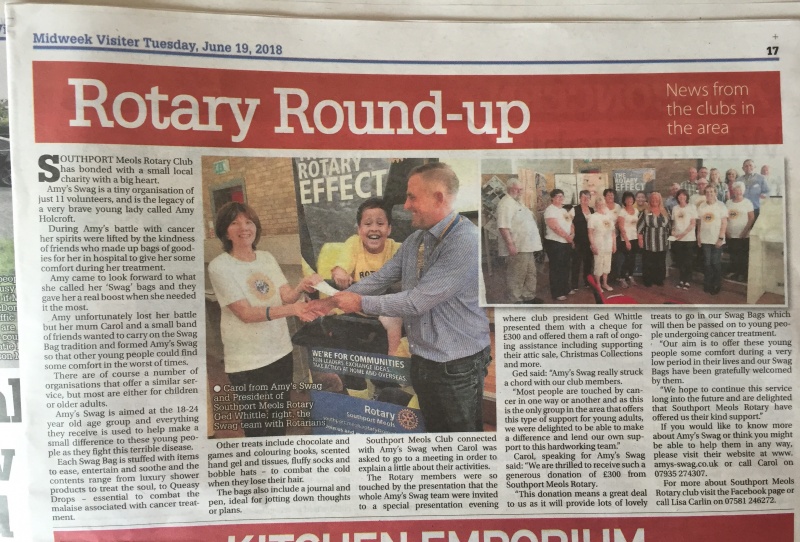 Tuesday 24th October

A warm welcome to John French who was inducted as a new member of Southport Meols Rotary tonight.
We had a Soup Supper raising vital funds for Eradicating Polio, £101.10 was raised with only 11 of us present.
We got lots of work done planning our up coming events, we are really excited about our busy calendar for the next few months and with so many groups and people needing our help there is a lot to do, if you are interested in helping us make a difference to our community, then why not pop along to one of our meetings and see what we do, or you can direct message us right here on this page.
18th October 2017
It is with absolute delight we can announce that one of our Southport Meals Rotarians will be District Governor in 2020 in District 1180.
Congratulations David Hartley PHF
We are so pleased for you and we are all there to help and support you as our clubs first ever District Governor in our 34 years.....
It was also a sucessful evening for our Public Image Chair Lisa Carlin-Whittle winning The Best Social Media District Trophy for our Club, do you know you can follow us on Facebook? Southport Meols Rotary

President Sue July 2016 - June 2017

Awaiting Information
President Ged July 2015 - June 2016

July 2015 A Handful of SONG
August 2015 T& T tours trip to Blackpool.
August Shelter Box, Victoria Park.
August - Brave the shave, Terry & David shave their hair off for Macmillan.
September- Rotary Costal Walk
September 2015 - 1180 Rotary Disabled Fun games in Chester.
Attending District Conference
November - Rememberance Sunday, laying a wreath on behalf of Southport Meols Rotary.
November 17th Charter Evening.
8th December- Club Christmas Dinner.
15th December- Carol Concert.
Continuing- Lord Street in Bloom - providing insurance for Lord Street in Bloom
Christmas 2015 - weekend collections for Rotary charities in association with Tesco Kew.
15th February- Mick Duce Trophy
Attending National Conference
15th March - Young Speaker Competition.
April 2016 - Discover Rotary , welcoming anyone interested in joining Rotary to come along and see what we do.
May 2016 - Bookstall, teas & helping with hosting competitions.
May 19th - Assisting Queenscourt with Star Trekk car parking, marshalling, and we have 2 Rotarians from our club walking.
19th June 2016 Rotary Costal Walk
July 16th 2016, working in association with SONG to promote and present their summer show "The Many Sides Of Song"