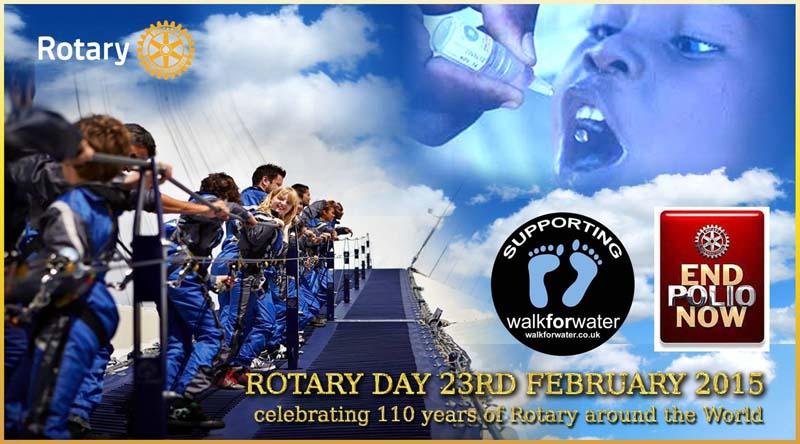 Celebrating 110 Years of Rotary International and raising funds and awareness for End Polio Now and Walk for Water
Something exciting and extraordinary!
Walk the Millennium Dome (O2)
Celebrating Rotary's 110th Birthday on Monday 23 February 2015
A unique & exhilarating experience over this iconic structure
Several members from the Thames Valley District were among Rotarians from all over the country who participated in this RIBI event in conjunction with Walk for Water and the O2, organised by Rotarian Adrian Brewer, Vice President Elect Eve Conway and Past District Governor Mukesh Malhotra
The operators of the Roof Walkway over the Millennium Dome (Up at The O2) made the facility exclusively available to Rotary International to celebrate Rotary Day and raise funds for END POLIO NOW and WALK for WATER projects in Africa.
The END POLIO NOW flag flew proudly from the Dome summit on each of the walk times throughout the day
A short statement from special guests (including John Hewko, Gary Huang and Archie Panjabi) on a number of related themes was read out at the summit on each walk throughout the day.
Each participant was photographed and received a commemorative certificate. Final amounts raised have yet to be notified, but despite the odd sleet shower and bracing winds, the views from the top were amazing and the camaraderie just brilliant. (Listen to organiser Adrian Brewer's thank you message by ckicking on the pic below)

What a Great Day Out!