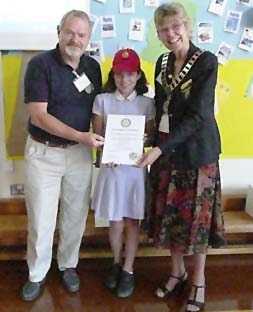 A RotaKids Club was launched on 28 June 2010 at the Hawthorns Junior School in Wokingham. This type of club is part the citizenship programme being run in Primary Schools.
The main objective of RotaKids is to introduce Rotary ideals to young people, as well as addressing citizenship, which is becoming a major theme in schools. The Hawthorns School has established two groups that will form parts of the new Club:
The Playground Friends already help with the school community, ensuring that all pupils feel included and they help by mediating in disputes thereby ensuring that all the pupils have an enjoyable and happy time at school.
The Ecokids is another already-established group of pupils who participate in the Eco-Schools Green Team at Hawthorns. In 2008 they were awarded the Silver Eco-Schools award in making the school more environmentally friendly.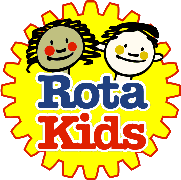 Introducing the RotaKids launch, Head Teacher Stephen Hempson-Jones, who is also a Rotarian, emphasised the importance of the family environment within the school. He also drew a parallel with Rotary which he said was a large worldwide family of over a million people in hundreds of countries. Rotarians aim at being good citizens and making a difference to those who are less fortunate.
The two groups are part of the wider aspect of citizenship development at the school. The Rotary Club of Reading Maiden Erlegh is supporting the Hawthorns RotaKids Club with Rotarians providing help and expertise to the groups when needed.
Terry Kenyon presented a framed RotaKids certificate to the school and caps to each member of the two teams as one of her final engagements as District Governor of the members of 60 Rotary clubs in Oxfordshire, Berkshire, Buckinghamshire and part of Middlesex.