Visit to the Kent, Surrey and Sussex Air Ambulance (KSSAA)
On 14 November 2018 a group from Woolsack Rotary had the opportunity to visit the Air Ambulance base to present a cheque and meet one of the medical teams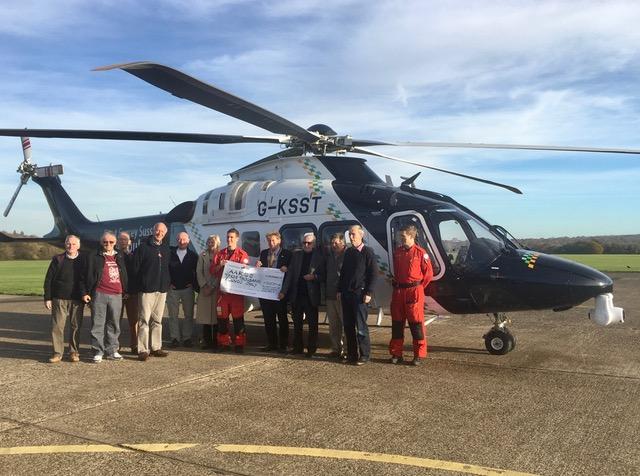 The Air Ambulance has been one of our two main Charities for two years now and last year this club raised £3,000 for KSSAA from our golf and duck race fundraising events.
At their invitation, we took the opportunity to visit KSSAA at Redhill on 14 November to present them with our cheque and to meet one of the medical teams. Fortunately the ambulance was not called away and we had 45 minutes with them at the side of the helicopter (see photo).
KSSAA provides life saving care 24 hours a day, operating 2 helicopter ambulances from Redhill Aerodrome. With a doctor specialising in the treatment of trauma patients and a paramedic plus two pilots, they make around 2000 sorties a year at an average cost £3,700. All the money must be raised from donations as there is no money from the Health Service.
It was a most interesting and enjoyable visit and we are all comforted by the knowledge that we have such excellent professionals to look after us should we ever have the misfortune to need them.