Future meetings and events around the district
Guildford Chantries - Sat 3rd November 2018 at 19.00 - 22.30 Ferret Racing!
A fantastic evening cheering on some furry friends and raising funds for our chosen Charities - SERV and Sight For Surrey!
Godalming - Sun 18th November 2018 at 09.00 - 16.00 Rotary in Godalming Cyclathon 2018
A Charity Cyclathon at SnapFitness raising funds for Phyllis Tuckwell Hospice, Kent Surrey and Sussex Air Ambulance and other Rotary Causes
Godalming Woolsack - Sun 18th November 2018 at 09.30 - 17.00 Godalming Cyclathon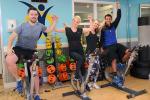 The 2018 Godalming Cyclathon will be run at the Godalming Snap Fitness Gym on Sunday 18th November. This is a fun event to raise money for charity.