Annual Pancake Festival
The Festival is organised to provide entertainment for the people of Hitchin and to raise funds for Garden House Hospice Care and for other Rotary charities.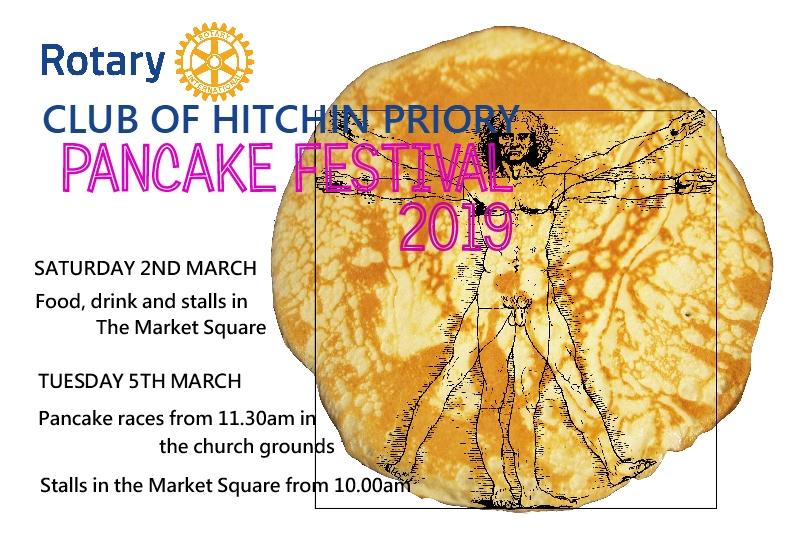 The 2019 Festival was on Saturday 2 and Tuesday 5 March
For the Fayre on the Square on Saturday we took over Hitchin Market Place with stalls selling pancakes, mulled wine and bacon rolls; tombola, recorded music and his usual entertaining commentary from Paul Mailes of After Dark PA; kiddies' corner; skittles; local crafts and much more.
The Pancake Races on Tuesday were run in the grounds of St. Mary's church.

There were three ladies', one gentlemen's, two fancy dress races and the Pinehill Hospital Chase, with a trophy for the winner of each race, prizes for first and second place, certificates for every runner and two prizes for best fancy dress. There was also the ever popular "Wheelchair Charge" by residents from a local care home: they all won this event and received certificates and prizes.
This year's fancy dress races provided a wonderful variety of costumes and disguises - well done all. The weather on the day was ideal and the event was enjoyed by all, especially those taking part.

The purpose of the event is to raise funds for charity, principally Garden House Hospice Care, but also for other Rotary charities. However all money raised from the Pancake Races goes to the hospice.
Click here to see a short video of the 2019 Festival, courtesy of Hitchin TV

******************************************
Garden House Hospice Care is based in Letchworth and serves North Herts and Stevenage. .For more information about the hospice, click here