Some Videos from Burns Night 2018
Thu 25th January 2018 at 18.00 - 22.00
Some Videos from Burns Night 2018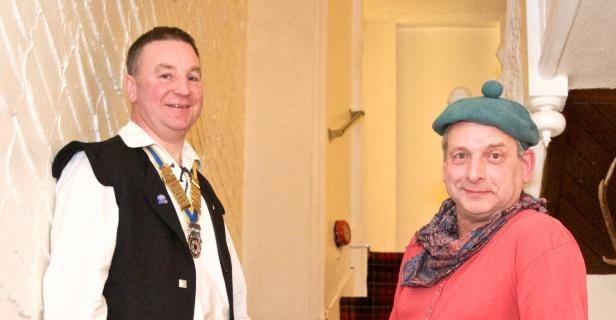 Annual Burns Supper - Thursday 25 January 18.00
BURNS CELEBRATION
The Club's usual Thursday night meeting coincided this week with the birthday of Robert Burns. So for members and their many guests, the meeting took the celebratory format of a Burns Supper. The Bard was duly remembered and celebrated, followed by the traditional Toast to the Lassies and the response to the Laddies. Chairman for the evening was Alasdair Mackie, who presided with his usual wit and flair.
Having welcomed those attending, Piper Ben Adam from Queen Victoria School piped in the haggis, with a dramatic rendering of the Address to a Haggis given by Alex McColl from the Greenloaning Burns Club. Following the traditional meal, David Sibbald from the Rotary Club of Carse of Stirling proposed the toast to the Immortal Memory. David gave a memorable rendering of the Bard's achievements, reflecting on the journey from ploughman to celebrated poet. He emphasized the many aspects dealt with in the Bard's poetry, including his revolutionary promotion of the brotherhood of mankind, and he noted the relevance of many of his themes to the present day. David Chisholm proposed the Toast to the Lassies with some carefully chosen amusing stories. The response, given by Sandra Ballantine, drew laughter with some telling comments about the foibles of men.
The highlight of the evening was undoubtedly the performance of Tam O' Shanter given by Charlie Methven. His energetic rendering brought both admiration and laughter as he gave full vent to the dramatic elements of the poem.
Andrew Hilley, the organiser of the Supper, thanked the performers for a wonderful evening's entertainment. This was fully endorsed by applause from those present. President George Morrison in turn thanked Andrew for his work in organising so successful an evening, and expressed his thanks to members and guests for making the evening so enjoyable. The evening closed with the singing of Auld Lang Syne.