IPP Pauline Gardner (RC of Furness Peninsula) on Barrow's CREDIT UNION
Wed 20th September 2017 at 18.30 - 20.00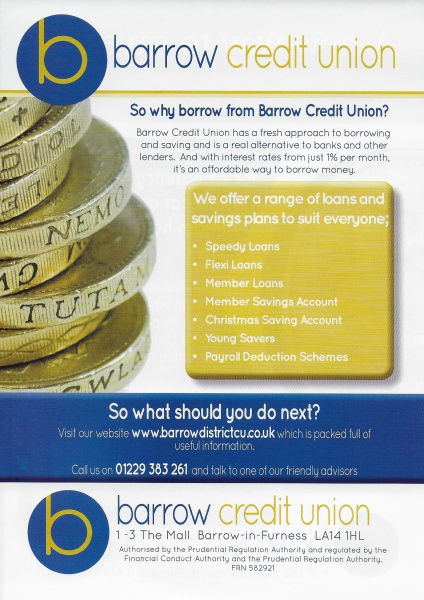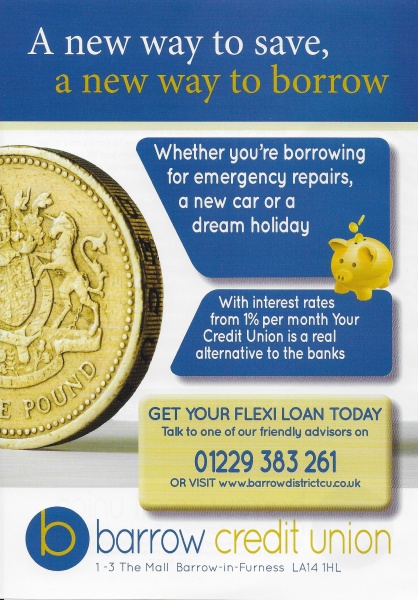 On Wednesday 20th September our speaker was the IPP of Furness Peninsula Club, Rotarian Pauline Gardner who is also a director on the board of our local Credit Union.
She came to speak to us about the Credit Union, what it does, some of the problems they have and to make a plea for members to volunteer their assistance to the Union, or if any had cash to spare which they would like to invest in a good cause, that would also be very welcome.
Pauline told us that the BCU was based in the Mall beneath the former Furness House. They share their premises with another organisation in a mutual cost saving exercise. It was clear from Pauline's talk that the Credit Union, as a not for profit organisation also focusses on ongoing costs, keeping it as lean and cost effective as possible.
She told us that Barrow has a huge debt problem, lots of people living well beyond their means tempted by low daily payments for often exotic appliances and not realising the interest rates which often are close to 100%. Not only that but if they default on even just a single payment swingeing penalty payments come into play. She quoted one example of a client they had who had loaned £700 (this time on line) which with interest payments had grown to £5000 and was still rising !!!
One great service they offered to their clients was loan consolidation, to enable folk to break out of such a nightmare, they ask their clients to be honest and to disclose bank statements and to estimate their outgoings which they can then use to tailor a loan to suit. Their low interest rates offer a safe pathway out of some incredibly chaotic situations.
Regrettably, some of their clients are not honest with them and some do default on even their low interest loans. Defaulters will be gently reminded of their obligations and sometimes that works. Occasionally they will have to visit their clients and sometimes the face to face meeting works, when it does not they then resort to law and seek for an attachment of earnings or benefits and when that does not work they apply to the courts for the sheriffs to visit and retrieve goods to the value of the debt.
There followed a Q & A session which explored the organisation and some of its problems and solutions in greater detail, following which PP Rotarian Peter Gardner as host for the evening was invited to propose the Vote of Thanks.