Future meetings and events
Wed 21st November 2018 at 18.30 - 20.00 District Governor's Visit

Wed 28th November 2018 at 18.30 - 20.00 Business Meeting followed by Dinner
Wed 28th November 2018 at 20.30 - 21.30 Council follows Dinner at Business Meeting
Wed 5th December 2018 at 18.30 - 20.00 Meg Fletcher - founder of the Kinamba Project
The genocide of 1994 had a devastating effect on the lives and futures of a large proportion of the Kinamba community in Rwanda. This project offers hope to war widows, genocide orphans, and marginalised and vulnerable people.
Wed 12th December 2018 at 18.30 - 20.00 What's all the building work going on at BAE Systems?
Come along and find out as BAE Systems Facilities Programme Director Allan Day explains all.
Wed 19th December 2018 at 18.30 - 20.00 Christmas Party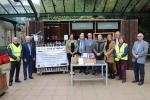 Wed 26th December 2018 at 18.30 - 20.00 NO Meeting
Wed 2nd January 2019 at 18.30 - 20.00 NO Meeting
Wed 9th January 2019 at 18.30 - 20.00 Speaker followed by Dinner
Wed 16th January 2019 at 18.30 - 20.00 Speaker followed by Dinner - Host Mark McGuire
Wed 23rd January 2019 at 18.30 - 20.00 Business Meeting followed by Dinner
Wed 23rd January 2019 at 20.30 - 21.30 Council follows Dinner at Business Meeting
Wed 30th January 2019 at 18.30 - 20.00 OUT MEETING - venue TBA
Wed 6th February 2019 at 18.30 - 20.00 Speaker followed by Dinner - Host Martin McCleavy
Wed 13th February 2019 at 18.30 - 20.00 Speaker followed by Dinner - Host Bill Pennick
Wed 20th February 2019 at 18.30 - 20.00 Speaker followed by Dinner - Host Graham Postlethwaite
Wed 27th February 2019 at 18.30 - 20.00 Business Meeting followed by Dinner
Wed 27th February 2019 at 20.30 - 21.30 Council follows Dinner at Business Meeting
Wed 6th March 2019 at 18.30 - 20.00 Speaker followed by Dinner - Host Brian Pugh
Wed 13th March 2019 at 18.30 - 20.00 Speaker followed by Dinner - Host Frank Randall
Wed 20th March 2019 at 18.30 - 20.00 Speaker followed by Dinner - Host Ken Riley
Wed 27th March 2019 at 18.30 - 20.00 Business Meeting followed by Dinner
Wed 27th March 2019 at 20.30 - 21.30 Council follows Dinner at Business Meeting
Wed 3rd April 2019 at 18.30 - 20.00 AGM

Wed 10th April 2019 at 18.30 - 20.00 Speaker followed by Dinner - Host Tom Robson
Wed 17th April 2019 at 18.30 - 20.00 St George's Day celebration
Wed 24th April 2019 at 18.30 - 20.00 Business Meeting followed by Dinner
Wed 24th April 2019 at 20.30 - 21.30 Council follows Dinner at Business Meeting
Wed 1st May 2019 at 18.30 - 20.00 Speaker followed by Dinner - Host Ron Duxbury
Wed 8th May 2019 at 18.30 - 20.00 Speaker followed by Dinner - Host Peter Rodell
Wed 15th May 2019 at 18.30 - 20.00 Speaker followed by Dinner - Host Dave Salt
Wed 22nd May 2019 at 18.30 - 20.00 Business Meeting followed by Dinner
Wed 22nd May 2019 at 20.30 - 21.30 Council follows Dinner at Business Meeting
Wed 29th May 2019 at 18.30 - 20.00 OUT MEETING - venue TBA
Wed 5th June 2019 at 18.30 - 20.00 Club Assembly

Wed 12th June 2019 at 18.30 - 20.00 Speaker followed by Dinner - Host Lawrence Searle
Wed 19th June 2019 at 18.30 - 20.00 Speaker followed by Dinner - Host Paul Silver
Wed 26th June 2019 at 18.30 - 20.00 Business Meeting followed by Dinner
Wed 26th June 2019 at 20.30 - 21.30 Council follows Dinner at Business Meeting