End Polio teddies travel the world!
Our End Polio teddies clock up the miles!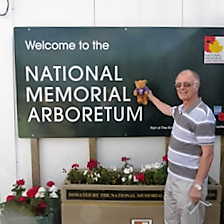 /upimages/clubfiles/1401/Teddy travels 1.pdf
When our District Governor Terry Dean gave the club an End Polio Teddy, it sparked off the idea for Teddy's Travels. Club members were asked to take Teddy with them on trips, record the mileage he covered, take a photo or two and submit these to Club Secretary Ann Reeves.
Next year we will have a competition to guess the number of miles Teddy has travelled. Members flocked in with their requests to take Teddy away so to avoid disappointing too many people, Teddy 2 was purchased.
Read much more about the travels with teddies by clicking on the link above.