Guest meeting
Mon 29th February 2016 at 19.00 - 21.00
Speaker: David Waters, Great Bustard Group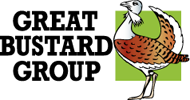 The Great Bustard Group project has become very successful. Based on Salisbury Plain their birds are now sourced from the plains of Spain which David will tell us all about before he goes off for this year's supply.
It will be a most interesting talk; we will discover the history, the ups and downs and where they are now in re introducing these magnificent birds to England.
For further info visit the GBG website
Members can view a gallery of photos from our Great Bustard watch trip to Salisbury Plain last year.