Heartstart
Our club supports this British Heart Foundation initiative by providing emergency life support training locally to local clubs and charities.
Would you know what to do in a life-threatening emergency?
The skills of emergency life support (ELS) are simple and can save lives.
ELS is the set of actions needed to keep someone alive until professional help arrives.
They include performing cardiopulmonary resuscitation (CPR), dealing with choking, serious bleeding and helping someone that may be having a heart attack.
Heartstart UK is an initiative started by the British Heart Foundation and supported by our Club to teach members of the public what to do in a life-threatening emergency: simple skills that can save lives.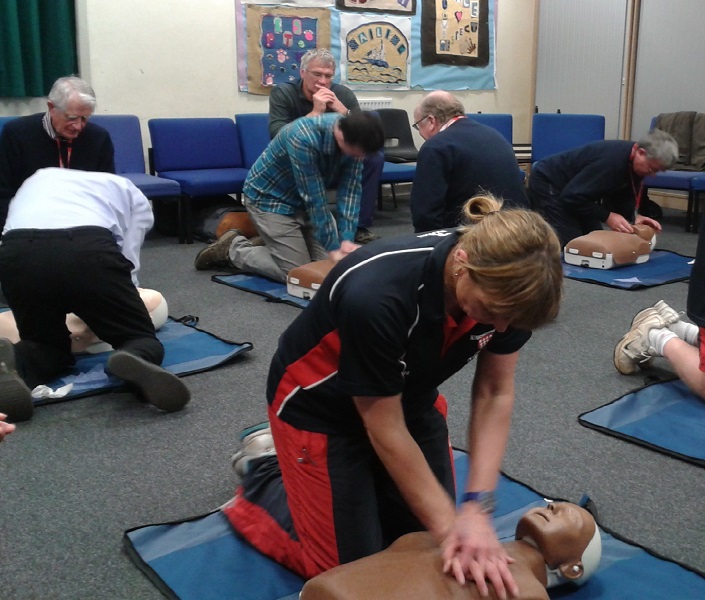 Over 1.4 million people have been trained nationally through the Heartstart UK initiative and this Club alone has trained over 1,000.
Heartstart provides opportunities for people to learn the vital skills of ELS. Through Heartstart UK the BHF aims to strengthen the chain of survival by promoting and supporting ELS training in the community.
The benefit of CPR performed by a bystander in an out-of-hospital cardiac arrest is significant.
The most important factor determining survival after a cardiac arrest is the time from collapse of the casualty to defibrillation - performing CPR buys time and more than doubles the chances of survival.
We are lucky to have as a member of our team the President of the Resuscitation Council UK, Dr Carl Gwinnutt, and can demonstrate the use of public access Automated External Defibrillators (AEDs) in which many local commmunities are investing.

The Rotary Club of Kingsbridge Estuary has been honoured by the grant by Rotary International of a Significant Achievement Award for this project.
John Kenny, the President of Rotary International for 2009-10 said "The Significant Achievement Award recognizes outstanding Rotary Club projects that address the needs of the local community. These exemplary service programmes provide models for future activities and inspiration for other Rotary Clubs." He went on to say that the project represented the very best work in District 1170* and the Rotary world and the efforts of the Rotary Club of Kingsbridge Estuary guaranteed that Rotary's tradition of dedicated service would long continue.
---
If you wish to give feedback on a course you have attended or wish to arrange ELS training, please contact Steve Kerr using the form at the bottom of this page.
---
---