Welcome to the Rotary Club of Llanelli
Featured pages: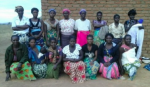 One of our international projectsRead more
Llanelli Rotary quiz teamRead more
Club meeting schedule
The next meeting of Llanelli Rotary Club will be at the Stradey Park Hotel, Llanelli, on Wednesday, May 24, 7.30pm.
Club president Mark Evans extends a warm welcome to all.
The meeting will feature the annual Club Assembly, when committee chairs reveal their plans for the coming year.
------------------------
Our top team
President Mark Evans, centre, flanked by Anthony Jones, secretary, left, and
vice-president John (JC) Williams, right
Our committee chairs -
Alison Evans - Vice Presisident and Communities
Membership - JC Williams
Joanna Isaac - Foundation and End Polio Now
Kevin Jones - Youth and Juniors
Richard Thomas - International
Robert Lloyd - Media and Public Relations
------------------------
Lend With Care International Project (initiated July 2016)
We have embraced "Lend With Care" in 2016 as it offers us the opportunity of helping many people across the World get the opportunity to better themselves with a relatively small contribution from our Club members
It sits nicely along and compliments the much bigger projects that Rotary embrace Internationally which take more time and effort to complete
We are so proud of our first year's achievements and see this as a long term commitment by ourselves to make people's lives better through financially supporting their own ingenuity and drive without which the status quo would be too tough to imagine
Mark Evans
Club President 2016-2017
To date 23/5/2017 we have enabled the following people around the World to better themselves and their families/adopted orphans
You can find out more about this project on this link -
http://www.rotary-ribi.org/clubs/page.php?PgID=252537&ClubID=936
Some graphics which some the scale of the project -
Meeting Details
Interested in joining Rotary
Social Media...
Tweets by @LlanelliRotary
Llanelli Rotary Club
Promote your Page too
Meeting Information...
We meet on Fridays at 13.00 (2nd and 4th Wed of the month 19.30. There may be further variations which will be flagged up on the Home page. The duration of the Wednesday evening meeting is approximately three hours.) Stradey Park Hotel, Furnace, Llanelli SA15 4HA tel: 01554 758171