Fantasic News
Didcot Rotary Club has won the Best Established Charity/Community Group Category mof the Didcot First BACAs (Business and Community Awards). The results were announced at the Gala Event on 19th November at the Cornerstone Arts Centre, Didcot. We were absolutely thrilled to get this award - not just for the Rotary Club of Didcot, but in recognition of the fantastic fundraising activities undertaken by Rotary Clubs worldwide.
President Ilias Melroveon receives award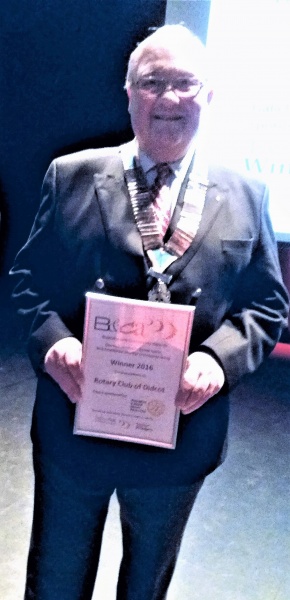 The Truckfest 2016 - feeding the customers

Truckfest for 2017 will be 21st to 23rd July
Welcome to Didcot Rotary Club
This is the website of the Rotary Club of Didcot in South Oxfordshire, England.
The club is part District 1090 of Rotary International in Great Britain and Ireland (RIBI)
We are a voluntary service organisation of men and women, ordinary people doing extraordinary things helping communities to help themselves in this country and overseas.
The club meets meets every Thursday lunch-time at 12:45pm at the Steventon House Hotel near Didcot. Except for every month where there is a 5th Thursday we have an outing or evening event.
All are welcome to attend. Please contact the secretary Liz Tappin Tel.No.01235 817530 or by e-mail.
Club History
Thr charter meeting of the club was held on 15th May 1974 at the Abbey Hall.Abingdon. The Founder President was Timothy Hall and Vice President Charles Bradley (still a member) and there were 27 founder members incuding Gordon Walker also still active in the club.