About us






Macmillan Cancer Unit at Tameside Hospital Benefits


Last Saturday night Hyde Rotary staged their own version of The Last Night of the Proms in the prestigious surroundings of the Oaklands Hall.
Playing once again to a large capacity audience promenaders started to arrive early dressed in flags and Union Jack accessories, those that forgot their outfit were offered flags and hats at the door,Denton brass and guest.soprano Sarah Kinsey played two sets and in the second half traditional proms music filled the room with song and audience parification as we reached the closing music God Save the Queen.The promenaders insisted on a encore
We could have gone on all night.
Our thanks also go out to our guest soprano Sarah Kinsey who supported the band.
The raffle on the night raised £230.00 thanks to everyone who donated prizes and total profits came to £871.00 that will be donated to The Tameside Macmillan Unit. Organizer Kevin Maddox said in my Presidential year the Macmillan unit is my chosen charity and it will give me great pleasure to hand a cheque too Rose Tipton Fund Raising Manager for the unit that will benefit residents in Tameside and Glossop.





The Rotary Club of Hyde Christmas Sleigh and Father Christmas will be setting off on their tour of the various districts in Hyde between December 5th and 17th Father Christmas we will be viiting various locations supermarkets, superstores and the Hyde Artisan Market in the run up to the festive celebrations. Helped by the Rotary Club members and volunteers we will be handing out Christmas cards and sweets, The club will be collecting your change to help support local projects throughout the year, it also gives the children the opportunity to come out and ask Father Christmas for those last minute Christmas presents and if your lucky have a picture taken with Father Christmas.
Hyde Rotary Club President Kevin Maddox said i would like to encourage residents and children to come out on to the streets this festive period and get involved in the Christmas spirit and donate to our collection to help support the many local projects we will be supporting next year.


Hyde Rotary Club Christmas Schedule 2016
Friday 18th November Hyde Light Switch On Civic Square 6.00pm
Friday 25th November B&M Manchester Road Hyde 3.00pm.till 6.00pm
Saturday 3rd December Hyde Artisan Market Civic Square Hyde 11.00am-3.00pm
Monday 5th December Godley Hyde 6.30pm-8.30pm- Oakland's Drive, Beech View, Firethorn Drive, Hazelwood Close, Walnut Close, Acer Close, Almond Way, Mottram Road, St Pauls Road, St Michaels Road, Crossbridge Road, St Giles Drive
Tuesday 6th December Godley Hyde 6.30pm-8.30pm-High Street, Carlton Road, Sheffield Road, Barmhouse Estate
Wednesday 7th December Gee Cross Hyde 6.30pm-8.30pm-James North Estate, Grovenor Road, Foxholes Road, Freshfield Ave, Gower Road
Thursday 8th December Newton Hyde 6.00pm-8.00pm- Talbot Road, Bradley Green Road, Harbour Farm Road, Hickenfield Road, St Marys Road, Duke Road
Saturday 10th and Sunday 11th December B&M Manchester Road Hyde 11.00am-3.00pm
Monday 12th December Newton Hyde 6.30pm-8.30-Barnfield Road, Hillary Road, Everest Road, Harris Drive, Welch Road, Danby Road, Victoria Street
Wednesday 14th December Hattersley Hyde 6.30pm-8.30pm Hattersley Road East, Camborne Road, Warble Brook Ave, Field Farm Road
Thursday 15th December Gee Cross Hyde 6.30pm-8.30pm King Edward Road, Gloucester Road, Knott Lane, Waverley Road, Sandringham Road, Windsor Road
Friday 16th December Newton Hyde 6.30pm-8.30pm Ferndale, Chestnut Grove, Talbot Road, Victoria Street, Glyden Close, Townley Fold, Pentland Way, Early Bank Road, Lasells Fold
Saturday 17th December Tesco Hattersley 11.00am-3.00pm


The schedule is subject to road and weather conditions each day and of course the number of helpers we get.Y








Hyde rotarians are dedicated to supporting food banks!
Rotarians loaded the van with 30 crates of food and toiletries, destined for the homeless and disadvantaged of Manchester and Stockport.
Kevin Maddox (President) said "all donations were gratefully received and we would like to thank everyone that donated"

Hyde Rotary Club New President
The Rotary club of Hyde have a new President retired local business man Kevin Maddox PHFaccepted his chain of office from Barry Carey PHF
At a celebration dinner held at The OaklandHyde on Thursday 30th June
The Club is in its 79th year and 50 guests including Kevin's close family and friends and members from the Rotary clubs of Tameside and Glossop attended the dinner.
Kevin who has been a Rotarian for14 years commented the club would continue to support local and International community projects, Polio eradication, Rotary International and he nominated McMillan as his chosen charity for the year
If you are interested in joining the Rotary Club please contact Colin Pike Tele 0161 368 3502 or visit our website
www.hyderotaryclub.org or Face book Page Hyde Rotary Club
Picture : Left to Right President Kevin Maddox PHF Rotarian Barry Carey PHF

We are pleased to announce that this years Gee Cross Fete will be he

ld on Sunday 12th June 2016!

For up to date information follow our Face book page Hyde Rotary Club


Community Awards 2015

The Rotary Club of Hyde presented their Community Awards on Thursday 5th March at The Oakland's Hall in Hyde. The Awards are presented each year to members of our community who have given their time to make a difference within the local community. This year the club members nominated Louise Croombs from Tameside Radio, who has given up her time to help many community groups and projects within the borough over the last twelve months. Christine Frost from the Tuesday Club in Hyde that meets at Central Methodist Church every Tuesday Night, the group offers support and a social evening for people from Tameside and beyond who suffer with learning difficulties. The final award and a cheque for �250.00 was presented to Blood Bikes Manchester the local organization founded in 2012 offer a free courier service to the NHS delivering blood across the Greater Manchester area.
Following the presentations President Aidan Gaunt said this is my favourite evening of the Rotary year, its always nice to reward others who work so hard within our community and are sometimes not recognised.
Pictured :Tony Plant, Kevin Barratt, Louise Croombs, Aidan Gaunt, Christine Frost, Chris Dickson

Calling All Stall Holders

Once again the Hospice and our colleagues at Hyde Rotary are joining forces to organise the annual Gee Cross Fete and we are looking for stall holders who would like to attend the event which will be held
on Sunday 14
th
June 2015
.
John Fellowes, Head of Fundraising for the Hospice said �This wonderful family orientated event, now in it�s 22
nd
year, is a fantastic opportunity for local stall holders to market their product to potentially thousands of customers. Although we attract many stalls on the day, we are still able to accommodate many more stalls� .
John continued �The Gee Cross Fete attracts crowds from all over Tameside and Glossop who come to soak up the atmosphere, wander around the selection of stalls, watch an array of fantastic entertainment and dance acts and this year they might wish to get involved practicing some circus skills.
If you are interested in having a stall on the day please email our stall coordinator, Aidan Gaunt at
enquiries@aidangauntfunerals.co.uk
or ring the Hospice Appeals office on
0161 330 7788
Thankyou to our Xmas helpers!

With Christmas now a fond wet memory and the sleigh put back into cotton wool, it was time to get our Christmas helpers together to treat them to a night out in the warmth of our local hostelry.
President Aidan welcomed our guest then it was time to tuck into some real Lancashire hotpot.
Following the food Kevin gave a presentation of all our photographs taken on route at Christmas.
Then it was time to make a few presentations to our members, the clubs first mother Christmas award went to Vice President Lynn Bird who stood in on the first night when the big man was otherwise engaged,our second award went to Alan Oldham the golden bucket award, this is a prestigious award only presented when someone goes beyond the call of duty and attends each sleigh engagement Alan's thank you speech was short and sweet, never again Back to the business of the night we raised just under 3,000 at Christmas and it was time to put the money to good use President Aidan presented cheques to the guides from gee cross and our local Church St Mary's in Newton the funds will be used to aid projects within our local community .
Santa�s Flying Visits
Santa and his sleigh have been very busy over the last two weeks,
assisted by his elves and the Rotary Club of Hyde Father Christmas has toured the streets of Hyde, meeting the children on route giving out Christmas cards and sweets, visited the Asda and Tesco stores
When Santa has not been out on his sleigh he has found time to visit Oakdale School in Dukinfield, Hope Christmas party, The Union Street senior citizens party in Hyde, The Rotary Club also hosted aChristmas Concert held at St Mary�s Church Newton
President Aidan Gaunt and the Rotary club of Hyde would like to thank. Louise Croombs from Tameside Radio, Sapphire Blue choir
St Mary�s Church, Asda, Tesco, Morrison�s, Wilkinson�s, the guides from Gee Cross, The Hyde police cadets, Hattersley Air Cadets, Themums from the North Estate and others too numerous to mention who have helped in making this our best Christmas ever
Thank you also to the people of Hyde who generously donated monies at our various collections. The funds collected will be used in the forthcoming year to support the many local and international charities that the Rotary Club supports
If you would like to join The Rotary Club of Hyde please contact
kevinmaddox55@hotmail.com
Christmas Concert
Featuring the Sapphire Blue Choir
Supported by St Marys Junior Choir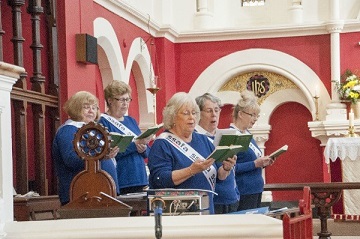 The Rotary club of Hyde
Will be hosting a Christmas Concert at St Mary�s
Church Newton on Sunday 14th December at 1.30pm.
Disabled access, toilets and hearing induction loop are available at the church.
SANTA WILL BE VISITING HYDE!!!!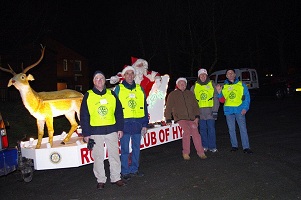 Santa and his sleigh will be touring the streets of Hyde in December, assisted by his elves, snowmen and members from the Rotary Club of Hyde
Santa looks forward to meeting all the children on his route, so look out for him when he visits the following locations between 6.30pm-8.30pm
Could we apologise in advance this year we have had to leave out two of our routes due to a manpower shortage. If you would like to help Santa contact Kevin 07739 368695
The sleigh times and dates could change dependant on the weather and
any other circumstances that are beyond our control.
Friday 21st November-Hyde Christmas Light Switch On Hyde Civic Square the fun starts at 5.00pm
Monday 8th December � Vimura Newton -Ferndale Links, Queens Drive
Tuesday 9th December James North Meet 6.15 Meet Hyde Leisure Pool Walker Lane SK14 5PL
(Walker Lane,Grange Road, Mansfield Road, James Drive Estate, Higher Henry Street)
Wednesday 10th December �Godley Hyde, High Street, Carlton Road, Sheffield Road, Barmhouse Estate
Thursday 11th December � Newton Hyde, Talbot Road, Bradley Green Road, Harbour Farm Road, Hickenfield Road, St Mary�s Road
Friday 12th December �Gee Cross Hyde, King George Road, Grovenor Road, Foxholes Road, Freshfield Avenue, Fawley Avenue
Saturday 13th December -Asda Hyde 10.00am until 4.00pm
Monday 15th December �Newton Hyde, Barnfield Road, Hillary Road, Everest Road, Harris Drive, Welsh Road, Danby Road
Wednesday 17th December-Gee Cross Hyde, King Edward Road, Gloucester Road, Knott Lane, Waverley Road, Sandringham Road, Windsor Road
Thursday 18th December �Hattersley Hyde, Hattersley Road East, Camborne Road, Wardle Brook Ave, Hattersley Road East, Windsor Road
Saturday 20th December � Tesco Hattersley 10.00am until 3.00pm
Reuben's Retreat
On Thursday 7th August Hyde Rotary Club welcomed Nicola Graham
from Reuben�s Retreat to the club.
The visit coincided with the charity reaching its first milestone raising
one million pound on the 1st August.
Nicola said our goal is to provide a retreat in the North West of England
Countryside that will relieve the distress of families and their close friends
who have suffered the bereavement of a child or have a child suffering
from a life limiting or life threatening illness.
Following a presentation about the project Nicola was presented with a cheque
for � 250.00 by club president Aidan Gaunt.
Aiden commented the Rotary club helps lots of local charities over the Rotary year
and tonight it gave me great pleasure to present Nicola with a cheque that will help
Parents and families in the future when this project is completed.
Installation of the new President 2014-2015
Congratulations to our new President Aidan Gaunt. The Rotary club of Hyde celebrated Aidan's installation on 4th July 2014. Pictured here is Past President Bill Goldthorpe, Incoming President Aidan Gaunt and Incoming Vice President Lynn Bird.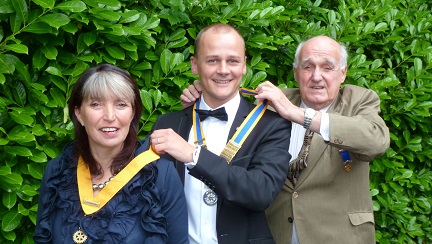 GEE CROSS FETE
21st FETE A HUGE SUCCESS
THE annual Gee Cross Fete, organised jointly by the Rotary Club of Hyde and Willow Wood Hospice, celebrated its 21st year with another great success despite the unseasonal weather this year. Over the years this event has been �re-invented� a few times but has kept its local family appeal, providing local charities and organisation an opportunity to meet the people of Hyde and it is estimated will have raised over �150,000.
The main attraction this year was the performances by Circus Sensible with their circus workshops being especially enjoyed. The fete included a large variety of stalls, games, a large raffle and entertainment throughout the day. The pony rides were a particular hit with younger children.
The fete opened with the traditional church service which was followed by displays from Dowson, Holy Trinity, Leigh St and Godley Schools. Performances by the Freedom Dancers and MCA were also enjoyed by the visitors. For the first time budding Mary Berry�s had the chance to enter the �Great GX Bake Off� with the first prize being scooped up by Lynda Byrne. The event was honoured by a visit from The Mayor and Mayoress.
Andy Williams from Hyde Rotary said on behalf of his club and the Hospice �Events like Gee Cross Fete take months of planning and the success of the event would not have been possible if it wasn�t for the continued support of the local community. Thankfully this year all the hard work culminated in a successful and enjoyable day for the 3000 people who attended and raised over �5000 which will benefit both Rotary charities and Willow Wood.
The money raised last year was used by Hyde Rotary Club to support the following organisations Age UK, Marie Curie, Oakdale School Christmas presents, Shelter Emergency Boxes, Union Street pensioner�s party, Wish Upon a Star, End World Polio, plus many other worthy causes.
Finally the fete organising committee would like to thank everyone, to many to mention individually, who made the day possible. Everyone who volunteered their help both in the run up to the event to helping on the day, local firms and individuals who either donated a wide range of raffle prizes or advertised in the fete programme and of course to all of the spectators who attended played a huge part in making this community event again a success. However the organisers would like to thank the Werneth Conservatives and Millson Architects for their event sponsorship and to Tameside Radio for helping to publicise the event.
Rotary Help the Fund
The Rotary Club of Hyde, have stepped in with a donation that will help
towards the cost of replacing the disabled bikes recently destroyed in
an arson attack at the Lower Bennet Street Community Centre in Hyde.
Community Centre Chairman Councillor Peter Robinson and Dave
Crawford Centre Manager were presented with a cheque for �500.00
at a recent Rotary meeting. Following the presentation Councillor Robinson
said The Rotary Club work hard throughout the year with their fundraising
events and on behalf of the disabled cycling club I would like to thank them
for such a generous contribution towards our fund.
Donations can still be made by contacting Dave Crawford 0161 368 0076
Our Picture shows
Dr Bill Goldthorp Hyde Rotary President, Councillor Peter Robinson and Dave Crawford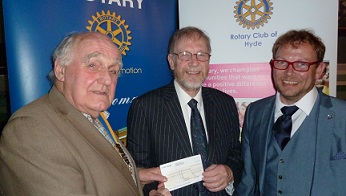 Visiting Rotarian
The Rotary club welcomed a visitor to the club on Thursday 20th March 2014
Harvey Purcer who is a local Hyde resident is also a member of the Rotary Club
of Calvia Mallorca. Our pictures shows Harvey and David Bentley exchanging
Club Banners at the meeting, when members celebrated the community awards night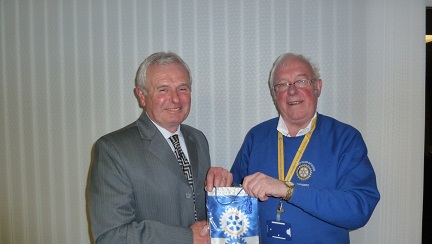 Important Notice
No Meeting at Normal Werneth Low Golf Club for following weeks
10th April Meeting at "Hyde Club" - off Albert Rd
Contact Alan Oldham 0161 3678706 for more details
STROKE AWARENESS DAY!
5th April 2014
Tesco-Hattersley
Rotary puts the pressure on with the Stroke Association
The Rotary club of Hyde will be hosting a Know Your Blood Pressure event on Saturday 5th April 2014 at the Tesco store in Hattersley to help raise awareness of the link between high blood pressure and stroke across the UK.
Hyde Rotary club is joining scores of clubs across the UK taking to the streets of Hyde as part of the Know Your Blood Pressure campaign in partnership with The Stroke Association and the Ambulance Service.
The event will be taking place from 10.00 am to 4.00pm offering the public a free blood pressure monitoring service with information and advice on stroke related health issues.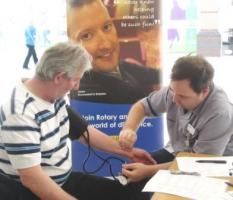 GX FETE - Sunday 15th June 2014
AT Sam Redfern Green, Gee Cross
Traditional Village Fete with all the fun of a fair!
For further detail please use "Contact Us"

Charity Golf Day in aid Willow Wood Hospice raised over �750.
Thank you to all players and supporters
*****************************
Congratulations to our new President Bill Goldthorp (L)
by out going President David Bentley

Rotary Club of Hyde 75 years of Service
***************************
On Behalf of Hyde Rotary and Willow Wood Hospice
***********************************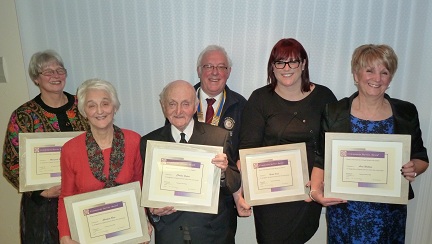 Hyde Rotary Club Community Awards
The Rotary Club of Hyde held their annual community awards evening at Werneth Low Golf Cub Hyde last Thursday night.
The awards are presented to members of the community who have given their time to make a difference within their local communities.
This year the club members nominated Christine Barr and Margaret Lomas both ladies are former district nurses they have devoted their time to the voluntary pastoral care team in Hyde, meeting the needs of the sick, visiting and supporting the lonely and transporting members of the community to church, doctors surgery�s and hospital appointments when required
Charlie Fenton received the award for his services to local cricket at 92 Charlie has now retired from his umpiring duties in the Derbyshire and Cheshire league after 61 years service.
Start Point is a coffee shop in Woodley precinct founded by Anne Wallace and her daughter Nicola Dean profits from the shop are put back into the community by offering free over 60s IT classes, cooking clubs and jewellery making sessions
Rotary president David Bentley said after presenting the awards it�s always a pleasure each year to meet people from our local community who devote their time to help others.
---------------------------------------------------------------------


Happening soon...
Meetings and events happening soon
Thursday 14th September 19.15 - 21.50 Thursday 21st September
Brian's night visit to Mouselow Brewery Glossop
---
Visit to a micro brewery hot pot supper and beer tasting
Thursday 21st September 19.15
Manns guest speaker
---
Infinity and Greystones Homeless Charity Present the Manns Group
Thursday 28th September 19.15
Barry Carey's Italian Night
---
Enjoy an Italian evening at the Oaklands Hall
Friday 29th September 19.30
Rotary Search For a Star
---
To be held at the Oaklands Hall tickets £5.00
Thursday 5th October 19.00
Werneth Low War Memorial Trust
---
Guest speaker Frank Gradwell
Thursday 12th October 19.00
Karen Dorney's night
---
Karen Dorney's night
Thursday 19th October 19.00
Business Meeting
---
Meeting of the club council
future events completed calendar district events local events
---
---
---
Rotary News
Be part of a global network of volunteers, trying to make the world a better place. Please also see the 'links & news' page for information from the local district and live feeds from Rotary International and Rotary International in GB&I.
Rotary Young Citizen Awards
---
Watch coverage of the 2017 'Rotary Young Citizen Awards', highlighting outstanding young people.
Details on RotaryGBI.org
How Rotary is Funding Polio Immunization in 2017
---
Find out more about Rotary fighting disease
Details on Rotary.org
---
Meetings & Venue
Where and when: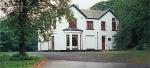 We meet on Thursdays at 19.00-19.15
Oaklands Hall, Godley SK14 3DE
0161 367 7770