Featured pages
Welcome!. Menu top left - includes programme of future acivities. Orange 'button' menu on right scrolls through this page - viz- Featured pages / About us / Happening soon / Social media / etc
---
About us
View Cavalcade - Club Bulletin of our many and varied happenings ---> Cavalcades - PDFs
To get 'Cavalcade compact' a quick digest of just the main Cavalcade items via email - click to Join in with Cavalcade Compact
Recent Happenings - in brief


Help with stewarding "Countdown for Christmas" on the foreshore on Sunday evening 18th Nov. Good crowds - good show by Yorkshire Coast Radio near the lifeboat station – Emmerdale star visit – convivial atmosphere and spectacular fireworks at 5.0 o'clock. Well done everyone! (It was not too cold either!).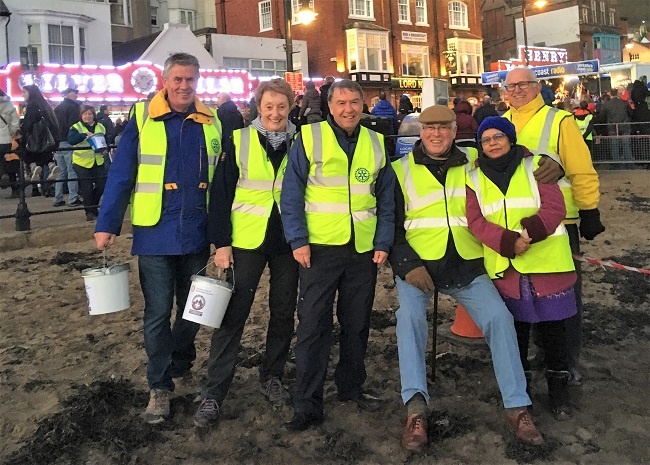 **** **** **** **** **** ****
Collection at Morrisons on Friday 16th Nov raised enough to vaccinate several hundred children against polio. Still endemic in just two countries – eliminate there - and the disease is gone for ever. Fantastic project!!
John Walker & Jim Martin Report on Clean Water Projects for Ghana
This is an extended report to highlight the important work achieved by
Rotary Cavaliars to help others less fortunate than ourselves
Ploughing Services for Women's Farming Groups
In the semi-arid far north of Ghana the dry season is eight months long, meaning that the growing time for crops is only four months. Tractors owed by city dwellers are used first on the local farms of absentee owners and only then become available for hire. The men of the communities are given priority to hire and consequently, when the women's turn eventually comes, it is too late in the season to sow. To grow anything, women have to cultivate by hand from the start of the rains; inevitably they cover only small areas and reap small harvests.
Scarborough Cavaliers has helped to supply a low-tech (hence repairable) tractor and driver, now available to the women's farming groups in the region from the beginning of the farming season. Families have more to eat and surpluses are sold to provide income for education and health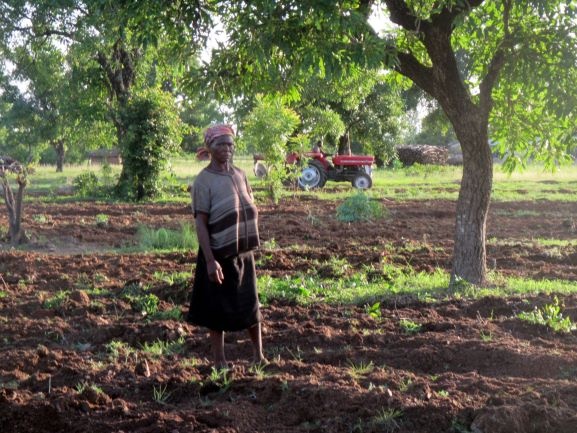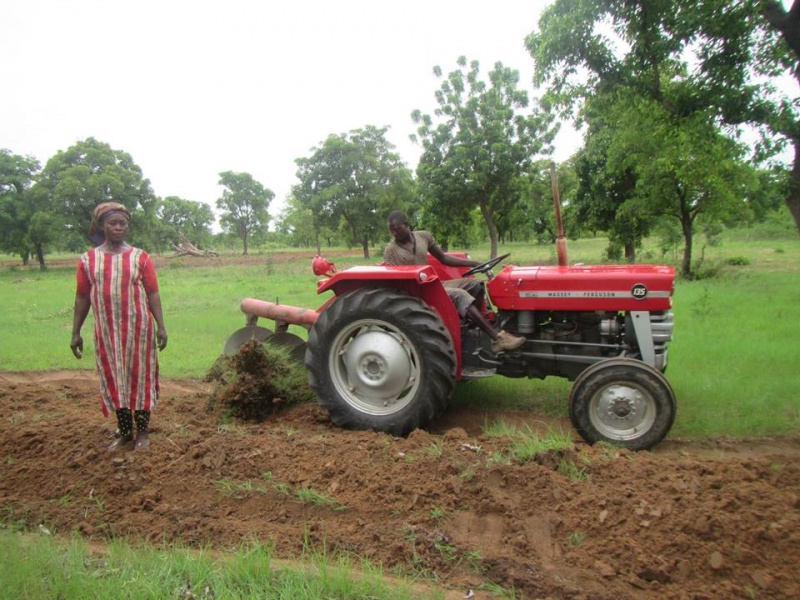 The Kumassi Ventilated Dry Pit
The KVIP is a latrine block suitable for schools in areas where water is in short supply. If constructed and used properly they are odourless and attract, then trap, flies. Waste is digested into the earth over time. Any rainwater is collected into a polytank for hand washing. Scarborough Cavaliers and Scarborough Rotary Clubs raised £5,000 to pay for a KVIP in 2011 at the recently constructed Gbantana School by our partners Ghana Outlook.
Two members of Cavaliers took part in commissioning the toilet block and were greatly honoured by being enstooled as honorary chiefs of Ada.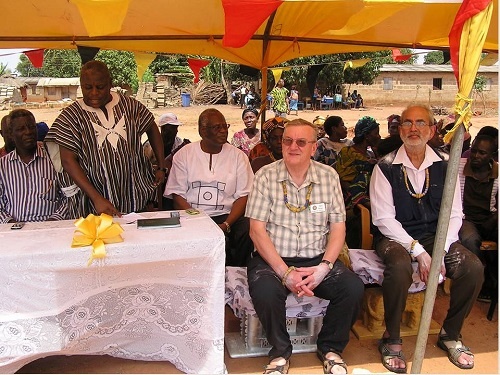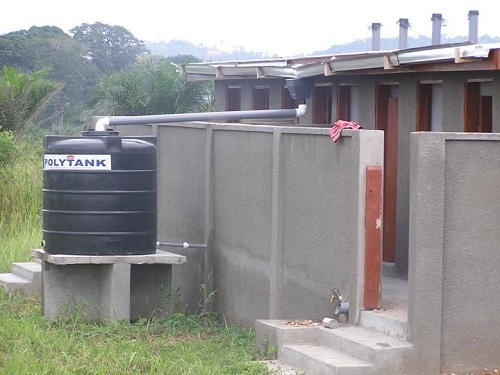 Sand Dams
In many areas of the World, annual drought is so severe that rivers run dry. If there is a depth of sand in a river bed and if it is underlain by rock or clay, a sand dam could provide an all- year- round abundant supply of water even in these situations. The Scarborough Cavaliers Rotary Club funded and supervised construction of a sand dam in the far north of Ghana.
To build the Kpaloworgu dam, the community dug a deep trench across the river bed until the bedrock was reached, then built a concrete wall on the rock and up to the surface of the river bed; then back-filled with the excavated sand. Next rainy season the river saturated the sandy river bed both upstream and downstream of the dam wall but, when the rain stopped, the river bed upstream of the wall retained its water in the sand (up to 50% is water). The water can be extracted by scooping for domestic use and for irrigation of land on each side of the river. The water is filtered by the sand, does not evaporate and is inaccessible to mosquitoes. Sand dams require no maintenance and, as water is extracted, it is replenished by water running through the sand from the catchment area.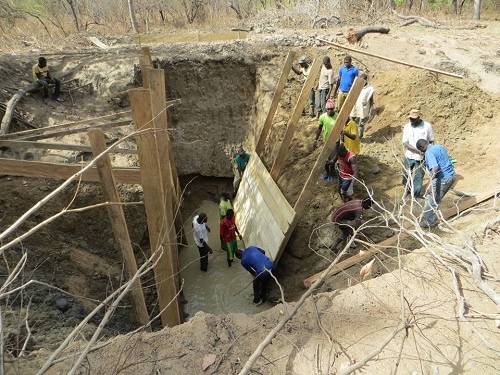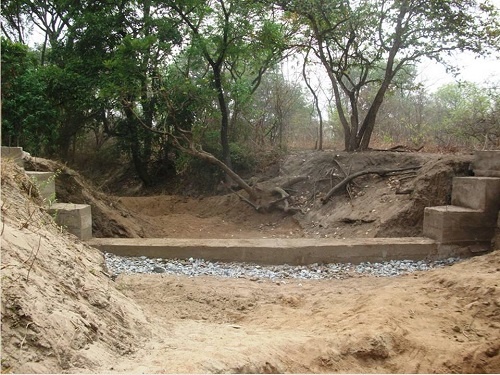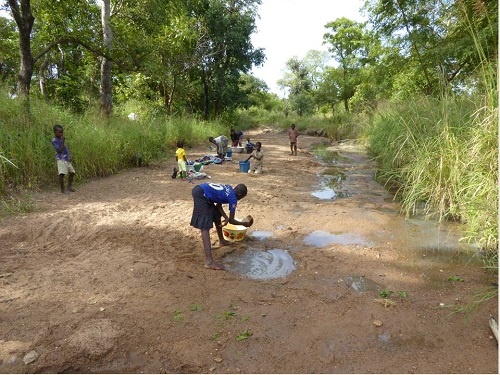 Crops on Arid land
Now in its third year, the effectiveness of the Kpaloworgu sand dam has grown. It not only provides a rechargeable source of water throughout the year, the river flows again quickly following any rain because the sand upstream of the dam is already saturated and cannot adsorb more. The picture shows the river in full flow even at the height of the dry season. Crops of beans and spinach are grown on both sides of the river is what was previous arid land.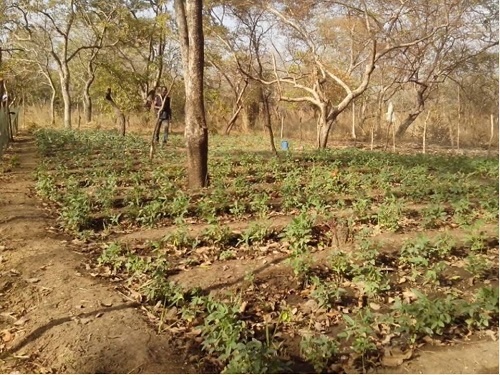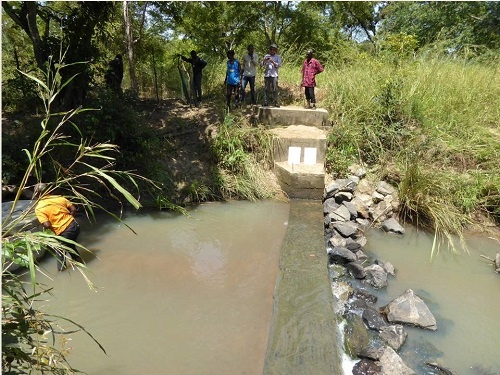 Aquabox Community Filter
The remote community of Kwamoso in Central Region, Ghana, consists of numerous small farming groups dispersed amongst 8 foot high Savannah. Their water supply is from pools and swamps within the Savannah. The plight of these people was seen by Scarborough Cavaliers' local partners and brought to our attention. Two Aquabox Community Filters were supplied early in 2018 and are rotated around the small groups, giving safe water until a permanent borehole can be sunk in the centre of the spread out community. After the borehole is installed, the people will retain the easily portable filters for use when groups walk to work on their farms.
Schoolchildren at the Krowadaso Senior High, Junior High, Primary and Kindergarten schools do not have safe water. The borehole close by has been overused for many years by the 800 students and nearby community; the only source of water is the river. A new borehole will cost over £4000 and it will be some time before funds are available.
An Aquabox Community Filter can deliver up to 300 litres of safe water per hour and, if the filter is back-flushed every day, will last many years. One has been purchased and installed by members of the Rotary Club of Scarborough Cavaliers at the school complex. This means that every child and staff member can have safe water to drink at anytime until a borehole can be sunk.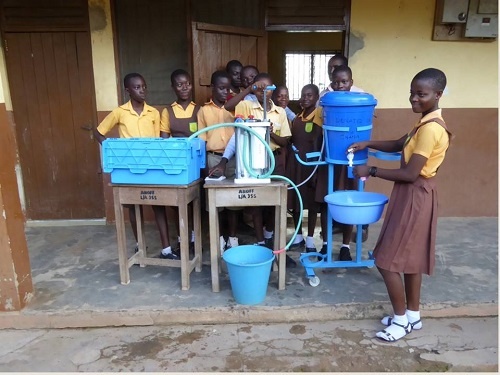 Honey
The women's farming groups in Upper West of Ghana can now farm effectively using the tractor available to them for hire, but the dry season remains a long period of inactivity. Members of the Rotary Club of Scarborough Cavaliers have helped to introduce bee keeping in some areas and is proving highly successful, bringing much needed income for desperately poor communities.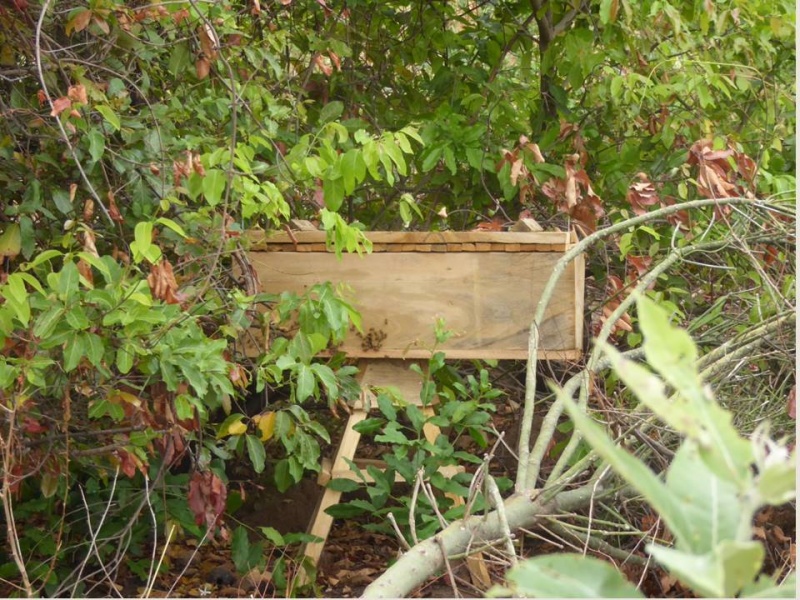 Boreholes
Boreholes will last indefinitely if they are managed properly. They rely on tapping water from a deep aquifer which must be allowed to recharge between periods of extraction. Usually, a management committee of women is set up to chain up the borehole except for 30 minutes to one hour in the morning and late afternoon. They also ensure that only women from the community are allowed to pump water. Women will walk miles to collect water from an unsafe source so a borehole would be quickly exhausted if freely accessible to everyone. Water is valuable and women will line up and stake their place in the queue ready for the borehole to be unchained.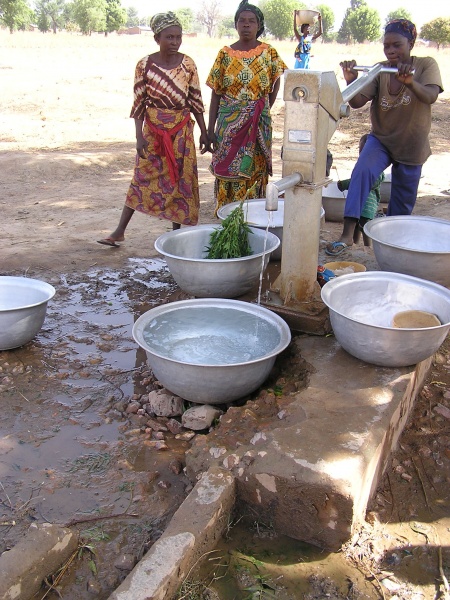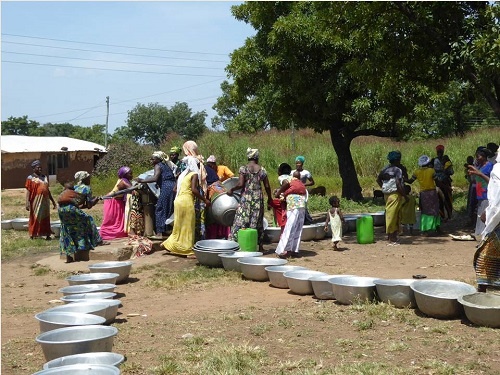 School Desks
The annual eight month long period of dry, followed by four months of high humidity, have devastated all the desks at the Kpaloworgu Primary School. The wood used in the state-supplied furniture was unsuitable and cracked and collapsed within a few years. Members of the Rotary Club of Scarborough Cavaliers are helping to fund 200 double desks, made locally of Wawa fine-grained hardwood at £16 per unit.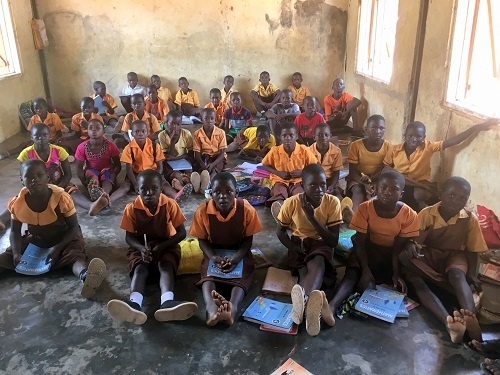 (scroll past FAQ's to see next four meetings)
Volunteering at the North Yorkshire Moors National Park
Great talk on October 1st at Scarborough Rugby Club by David Bream a volunteer ranger at the North Yorkshire Moors National Park. The Park was Founded in 1952, covers, 554 sq. miles and has 445 Active Volunteers.
The volunteers are organised in over 20 Groups, including for example, working in the Visitor Centre; Gardening (Danby-Thornton le Dale); Young Rangers; Administration; Water vole surveying; Land of Iron project and First Aid.
The volunteers receive appropriate training on the aspects of the work they are to be involved in, for example; Stile design and construction; Boardwalk construction; River and Flood Awareness; Ditching and Drainage; Daffodil Path Maintenance.
As David pointed it can be hard work – but truly worthwhile and he is proud to :-
Be a

small

part of a great team

Be associated with the North Yorkshire Moors National Park
Leave something behind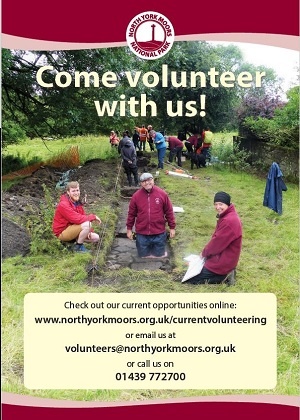 ---
Rotary in a nutshell - the "in the lift" description
The Rotary network extends all over the world with headquarters in Chicago. In the UK all clubs are under the umbrella of Rotary in Great Britain and Ireland (RIBI), and are grouped into geographical districts. Rotary Club of Scarborough Cavaliers is within district 1040 covering Yorkshire, Humberside and North Lincolnshire and having over 100 clubs and 3,000 members.
A shared mantra is the aim of "Service above Self". In practice this means individual clubs working to contribute to their local community often supporting local causes financially or 'in kind' with practical help, for example, acting as a trustee.
Influence can be spread farther afield by working in co-operation with othe clubs in the same geographical district and indeed on an international scale by contributing towards worldwide projects (led by Rotary Foundation) - perhaps the most well known of these is the campaign to eradicate polio. Rotary have been a leader of this aim for many years.
Our major fund raising (and fun) events are Community Fair, Dragon Boat races and (recently) tombola/games at the CAMRA Real Ale Festival. Other events (focussing on youth and in liaison with other local Clubs) include Youth Speaks, Technology tournament and Young Chef. We are holding a special event in the spring of 2017 to raise funds to contribute towards the last push towards eradicating polio from the world.
---
Our club meets weekly at the Downe Arms in an informal and welcoming atmosphere with good fun, fellowship and food
---
Please follow our twitterings: (wip!)
Please look at our Facebook page and click the "LIKE" link below:-
TO UPLOAD a PDF INTRODUCTION TO OUR CLUB, click below:
Introduction: Scarborough Cavaliers - What do they do?
---
Frequently asked questions about Rotary - (accurate for this club but may not apply to other nearby clubs)
| | |
| --- | --- |
| Are there induction 'rituals'? | Never have been never will be. A new member is formally introduced to the Club and says a few words if they wish. All new members are just asked to give a short talk about their work &/or hobby interests, at an agreed date. |
| Can ladies join? | Very welcome indeed at our Club, although there are still more men than ladies. |
| Do I have to pay to be member? | Yes. There is an annual subscription plus an optional donation to the Rotary Foundation (funding larger international projects). Plus we need to pay the Downe Arms for feeding us !! |
| Do you need to come every week? | No. Come when you can and contribute when you come. |
| How do I find out more? | Contact the Secretary, or another member and come along to a couple of meetings as a visitor; then give us the nod if you want to find out more. |
| How many members are there? | 39 |
| What is the dress code? | 'Smart casual' - interpreted by menfolk as jacket but not necessarily tie. |
| When do you meet? | Weekly on a Wednesday |
| Where is it? | Usually - Downe Arms, A170 @ Wykeham. |

Two nice pictures of Scarborough

Happening soon...
Meetings and events happening soon
Wednesday 19th December 19.00
Carol service [19.00] followed by Carvery at the Downe Arms
---
Service at 7.00 pm followed by Carvery at 8.30 pm. £20. Raffle prizes to John Wilson please. Details of Reception and Grace TBC
details
Wednesday 9th January 19.00
Rainbow Centre - Update - Trish Kinsella
---
At the Downe Arms
Monday 14th January 18.30
Council meeting
---
Details and agenda TBC.
---
---
---
Rotary News
Be part of a global network of volunteers, trying to make the world a better place. Please also see the 'links & news' page for information from the local district and live feeds from Rotary International and Rotary International in GB&I.
Family Rotary club use skills to kick-start local charities
---
Rotary members unite to tackle world hunger
---
---
Meetings & Venue
Where and when:
We meet on Wednesdays at 1900 for 1930
(
Visitors are welcome; please contact John Dudley on 01723 366 375 if you'd like to attend.
)
The Downe Arms Country Inn,
Main Road,
Wykeham,
Scarborough
YO13 9QB
01723 862471