Topical topics ERADICATE POLIO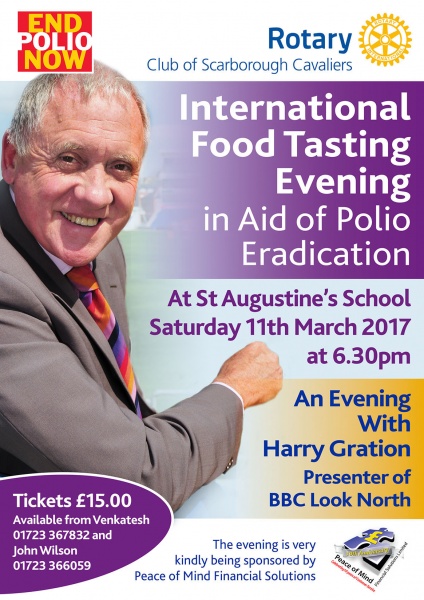 Saturday March 11th saw a major event at St Augustines School - hosted by Harry Gration, fund raising for the "One Last Push" to eliminate polio from the world for good. It signalled the start of a campaign to raise awareness and funds by Rotary Club of Scarborough Cavaliers in support of the "One Last Push".
Good news - for a change! YOU can help finish off polio for good. The disease is nasty but the numbers are GOOD
In 2016 there were just 37 cases worldwide in three countries (Afghanistan,
Pakistan and Nigeria).
DOWN from 340 cases in 2014.
DOWN from 350,000 cases in 125 countries twenty years ago – three billion children immunised.
This is a stunning, little known, international, lifesaving, health giving, sustained project and now within sight of the SUCCESS of consigning polio to history (along with smallpox).
Click here to donate to "one last push" to eradicate polio
The programme is the largest- internationally-coordinated public health effort in history; spearheaded by World Health Organisation, Rotary International, the US Centers for Disease Control and Prevention and UNICEF and supported by the Bill and Melinda Gates Foundation.
Delivering the vaccine is a global network of more than 20 million volunteers.
BUT the immunisation programme MUST continue (to be funded) until every last threatened child is vaccinated and the virus is dead for all time. If the wild polio virus, cannot find an unvaccinated person to infect, it will die out.
Please donate NOW, if you can, to support Rotary Club of Scarborough Cavaliers in our efforts to raise funds for this project during March 2017.
Please SHARE this with your network.
£15 buys vaccine for 100 children. £50 buys 100 vests for volunteers SO please join in the last push –
More GOOD NEWS any donation via Rotary will be matched two for one for a limited period by the generosity of the Bill and Melinda Gates foundation.
MANY THANKS - you have just done a GOOD deed

---



SUPPORT DRAGON BOAT RACES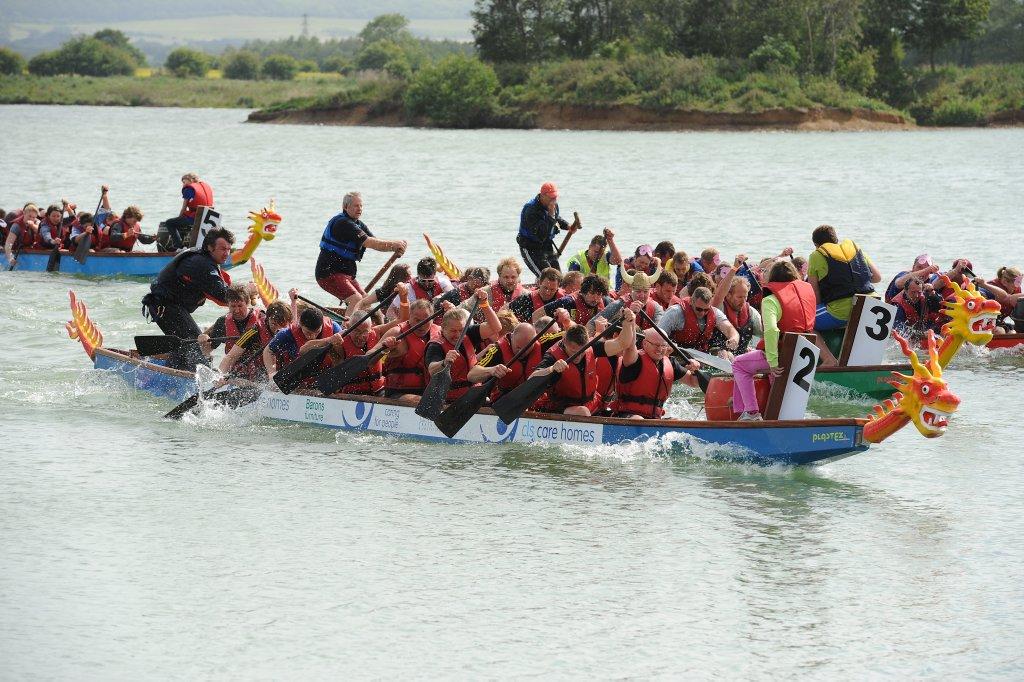 Book your boat for this year's Dragon Boat event - Sunday 11th June 2017.
Email : dragonboats17.tg@gmail.com
Click here for more Dragon Boat Event details AND to start fundraising
---
TALK ABOUT SCARBOROUGH BREWERY ON WEDNESDAY 15TH MARCH

Informative talk by Jim and John with samples to taste having heard about the different ingredients and brewing processes. SEE article below:-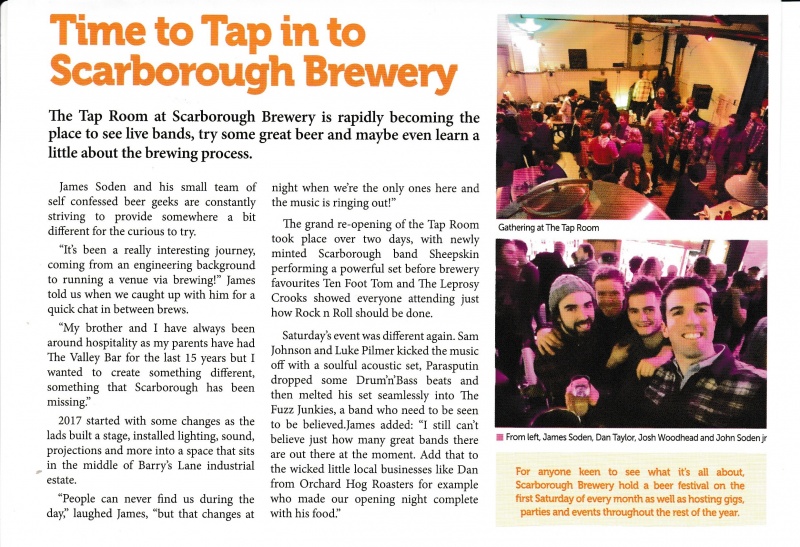 ---
---
Rotary in a nutshell - the "in the lift" description
The Rotary network extends all over the world with headquarters in Chicago. In the UK all clubs are under the umbrella of Rotary in Great Britain and Ireland (RIBI), and are grouped into geographical districts. Rotary Club of Scarborough Cavaliers is within district 1040 covering Yorkshire, Humberside and North Lincolnshire and having over 100 clubs and 3,000 members.
A shared mantra is the aim of "Service above Self". In practice this means individual clubs working to contribute to their local community often supporting local causes financially or 'in kind' with practical help, for example, acting as a trustee.
Influence can be spread farther afield by working in co-operation with othe clubs in the same geographical district and indeed on an international scale by contributing towards worldwide projects (led by Rotary Foundation) - perhaps the most well known of these is the campaign to eradicate polio. Rotary have been a leader of this aim for many years.
Our major fund raising (and fun) events are Community Fair, Dragon Boat races and (recently) tombola/games at the CAMRA Real Ale Festival. Other events (focussing on youth and in liaison with other local Clubs) include Youth Speaks, Technology tournament and Young Chef. We are holding a special event in the spring of 2017 to raise funds to contribute towards the last push towards eradicating polio from the world.
Our club meets weekly at the Downe Arms in an informal and welcoming atmosphere with good fun, fellowship and food.
Link to informal history of Scarborough Cavaliers (follows later!)
Rotary Club of Scarborough Cavaliers F A Q's
CAVEAT: The information below is accurate for our Club BUT may not apply 100% to other nearby Clubs.
| | |
| --- | --- |
| When do you meet? | Weekly on a Wednesday |
| Do you need to come every week? | No. Come when you can and contribute when you come. |
| Where is it? | Usually - Downe Arms, A170 Wykeham. |
| What is the dress code? | 'Smart casual' - interpreted by menfolk as jacket but not necessarily tie. |
| Can ladies join? | Very welcome indeed at our Club, although there are still more men than ladies. |
| How do I find out more? | Contact the Secretary, or another member and come along to a couple of meetings as a visitor; then give us the nod if you want to find out more. |
| Do I have to pay to be member? | Yes. There is an annual subscription plus an optional donation to the Rotary Foundation (funding larger international projects). Plus we need to pay the Downe Arms for feeding us !!). |
| Are there induction 'rituals'? | Never have been never will be. A new member is formally introduced to the Club and says a few words if they wish. All new members are just asked to give a short talk about their work &/or hobby interests, at an agreed date. |
| How many members are there? | 39 |
A nice picture of Scarborough :-
Meeting Details
Interested in joining Rotary
In the next 30 days...
Meeting Information...
We meet on Wednesdays at 1900 for 1930 (Visitors are welcome; please contact John Dudley on 01723 366 375 if you'd like to attend.) The Downe Arms Country Inn,
Main Road,
Wykeham,
Scarborough















YO13 9QB tel: 01723 862471