Featured pages
Welcome!. Please scroll/swipe down through this page to see a few words about recent activities, general info about the Club and FAQ's. Have a look at 'What we do' under the menu top left.
---
About us
Click here to access , then print and display 39 Steps poster


'A Walk down Scarborough's Main Street' is the title of a talk to be given by Christine Hepworth at our next meeting on Wednesday 4th April at the Downe Arms Hotel.Christine has been an active member of the Scarborough & District Civic Society for many years and has a wealth of knowledge about Scarborough and its history.
In her own words, "From a collection of photographs in the Library archive we selected pictures of buildings in Scarborough's main street. We then took photographs of the same buildings in 2016
It makes an interesting journey in both time and place from the top of Westborough down to the harbour and back."
Recent Happenings
Presentation by Pickering Rotary Club 'Sweet Charity' challenge
7 February 2018
Pickering Rotary Club – Sweet Charity Fund raiser presentation
How did it all start?
It all started one day in 1974 when three friends took part in a regatta in Venice in 'mascarete' boats. It was a non-competitive rowing event as a form of protest against the deterioration of the city and the adverse effects of wave motion caused by motor traffic in the lagoon. It has morphed into a charity fund raising 'race' over a 30km course - an annual event called the Vogalonga.along the canals through the most pleasant and charming places in the lagoon,
Pickering Rotary were introduced to the event by their youngest Rotarian Luke; a project team was put together. They found and restored a dilapidated cobble and converted it into a 'pirate ship' which rowed successfully in Mid May 2016 round the Vogalonga.
Objectives achieved!
Raise money for charity. (Marie Curie £13,000 and Rotary charities £14,500)
Raise the profile of Rotary in general and Pickering Rotary club specifically.
Involve the whole club including wives and partners.
Have a lot of fun on the journey.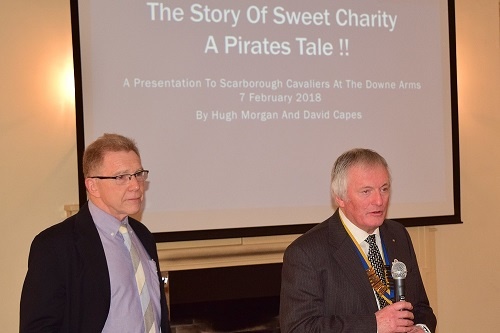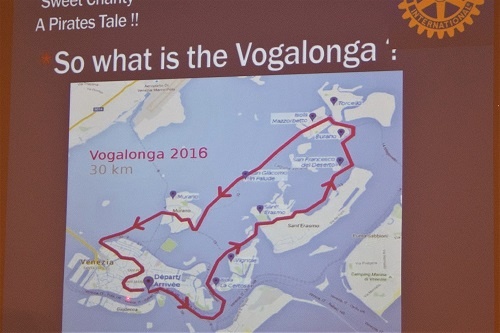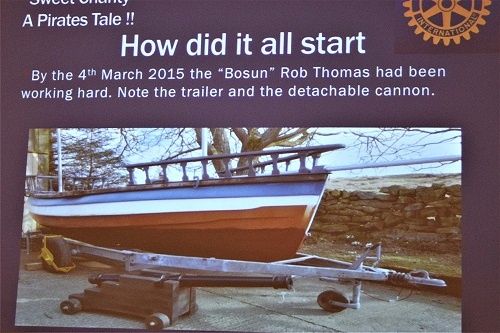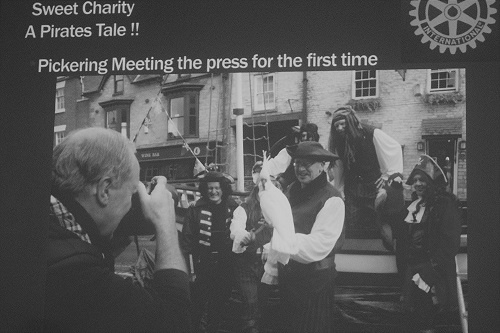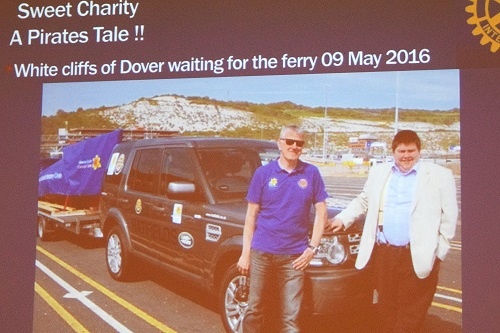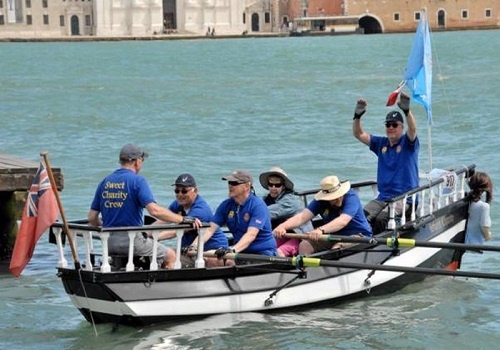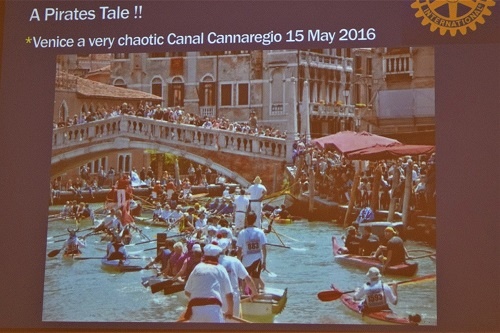 To see full presentation a pdf click HERE
Michael Atkin
'A Masterpiece of A-Z'

Michael Atkin, who came to speak to us at the Downe Arms on January 31st is an artist- printmaker who creates etchings, lino prints and wood engravings at his workshop/studio in Scalby. Michael is continually filling sketch books with ideas which he develops into engravings which he can then create prints from. In his workshop are four of his five antique presses from the 19th century, two Albions, a Rochat etching press and an Arab Platen press. They can print from the different formats that Michael uses.
The 64-year-old artist was born and brought up in Middlesbrough but came to Scarborough in the mid-1970s to teach after attending art colleges in his home town and in Maidstone and Liverpool. His teaching career was relatively short-lived, as his reputation as an artist soared. He had already founded his own private press, Bracken Press, to facilitate his work as an etcher, block printer and wood engraver – all three print forms can be seen in the Alphabet. Today, his work can be seen in galleries around the world, and he's an active member of the Fylingdales Group of Artists, Leeds Fine Artists and the Oxford Guild of Printers.
His A to Z of Scarborough is his most personal book yet. "I realised one day that I hadn't done anything on Scarborough for about 30 years," he says. "I liked the idea of doing a series of prints that were naturally limited by their theme – and using the alphabet naturally limited it to 26. Michael showed us his limited-edition book "An Alphabet of Scarborough" with a series of illustrations of Scarborough from A to Z. Only 26 copies of this magnificent book were printed, hard bound in a very traditional manner in green cloth with a leather spine in a splendid presentation box.
All of this, of course, takes time, and lots of it. Michael estimates that the whole exercise took something like 1500 hour! That's reflected in the price – An Alphabet of Scarborough will cost £2,950 for the book and additional print, all packaged in the bespoke Solander box, while a further 25 prints of each image will be available at £185 unframed. But there are plenty of art-lovers out there willing to pay for old-fashioned craftsmanship – a possible 20 copies have already been ordered by keen collectors.
You can visit Michael's Scalby studio and workshop during the annual North Yorkshire Open Studios events which take place on the weekends of June 3 & 4 and 10 & 11. He also runs courses on printmaking – for more information on those, or on the book, visit www.brackenpress.com
SAFARI LUNCH Sunday 28th January 2018
Several members and partners – twenty two – joined in a convivial lunch starting with everyone enjoying drinks and nibbles with Richard and Mary.
Then we split into groups for main courses with Sam and Shanthy; Venkatesh and Priya; and Mike and Michelle.
Rounded off by dessert and cheese with John and Sandra; Peter and Angela; and Geoff and Jean.
Relaxing and happy time – smoothly organised as always by Geoff and Jean. And the high quality of catering at all venues was praised.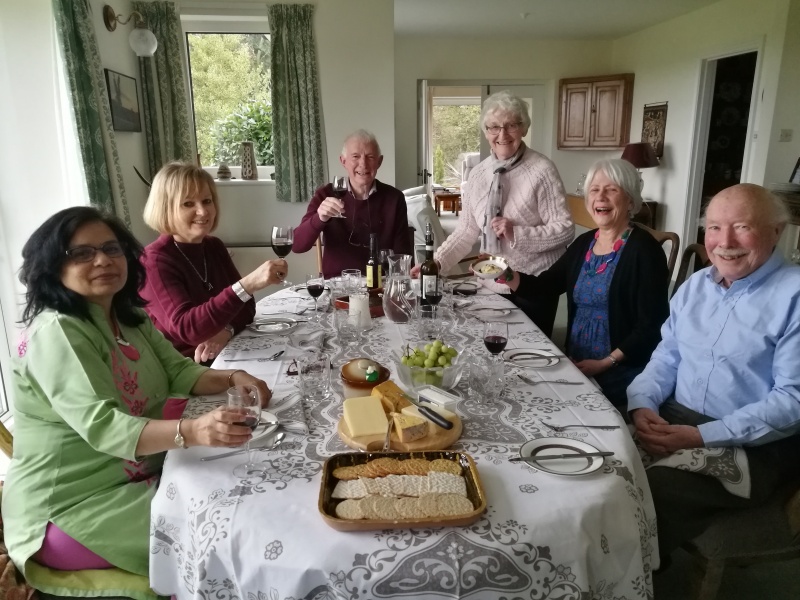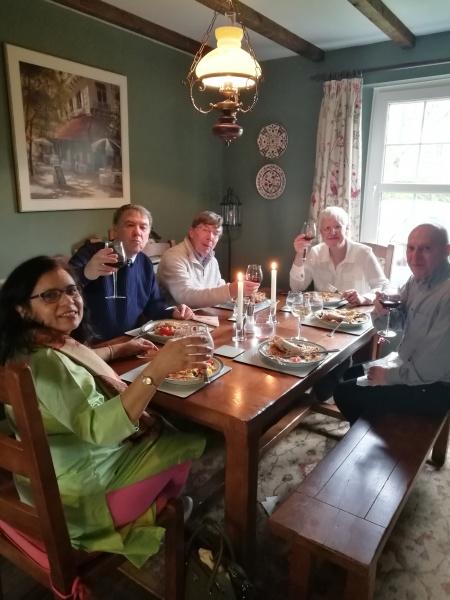 BURNS NIGHT – Wednesday 24 January 2018
Over fifty members and guests had a most convivial and entertaining evening organised by Alan at the Downe Arms.
Traditional food and drink with haggis piped in by Rachel Broadhead, address to the haggis by George, tribute to Robbie by Alan who then proposed the toast to the Lassies – responded to by Angela.
A raffle for charitable causes raise over £150.Great social event everyone is looking forward to the next one!
NB The evening in pictures is under What we do > Social and fellowship > related page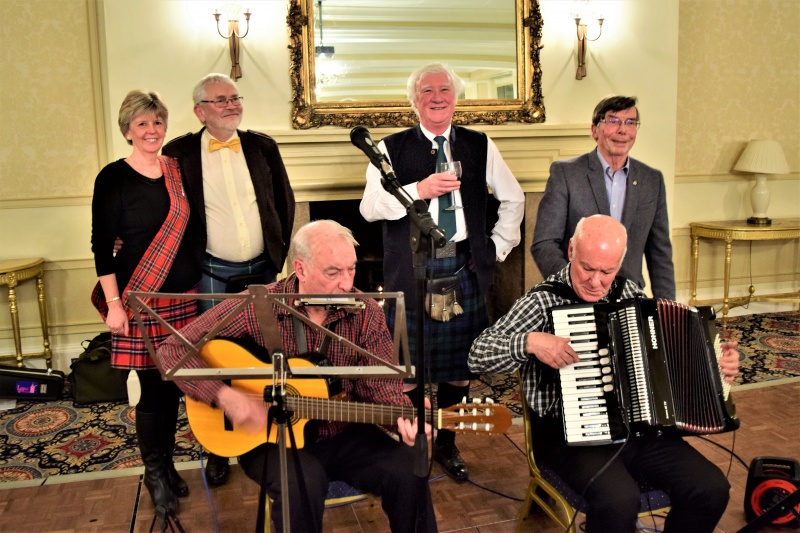 A nice thank you letter from Northern Lights

Dear Cavaliers
Northern Lights Therapy Service would like to thank you for your wonderful donation of £500 which we benefitted from due to sterling efforts from those taking part in the Dragon Boat Races. It is difficult to express how much this money means to us, as it enables us to continue counselling and support to those impacted by the trauma of childhood abuse on a voluntary basis. Thank you again
Debbie Owen
Northern Lights offer a wide range of creative therapies. Psychotherapy and counselling services for people affected by sexual abuse, exploitation, domestic abuse and trauma.
The services are provided by a of a group of experienced psychotherapists, art psychotherapists, counsellors, youth workers and supporters who have worked together for many years. We focus primarily on work with people who have experienced or been affected by the traumas of abuse, including sexual abuse and violence, domestic abuse and violence and/or any other imposed or controlling behaviour that may have limited or diminished your quality of life.
We are acutely aware that any one action of abuse has a ripple effect throughout relationships, families and even communities. We offer a range of groups, workshops, therapies and training to all those who feel that they have been impacted by abuse or those working within the field.





---
Rotary in a nutshell - the "in the lift" description
The Rotary network extends all over the world with headquarters in Chicago. In the UK all clubs are under the umbrella of Rotary in Great Britain and Ireland (RIBI), and are grouped into geographical districts. Rotary Club of Scarborough Cavaliers is within district 1040 covering Yorkshire, Humberside and North Lincolnshire and having over 100 clubs and 3,000 members.
A shared mantra is the aim of "Service above Self". In practice this means individual clubs working to contribute to their local community often supporting local causes financially or 'in kind' with practical help, for example, acting as a trustee.
Influence can be spread farther afield by working in co-operation with othe clubs in the same geographical district and indeed on an international scale by contributing towards worldwide projects (led by Rotary Foundation) - perhaps the most well known of these is the campaign to eradicate polio. Rotary have been a leader of this aim for many years.
Our major fund raising (and fun) events are Community Fair, Dragon Boat races and (recently) tombola/games at the CAMRA Real Ale Festival. Other events (focussing on youth and in liaison with other local Clubs) include Youth Speaks, Technology tournament and Young Chef. We are holding a special event in the spring of 2017 to raise funds to contribute towards the last push towards eradicating polio from the world.
---
Our club meets weekly at the Downe Arms in an informal and welcoming atmosphere with good fun, fellowship and food
---
Please follow our twitterings: (wip!)
Please look at our Facebook page and click the "LIKE" link below:-
TO UPLOAD a PDF INTRODUCTION TO OUR CLUB, click below:
Introduction: Scarborough Cavaliers - What do they do?
---
Frequently asked questions about Rotary - (accurate for this club but may not apply to other nearby clubs)
| | |
| --- | --- |
| Are there induction 'rituals'? | Never have been never will be. A new member is formally introduced to the Club and says a few words if they wish. All new members are just asked to give a short talk about their work &/or hobby interests, at an agreed date. |
| Can ladies join? | Very welcome indeed at our Club, although there are still more men than ladies. |
| Do I have to pay to be member? | Yes. There is an annual subscription plus an optional donation to the Rotary Foundation (funding larger international projects). Plus we need to pay the Downe Arms for feeding us !! |
| Do you need to come every week? | No. Come when you can and contribute when you come. |
| How do I find out more? | Contact the Secretary, or another member and come along to a couple of meetings as a visitor; then give us the nod if you want to find out more. |
| How many members are there? | 39 |
| What is the dress code? | 'Smart casual' - interpreted by menfolk as jacket but not necessarily tie. |
| When do you meet? | Weekly on a Wednesday |
| Where is it? | Usually - Downe Arms, A170 @ Wykeham. |

Two nice pictures of Scarborough

Happening soon...
Meetings and events happening soon
Wednesday 18th July 19.00
WetWheels Yorkshire
---
TAlk at Downe Arms by Peter Richardson
Wednesday 25th July 18.00
Sawdon Classic: golf for non golfers- at SNAINTON!
---
Traditional non golfers tournament "Sawdon Classic" re-located in recent times to Snainton THEN at Downe Arms.

Reception: David Mortimer & Mark Shields
Grace: Geoff Mountfield
Vote of Thanks & Prize giving: John Bradley
details
Wednesday 1st August 19.00 - 22.00 Monday 1st September
Modern pentathlon - talk by Ann Marshall. At the Downe Arms
---
Talk by Ann Marshall District development manager and ETP Manager Pentathlon GB. Voluntary fun participation contest.

Reception: Tom Potter & Malcolm Armstrong
Grace & Host: Richard Grunwell
Vote of Thanks; Sam Ramaswamy

Wednesday 8th August 18.15
Scarborough Fair Collection THEN Ox inn at Lebberston
---
Stunning collection of vintage fairground rides, organs, vehicles and arcade games open from 6.15 to 7.45. THEN Ox inn at Lebberston (3 mins). GUESTS welcome.
Reception: Alan Campbell & Alan Green
Grace : Chris Case
Vote of Thanks: David Francis
details
Wednesday 15th August 19.00
Club Forum at the Downe Arms
---
Feedback from the recent (first) Council meeting of 2018/9. Focus on forthcoming activities and key objectives of the Club. Come along and say your say.

Reception: Roger Chapman & Keith Dobbie
Grace: Rhien Cocker

---
---
---
Rotary News
Be part of a global network of volunteers, trying to make the world a better place. Please also see the 'links & news' page for information from the local district and live feeds from Rotary International and Rotary International in GB&I.
Family Rotary club use skills to kick-start local charities
---
Rotary members unite to tackle world hunger
---
---
Meetings & Venue
Where and when:
We meet on Wednesdays at 1900 for 1930
(
Visitors are welcome; please contact John Dudley on 01723 366 375 if you'd like to attend.
)
The Downe Arms Country Inn,
Main Road,
Wykeham,
Scarborough
YO13 9QB
01723 862471