About us
Pages last updated on Friday 16th February 2018

THE ROTARY CLUB OF LEEDS ELMETE
email: leedselmeterotary@btinternet.com
We meet at The Bingley Arms, (The Oldest Inn in England!),
Church Lane, Bardsey, Leeds. LS17 9DR.
7.00 pm. for 7.30 pm., every Thursday (except two Thursdays around Christmas).
For directions and map, CLICK HERE.

***************************
Our President for 2017-18 is Rotarian Peter Whelan. Peter
is a retired Surgeon who worked at St James's University Hospital, Leeds (Jimmy's) as a Consultant Urologist until his recent retirement. This is Peter's second go at being President (previous term of office: 2002-03).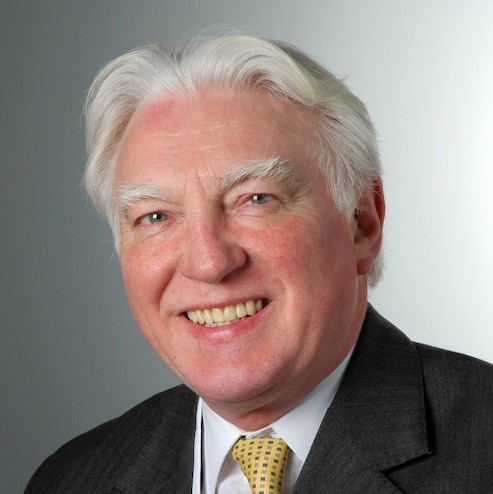 President Peter and Members will be delighted to welcome visiting Rotarians and guests to our meetings.

(Please advise by phoning

0113 267 2925).CHRISTMAS PRESENTS FOR MARTIN HOUSE CHILDREN"S HOSPICE, BOSTON SPA.




President Peter, President Elect Alastair and Past President Ken went to Martin House Children's Hospice on Friday 15th December 2017, and, as is usual at this time of the year, presented members of the Staff with £250 worth of assorted Gift Vouchers, on the Club's behalf, for the Children's Christmas presents. We send our Love and Best wishes to the Children, their Siblings and Parents wishing them all a very Happy Christmas. We also thank the Staff for the dedicated and wonderful work they do, and hope that they have an enjoyable Christmastime too.

CLICK on the LOGO below to learn more about Martin House and the tremedous work they do:

MORE USED SPECTACLES FOR VISION AID OVERSEAS

Immediate Past President Bill thought he was getting a big Christmas present from fellow Rotarian Arek when he arrived at the Club Chistmas party on 14th December, being presented with a big white plastic bag. He should not have got his hopes up so high!, but was delighted with the contents. Arek had collected some discarded, used spectacles from his optician earlier and gave them to Bill for onward transmission to Vision Aid Overseas. Bill parcels up the spectacles collected by members in boxes containg between 150 and 200 pairs each, and sends them to VAO via a local Optician. VAO recycles the specs, and the profits help with their work restoring vision to people abroad, especially in Africa. The money helps to train Optometrists, the performance of eye tests and the presciption of new spectacles (made locally). The Club has been supporting VAO in this way for over 20 years, and the last parcel sent off on 15th December was the 7th such in this Rotary year (July to June).

To learn more about VAO visit www.visionaidoverseas.org or click on the link.

ANNUAL WHISKY DRAW 8th DECEMBER 2017

This Draw, now an annual event at the Bingley Arms, was conducted by President Elect Alastair Henderson and Presidential Nomminee Ken Garrett (both Past Presidents from a few years back), with the help of some of the customers (youthful and female!). The Draw is for a Gallon bottle of Famous Grouse Scotch Whisky with tickets costing £1 for 2. With a Total of 500 tickets, this gives each person reasonable odds of winning. This year Tom McKenna, a bar-man at the Bingley was that man! Well done Tom - don't drink it all in one!! We raised over £150 for our Charities on the night, thanks entitrely to the generosity of the customers of the Bingley arms, and our thanks are due to the Staff for letting us do the draw.

The picture shows Rotarian Ken presenting the bottle to Tom.

ROTARY DISTRICT 1040 ANNUAL CONFERENCE, SCARBOROUGH, 13th to 15th OCTOBER 2017.

Two of our members attended the District Conference in Scarborough this year. They just had a 'day registration' for the Saturday, but were able to meet up with some old, and new, friends in the "House of Friendship" on the Friday afternoon too.

The weather was unseasonably mild (22oC) and sunny (normally it is cold, wet or even icy), and we could sit out in the Spa Complex to enjoy our Tea/Coffee or ice-cream! Our 'Leaky Taps and Jerry Cans' project in Kenya was mentioned in the the Rotary Foundation Showcase presentation. We left late on Saturday afternoon feeling inspired and informed since all the Conference presentations were excellent - illutrative and deserving of the Rotary Moto label 'Service above Self'.

We also brought back the crocus bulbs we had ordered in support of "Purple for Polio" - part of Rotary's End Polio Now Campaign - ready to plant next week.

CROCUS PLANTING 17th OCTOBER 2017

The day after the storms caused by the remnant of Hurricane Ophelia, 4 members of the Club and 4 members of Bardsey Parish Council braved the gusty wind and planted 4000 purple crocus corms on the grassed area at the end of Woodacre Lane, Bardsey. We had planted some there last year. A notice will be erected in the spring, when they start to flower, to tell people about this effort and Rotary's 'End Polio Now' Campaign. We have also given Bardsey Primary School 1000 bulbs to add to those we planted with the children's help at the school last year.

RAISING LOCAL AWARENESS OF OUR CLUB

In the afternoon of Saturday 2nd September, about nine of our members (and a good number of spouses) attended the Bardsey Horticultural Society (72nd) Annual Show in Bardsey Village Hall. It was a great show with lots of interesting things and people.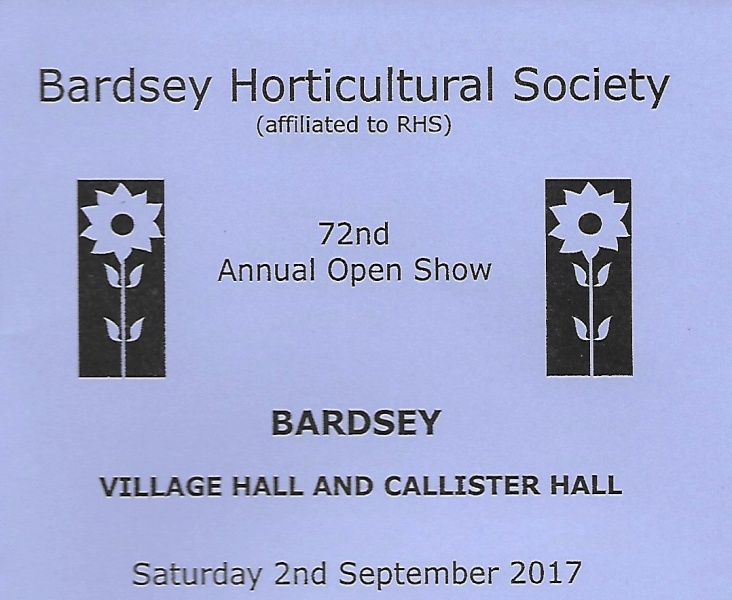 The objective of our presence was to raise awareness in the village about Rotary, and that our Club meets at the Bingley Arms there (the oldest Inn in England) every Thursday. We were hopeful that we might recruit a new member or two….
We took an exhibition table on the lawn behind the Village Hall where the Show was taking place. Fortunately, the weather was perfect – sunny most of the time. We had a display of "Rotary" posters and various information leaflets (including one giving a summary of some of our projects last year).
We held a 'Champagne Draw' with 3 prizes: A bottle of Champagne (won by our Secretary Brendan – the Luck of the Irish!), a bottle of Prosecco (won by Lucille Vincent) and a bottle of Asti (carried off by Lucie Swallow).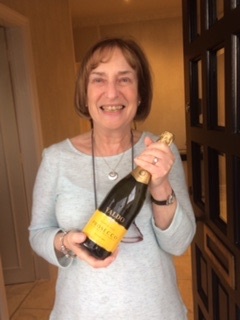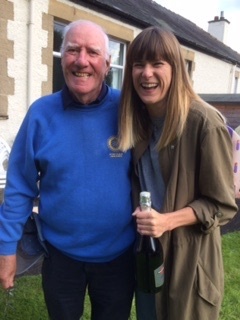 Pictured are Lucille and Lucie with their prizes.
It was a lovely afternoon, and we will probably want to do the same next year, weather permitting. Our thanks go to the Society for making us so welcome this year.
MOBILE FOLDING HOIST PURCHASED FOR IRELAND WOOD SCHOOL PHYSIOTHERAPY DEPARTMENT
Leeds Elmete has had a good working relationship with Ireland Wood School in North Leeds for many years. This school accomodates children with special educational needs and integrates them into mainsteam. We work particularly with the physiotherapy department. To fulfil a need to reduce strain on carers, and to aid the comfortable transfer of children/young adults unable to stand safely, we purchased of a 'Birdie' Folding Mobile Hoist as illustrated in the picture, in May 2017. We are delighted to provide the funding for this eqipment, knowing it will be put to good use for the benefit of the staff and students.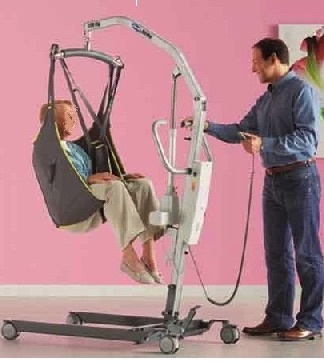 PRESENTATION OF PHYSIO PRIZES AT IRELAND WOOD SCHOOL, 12th July 2017
It was, yet again, a great pleasure for 4 of our Rotarians, along with President Peter, to attend the afternoon Assembley at Ireland Wood School on 12th July 2017. We were reminded that we have being going, on an annual basis, for many years now to present prizes to the students judged to have made outstanding progress with their physiotherapy to help their mobility, while also making progress with their studies. We were also able to perform the 'official handover' of the hoist we purchased a couple of months ago. It is always a delight to see the children, how well behaved they are, and to see the pleasure on the faces of the winners of the awards.
The awards are named in memory of one of our past members, the late Jack Transport, who initiated the scheme.
Below is a photograph of 3 of the 4 successful students (the missing young lady was visiting the school she will be studing at next term on the day we attended), as well as a photo of Past President Bill and the hoist.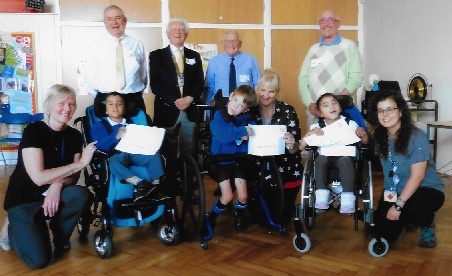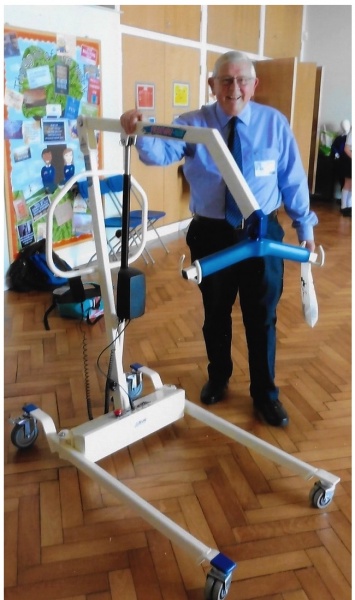 NEW PIGGY BANK FOR OUR MEETINGS
A teacher from Ireland Wood School attended one of our meetings recently to give us a talk about the School and how the children with Educational Special Needs are incorporated into the daily life of the school. A talk appreciated by all.
During the meeting, we had to pass around an empty sugar bowl, since 'The Pig of Good Fortune' had gone AWOL. The pig - a large orange piggybank - has been passed around at our meetings weekly for some time now. If a member has some good news, information, joke etc. to impart, a coin or two is then put in the pig. This raises a suprisingly large sum that the President is able to send to one or more chosen charities at Christmastime. Last year, Rotary's Polio Plus and Brain Cancer Research benifitted from the proceeds of the 'Pig.'
When we went to Ireland Wood to present the Physio Prizes in July, knowing we were bereft of a collecting vessel, the Teacher who had talked to us presented us with a ceramic Owl to replace the missing animal. So from now on 'Olly' the Owl of Good Fortune will do the collecting. Thanks Jane.
'LEAKY TAPS AND JERRY CANS' - A SUCESSFUL MATCHING DISTRICT GRANT WITH 4 OTHER LOCAL ROTARY CLUBS, PROVIDING HAND WASHING FACILITIES IN A KENYAN SLUM.
Following a presentation to the Club in September last year by two medical students, we awarded £200 to the Carolina for Kibera NGO to buy taps to be attached to jerry cans to provide basic handwashing facilities for people in Kibera, the largest slum in Kenya (if not Africa). The students had undertaken a research project in Kibera and found that lack of hand washing contributed to higher rates of diarrhoeal illness, especially in children. We were so impressed by the students and their project, that President Bill presented the project at a meeting of the Leeds Rotary Club presidents in October, and by Christmas an aplication for a District Matching Grant of £1000 was submitted. Four of the Leeds Clubs matched our further donation of £200. The grant was approved and the money, now £2,000 has been despatched, meaning that in the near future nearly 10,000 people in the slum will be able to wash their hands before eating of preparing food.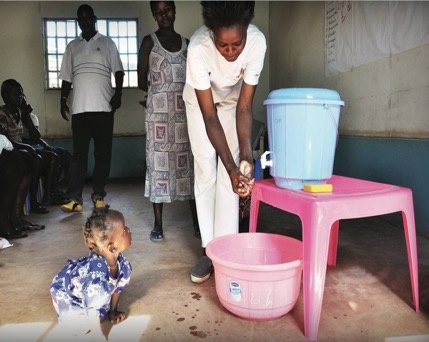 To go to the full story with more pictures: CLICK HERE
PURPLE 4 POLIO - Our crocuses
Here is a picture of flowering crocus corms that were planted by members of Bardsey Parish Council, Students from Bardsey Primary School and ourselves in November. A grand show around the village and infront of the school, and of course in aid of Polio Plus. (Also see more pictures in 'Events 2016-17' in 'What We Do' or CLICK HERE)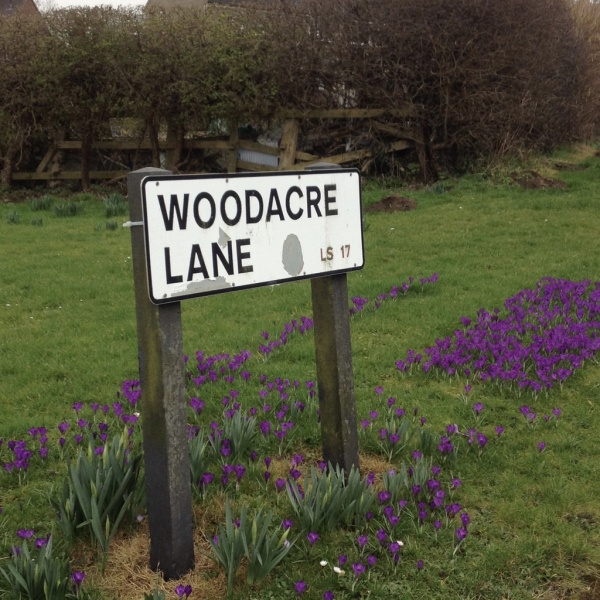 AQUABOX

Click on the Aquabox logo to go to their website.
Our Club members filled three Aquaboxes in the last Rotary year (2015-16). We have done the same number this year (2016-17), and they were delivered to the Aquabox Depot in Derbyshire on Friday 9th June 2017. We have 3 to fill this year (2017-18).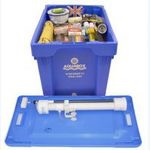 Below is an extract of an email received by Aquabox with a quote from one of the recipients in Somalia of the boxes we sent in 2012: "When I was pregnant, I had worries to cloth my babe. We dont afford food most times so monies for cloths is hard to get. I thought the box was just for water and was happy when I found the towels and the clothes. I cried and hided them for after the delivery. This is the first time I ever had something new to wrap my baby in. My oldest son Ahmed will not leave the shelter without his new books and bag. He is too proud when he carries them with the other boys. Even me, I can share the cooking utensils with my neighbors. It feels like being home again. Truely these are blessings for all of us!"
Makes you feel good that the efforts of a few people in Yorkshire can have such an impact on the lives of people in need so far away!
SCHOOLS' LITERACY PROGRAMME
A number of our members continue to help out at two local schools by hearing children read once a week. This initiative started in September 2013, and is proving to be a very valuable and rewarding experience for the students, the schools and the Rotarians involved.To read more about this initiative: Click Here.
Leeds Rotary Clubs Technology Tournament for Schools



The 2017 Technology Tournament for Schools was held on Tuesday 28th February 2107, at the John Charles Centre for Sport, Leeds, and our Club was represented by two members as part of the of the Judging Teams, as well as helping with the organisation of the day. A new record number of teams took part.
The ten Rotary Clubs in Leeds Area join forces to put on the Tournament.
Next Year's Event is scheduled for Tuesday 13th March 2018, and we have made a donation of £100 towards the expense of running the event.
LIFESTRAWS
Once again, a number of our members gave a donation to Lifestraws in lieu of sending Christmas cards to each other in 2016, and may well do the same in 2017.
To read more about this life saving Rotary Project click HERE
Our Webpages
Our Club is one of 1198 clubs currently using the RIBI website template, each club being required to make an ANNUAL payment of £50. This is raising approximately £59,900 for The Rotary Foundation each year!
Happening soon...
Meetings and events happening soon
Thursday 22nd February 19.30
Club Meeting Club Business/Council Meeting
---
.
Thursday 1st March 19.30
Club Meeting Social/Discussion Evening?
---
.
Thursday 8th March 18.45
CHARTER DINNER
---
Moortown Golf Club, Leeds
Thursday 8th March 18.45
8th Mar 2018 18:45 for 19.30hrs - 38th Annual Charter Celebration Dinner - Moortown Golf Club, Leeds.
---
Charter Celebration (please note change of date from that previously advised). Guest Speaker: Dr. Edward Impey, Director and Master of the Royal Armouries, Leeds. Dress: Lounge Suits. As in recent years the evening will be informal.
details
Thursday 15th March 19.30
Club Meeting Rtn. Alastair Henderson - The Count of Monte Cristo
---
.
future events completed calendar district events local events
---
---
Rotary News
Be part of a global network of volunteers, trying to make the world a better place. Please also see the 'links & news' page for information from the local district and live feeds from Rotary International and Rotary International in GB&I.
Rotary supporting young people
---
Rotary on the brink of polio history
---
---
Meetings & Venue
Where and when:
We meet on Thursdays at 19.00 pm. for 19.30 pm.
(
No meeting on two Thursdays around Christmas.
)
The Bingley Arms,
(The Oldest Inn in England),
Church Lane,
Bardsey,
Leeds.
LS17 9DR.
01937 572462