Welcome to the Rotary Club of Leeds Elmete
Featured pages:

THE ROTARY CLUB OF LEEDS ELMETE
We meet at The Bingley Arms, (The Oldest Inn in England!),
Church Lane, Bardsey, Leeds. LS17 9DR.
7.00 pm. for 7.30 pm., every Thursday
(except two Thursdays around Christmas).
For directions and map, CLICK HERE.

***************************
Our President for 2016-17 is Rotarian Dr Bill Jones, PHF.
Bill is a retired doctor (Consultant Clinical Oncologist) who worked at the Regional Cancer Centre, Cookridge Hospital, Leeds from 1978 to 2003. This is Bill's second go at being President (previous term of office: 1995-6).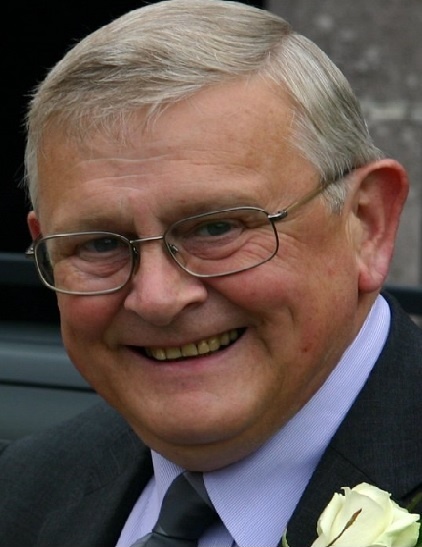 President Bill and Members will be delighted to welcome visiting Rotarians and guests to our meetings.

(Please advise by phoning

0113 267 2925).
President Bill will write a summary of what has been happening in the Club over the prevous month, so to find out what we've been up to, visit the 'What we do' tab on the main menu, then click on 'President Bill's Blog', OR simply CLICK HERE to go to the monthly pages. Also see our 'Events and Activities' pages under the 'What We Do' tab on the homepage menu bar.
PURPLE 4 POLIO - Our crocuses
Here are some pictures of flowering crocus corms that were planted by members of Bardsey Parish Council, Students from Bardsey Primary School and ourselves in November. A grand show around the village and infront of the school, and of course in aid of Polio Plus. See below, after Charter dinner report.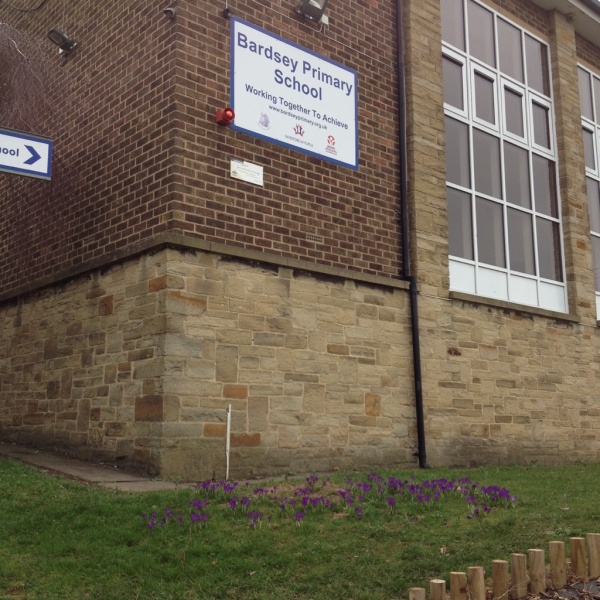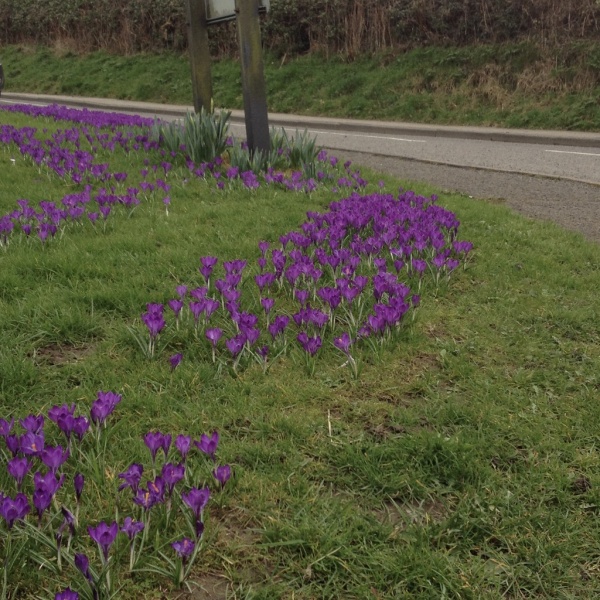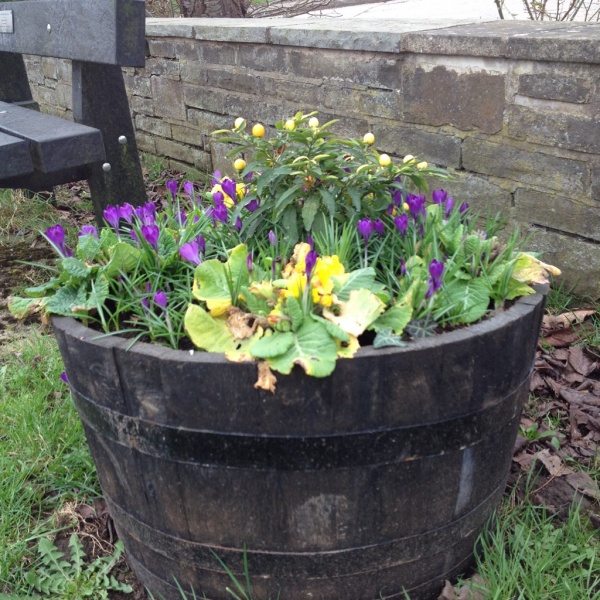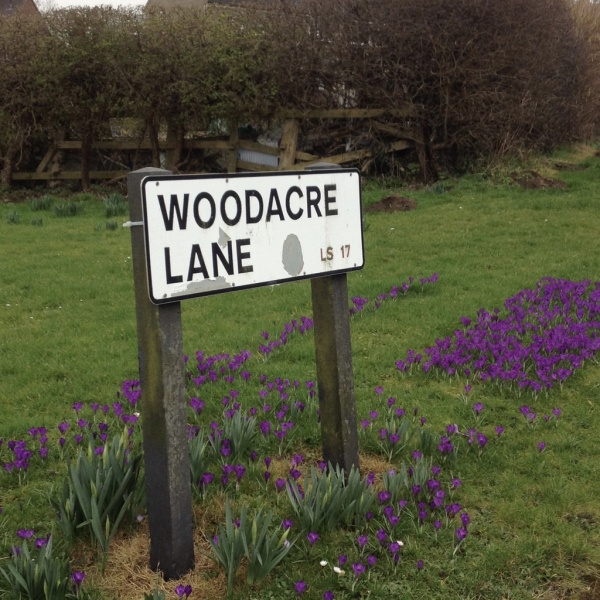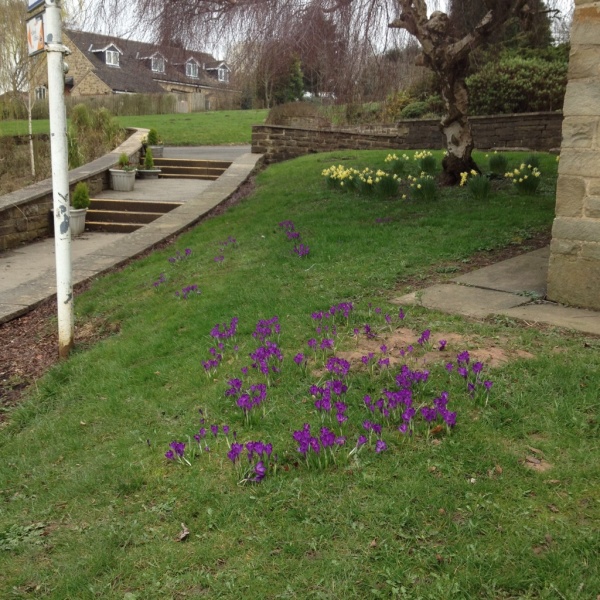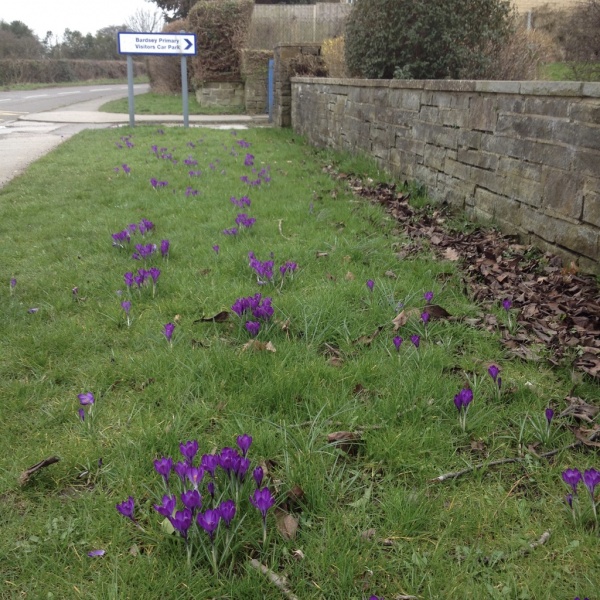 37th ANNUAL CHARTER DINNER - 27th February 2017
Our 37th Annual Charter Dinner was held at Moortown Golf Club, Leeds, on 23rd February (the 112th anniversary of the start of Rotary, in Chicago USA). Sixty-four persons attended including District Governor Phil, Assiatant Governor Keith, the Presidents of 6 local Clubs with some of their members, and 2 representatives from other Clubs. [Our Secretary Brendan, and his wife Kathy, were not able to be with us thanks to Storm Doris, which thankfully mainly missed Leeds. He was marooned at Carlisle railway station having started out from Glasgow that morning and was due into Leeds in the early afternoon. There was chaos on the railways that day (the roof of Preston Station blew off!) and after a nightmare day Brendan got home just after 11.00pm.]
After the usual announcements, welcomes etc. we enjoyed a very pleasant meal of White Onion and Thyme Veloute, Roast Beef and all the trimmings, followed by Apple and Cinnamon Crumble and Custard (or cheese), then coffee and chocolates. A short break followed the Loyal Toast and then we had the first 100 Club draw of the year. Then, much to his surprize (and hopefully delight), I, with the help of DG Phil Poole, was honoured to be able to present Alastair (James) Henderson with a Paul Harris Fellowship for his tireless work for the Club over the last 31 years. Well done Alastair.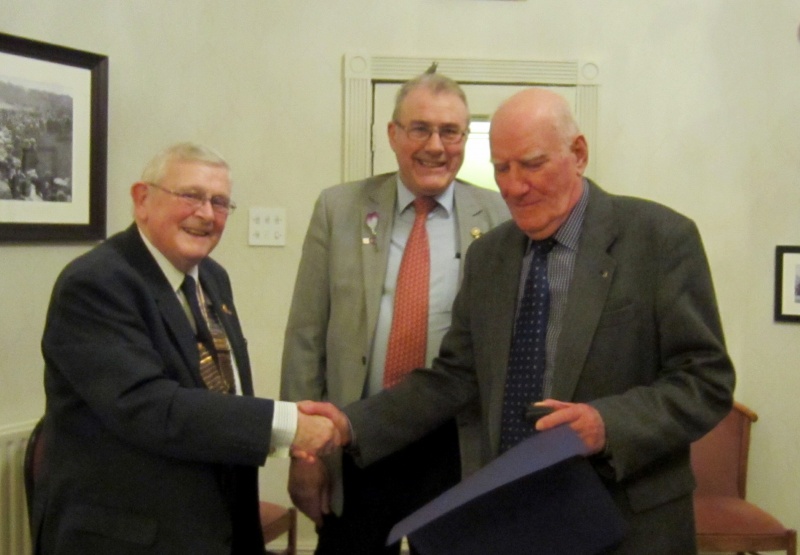 It was then my turn to 'blow the Club's trumpet' telling everyone what we do, and then to propose the toast 'To Rotary'. I was able to mention the two Medical Students from Leeds, attending as our guests, and their 'Jerry Cans and Leaky Taps' project in Kenya, with which we have become involved along with 4 other Rotary Clubs.
Our Guest Speaker was Professional Golfer Mark James, (Captain of the 1999 European Ryder Cup Team - at Brookline) - who entertained us royally (even those of us who do not play or watch golf) by relating stories from his illustrious career, especially in the Ryder Cup. He told many stories of how certain holes were played – how golfers can remember the details of each shot to the pin so long after the event amazes me – and some funny anecdotes, as well as the 'shenanigans' the Americans got up to from time to time. A thoroughly enjoyable and entertaining talk.
President Elect Peter Whelan gave the vote of thanks. After the final toast of 'Rotary the World Over', the diners wended their way home. They were slow to vacate the venue taking time to have a chat with old friends, but remarking how pleasant and enjoyable the evening had been.
PLANTING CROCUSES TO HELP ERADICATE POLIO


On Thursday 10th November, President Bill Jones and Immediate Past-President Bill Baker were at Bardsey Primary School. They helped the pupils plant nearly 2000 purple crocuses provided by the Club in support of Rotary's End Polio Now campaign. The children were very hard working, helpful and polite, and a pleasure to be with for the morning.
At the school assembly, the children had listened to President (Dr) Bill talk about Polio – a disease that can kill or paralyse young children - and how the work of Rotary and others has brought us 'this close' to a Polio free world, after 25 years of endeavour. There were only 74 cases in 2015 in the whole world.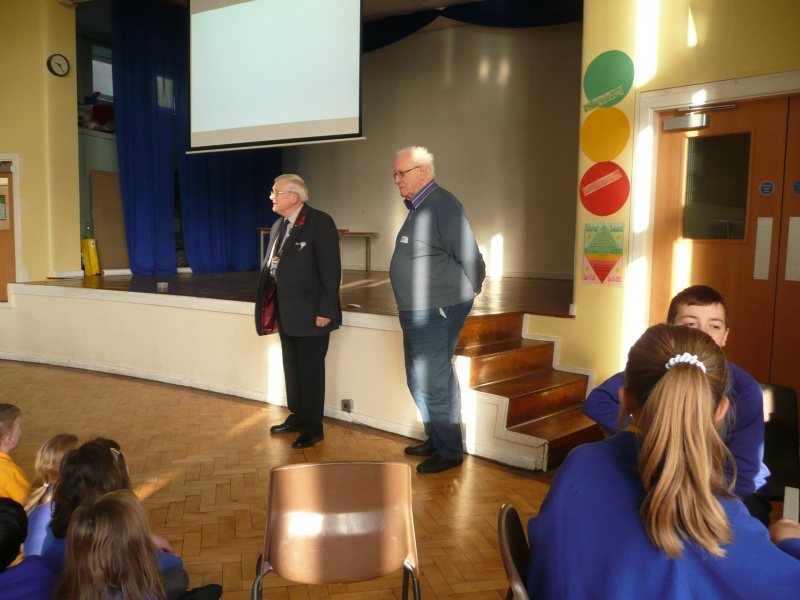 Also present were Head Teacher Sally Clark and members of the Bardsey Parish Council. Members of the latter are going to plant the remaining 3000 crocus corms in the road verges around the village. Our great thanks go to Mrs Linda Flockton of the Council for facilitating this. We look forward to a lovely show of purple flowers in the spring, reminding us of the 'purple pinkies' of the children who have their little fingers painted purple to make sure that all the children in the villages (in Pakistan and Afghanistan) have been immunised.




We got a mention in the Yorkshire Evening Post on 10th November and again the following day, with a picture of President Bill (spade in hand) and two of the children planting bulbs. We also figured in the Bardsey Village newsletter, and in the District 1040 'Rotary in Yorkshire' Newsletter.
AQUABOX

Click on the Aquabox logo to go to their website.
CONGRATULATIONS AQUABOX
Aquabox has received the Queens Award for Voluntary Service, the UK's highest award for voluntary groups.
The charity, managed and run by the Rotary Club of Wirksworth, provides boxes of essential humanitarian aid together with a special filter
to guarantee potable drinking water to people in crisis hit areas around the
World.
The Queens Awards for Voluntary Service were created in 2002 to celebrate the Golden Jubilee and winners are announced on June 2
nd
each year the anniversary of the Queen's Coronation.
Our Club members filled three Aquaboxes in the last Rotary year (2015-16). These boxes were delivered by one of our members to the Derbyshire Depot of Aquabox on 7th April 2016. We are currently in the process of filling another 3 boxes (one already done!), which we hope to complete in the early part of 2017, thus repeating last year's effort.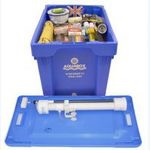 Below is an extract of an email received by Aquabox with a quote from one of the recipients in Somalia of the boxes we sent in 2012: "When I was pregnant, I had worries to cloth my babe. We dont afford food most times so monies for cloths is hard to get. I thought the box was just for water and was happy when I found the towels and the clothes. I cried and hided them for after the delivery. This is the first time I ever had something new to wrap my baby in. My oldest son Ahmed will not leave the shelter without his new books and bag. He is too proud when he carries them with the other boys. Even me, I can share the cooking utensils with my neighbors. It feels like being home again. Truely these are blessings for all of us!"
Makes you feel good that the efforts of a few people in Yorkshire can have such an impact on the lives of people in need so far away!
SCHOOLS' LITERACY PROGRAMME
A number of our members continue to help out at two local schools by hearing children read once a week. This initiative started in September 2013, and is proving to be a very valuable and rewarding experience for the students, the schools and the Rotarians involved.To read more about this initiative: Click Here.
Leeds Rotary Clubs Technology Tournament for Schools



The 2016 Technology Tournament for Schools was held on Tuesday 1st March 2106, at the John Charles Centre for Sport, Leeds, and our Club was represented by two members as part of the of the Judging Teams, as well as helping with the organisation of the day. A record number of teams took part.
The ten Rotary Clubs in Leeds Area join forces to put on the Tournament. This was the tenth year of the competition.
Next Year's Event is scheduled for Tuesday 28th February 2017.
LIFESTRAWS
Once again a number of our members are giving a donation to Lifestraws in lieu of sending Christmas cards to our fellow Rotarians in 2016.
To read more about this life saving Rotary Project click HERE
Our Webpages
Our Club is one of about 1100 clubs using the website template, each club being required to make an ANNUAL payment of £50. This is raising approximately £55,000 for The Rotary Foundation each year!
Meeting Details
Interested in joining Rotary
In the next 30 days...
Meeting Information...
We meet on Thursdays at 19.00 pm. for 19.30 pm. (No meeting on two Thursdays around Christmas.) The Bingley Arms,
(The Oldest Inn in England),
Church Lane,
Bardsey,
Leeds.
LS17 9DR. tel: 01937 572462