About us
Pages last updated on Thursday 9th August 2018

THE ROTARY CLUB OF LEEDS ELMETE
email: leedselmeterotary@btinternet.com
We meet at The Bingley Arms, (The Oldest Inn in England!),
Church Lane, Bardsey, Leeds. LS17 9DR.
7.00 pm. for 7.30 pm., every Thursday (except two Thursdays around Christmas).
For directions and map, CLICK HERE.

***************************
Our President for 2018-19 is Rotarian Alastair Henderson, PHF. Retired from his work in building services and ardent golfer, Alastair was awarded a Paul Harris Fellowship by the Club in March 2017 for his services to Rotary and the Club over the years. He has been a member of the Club since January 1986, and this will be his second term as Club President.
Alastair was handed the President's jewel by outgoing Immediate Past President Peter Whelan at the 'handover' on 5th July 2018.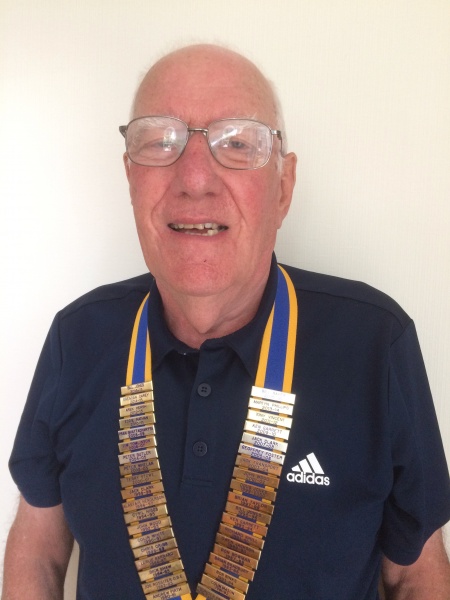 President Alastair and Members will be delighted to welcome visiting Rotarians and guests to our meetings.

(Please advise by phoning

0113 267 2925).White Laith Primary School, Whinmoor, Leeds LS14

On Friday 20th July 2018, our Club President Alastair and Immediate Past President Peter attended School for their End of Year and Leavers Assembly. They were there to present books, one each to three children in each of the school's years, who have worked really hard on improving their reading skills this last year. All the prize-winners were chosen by their year teacher.

The reason for the attendance and presentation of awards was a small part of our commemoration of the life of one of our members who is no longer with us, namely Bill Baker, whose name appears on an insert in each of the books presented.

Bill, as anyone who knew or had met him, was a larger than life individual, and a stalwart of our Club. He would have loved to have been with us that morning to see the smiles on the faces of the children receiving their book. A really lovely way to start the day.

President Alastair writes: "The school Assembly was absolutely brilliant. Mrs Sheerin, the Headteacher, can be proud of her own efforts as well as those of the staff and children producing a school with such wonderful attributes.

PRESENTATIONS AND AWARDS - IRELAND WOOD SCHOOL

On Tuesday 3rd July 2018, five of our members, including outgoing President Peter Whelan, attended Ireland Wood Primary School in North Leeds. They went to present awards to the "special children" who had been chosen by their physiotherapist for doing well with their exercises during the year.




The school accepts several children with educational special needs into mainstream education. All the children we meet on these visits are delightful and accept the awards with great pleasure.

Mr Blackburn, the Headteacher, also thanked the Club for the gift of items which have helped the children to enjoy more school days out with their classmates: a)

Two 'Go-Pro' cameras, with accessories to enable them to be fastened to the chest or head of the child, gave great pleasure to everyone, when videos were later replayed of them riding on a 'zip-wire' somewhere in North Yorkshire. b)

Two 'Oskoog' Music Tactile Cubes enable the children to create, learn, and listen to music and to 'play' instruments. c)

Two flexible Tablet holders, which can be fastened to wheelchairs and can hold a Tablet in virtually any position required – a great benefit certainly to one of the Award recipients.

We have been involved with the school now for over 10 years, presenting the Awards (now in memory of one of our members, the late Jack Transport, who was responsible for setting up this initiative). We consistently say that "This is the best and most rewarding thing we do". Onward to next year……

[For more pictures go to "What We Do", then "Events and Activities by year - 2018-19"]
AQUABOX

(

Click on the Aquabox logo to go to their website.)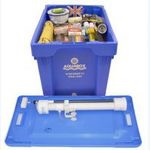 Our Club members have again filled three Aquaboxes in this Rotary year (2017-18). We have completed this number of boxes each year for a number of years now. The boxes are to be delivered to the Aquabox Depot in Derbyshire shortly.
Below is an extract of an email received by Aquabox with a quote from one of the recipients in Somalia of the boxes we sent in 2012: "When I was pregnant, I had worries to cloth my babe. We dont afford food most times so monies for cloths is hard to get. I thought the box was just for water and was happy when I found the towels and the clothes. I cried and hided them for after the delivery. This is the first time I ever had something new to wrap my baby in. My oldest son Ahmed will not leave the shelter without his new books and bag. He is too proud when he carries them with the other boys. Even me, I can share the cooking utensils with my neighbors. It feels like being home again. Truely these are blessings for all of us!"
Makes you feel good that the efforts of a few people in Yorkshire can have such an impact on the lives of people in need so far away!
Used Spectacles for Vision Aid Overseas.

UPDATE 1st June 2018:

So far 12 boxes of used specaclrs have been sent to VAO.

MORE USED SPECTACLES FOR VISION AID OVERSEAS

Immediate Past President Bill thought he was getting a big Christmas present from fellow Rotarian Arek when he arrived at the Club Chistmas party on 14th December, being presented with a big white plastic bag. He should not have got his hopes up so high!, but was delighted with the contents. Arek had collected some discarded, used spectacles from his optician earlier and gave them to Bill for onward transmission to Vision Aid Overseas. Bill parcels up the spectacles collected by members in boxes containg between 150 and 200 pairs each, and sends them to VAO via a local Optician. VAO recycles the specs, and the profits help with their work restoring vision to people abroad, especially in Africa. The money helps to train Optometrists, the performance of eye tests and the presciption of new spectacles (made locally). The Club has been supporting VAO in this way for over 20 years, and the last parcel sent off on 15th December was the 7th such in this Rotary year (July to June).To learn more about VAO visit www.visionaidoverseas.org or click on the link.
SCHOOLS' LITERACY PROGRAMME
A number of our members continue to help out at two local schools by hearing children read once a week. This initiative started in September 2013, and is proving to be a very valuable and rewarding experience for the students, the schools and the Rotarians involved.To read more about this initiative: Click Here.
Leeds Rotary Clubs Technology Tournament for Schools

The 2017 Technology Tournament for Schools was held on Tuesday 13th March 2018, at the John Charles Centre for Sport, Leeds, and our Club was represented by a member as part of the of the Judging Teams, as well as helping with the organisation of the day.
A new record number of teams took part.
The nine Rotary Clubs in Leeds Area join forces to put on the Tournament.
Next Year's Event is scheduled for Tuesday 12th March 2019.
LIFESTRAWS
Once again, as in many previous years, a number of our members gave a donation to Lifestraws in lieu of sending Christmas cards to each other in 2017.
To read more about this life saving Rotary Project click HERE
OUR BULBS ARE COMING UP!
The bulbs we planted with the help of Bardsey Parish Council are begining to grow alongside those we planted last year (see lower down on this page) in the verge at the end of Woodacre Lane and outside the village School.Unfortunately Mr and Mrs Mole have been having a field day where we planted (well it is their field!), but hopefully there will be a nice show of purple flowers over the next few weeks.
CROCUS PLANTING 17th OCTOBER 2017

The day after the storms caused by the remnant of Hurricane Ophelia, 4 members of the Club and 4 members of Bardsey Parish Council braved the gusty wind and planted 4000 purple crocus corms on the grassed area at the end of Woodacre Lane, Bardsey. We had planted some there last year. A notice will be erected in the spring, when they start to flower, to tell people about this effort and Rotary's 'End Polio Now' Campaign. We have also given Bardsey Primary School 1000 bulbs to add to those we planted with the children's help at the school last year.
MOBILE FOLDING HOIST PURCHASED FOR IRELAND WOOD SCHOOL PHYSIOTHERAPY DEPARTMENT
Leeds Elmete has had a good working relationship with Ireland Wood School in North Leeds for many years. This school accomodates children with special educational needs and integrates them into mainsteam. We work particularly with the physiotherapy department. To fulfil a need to reduce strain on carers, and to aid the comfortable transfer of children/young adults unable to stand safely, we purchased of a 'Birdie' Folding Mobile Hoist as illustrated in the picture, in May 2017. We are delighted to provide the funding for this eqipment, knowing it will be put to good use for the benefit of the staff and students.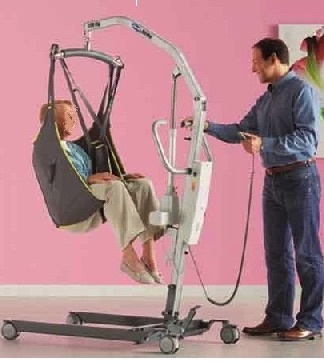 PRESENTATION OF PHYSIO PRIZES AT IRELAND WOOD SCHOOL, 12th July 2017
It was, yet again, a great pleasure for 4 of our Rotarians, along with President Peter, to attend the afternoon Assembley at Ireland Wood School on 12th July 2017. We were reminded that we have being going, on an annual basis, for many years now to present prizes to the students judged to have made outstanding progress with their physiotherapy to help their mobility, while also making progress with their studies. We were also able to perform the 'official handover' of the hoist we purchased a couple of months ago. It is always a delight to see the children, how well behaved they are, and to see the pleasure on the faces of the winners of the awards.
The awards are named in memory of one of our past members, the late Jack Transport, who initiated the scheme.
Below is a photograph of 3 of the 4 successful students (the missing young lady was visiting the school she will be studing at next term on the day we attended), as well as a photo of Past President Bill and the hoist.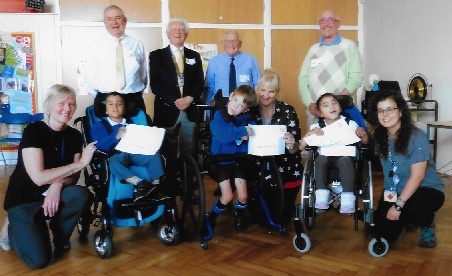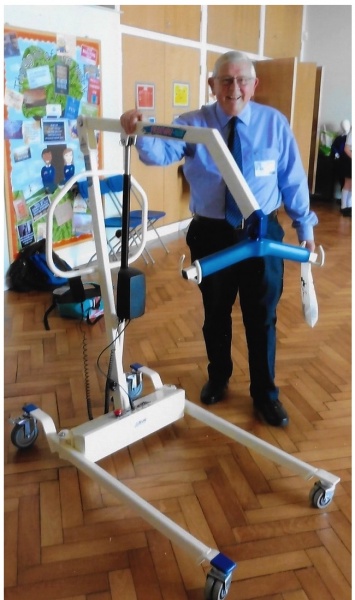 NEW PIGGY BANK FOR OUR MEETINGS
A teacher from Ireland Wood School attended one of our meetings recently to give us a talk about the School and how the children with Educational Special Needs are incorporated into the daily life of the school. A talk appreciated by all.
During the meeting, we had to pass around an empty sugar bowl, since 'The Pig of Good Fortune' had gone AWOL. The pig - a large orange piggybank - has been passed around at our meetings weekly for some time now. If a member has some good news, information, joke etc. to impart, a coin or two is then put in the pig. This raises a suprisingly large sum that the President is able to send to one or more chosen charities at Christmastime. Last year, Rotary's Polio Plus and Brain Cancer Research benifitted from the proceeds of the 'Pig.'
When we went to Ireland Wood to present the Physio Prizes in July, knowing we were bereft of a collecting vessel, the Teacher who had talked to us presented us with a ceramic Owl to replace the missing animal. So from now on 'Olly' the Owl of Good Fortune will do the collecting. Thanks Jane.
Our Webpages
Our Club is one of very many clubs in Great Britain and Ireland currently using the RIBI website template, each club being required to make an ANNUAL payment of £50. This is raising approximately £60,000 for The Rotary Foundation each year!
Happening soon...
Meetings and events happening soon
Thursday 16th August 19.00
Club Meeting No speaker
---
.
Thursday 23rd August 19.00
Club Meeting Council and Business meeting
---
.
Thursday 30th August 19.00
Club Meeting No Speaker
---
.
Thursday 6th September 19.00
Club Meeting MF Prof. Derik Fraser - The Beveridge Report
---
.
future events completed calendar district events local events
---
---
Rotary News
Be part of a global network of volunteers, trying to make the world a better place. Please also see the 'links & news' page for information from the local district and live feeds from Rotary International and Rotary International in GB&I.
Family Rotary club use skills to kick-start local charities
---
Rotary members unite to tackle world hunger
---
---
Meetings & Venue
Where and when:
We meet on Thursdays at 19.00 pm. for 19.30 pm.
(
No meeting on two Thursdays around Christmas.
)
The Bingley Arms,
(The Oldest Inn in England),
Church Lane,
Bardsey,
Leeds.
LS17 9DR.
01937 572462