Club meeting Friday 24th March 2017





  

 

President Stephen with today's lunchtime speaker Mr Darren Owers. 


   


  Darren is the first ever head of business development activity across 




the banks

 east region from Newcastle to Norwich.

 

 

 

  

 
  
  

---

 
  Keith and Tina with the certificate we are going to present to

Tesco's on Canal Road for letting us collect there

 
  
 

 
  

Well done to all who helped


  
  

---

Day out at the Discovery centre, Leeds March 22nd 




more pictures in the photo gallery

---


  

Litter pick at Undercliffe Cemetary March 21st
  


   

 it was cancelled due to bad weather, but no one told Alan and Marj

  

 

 


  
---
Friday 17th March 2017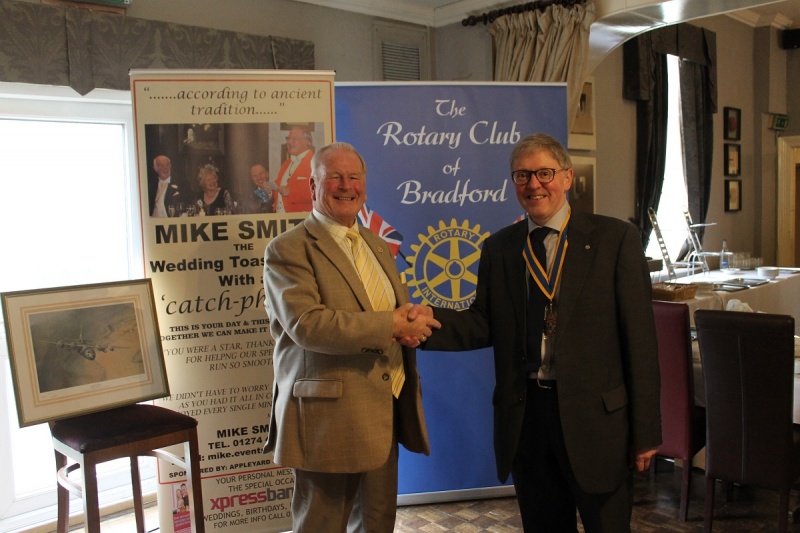 Original speaker gave back word so Mike stood in at the last minute, giving a excellent presentation on how he got into Toast-mastering and his years at Jaguar,
---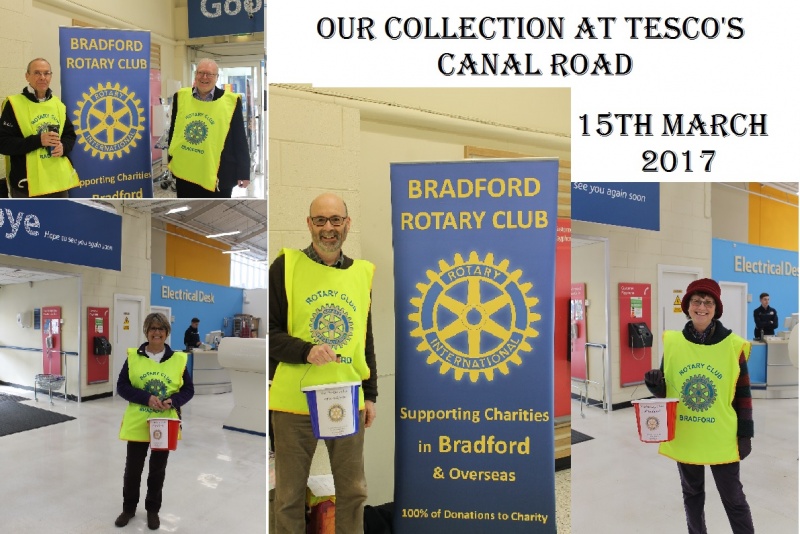 Our 2 day collection 15/16 March at Tesco, Canal Road, more pictures in file
Stop Press over £400 raised
---
11th March Heaton Woods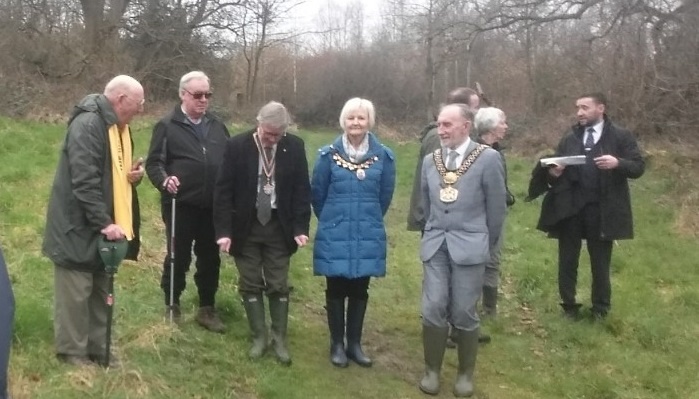 President Stephen along with fellow Rotarian Eric Bentham and his wife Julia accompanied the Lord Mayor of Bradford ,Councillor Geoff Reid to witness the planting of a tree in Heaton Woods to mark his year in office as Lord
Mayor.
---
Happy 95th Birthday to the Rotary Club of Bradford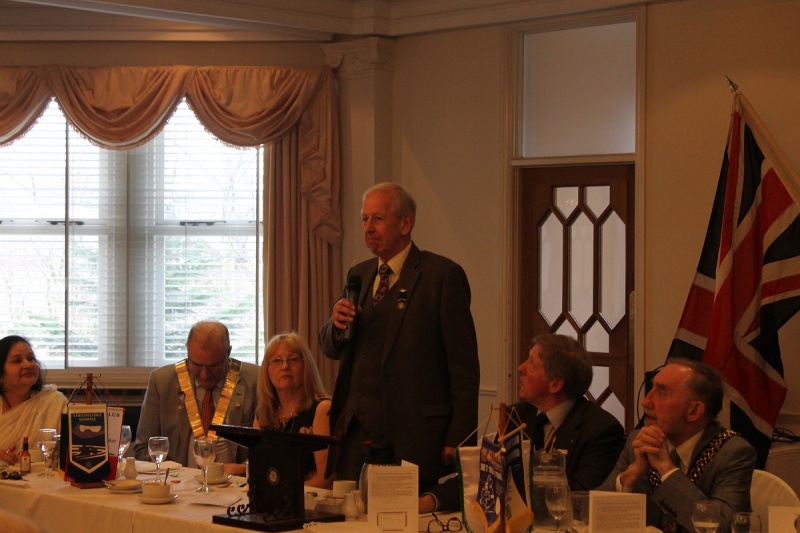 Our guest speaker Andrew Hartley
110 attended our lunchtime charter meeting
More pictures in the photo gallery
---
Friday 3rd March 2017


J
ason and Imran from the National Literacy Trust
---
Happy 112th Birthday Rotary



We had a cake to celebrate Rotary's 112th birthday
---
Meeting 24th February 2017


Our speakers Marie and Alan Hickman
---
Visitors from Lagos Nigeria - Friday 17th February 2017
We had 2 visitors from Lagos Nigeria, Ajo Banjo and Ehi Braimah
---
Friday 17th February 2017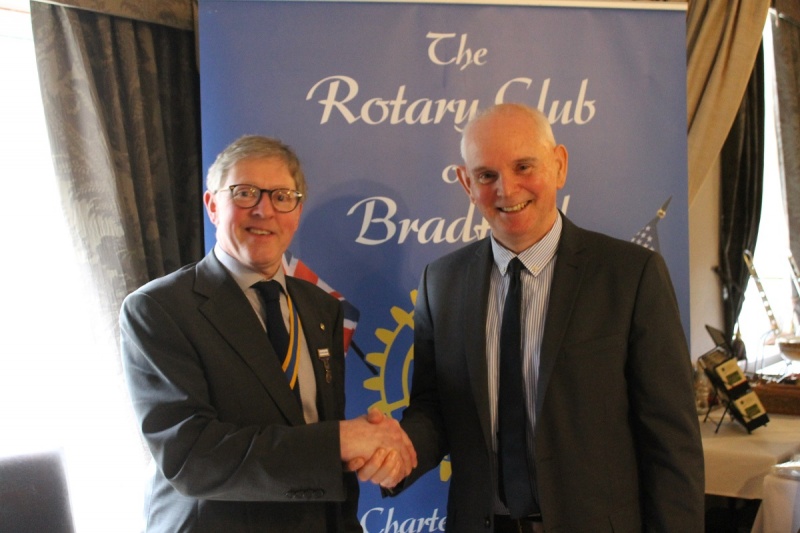 David is a retired police officer gave a fascinating talk about people trafficking and how he was involved in writing the policy for world governments and law enforcement agencies about the many issues involved.

---

Truck racing night raised £285. Well done Keith ,Tina and Mike for his commentary

Thank goodness someone is topping up the charity account

---
Meeting Friday 10th February 2017


John Parker, Stephen Jordan, Christina Brogden, Anita Jones, Tariq Shah, Bhavna Joshi
Anita , who is a member of Bradford Bronte Club was today's lunchtime speaker and her subject was ' Charity in Africa ' she told us about the Mother and Baby Project in Kenya , Anita's work is saving the lives of Mothers.
---
Official, We are number 1 in district 1040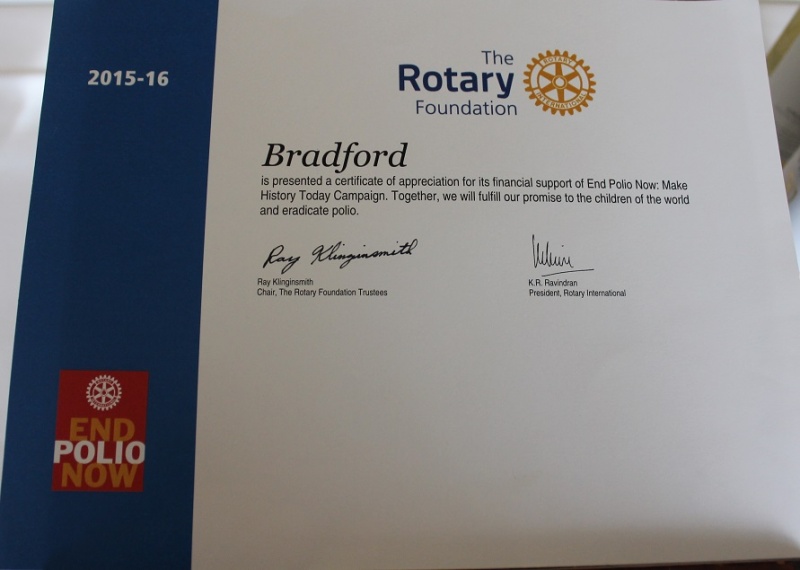 we gave most to End Polio Now in District 1040 in 2015/16
---
Meeting Friday 3rd February 2017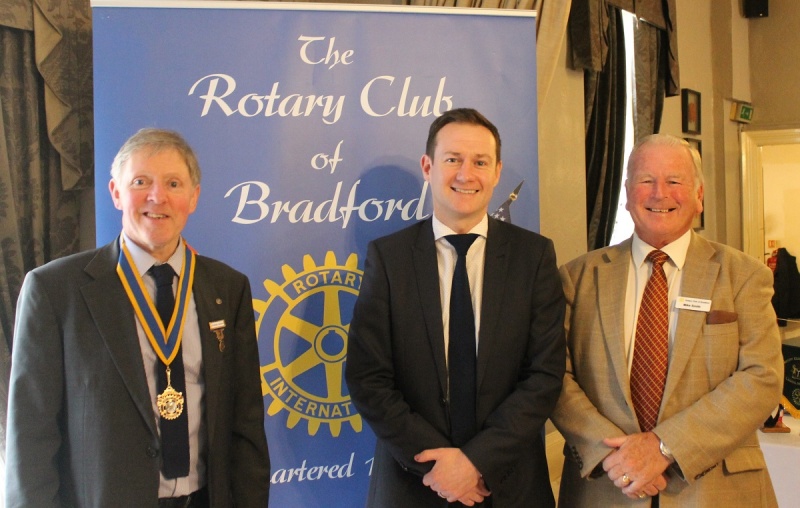 James Mason, chief operating officer of Bradford City, gave a insight to how a football club of today works in helping the local community and how the low cost season tickets have helped business in the Bradford area by bringing extra footfall.
---
Meeting Friday 27th January 2017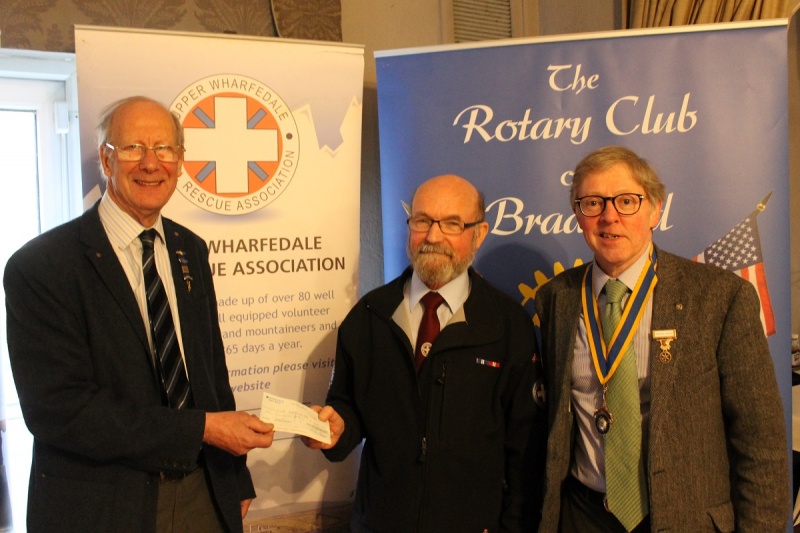 Our lunchtime speaker was Mr Howard Driver, he told us about the work of the Upper Wharfedale Cave & Fell Rescue . The members are all volunteers and have to raise their own funds so we presented Howard with a cheque to help them .

Some of the members pretending to be able to read.
---
Meeting 20th January 2017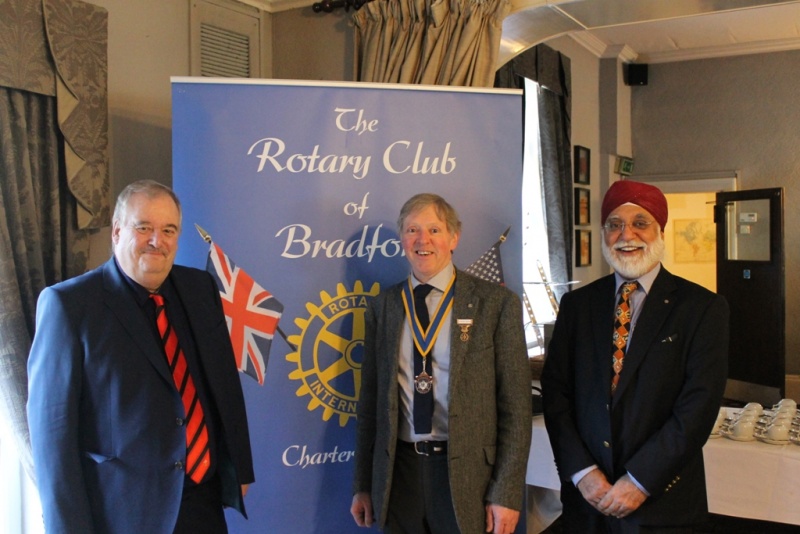 David G Poppitt gave a very enjoyable talk on his life in fundraising, including meeting up with Sharon Davies, Norman Wisdon, Les Dawson (to mention a few), and his involvement with Roy Castle in setting a record for the amount of people in one place tap-dancing. (7500)
---
Club meeting 13th January 2017


Very enjoyable and interesting meeting. Dr Jasjit Singh gave a most enthusiastic talk about the long and happy relationship of Sikhs in Great Britain.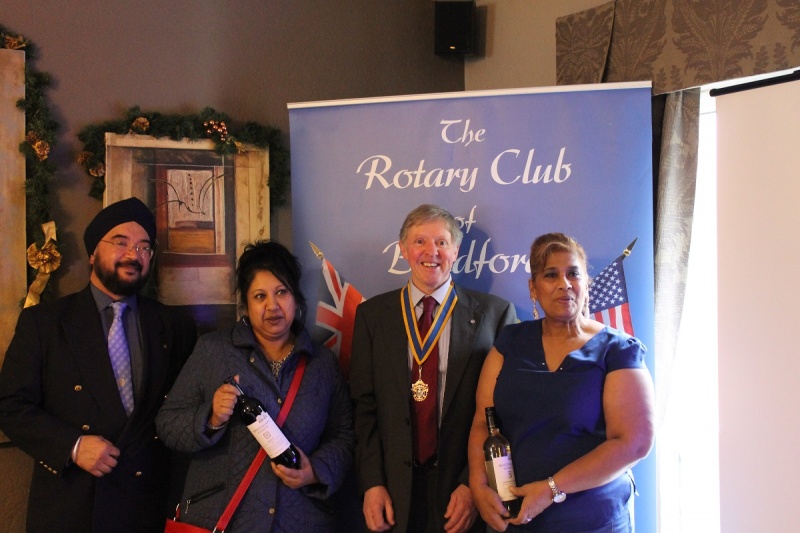 guests of Dalbir, Aisha and Nazneem
---
Rotarian Gets Certified!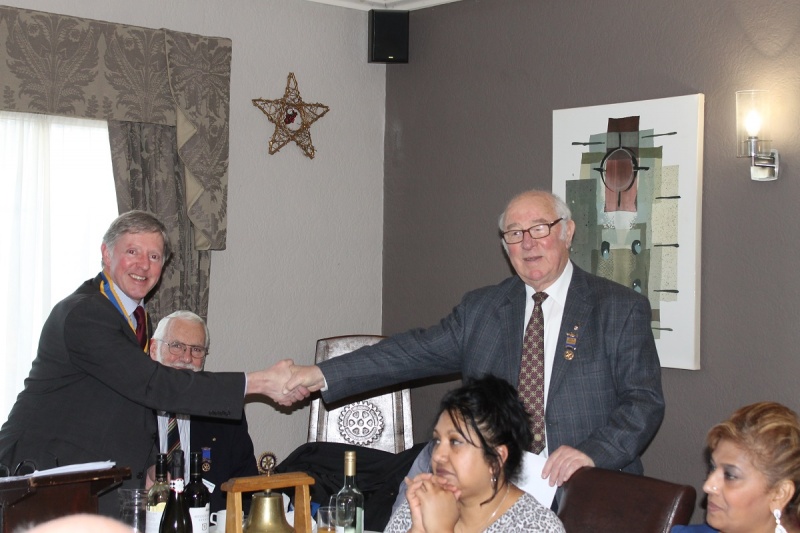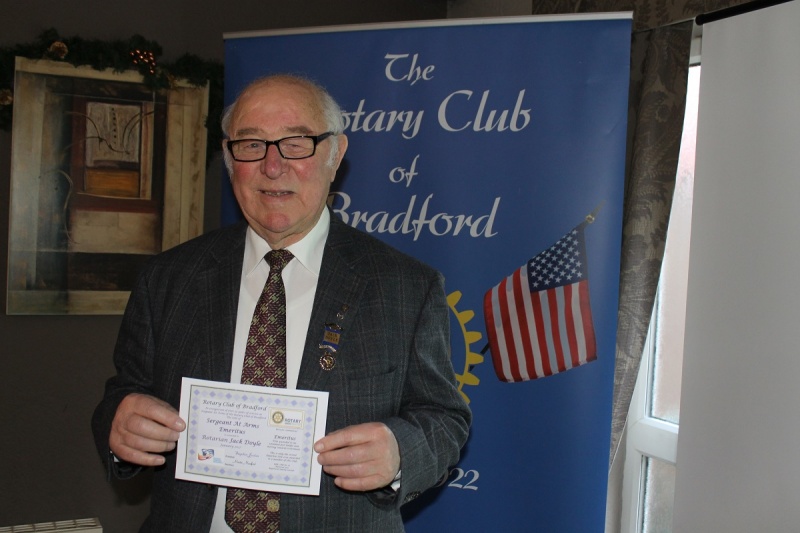 Our very own Jack Doyle received and rightly deserved his Sergeant At Arms Emeritus Certificate presented to him at our lunch time meeting
---
New Years Message from Professor Paul Rogers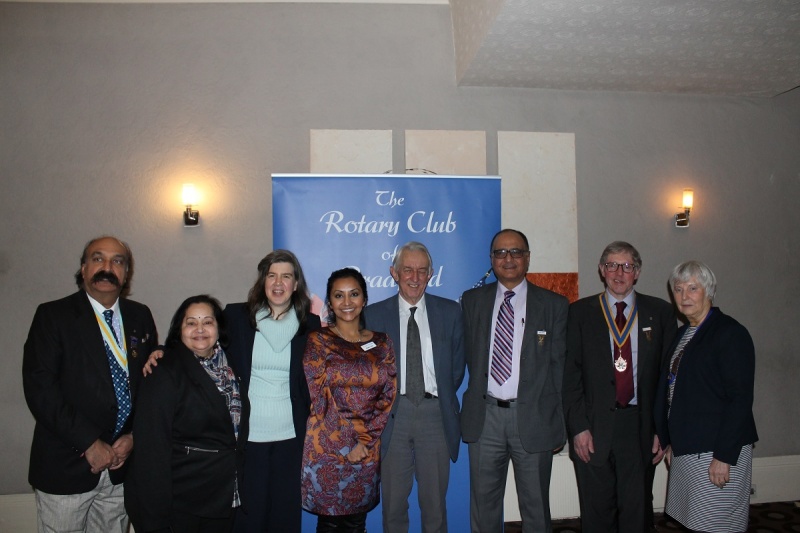 Our speaker today was the esteemed Professor Paul Rogers. Paul is a professor of peace studies at Bradford university and an honorary member of the
club
. His New Year Message was very inspiring
.
---


A fabulous day for our Rotary Club of Bradford Christmas walk
🎄
Everyone had a lovely time and we enjoyed a most wonderful luncheon provided by Tina & Keith in their beautiful house
🎉
more pictures in the photo gallery
Same again next year , please
😜
🎄
---


Christmas Lunch

Rose Ashbourne (centrepoint) Mike Smith (silly jumper society) Claire Sharpe (Positive Lifestyle) President Stephen and Martin (Hon. Sec) Also Past President Geoff, photobombing in the background

---

Donation to Centrepoint Bradford

A cheque for £2000 was given to the Charity "Centrepoint" (made up of £900 district grant and £1100 from our own charity account) receiving the cheque is Rose Ashbourn .

---

Our new project ot tidy up Oak Avenue, and we planted some purple crocus as well. should be ready for our charter in March
---
Carol service Wednesday 7th December 2016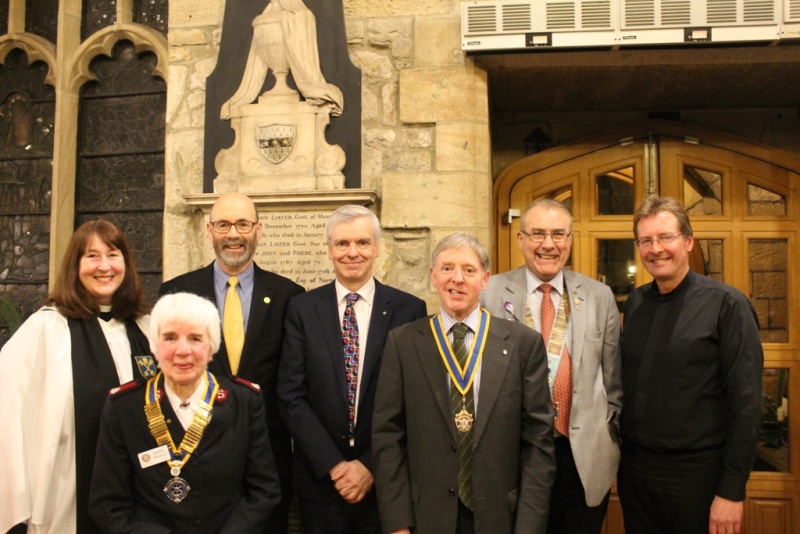 Our Carol service at Bradford Cathedral attend by nearly 200 people
more picture in our photo section
The collection raised £1030 split 50/50 with the Cathedral and Marie Curie MND Bradford
---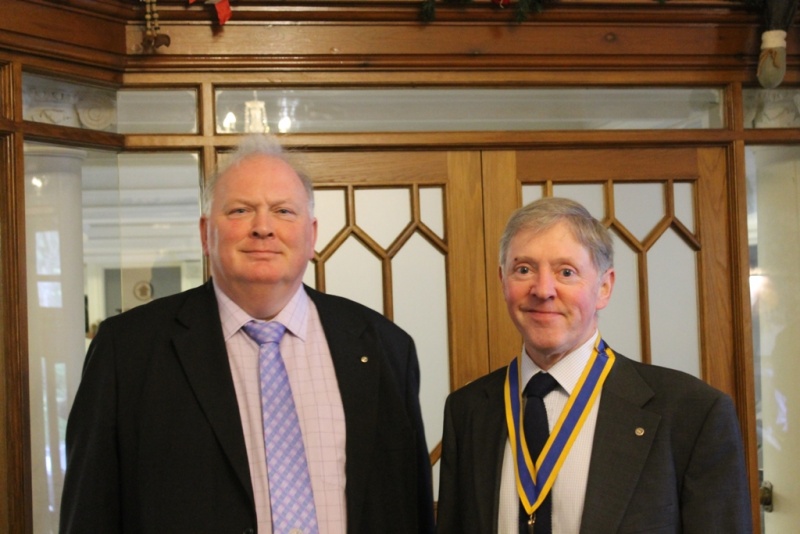 President Stephen with fellow Rotarian Chris Binns. Chris spoke to the club about the 'Embrace Child Victims of Crime ' charity. due to our speaker having to postpone at the last minute 2/12
---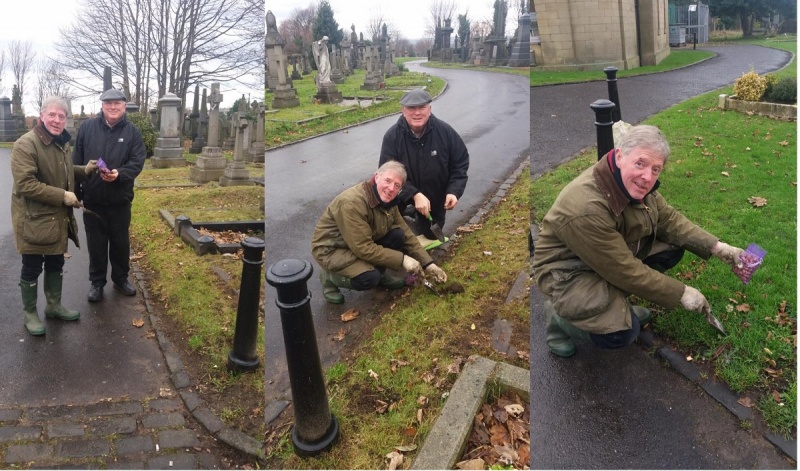 President Stephen and fellow Rotarian Chris Binns the club environment officer spent this first day of December planting purple crocus bulbs at the entrance to Undercliffe Cemetery 1/12
---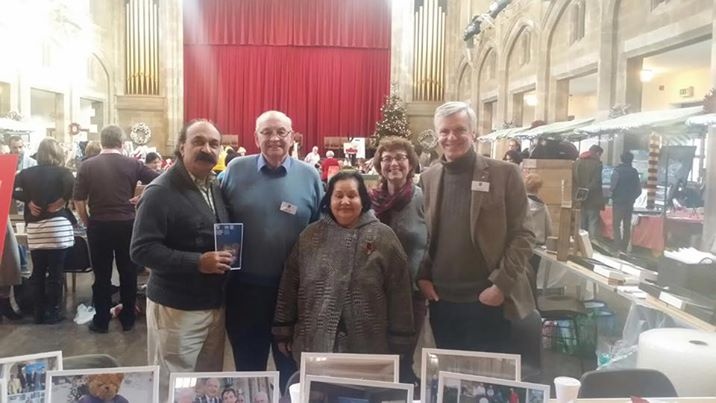 Fellow Rotarians ,Manoj, Jack, Bhavna, Jane and David. They promoted
The Rotary Club of Bradford
with a stall at the Bradford Grammar School Xmas Fayre 26/11
---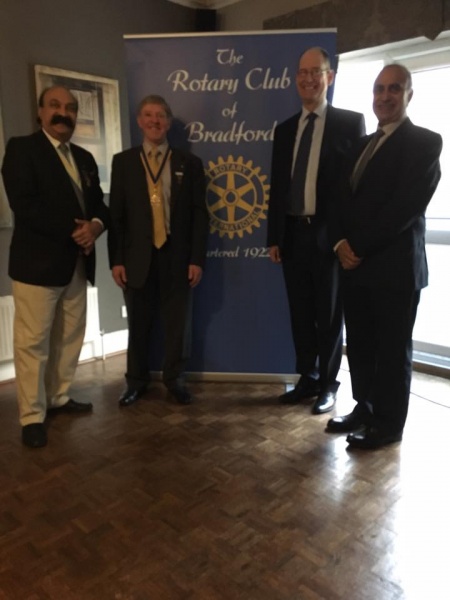 President Stephen with Manoj, Ed Anderson today's speaker and visiting past member Mahboob Hussain 25/11
---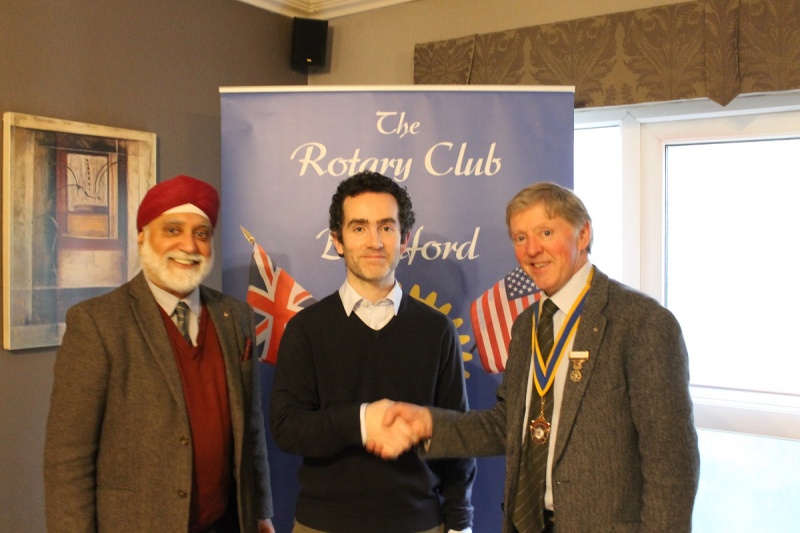 Dr Alan Blighe with President Stephen and Baldev
---
Quiz night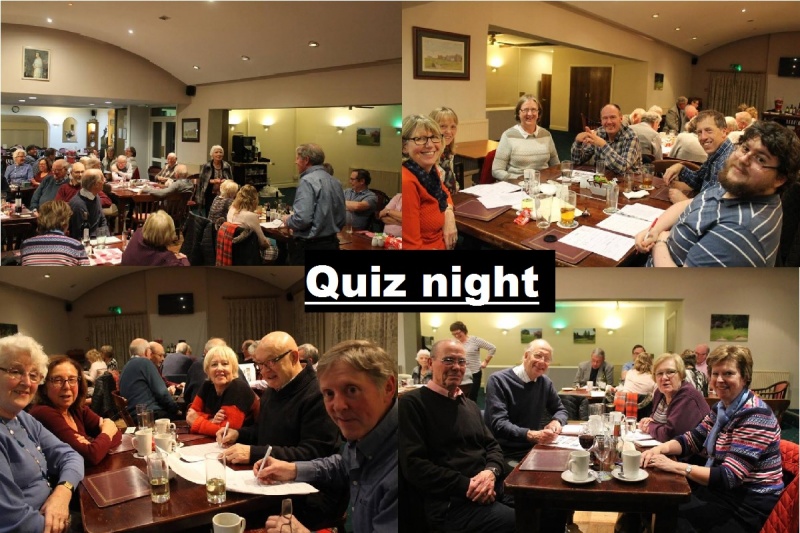 A good night was had by all, fellowship at its best (loads more pictures in the photo gallery)
---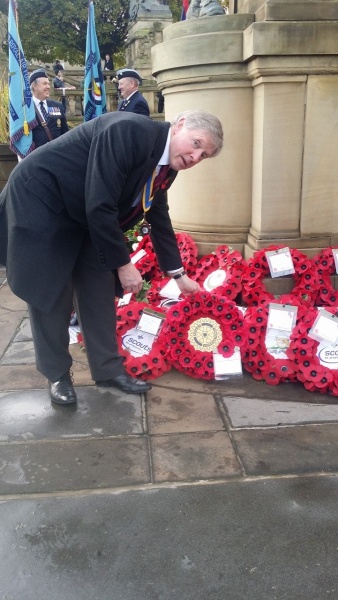 ---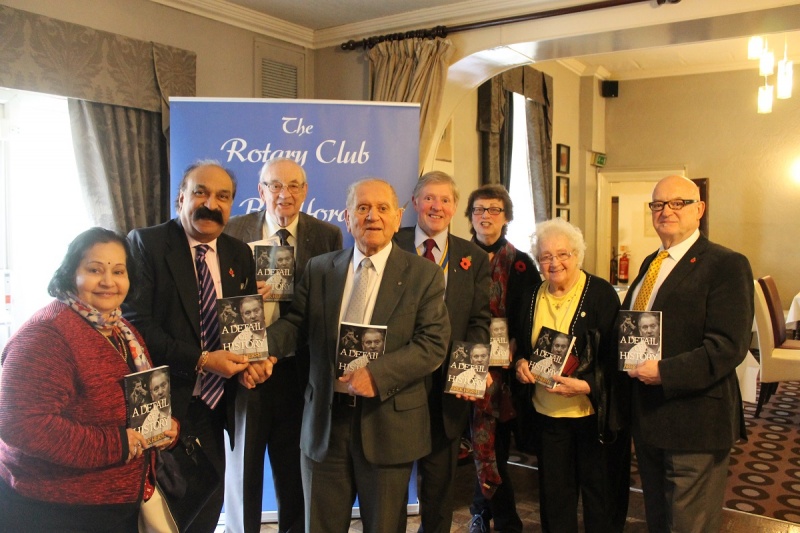 President Stephen with today's Speaker Mr Arek Hersh MBE . Arek told us his moving account of when he was a little boy who survived the Nazi concentration camps and ghettos.
He was inspirational.

Some of the Rotarians that purchased Areks book , all of the proceeds go to the Beth Shalom Holocaust memorial centre in Nottingham.
---
DG visits Bradford (4/11)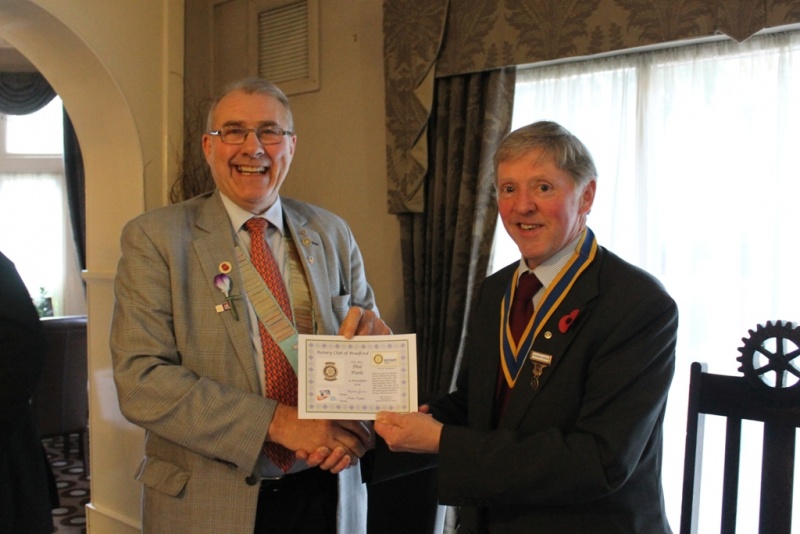 District Governor Phil Poole from Brighouse Rotary Club brought us up to date with District events and policies .
---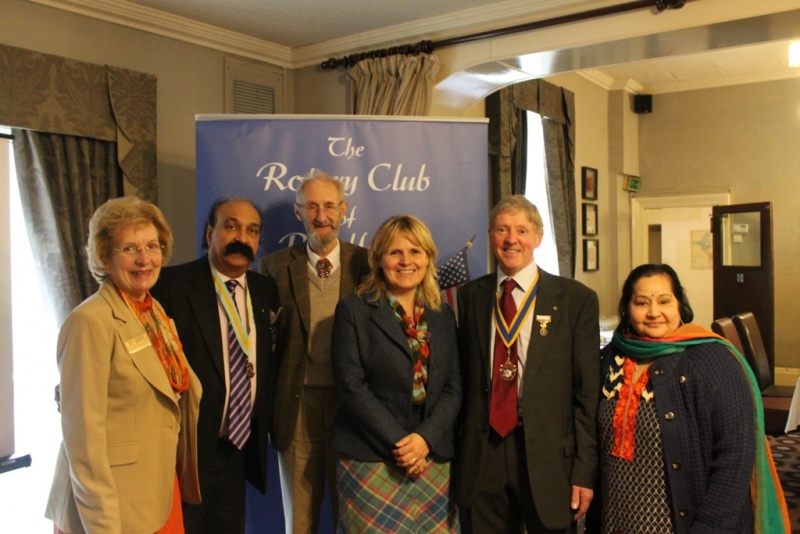 Superb luncheon and scintillating talk given by Ms. Kersten England pictured with President Stephen. Her subject was 'Bradford,Enterprising,Energetic,Extraordinary ' Kersten is the Bradford Council chief executive. Also pictured are fellow Rotarians, Christine Thomson, Manoj Joshi, Chris Thomson and Bhavna Joshi. 28/10
---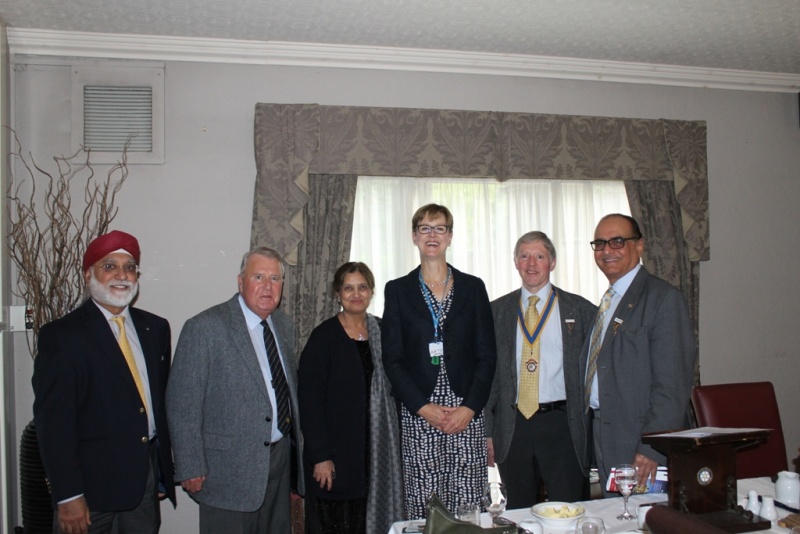 President Stephen with today's speaker Ms. Helen Bourner (21/10)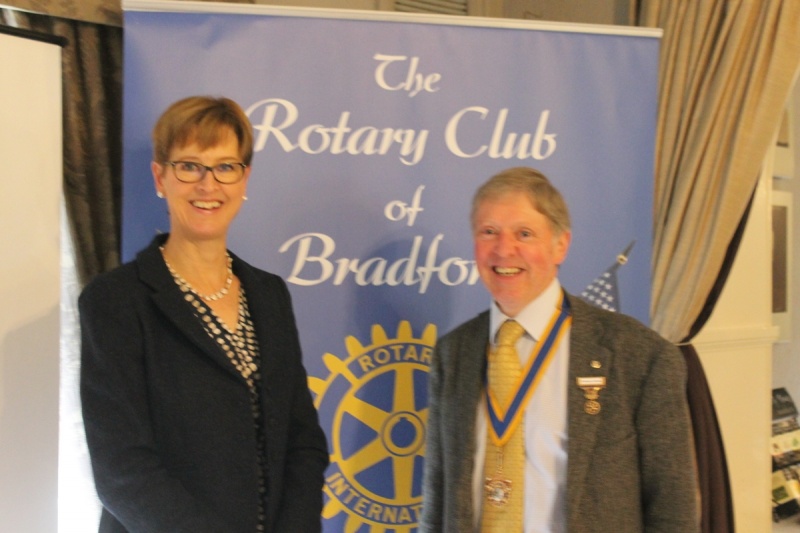 President Stephen with today's speaker Ms. Helen Bourner . Helen gave a most fascinating talk about Telmed Vanguard which is linked with the NHS .
—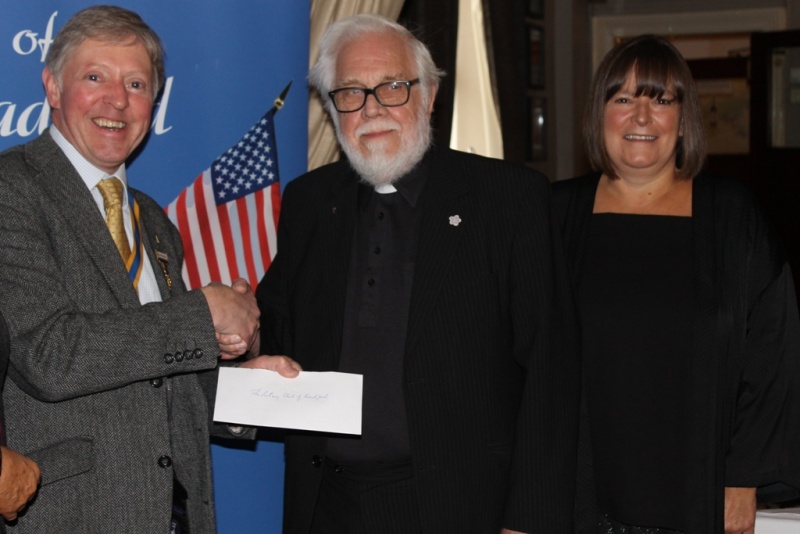 President Stephen presenting a cheque for £500 from our club to the Rev Edward Holmes . Edward is heavily involved in helping the people of Haiti that have suffered so much from hurricane Mathew.
---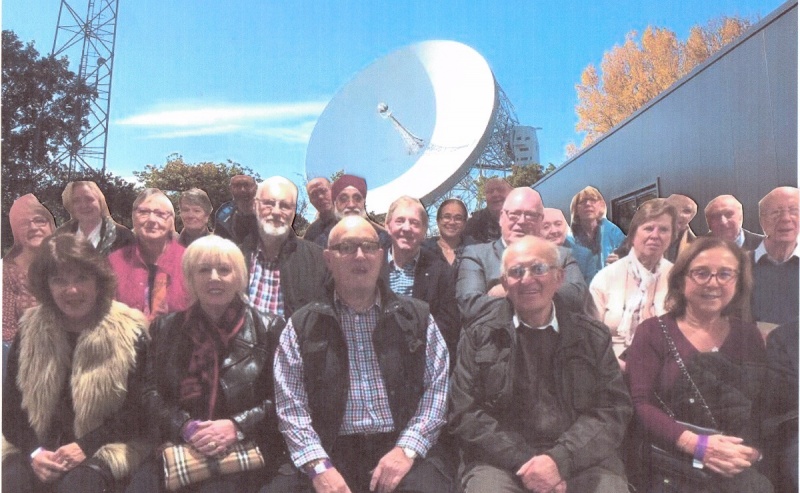 Wednesday 19th October 2016 our visit to Jodrell Bank
---
Today's speaker Ms. Satinder Salona. Her subject was 'Home Instead ' which is about senior home care in Calderdale.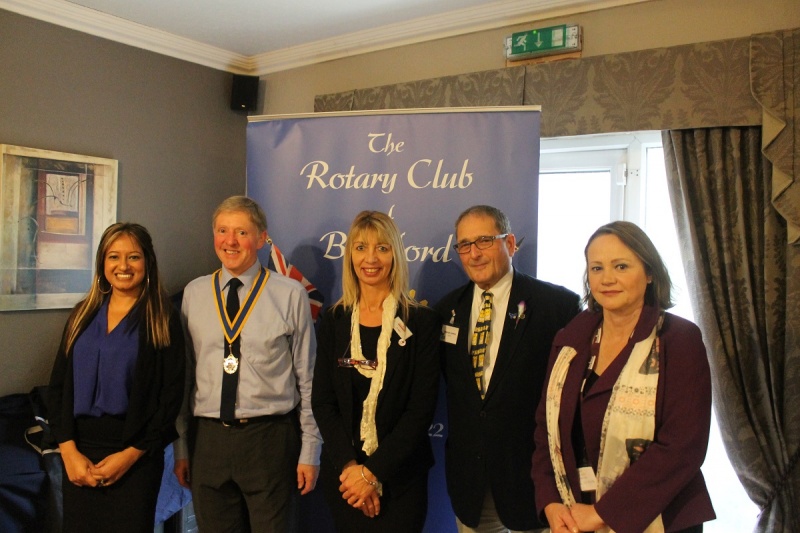 Satinder , President Stephen , Sue ,Rotarian Melvyn Sumroy (from the Rotary club of Leeds) and Carol . Sue & Carol are colleagues of Satinder
---


---
President Elect David with the books Chris Madeley has written for children
Chris gave a very enjoyable talk to the club today about her childrens books (7oct)
---
President Stephen welcomes
Adrienne and Philip from Australia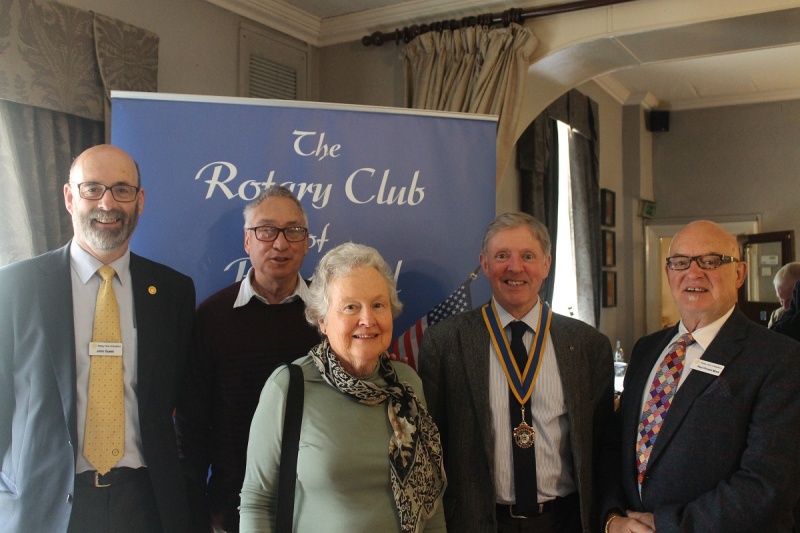 President Stephen with fellow Rotarian John and his friends Adrienne and Philip, visitors from Australia . Also in the picture is today's speaker Rotarian Paul Moss
---
The President having his collar felt.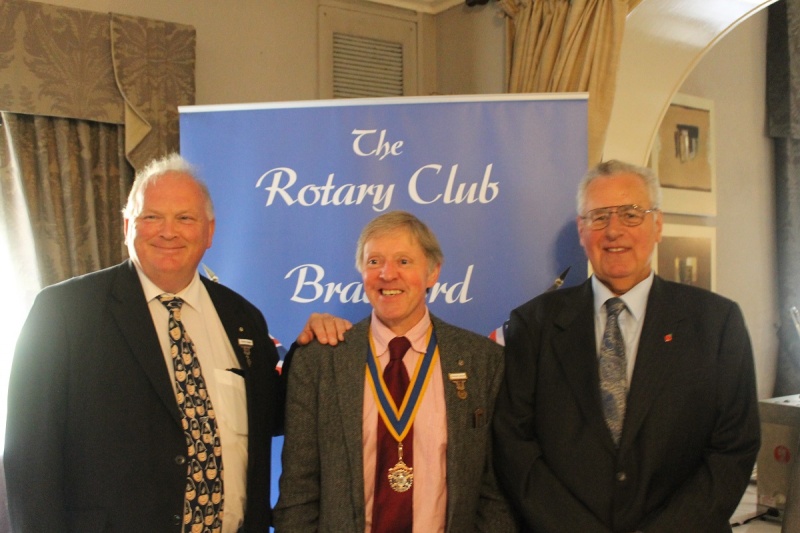 Chris and Joe gave a fascinating talk on old
Bradford Police stations 23/9
---
£875 raised for local charities
Fabulous BBQ at the home of Bhavna and Manoj. The weather was kind , the food was lovely and the company was great (more pictures on the photo galleries)

A very big thank you must go to Keith & Tina, who put in a heck of a lot of work to make the event run smoothly
---





---
Our RYLA student Daniaal


Daniaal gave a very confident talk on his time at RYLA, and admitted he would have never done anything like a talk before he went on the course. John presenting Daniaal with his certificate


Kim and Simon Rebecchi from Leeds White Rose, Liz Davies Bradford Academy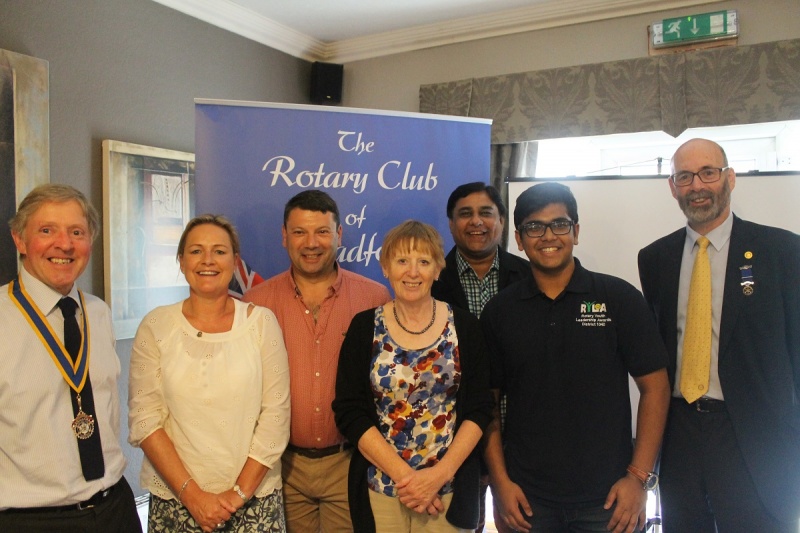 President Stephen, Kim and Simon Rebecchi from Leeds White Rose, Liz Davies Bradford Academy Lakhi (daniaal dad) Daniaal and John Guest. (16-9)
---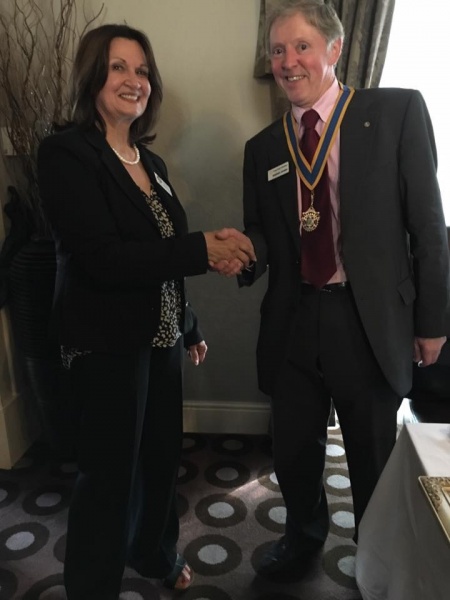 President Stephen with today's lunchtime speaker, Ms Donna Blakeway , a fellow Rotarian . Donna told us about her life , beginning with when she was born in Pakistan (9-9-16)
---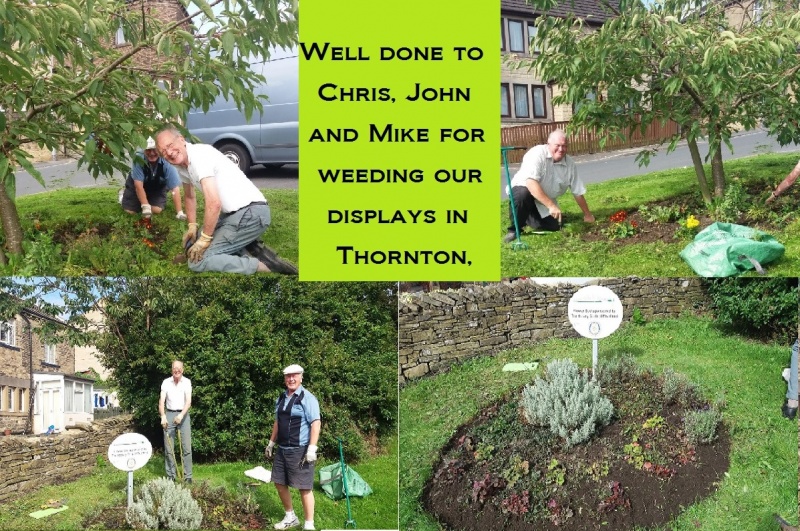 ---


President Stephen with today's speaker Rais Hasan and our speaker finder Rotarian Baldev . Rais is the President of BPS , the Bradford Photographic Society (2-9-16)
---





President Stephen with today's lunchtime speaker , retired headteacher Stephen Taylor . Stephen gave a fascinating talk about his interesting and varied career
---



Prof. John Brindley
Prof. John Brindley with Baldev and President Elect David at today meeting
---


President Stephen with today's lunchtime speakers Faye Edmondson and Harvey Sheard from Centrepoint Bradford, and Fellow Rotarian Carmel Harrison who is a member of the White Rose Rotary Club of Leeds
---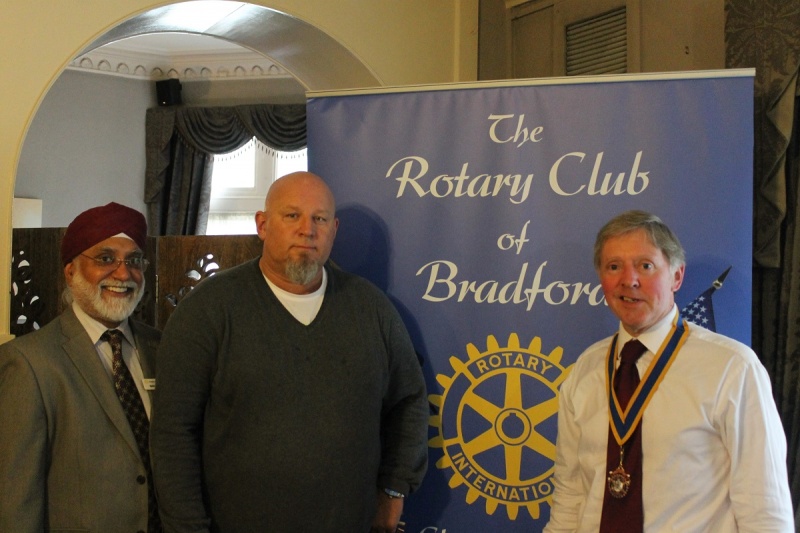 President Stephen and fellow Rotarian Baldev with today's lunchtime speaker Chris Sampson . Chris is the Director of BACS training school and he gave a fascinating talk about motivation.
---
RYLA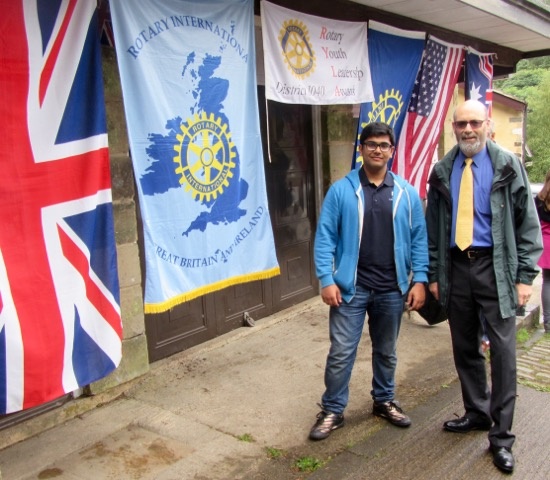 John collecting Daniaal our club RYLA candidate from Hebden Bridge on 29/7/2016
---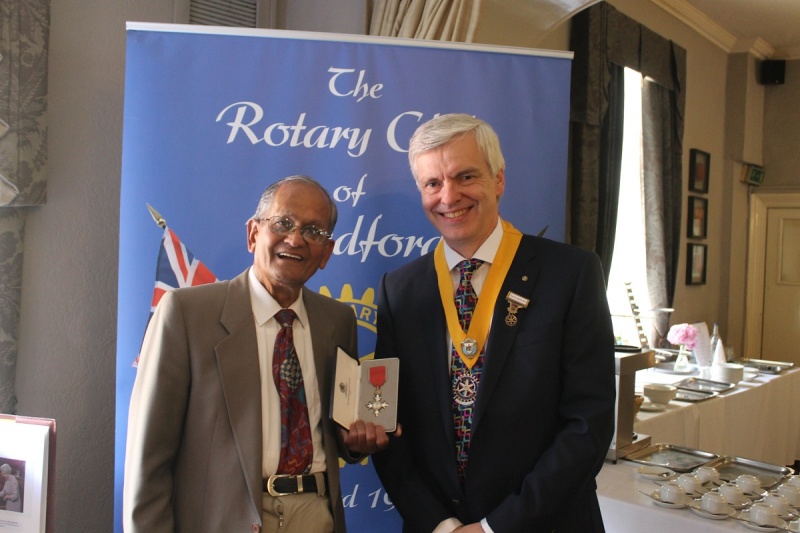 Picture shows Charlie Bhomick with his MBE and President-Elect David
President-Elect David with today's lunchtime speaker Charlie Bhomick MBE . Charlie gave a very enthusiastic talk on his life since he arrived in Keighley in December 1954 . Charlie is a representative of the Inter - Faith Group and a proud Royalist, he was awarded the MBE for services to the community by Her Majesty the Queen in 2005 .
---
Visitor from Singapore 15-7-16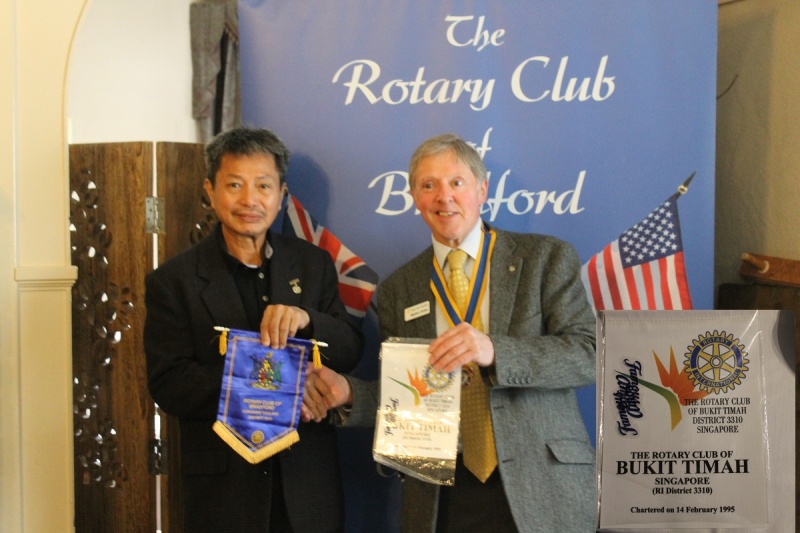 PP Henry Lim from Rotary Club of Bukit Timah Singapore visited our club today President Stephen exchanged banners.
---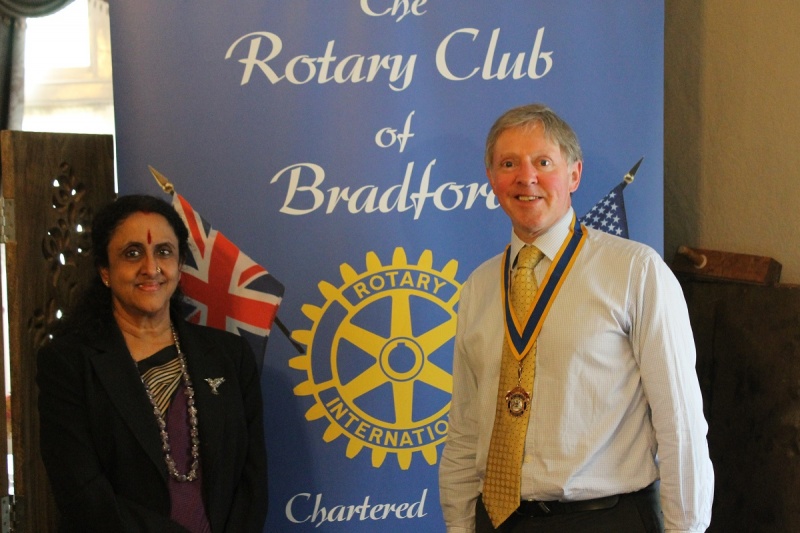 President Stephen with today's fabulous luncheon speaker, Dr. Geetha Upadhyaya . Her subject was 'Journey of Kala Sangam' Kala means art and Sangam means infusion. Geetha is artistic director and CEO and told us about the past the present and her hopes for the future .
---
"Oh what have we done"

Did we know our new President liked to play on swings.
Sunday 10th June 2016 marked the opening of The Rotary Club Adventure Playground in
Heaton Woods
It was officially declared open by President Stephen who was ably assisted by past President Manoj.
Several members from
The Rotary Club of Bradford
were present to witness the happy event
(More pictures in the photo section)
---


President Stephen and fellow Rotarian Maurice with today's lunchtime speaker, Pat Alker.


Pats subject was 'Project Dukem, Ethiopia ' . Pat told us about her charity work in the Bale mountains of Ethiopia.
---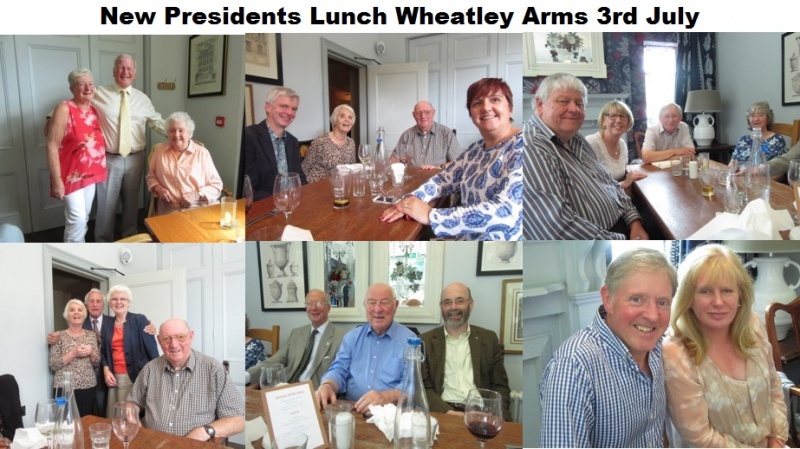 ---
New President Stephen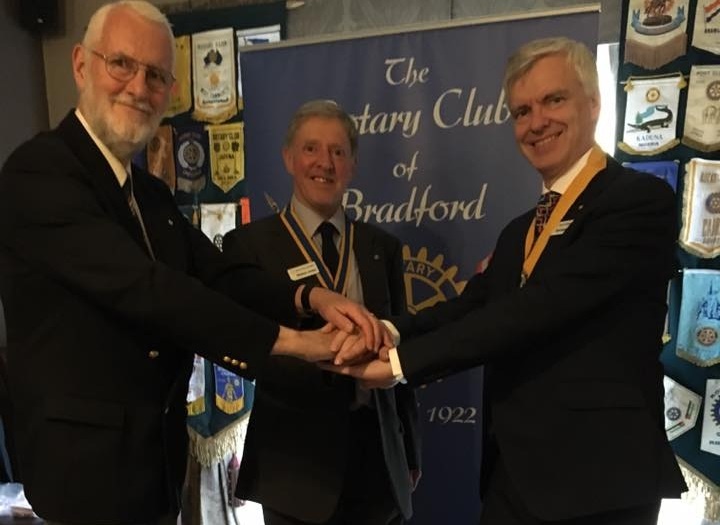 The past , the present and the future, continuity
---




(25-6-16) Gardening in Thornton
---
Our congratulations go to our new Paul Harris Fellow,


John Guest was presented today with a PHF from President Alan, John fully deserves the award, and if I am not mistaken, there was a slight tear in his eye.
---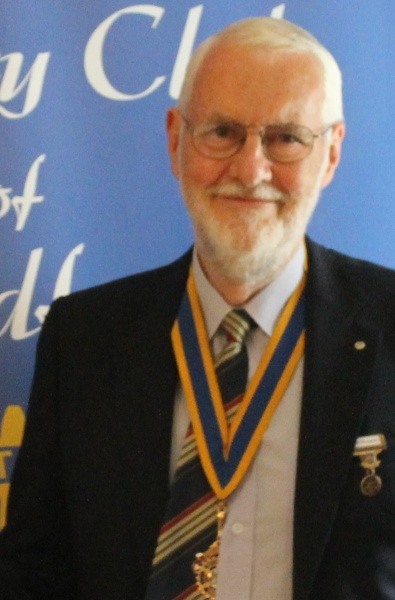 Well done Mr President for a wonderful year
---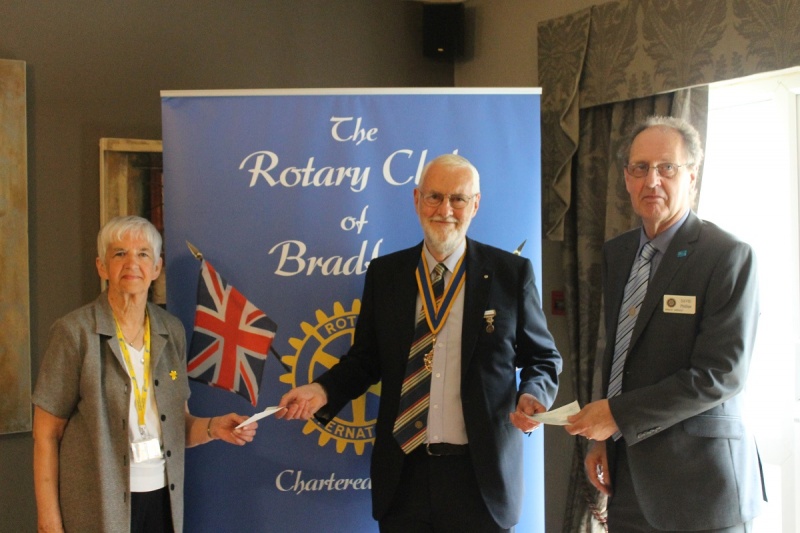 £1000 to David Phillip for MND
(he is the one on the right.)
---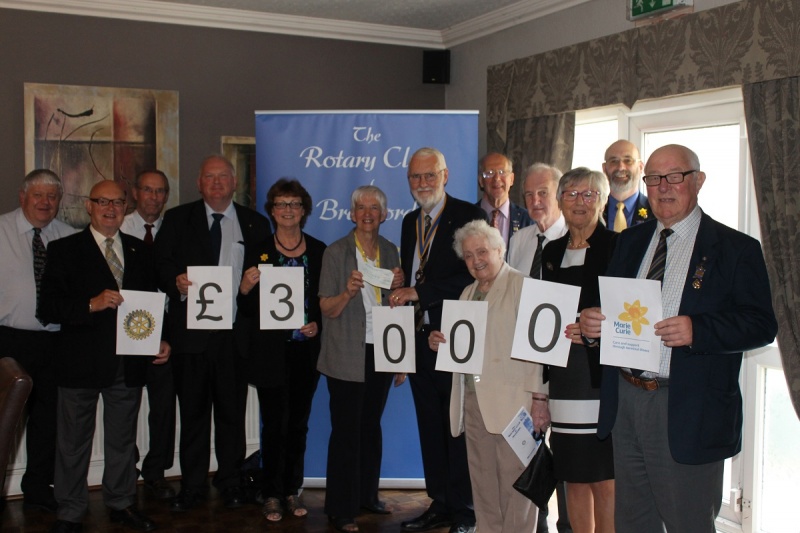 £3000 donation to Marie Curie


---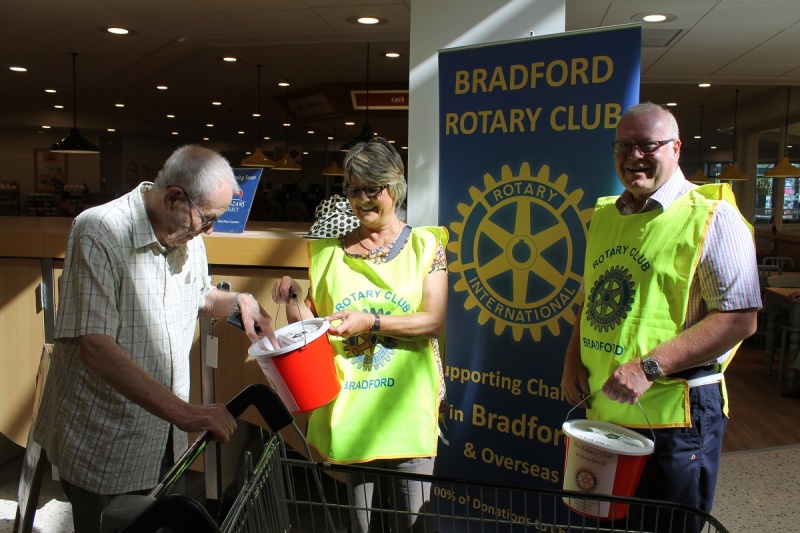 Our collection at Morrisons is underway,
with a smile and a cheery word,
---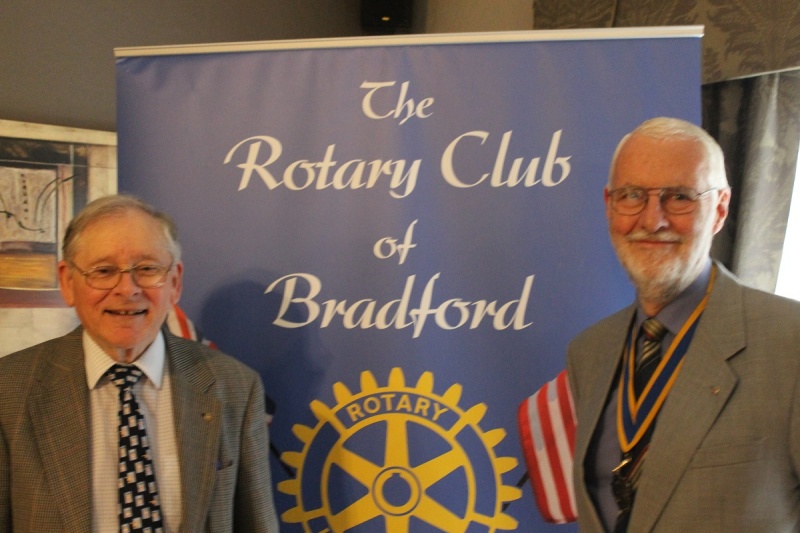 Geoff stood in today at the last minute when the speaker was unable to attend and as I have said before, the best speakers are our own members but today was the exception, he talked about nautical terms, oh I have just proof read this and it should say 'no exception', sorry Geoff
---
CHARITY WALK, 12TH JUNE 2016
FOR MARIE CURIE HOSPICE BRADFORD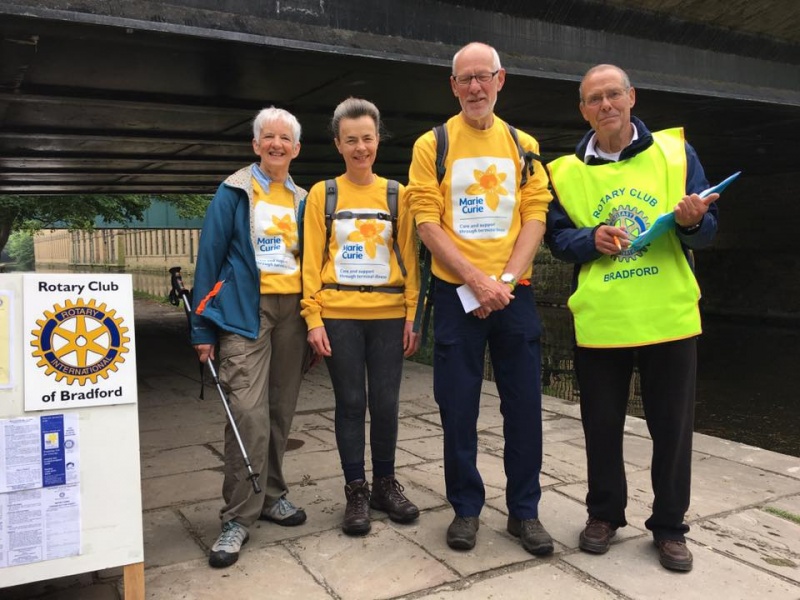 Picture shows walkers, l to r Brenda Smith, Sylvia Fowbert, David Harvey with Martin Mumford at Victoria Road, Shipley checkpoint.
The Rotary Club of Bradford is delighted to report on the success of their charity walk in aid of Marie Curie Hospice Bradford on Sunday 12th June 2016, They had over 50 people walking and up to press had collected over £2500 with some more donations still to come.
---
Club assembly 10th June 2016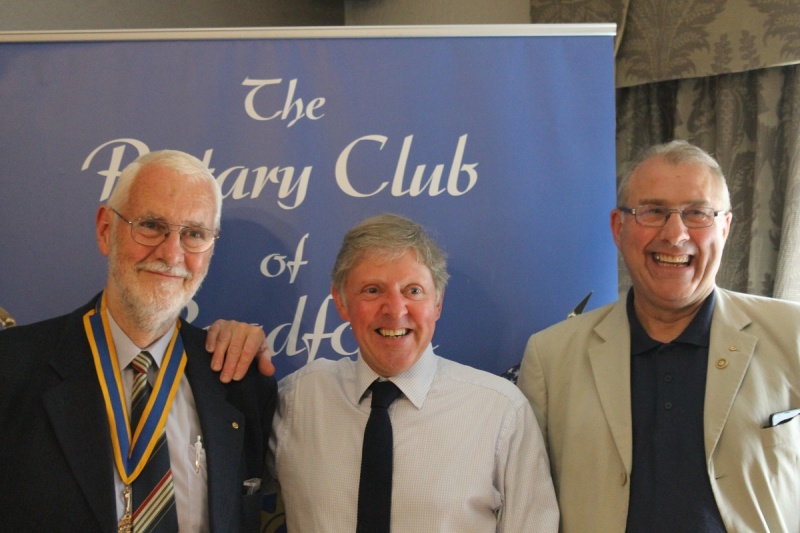 President Alan,
with president-elect Stephen and DG-elect Phil Poole
---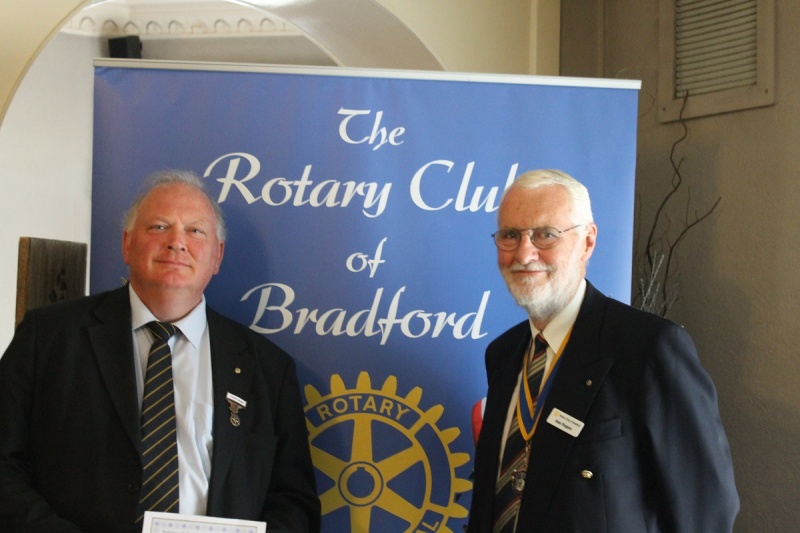 They always say the best talks are by our own members and todays was no exception,
Chris stood in at the last moment and again gave a very enjoyable talk on the River Aire
---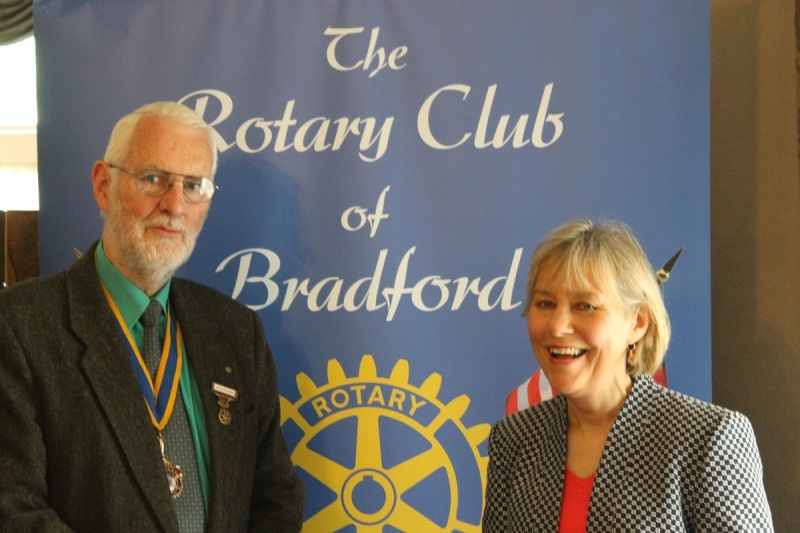 President Alan with today's lunchtime speaker Lyn Ibbotson . Lyn gave us an up to date account of the work being done by the charity 'Hope & Homes for Children ' which is one of the many charities supported by Rotary .
---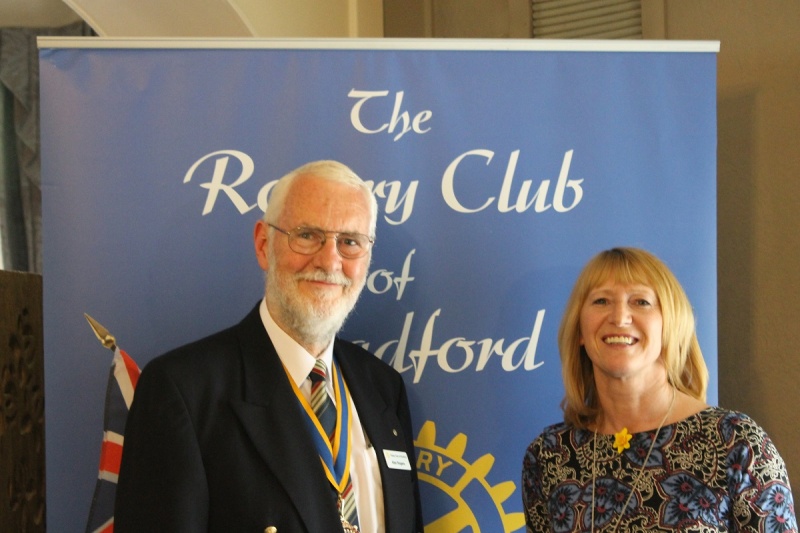 President Alan with today's lunchtime speaker Sharon Link . Sharon spoke to us about the wonderful Marie Curie Hospice and the services offered to patients .
---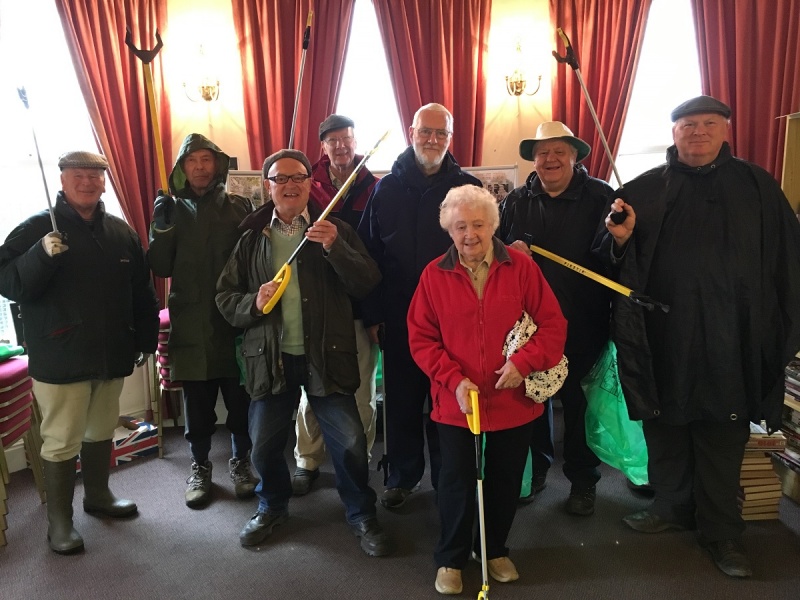 Litter pick for the Queen at Undercliffe Cemetery Wednesday 18th May 2016
8 intrepid members of the club, including Honorary member Sheila, braved the torrential downpour, that has not been seen since the time of Noah, the threat of a hurricane to litter pick at the cemetery, President Alan, did a short spell, as he had to attend Idle and Greengates Charter, The rain started to ease and after 2 hours work, we had collected 18 full bags of rubbish, 4 barbecues which was amended to 2 as both Mike and Martin, and Chris had counted the same 2, Martin and Mike also found 3 Hoovers, Martin suggested one was better than they had at home, so would take it as a present for "her in doors", if he comes to the meeting on Friday with a bandage round his head, we know Judy has crowned him with it.
During the pick one of the grabbers broke, so our very own Mr Womble, John Parker, has taken it home to see if he can repair it.
Good fellowship was had by all.
---
2 of the Baildon Blister Sisters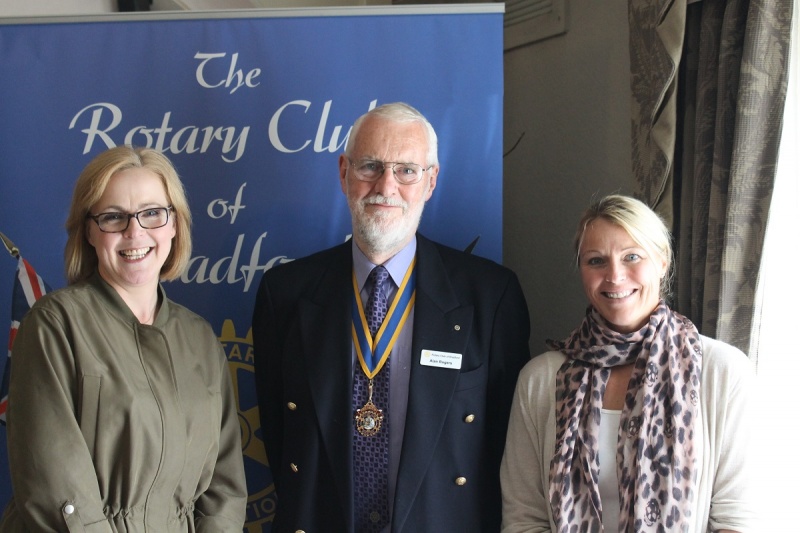 President Alan with Karen on his left and Sarah on his right . Karen and Sarah are two of the four 'Baildon Blister Sisters' . They gave a most inspiring and entertaining talk on the past years activities of the four ladies . They consisted of 'Run -Wine , Swim-Wine , Cycle-Wine, Mud -Wine '
---
The Rotary Club of Bradford
present Clare Sharpe with a
Service Recognition Award
for all her good work at Positive Lifestyle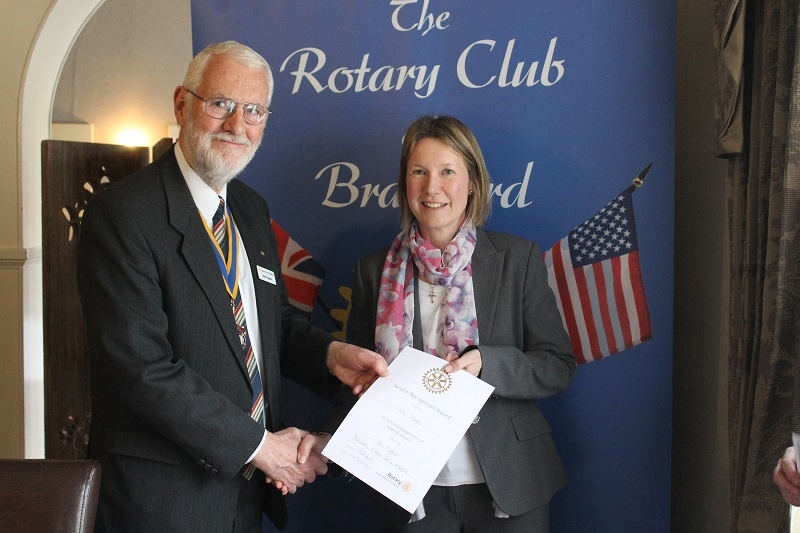 President Alan with today's lunchtime speaker Ms Clare Sharpe . Clare spoke to us about the charity ,Positive Lifestyle and the milestones achieved so far , and of the future now that it has come under the auspices of ' One In A Million Charity'
---
Tuesday 22nd March a trip to Haysham Power Station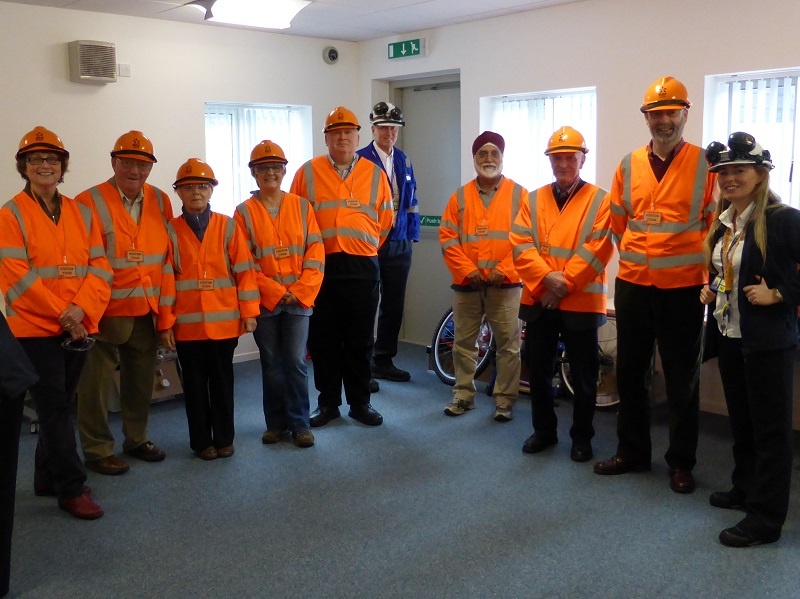 a good time was had by all, more pictures in photo section
---
Today we had a visit from Ayo Banjo, from The Rotary Club of Lagos, Nigeria, our member Megha Joshi has just visited them (18-3-16)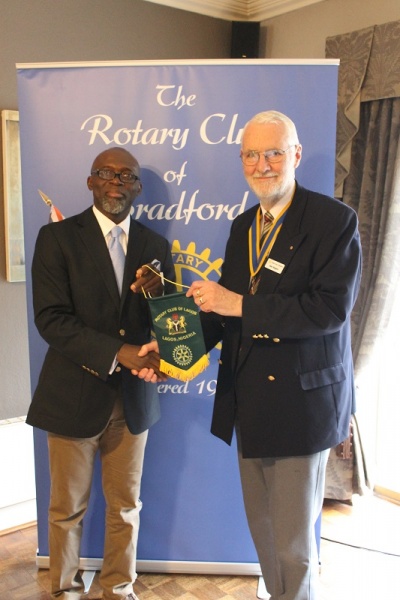 ---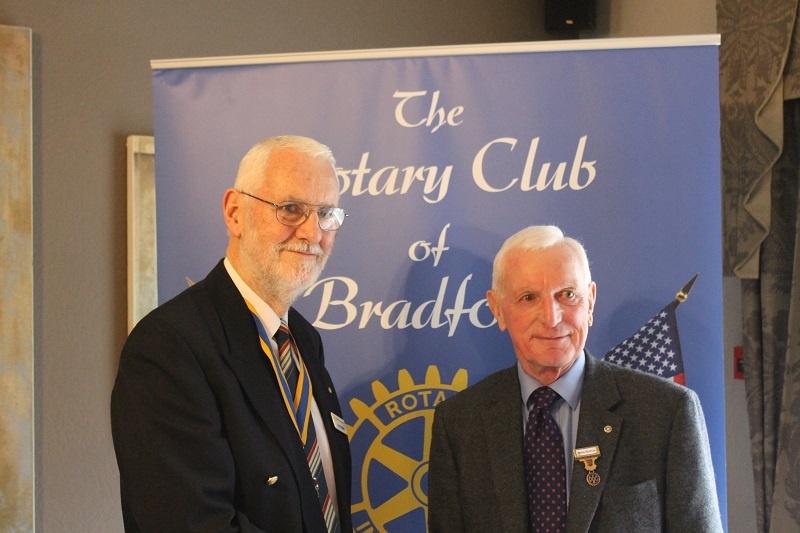 Today's speaker was our very own Brian Burton, and as usual, our in-house speakers are one of the best, Brian talked about his time working for the Electric Telegraph Company which later became BT. (18-3-16)
---
94th Charter Celebrations


L to R Allison Coates, Robert Morphet, Stephen Jordan, Hazel Haas, Rev Dr Roger Walton, Alan Rogers, Manoj Joshi, Mike Bamford and Marjorie Rogers

About 90 people attended our 94th birthday celebrations at the Dubrovnik Hotel, more pictures in the photo galleries
---


President Alan with Friday's lunchtime speaker, Robert Morphet ,District Governor Nominee , Mike Bamford , Bradford Group Assistant District Governor , and Stephen Jordan our President Elect .
---


Picture of President Alan meeting today speaker Phillip Sharp who gave a presentation on Route 66, after the show the rest of the members knew Stephen Spielberg had nothing to worry about.(26/2/2016)
---
Today we had an excellent presentation from
Chris & Madhu Patel on their efforts at
the
Kabiro Community Primary And Secondary school in Nairobi (19/2/16)


---


---
June and Tony Pallett from the Rotary Club of Driffield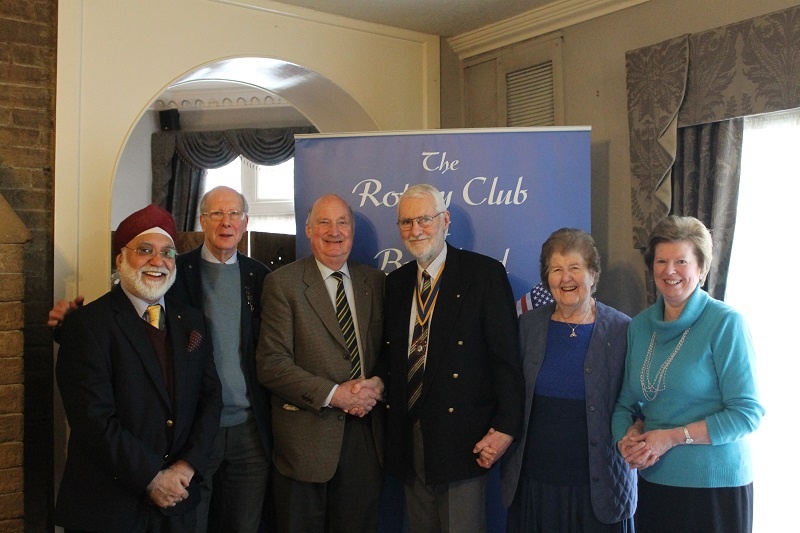 They gave a most informative presentation on The Golden Temple of Amritsa (12/2/16)
---
Our man in the colonies goes further afield, Mars!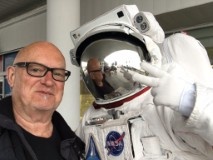 The President of The Rotary Club of Mars greeting fellow Rotarian Paul, with the traditional Martian two fingered sign of welcome
---
✌
The club welcomed Wesley Ananias (5-2-16)
from the Rotary Club De Londrina in Brazil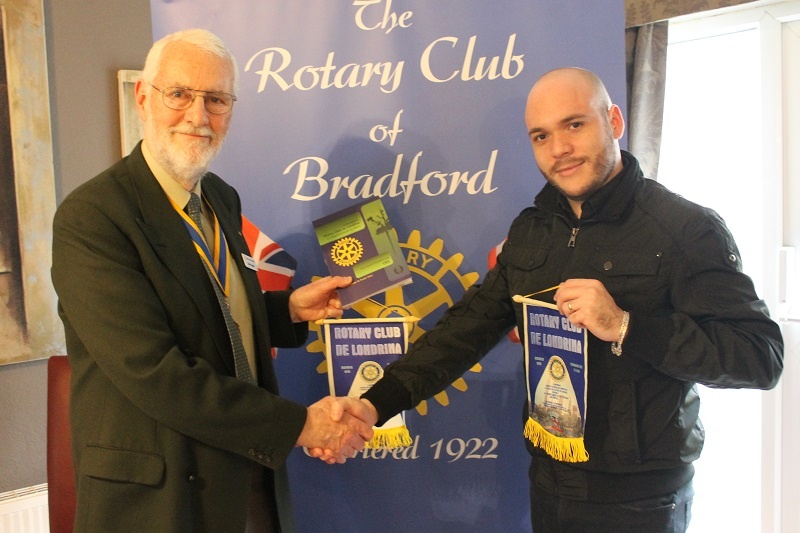 ---
Our speakers today 5/2/16
Shaun Morris-Armitage and Phil Brown


---
Our man in the Colonies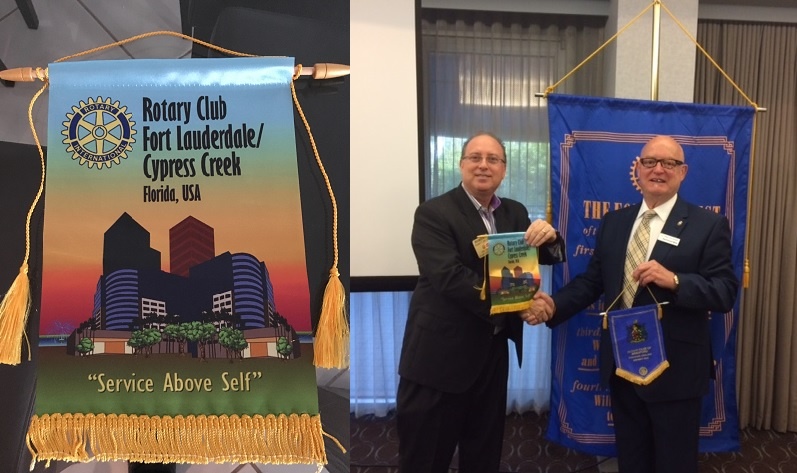 Paul Moss who is on missionary work in Florida,
meets local President Robert Slatoff
---
Rotary Adventure Playground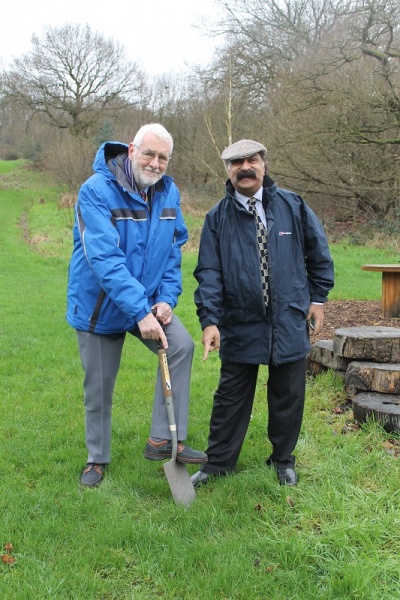 President Alan with the help of Manoj
(more details in past events)
---
Robbie Hunter-Paul and Mark Winder
from the Bradford Bulls Foundation at todays meeting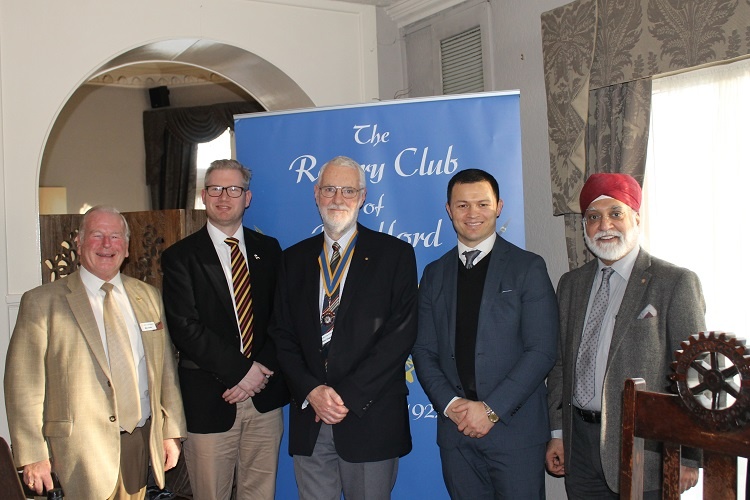 ---
D G Hazel Haas visits club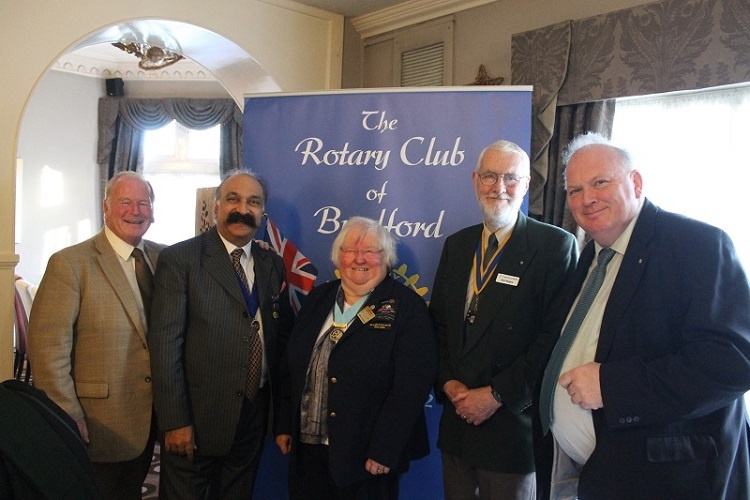 and as young Mr Grace said "You've all done very well!
"
---
Christmas walk 28th December 2015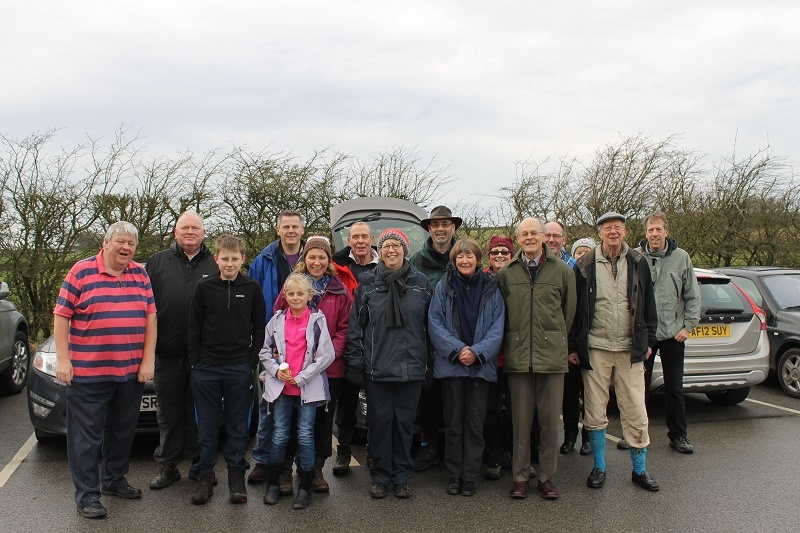 John Parker took us to the West Riding Lake District
---

Tiding up at Undercliffe Cemetery 4th November 2015
(more pictures in photo gallery)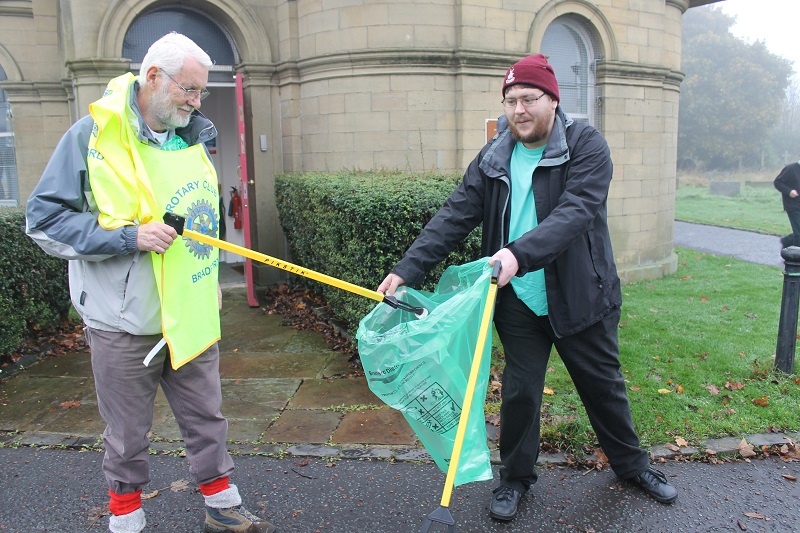 Honest this is not a staged picture
President Alan helped by Andrew Sharp (Lucky Andrew got his dress sense from his dad rather than this mum) although not a member of the club helps on a regular basis, but there again his dad, granddad and great granddad are and were members of the club.
---
Tuesday 20th October 2015
Positive Lifestyle celebration of the 25,000th pupil attending the programme. Mike Smith was presented with a commemorative plaque to recognise his contribution

Mike receiving his plaque from Bradford City player Billy Clarke

A very shy Mike, did not have a lot to tell them

---
New President Alan


Manoj wishes Alan well for the coming year in office

(more photos in the picture gallery)
************************************************************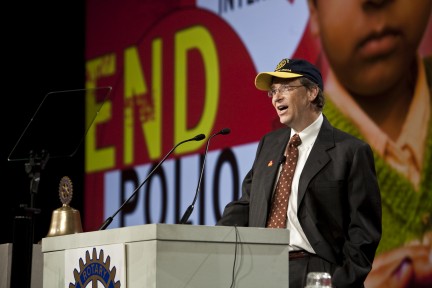 READ BILL GATES 29.01.13 TRIBUTE


TO ROTARY'S EFFORTS TO ERADICATE POLIO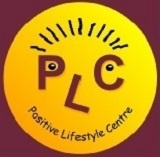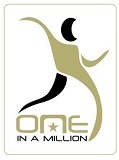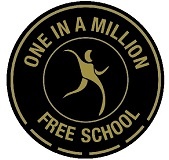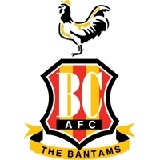 The Positive Lifestyle Centre at Bradford City FC -

Bradford Charity
We are delighted to support this local charity whose

by-line is

"Creating Responsible Citizens"




which recently celebrated the 20,000th child passing through its programme.




To support this important 'moral education' initiative


For Bradford children.

find out more about Positive Lifestyle Centre

go to "What we do"