34 Enter in Rotary Disabled Sports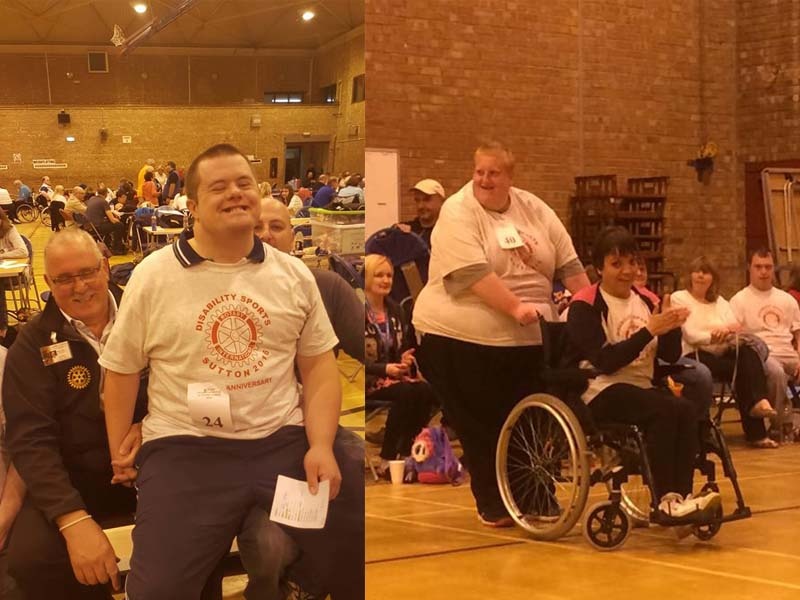 On Saturday 3rd August the Bolton Daybreak Rotary took a party from Bolton Group 'Our Place Our Space' to the Rotary Disabled Sports in St Helens.
A team of 34 entered the competition and a number of them won Gold Medals. They were accompanied by a number of friends, helpers family etc
A good time was had by all. This is the third time they have attended
Rotary Disabled Sports has now been going for 20years.

---
About Bolton Daybreak Rotary
Bolton Daybreak Rotarians have been meeting weekly since 1993: meeting at the Britannia Hotel, Beaumont Road, Bolton, 7.30am each Wednesday . See full details on the right
We have an excellent breakfast in the company of friends, where we discuss ongoing projects and events, and where we are entertained and informed by a variety of speakers.
The club enjoys a number of great social events in the course of the year, and is always looking for ways to raise funds to enable us to support needy causes in the local community and the wider world.
Our most valuable assets are our members - each bringing their experience and expertise to the club and, most importantly, the fellowship of new friends.
We would welcome prospective members from all sections of society - male and female; any ethnic and religious background, also our meeting venue has full wheelchair access.
If you would like to know more about Rotary, and Bolton Daybreak in particular, I can be contacted on 01257 482771. Shirley Gardiner
Rotary Club Registered Charity 1035073
(Registered with the Charity Commission)
Meeting Details
Interested in joining Rotary
In the next 30 days...
Meeting Information...

We meet on Wednesdays at 0730 (There is no meeting after a Monday which is a Public Holiday) Britannia Hotel, Beaumont Road
Bolton
BL3 4TA tel: 0871 222 0024