Future meetings and events around the district
Sat 19th October 2019 at 09.00 - Sun 20th October 2019 - 14.00 District Conference 2019
Llandudno, 19th - 20th October
Thu 24th October 2019 - 23.55 World Polio Day
Polio Day
Sat 2nd November 2019 at 09.00 - 12.00 DOTS1
preparation for Assistant Governors, and District Team Leaders. Venue Sysop,Heywood. 2nd Nov
Tue 12th November 2019 at 19.30 - 22.00 District Council Meeting
At Swinton Golf Cub, 12th Nov.
Thu 28th November 2019 at 19.00 - 22.00 District Foundation Dinner

Advance Notice of District Foundation Dinner Thurs 28th Nov 2019 6.30pm for 7pm at Statham Lodge, Lymm.
Thu 20th February 2020 at 19.00 - 22.00 Presidents-elect Dinner.
Venue: Deanwater Hotel,
Sat 7th March 2020 at 09.00 - 12.00 DOTS2
Briefing for District Officers on emphases for forthcoming year.
Sat 21st March 2020 at 09.00 - 14.00 PETS
Presidents-elect training (PETS).
Venue: Swinton Park Golf Club
Wed 25th March 2020 at 19.30 - 22.00 District Council Meeting
At Swinton Golf Club, 25th March.
Fri 1st May 2020 at 09.00 - Sun 3rd May 2020 - 17.00 Rotary Volunteer EXPO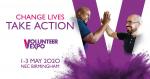 Rotary in Great Britain and Ireland's annual event is being transformed.
Rotary is launching Volunteer Expo; a new, national, public-facing event to get people volunteering!
Sat 16th May 2020 at 09.00 - 14.00 District Assembly
Venue: Bolton Wanderers Stadium
Fri 23rd October 2020 at 13.00 - Sun 25th October 2020 - 14.00 District Conference
D1285 conference in Harrogate Oct 23rd to 25th 2020