Book here if you would like to join us for our next meeting!
This not-for-profit organization works to advance world understanding, goodwill and peace. Using Rotary Foundation grants, Rotary's 34,000 clubs across the globe develop and carry out sustainable humanitarian projects and provide scholarships and professional training opportunities.
One of its biggest initiatives aims at eradicating polio through its PolioPlus program, launched in 1985. Since then, Rotary and its partners, including the World Health Organization and the Bill & Melinda Gates Foundation, have immunized more than 2.5 billion children, reducing the incidence of polio by 99 percent and eradicating it from all but three countries.

Seni and George with their bric-a-brac at the Kew Table top sale in St. Annes Church September 2016.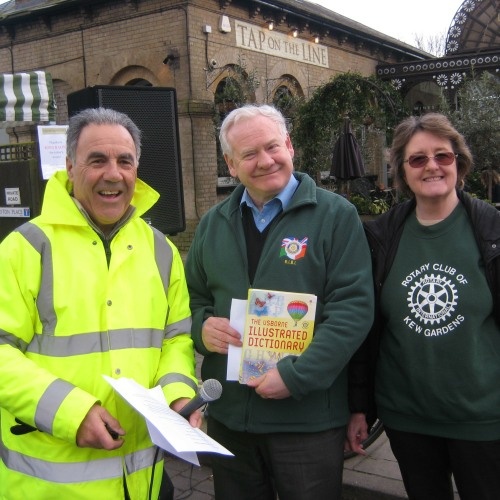 Cllr. David Linnette presenting a cheque for £700 from Kew Village Market to Kew Rotarians Peter King and Sue Sheffer for Usborne Dictionaries, to be presented to 7 Kew Primary schools year 5 classes in June.
Meeting Details
Interested in joining Rotary
In the next 30 days...
Social Media...
Kew Rotary
Promote Your Page Too
Meeting Information...
We meet on Wednesdays at 20.00 Coach and Horses Hotel.
8 Kew Green
Richmond TW9 3BH tel: 020 8940 1208