Welcome to the Rotary Club of Grimsby
Featured pages:
Rotary Club of Grimsby Facebook Page
Keep up to date with Rotary Club of Grimsby's activities on our Facebook page:
https://www.facebook.com/RotaryGrimsby/
Charity Clay Pigeon Shoot
Join us for the Rotary Club of Grimsby's inaugural Charity Clay Pigeon shoot at Nettelton Lodge Clay Pigeon Shooting Ground (near Caistor) on Saturday 3rd June 2017. It is an all comers event both for participants and spectators alike so all are welcome!

The event will start at 1 pm and the last entry is 4pm.

The cost per entry is £20 for 35 sporting clays with five stands. Spectators are admitted free of charge. There will be provision for beginners too so whether you've never held a gun before, or you're a clay shooting addict, it should be a good afternoon.

Individual and team cash prizes and spot prizes will be awarded.

You can shoot as an individual or as a team of four.

There will be a BBQ (additional £10 per person), and hot and cold drinks will be available.

This year the monies raised through Rotary Club of Grimsby's charitable events to will be donated to St Andrew's Hospice (Grimsby), Sea Cadets and other local good causes.

We do hope that you will be able to support the event

If you would like to attend please contact us though this Facbook page and we will email a registration form.

We look forward to seeing you in June.

Venue:
Nettleton Lodge Shooting Ground
Moortown Road
Caistor
Lincolnshire
LN7 6HX
The Rotary Club of Grimsby was chartered in 1930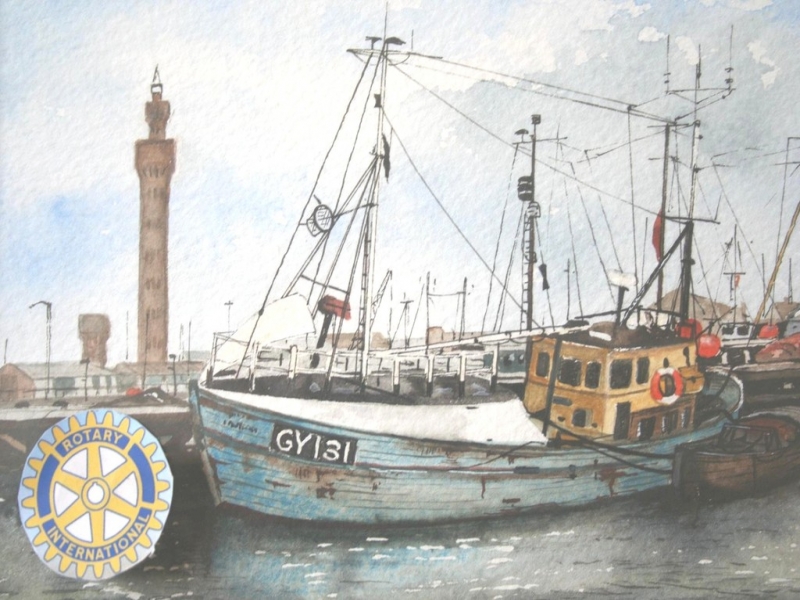 Grimsby is the country's premier fishing port and a leading centre for food processing. Refineries, chemical factories and other industries lie along the Humber estuary. Grimsby is also an administrative and service centre and provides the main shopping and educational facilities for much of northern Lincolnshire.
Rotary is a worldwide organisation of more than 1.2 million business, professional, and community leaders. Members of Rotary clubs, known as Rotarians, provide humanitarian service, encourage high ethical standards in all vocations, and help build goodwill and peace in the world. There are 33,000 Rotary clubs in more than 200 countries and geographical areas. Clubs are nonpolitical, nonreligious, and open to all cultures, races, and creeds. As signified by the motto "Service Above Self", Rotary's main objective is "service in the community, in the workplace, and throughout the world".
Grimsby Rotary Club is very active in charity work, mainly focusing on local needs. Over the last 9 years, over £180,000 has been raised with principal local beneficiaries being St Andrews Hospice, MacMillan Nurses, Motor Neurone Disease, Child Development Centre, Blue Cross and many many more. The club also has an active social side, with many events for members such as golf, snooker and bowls through to interesting visits and entertainment evenings with wives and partners.
Thinking of becoming a Rotarian?
If you would like to know more about the Rotary Club of Grimsby, please contact
John Durham on
01472 322168.
Meeting Details
Interested in joining Rotary?
In the next 30 days...
Meeting Information...
We meet on Wednesdays at 12:45 (5th Wednesday with partners) Humber Royal Hotel Grimsby, DN34 4LX tel: 01472 240024