Programme & Photo Galleries for More.
Updated 29/05/2017

-
Members area
29/05/2017
https://www.lendwithcare.org/ Lend with Care Micro financing supported by our members.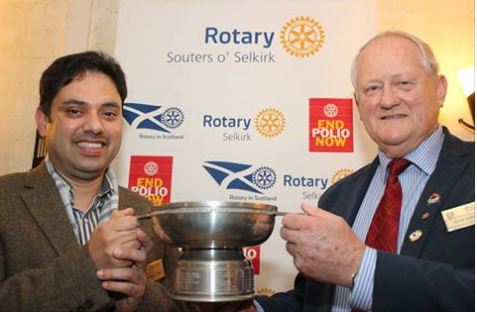 Our club has for many years had a structured programme of members' visits to other Rotary Clubs across the South of Scotland and further afield, including internationally to clubs in Australia, Philippines, Canada, Bavaria, and Austria. In recognition of our efforts, the club was recently presented with the District 1020 (South of Scotland) Fellowship Trophy, which is seen here with our current President Adam Borwick and Vice-President Ferdous Ahmed.
Handover 2016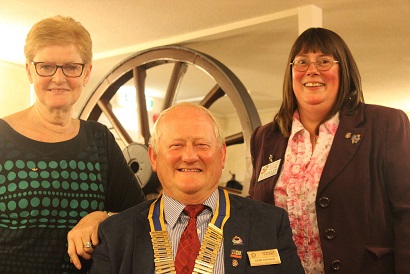 All Change

President Edith Scott gave her final address in 'the chair' prior to handing over the chain of office to new President, Adam Borwick. Adam then assembled his new team and updated the club on our business plan for the coming year, including how we will continue to work to develop our young people and raise funds for distribution to numerous worthy causes. Our Borders Area Assistant Governor, Jo Pawley, was also on hand to wish the club well for the year ahead.
Here's to the next year of 'Service Above Self'
"ª#"Žrotary"¬
A message from 2016/17 President
After my first few weeks as President of The Rotary Club of Selkirk I am
confident that my wish for an increase in the fun and fellowship at our
weekly meetings is on track.
This I feel is creating a very good atmosphere among members which has
already resulted in a very successful project we all took part in. I refer to our
sponsored canoe paddle from Cadrona to Berwick on the river tweed, some
60 miles over 3 days, in aid of The Duke of Edinburgh Award Scheme
which celebrates it"™s diamond anniversary this year.
I am confident that the team we have in place this year will achieve many
more successful projects.
This I feel will make our club attractive when it comes to recruiting new
members.
Adam Borwick
Meeting Details
Interested in joining Rotary
In the next 30 days...
Social Media...
Rotary Club of Selkirk
Promote your Page too
Follow @RotarySelkirk
Meeting Information...
We meet on Wednesdays at 18:00 (Ready to start our Meal at 18:30.) The County Hotel
1-5 High Street,
SELKIRK,
Scottish Borders. TD7 4BZ tel: 01750 721233