Welcome to the Rotary Club of Newtownabbey
Featured pages:

12,000 Crocus Corms are planted by the Ballynure Residents. The young, the very young and the young at heart all turned out to ensure Ballynure will turn 'Purple' !Read more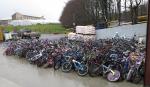 Bikes4Africa is a Project Getting African Students to SchoolRead more
Rotary Club of Newtownabbey are . . .
Rotarians enjoying serving our community . . .
We're a diverse group of experienced, achieving individuals from a wide range of backgrounds with a dynamic and positive outlook
We meet every Tuesday for 5.55 pm to have fun and fellowship and hear interesting speakers
We are genuinely determined to make our Borough, region and the world beyond, a better place for those less fortunate than ourselves
We value every member's contribution and experience
We believe in 'Service above Self' - giving back something to our community
We are neighbours, community leaders and global citizens uniting for the common good
With you, we can accomplish even more . . . Rotary needs you!
More information from . . brenda.crotty@btinternet.com
Meeting Details
Interested in joining Rotary
In the next 30 days...

President Jim provides a round-up of the club's activities in 2016/17
Meeting Information...
We meet on Tuesdays at 17.55 Corr's Corner Hotel, 315 Ballyclare Road, Newtownabbey, BT36 4TQ tel: 028 9084 9221