Future meetings and events
Thu 5th December 2019 at 19.00 - 21.30 'A Christmas Carol'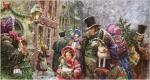 A concert of Christmas music and readings in All Saints' Church, Wold Newton, followed by supper at the Anvil Arms
Sat 14th December 2019 at 10.00 - 14.30 Christmas Grotto and Fair

Father Christmas will be in his grotto with a present for all the children. There will also be a variety of festive stalls, and the new Mark IV Human Fruit Machine will be in operation.
Thu 19th December 2019 at 19.00 - 21.00 Special General Meeting followed by Jacob's Join supper

Meeting to receive the accounts for the year ending 30th June 2019 and confirm the appointment of officers for the year commencing 1st June 2020
Thu 9th January 2020 at 19.00 - 20.30 New Year Gathering and Projects Meeting

We will plan for the six months ahead, and have a celebratory New Year drink and nibbles
Thu 16th January 2020 at 19.00 - 21.00 Buffet meal meeting
Meet at the White Lodge Hotel, from 6:30 p.m. for meal at 7:00 p.m. followed by speaker
Thu 6th February 2020 at 19.00 - 21.00 Projects Meeting
Meet at St. Mary's Church Hall, Filey, from 6:45 p.m. Drinks and nibbles will be served following the business agenda.
Thu 13th February 2020 at 12.15 - 14.00 Frugal Lunch

Meet at St. Mary's Church Hall from 12 noon. Proceeds to support Filey Rotary good causes