Future meetings and events
Wed 18th September 2019 Is it coming home?
Mystery speaker
Thu 19th September 2019 at 10.00 - 16.00 Brooklands. Museum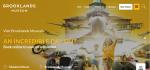 A chance to visit the famous Brooklands Museum. Cost £20.50 (Seniors £19.50) A 90 minute Guided Tour followed by Cream Tea.
Wed 25th September 2019 Carers Bucks. (Young Carers)
Speaker: Sandy Briscoe
Thu 26th September 2019 - Sun 29th September 2019 WAGS Weekend Away
Trip to Amsterdam for wives, girlfriends and lady members
Thu 3rd October 2019 - Sun 6th October 2019 Lads' Tour 2019
This year we will visit the Eternal City of Rome
Wed 30th October 2019 at 19.30 - 22.00 Skittles
An evening of nine-pin skittles at Flackwell Heath Bowling Club.
Partners are welcome. Please book in on the tick-list.
Fri 15th November 2019 Children in Need Collection
at Heathrow Airport
Sun 1st December 2019 at 08.30 - 11.30 Santa's Fun Run
Our annual major fund-raising event in Marlow
Wed 29th February 2040 - 02.00 Leap Day Celebration

The next occasion when Leap Day will occur on a Club Night