Future meetings and events
Wed 24th October 2018 at 09.00 - 10.00 Purple 4 Polio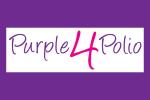 24 October is World Polio Day and Rotary clubs all over the world are committed to eradicating this dreadful disease.
Wed 24th October 2018 at 19.30 - 22.30 Trafalgar Night Dinner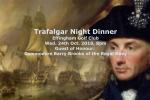 Wednesday 24 October 2018.
Guest of Honour: Commodore Barry Brooks (Royal Navy)
£39 per person, three course meal, wine and port. £29 for non-drinkers.
Effingham Golf Club.
Service Evening Dress or Black Tie.
Wed 31st October 2018 at 18.30 - 22.30 Badger Set Band
Join us for an evening of music with the Badger Set band, raising funds for the Motor Neurone Disease Association and Wildlife Aid.
£17.50 per person including two-course dinner.
Police Federation HQ, Leatherhead KT22 7UY