Completed meetings and events 2018-2019
Mon 17th June 2019 Hounslow Youth Council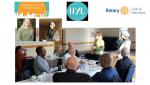 Speakers from the newly elected Hounslow Youth Council told us about how they represent the voice of Hounslow youth.
read more...
Mon 3rd June 2019 StreetInvest

Duncan Ross from StreetInvest (www.streetinvest.org)
read more...
Mon 20th May 2019 2019/20 Planning Meeting

Club members will be planning activities and projects for 2019/20
read more...
Mon 10th December 2018 Club Christmas Dinner

Merry Christmas!! (Raffle in aid of President's charity)
Sat 27th October 2018 - Sun 28th October 2018 We are the Champions!!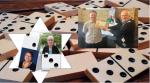 Presentation of Dominoes trophy
Sun 2nd September 2018 - Tue 2nd October 2018 Out & About at Tidefest

Out & About - Thames Tidefest
read more...
Mon 23rd July 2018 - Tue 7th August 2018 Transgender states in Olympic sports - what are the medical issues?

Hounslow offers you an interesting speaker on a controversial topic
read more...
Mon 16th July 2018 - Tue 7th August 2018 Club Meeting Mon 16 July

Our President's Charity this year is the Alzheimer's Society. We will hear all about local provision for sufferers and their carers
read more...
Mon 9th July 2018 Outside visit to "Our Barn" Youth Club in Osterley
We will be visiting the gardening project
read more...
Fri 6th July 2018 - Mon 16th July 2018 D1145 Dominoes Final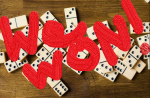 We are the champions!!
Mon 2nd July 2018 Rotary Changeover Night
Each year, a President retires and a new President takes the reins. See Haydn take over the President's chain of office and other officers and committee chairs recognised for the work they will be doing in the new Rotary year.
future
calendar
district events
local events