Future meetings and events around the district
Hatfield - Sun 9th June 2019 at 09.00 - 12.00 Welwyn & Hatfield Walk

Once again, we are organising our charity walk or fun run, a little later in the year than usual and we would love you to join us whether or not you have walked or run with us before.
Brookmans Park - Sat 29th June 2019 at 19.00 - 23.00 Barn Dance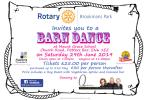 An end of the Rotary Year Celebration Barn Dance at Mount Grace School. Doors open at 7.00pm. Tickets £25 per person before 31st May, £30 per person thereafter. Contact Robert on 07730 692009.