Future meetings and events around the district
High Wycombe - Fri 20th October 2017 at 19.00 - 23.00 The Medieval Banquet will be another great night out - on Friday 20th October!

A Medieval Banquet in The Caledonian Suite at Adams Park. Tickets £35 now available. This event promises an evening of laughter and surprise, and be assured that any surplus monies will be donated to Rennie Grove Hospice Care.
Beaconsfield - Mon 23rd October 2017 at 10.00 - Sun 3rd December 2017 - 22.00 Beaconsfield Rotary Club Online Auction Ends 3rd December - Starts

Beaconsfield Rotary Club Online Auction - Get involved and support these great charities Roald Dahl's Marvellous Children's Charity and
Hearing Dogs for Deaf People.
Thame - Sun 25th February 2018 at 10.00 - 15.00 Thame Swimathon 2018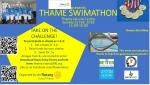 Get a team of 4-6 together, send us completed Team Entry Form, start fundraising, swim for 1 hour and have fun!
Thame - Thu 1st March 2018 at 19.00 - Mon 30th April 2018 - 22.00 Rotary Darts Marathon 2018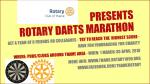 Fun and fundraising darts competition organised by the Rotary Club of Thame