Future meetings and events around the district
Spey Valley - Sat 21st April 2018 at 19.00 - 23.00 Curry Night Fundraiser

Curry Night, in aid of Local Rotary causes, will be held at Nethybridge Village Hall.
Spey Valley - Fri 11th May 2018 at 10.00 - Mon 15th January 2018 - 15.32 Charity Golf Tournament at Grantown Golf Club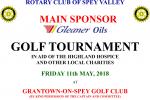 Entry Forms are now available and entries are being accepted for our 2018 Competition which will again be held at Grantown Golf Course. £80 for team of 4. Entries are now being taken.
Inverness Loch Ness - Sat 9th June 2018 at 09.00 - 18.00 Loch Ness Classic Car Tour June 2018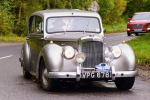 Details of the Loch Ness Classic Car tour and how to enter