Future meetings and events around the district
Cockermouth - Fri 8th June 2018 at 19.00 - 20.00 Film Night - Les Miserables
Film night in aid of Dewode to be held at Kirkgate Theatre, Cockermouth.
Appleby - Fri 29th June 2018 at 19.00 - 23.00 Brenda Collins Evening at Hilton and Murton Village hall.
Brenda Collins - excellent comedian and Cilla Black vocalist
Penrith - Fri 3rd August 2018 at 08.30 - 17.00 Charity Golf Day 2018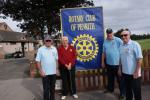 Charity Golf day on Friday 3rd August 2018 at Penrith Golf Club.