Future meetings and events around the district
Brampton & Longtown - Sat 30th June 2018 at 08.30 - 15.30 Annual Rotary Golf Day Fundraiser
4 Person Stableford Team Competition
Bassenthwaite - Sat 30th June 2018 at 19.30 - 22.30 Bassenthwaite Rotary - Charter Celebration & Handover
A social event at the Skiddaw Hotel, Keswick to celebrate President Alan's successful year and to handover to David Simpson our President for 2018-19.
Guests and Partners are cordially invited to join us.
Bassenthwaite - Sat 22nd September 2018 at 10.00 - 16.30 Great Derwentwater Tigerboat Challenge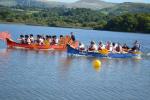 An exciting day for all the family to compete and spectate in a fun event to raise money for your favourite charity
Brampton & Longtown - Sat 13th October 2018 at 19.30 - 23.00 Charity Race Night
Saturday 13 October. Houghton Village Hall, Pie and Peas, £8. Bar. Join in the races and sponsor races and horses. Tickets in advance. Rearranged from June.