Colin Chessor and his host and opponent Rick Tote and members of the Clubs he visited.
Our winner in 2016 at Blairgowrie was Colin Chessor of the RC of Thurso and he went there and here is his diary/story –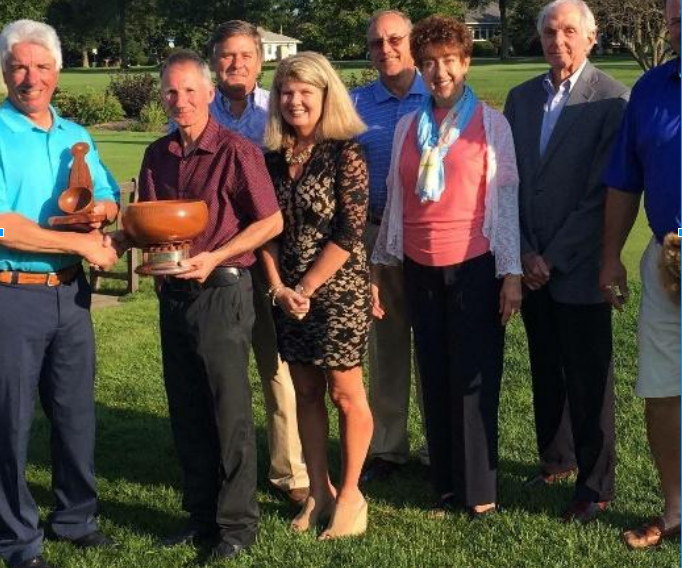 Colin Chessor and his host and opponent Rick Tote and members of the Clubs he visited.
"This was a "once in a lifetime" experience on the District Rotary Golf Exchange to Pennsylvania to play for Porridge Bowl over 36 holes in match play competition. I played Rick Tote who visited here in 2016 and was hosted by Bruce Robertson of the Brechin Club.
First day was a trip to play Oakmont GC, home to the US Open for the 9th time in 2016. This was a fantastic privilege to play on this Championship course thanks to Rotarian Scott Burns who took us on and looked after us all day and would be on any golfers' wish list to play.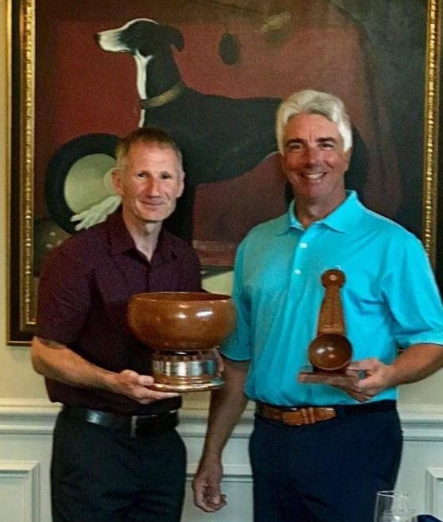 My Second day was the first 18 holes of the Competition on Treasure Lake GC Gold course. We finished all square. Went back to my hosts accommodation, wash, changed and off to Pittsburgh Pirates baseball game against Chicago Cubs which a first for me another fantastic experience.
Third day I played in a golf charity fundraiser at Pinecrest Country GC which I found quite funny as my name was spelt as Coling Chesney on the score board and buggy.
Fourth day was a day off from golf and we went tailgating to Beaver Stadium Penn State, which we arrived at 9.30am and the game did not start till 15.30pm! Again tailgating was a first for me and a football game - another great experience. The crowd at stadium was 109,898 which is 7th highest in their history - an awesome sight to see.
Fifth day was back to the competition and the final 18 holes of golf on Butler Country GC which ADG Ken Fleeson took us on his home course. Another fantastic course. I won 5 and 4 but was a bit deflated on sinking the final putt as I had beaten my host and new friend, Rick, who I had bonded well with over the last few days. At the presentation in the Butler Golf Club I said there were no winners or losers but plenty of friendship and that was the winner. Also, I met district 7280 winner Mike Lintelman who is coming over next year to win it back. He plays Martin Foster of the Ellon Club.
Sixth day I went to Rick's Rotary Club meeting at Clarion RC. We were greeted by President Jamie. We were asked to a talk on the history of Jackson Christy Competition. After lunch, we then went to USA's oldest playing golf course at Foxburgh GC and visited the golf museum there which was very interesting.
Overall my assessment of my trip is that it was a great experience and one I could not repeat, only through Rotary. Being hosted by Rick Tote along with his family, friends and Rotarians showed me true Rotary friendship and fellowship and made me feel very welcome in all aspects of my trip. Golfing Rotarians should enter the competition next year at Cruden Bay, Martin Foster's golf club in April 2018. Experience what I did, it's a must. Once in a lifetime experience to any golfer."
Colin told me he now knows what this is really all about. It is something you can only experience with the Rotary connection. Please contact me if you want to know more about this.
Keith Hopkins MBE
District Friendship Chair
0771 505 2718
keithhopkins@hotmail.co.uk