International
Rotary in Ireland serving international causes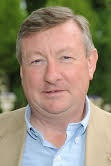 International Services Chair
Sean Dunne (Newbridge)
Firone, Great Connel, Newbridge, Co Kildare
00353872220055 (M)
seandunne2017@outlook.ie
Welcome to International Service - Rotary Ireland
is at the core of Rotary's work - Serving Humanity

Mission Statement
The objective of the District International Service Team is to encourage, advice and support Rotary clubs within District 1160 to "Be The Inspiration" internationally. To improve the lives of those communities who are hungry, thirsty or sick or who have no future, hope or shelter. We will encourage the fellowship aspect of international service through exchange programs and twinning, from which joint international projects may develop.
Why should clubs have an international project:
Rotary Clubs should embrace International projects, because we are members of Rotary International an organisation that looks outwards, over its national borders, to help communities abroad.
According to the World Health Organisation, 80% of the peoples of this planet live in substandard housing conditions, 70% are unable to read, 50% are suffering from malnutrition, 40% have no sanitation and 20% do not have safe clean water to drink. We know that 10,000 children die each day through lack of vaccination and that water borne disease kills an estimated 20,000+ on a daily basis.
Your Rotary club can help
1.2m members, 33,000 clubs, in over 200 countries
Rotary is synonymous with overseas charity work
22,000 children die every day needlessly
1 in 7 people are hungry everyday
We lose a child to hunger every 10 sec
For example: 70% income in Kenya spent on food, only 9% here in Ireland
If the world was populated with 100 people:
43 have no basic sanitation
18 have no drinking water
14 are hungry or malnourished
12 cannot read
12 have a computer / only 8 have internet
21 live on less than $1 a day
We have all the money we need to feed the world:
We only need an extra $10 billion annually to solve global malnutrition
However, we spend $12 billion annually on perfume
And we spend $750 billion annually on arms
We have all the food we need to feed the world:
2,700 kilocalories per person per day
So why are there still 22,000 innocent little children dying every day? They are dying because not enough people care about them. Governments will follow the peoples lead, Rotarians have the ability, the know-how, the contacts, the reach, the hands-on experience and man power to Be The Inspiration. This is what Rotarians do in our International Service every day.
You Can Help