Rotary Club of Kilmarnock

ShelterBox was founded by Tom Henderson, a Rotarian and former Royal Navy search and rescue diver. He saw that the aid response to most disasters was in the form of food and medicine to help people survive the immediate aftermath.
Little or no assistance was given in terms of proper shelter to help them through the first few days, weeks and months as they tried to rebuild their lives. ShelterBox was launched to fill that void.In 1999, Tom started researching the idea, sourcing equipment and twisting arms to get the project off the ground. His persistence paid off in April 2000 when ShelterBox was launched and the Rotary Club of Helston-Lizard in Cornwall adopted it as its millennium project. Little did they know that it would become the largest Rotary club project in the world, with affiliates in eight countries.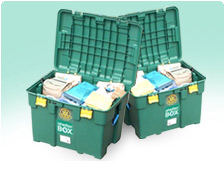 Each ShelterBox costs an average of £490. This is an 'all-in' price that includes materials, packing, storage, transport and distribution to individual recipients worldwide.
Your gift can help save lives and give new hope to families who have lost everything. Find out more about Shelterbox by clicking here, or watch a video presentation here.
At the Rotary International District Council Meeting on 11 March 2009, the Rotary Club of Kilmarnock President Elect, Robin Magee received a banner from Shelter Box in recognition of our Club having sponsored 25 boxes - aid for 250 disaster victims. In fact the Club has been directly or indirectly responsible for providing 40 boxes and we are immensely grateful to the people of Kilmarnock and surrounding area who have contributed so willingly to give shelter to those in need when disaster strikes.