Future meetings and events
Thu 19th July 2018 at 18.30 - 20.00 David Johnstone - How tae hoad oan tae yer licence! - visitors welcome
David will be speaking to us on Thursday 19th July - Perhaps the most important meeting of the Rotary year, so far!
Sat 21st July 2018 at 10.00 - 16.00 Rise Against Hunger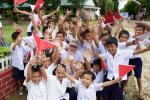 Meal Packing Event on Saturday 21st July commencing at 10am
Thu 26th July 2018 at 18.30 - 20.00 Weekly Meeting - visitors welcome. Speaker Bryce Weir
Bryce is speaking to us on 26th July on Australian Wheat Production & the new & emerging technologies designed to counteract Climate Change in order to meet future Global food demand"
Thu 2nd August 2018 at 18.30 - 20.00 Weekly Meeting - visitors welcome
Rotarian responsible for speaker - George English
Thu 9th August 2018 at 18.30 - 20.00 Weekly Meeting - visitors welcome
Rotarian responsible for speaker - Bill McGregor
Wed 15th August 2018 at 18.30 - 21.30 District Council Meeting
1st meeting of the new Rotary Year 2018/9
Wed 15th August 2018 at 18.30 - 21.30 District Council Meeting
1st meeting of the new Rotary Year 2018/9
Thu 16th August 2018 at 18.30 - 20.00 Weekly Meeting - visitors welcome
Rotarian responsible for speaker - Robin Magee
Thu 23rd August 2018 at 18.30 - 20.00 Weekly Meeting - visitors welcome
Rotarian responsible for speaker - Jon Herd
Thu 30th August 2018 at 18.30 - 20.00 Weekly Meeting - visitors welcome
Rotarian responsible for speaker - Fred Orr
Thu 6th September 2018 at 18.30 - 20.00 Weekly Meeting - visitors welcome
Rotarian responsible for speaker - Pres. Ian Geddes
Thu 13th September 2018 at 18.30 - 20.00 Weekly Meeting - visitors welcome
Rotarian responsible for speaker - Iain Shaw
Thu 20th September 2018 at 18.30 - 20.00 Weekly Meeting - visitors welcome
Rotarian responsible for speaker -
Thu 27th September 2018 at 18.30 - 20.00 Weekly Meeting - visitors welcome
Rotarian responsible for speaker -
Thu 4th October 2018 at 18.30 - 20.00 Weekly Meeting - visitors welcome
Rotarian responsible for speaker -
Sat 6th October 2018 at 09.00 - Sun 7th October 2018 - 14.00 District Conference
Annual District Conference in Stirling
Wed 14th November 2018 at 18.30 - 21.30 District Council Meeting
2nd meeting of District Council
Wed 13th March 2019 at 18.30 - 21.30 District Council Meeting
3rd meeting of District Council
Sun 24th March 2019 at 13.00 - 16.30 President Elect Information Seminar
TBC
Mon 8th April 2019 at 09.00 - Wed 10th April 2019 - 14.00 Inner Wheel Conference
Annual Inner Wheel Conference in Cardiff
Sat 27th April 2019 at 13.00 - 16.00 District Foundation Seminar
TBC
Fri 10th May 2019 at 09.00 - Sun 12th May 2019 - 13.00 Rotary Showcase
Annual RIBI Conference in Nottingham