2018/19 What we did
Our activities from July 2018 - June 2019
What we've been doing - year July 18 to June 19
Rotary showcases pupils' talents
THE creative talents of school pupils across West Fife have been put in the "shop window" in a special exhibition which is being mounted until 12th May in the Kingsgate shopping centre by the Rotary Clubs of Dunfermline, Dunfermline Carnegie and West Fife
The montage showcases winning entries in the local heats of the young writers and young photographers competitions run annually as part of its youth development ethos by Rotary International in Great Britain and Northern Ireland.
The three-stage national competitions - which are open to entrants across three age groups in school and college communities and youth organisations - tasked youngsters to demonstrate their literary and photographic skills by interpreting the respective themes of "The Beauty of Nature" and "My Inspiration".
The submissions by the winners and runners-up in each school within the three age categories - 7-10, 11-13 and 14-17 - are now on display on the upper floor of the centre outside Debenhams.
A spokesperson for the sponsoring clubs explained, "Our aim is to support and encourage the creativity of our young people through the development of their communication and photographic skills, and our judges found it challenging to select from the quality field the qualifiers to compete against fellow heat winners from other Rotary clubs north of the Forth."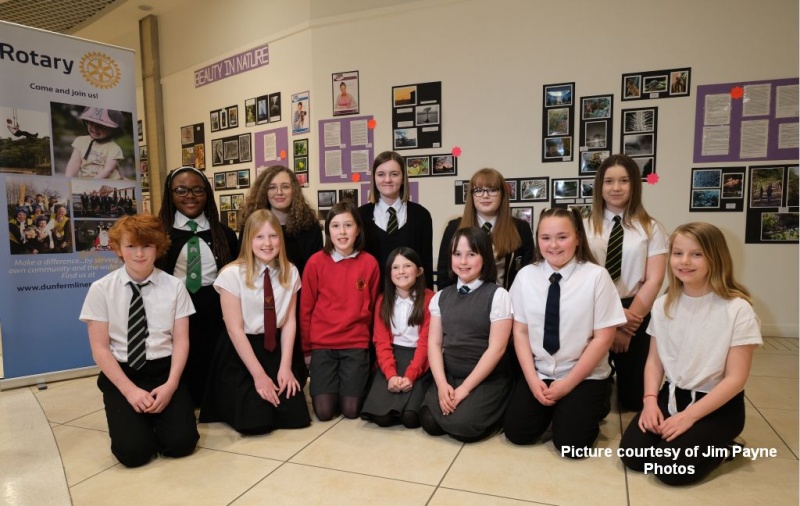 Dunfermline Rotary Club: Young photographer winners - Junior section (aged 7-10yrs), Connor Scott (Canmore PS), also second in whole of District 1010. Intermediate section (aged 11-13yrs), Divine Chivende (Canmore PS). Senior section (aged 14-17yrs), Emily Makin (Dunfermline HS), also "commended" in District 1010. Young writer winners - Junior, Maya Brown (Townhill PS). Intermediate, Leah Adams (Dunfermline HS). Senior, Tiegan Thomson (Dunfermline HS).
Dunfermline Carnegie Rotary Club: Young photographer winners - Junior, Jennifer Thomson (Carnegie PS). Intermediate, Rana Mitchell (St Columbia's HS). Young writer - Junior, Hollie Ferguson (Touch PS).
Pitreavie PS winners in club's End Polio Now art competition: Max Tebay (additional support class); Zac Norman (P1-3); Sophie Duncan (P4-7).
West Fife Rotary Club: Young writers - Intermediate, Katie Muir (Inzievar PS). Junior - Matilda Cook, (Carnock PS), also third in District final. Young photographers - Intermediate, Charlotte Gray (Cairneyhil PS). Junior, Flora Woods (Carnock PS).
DUNFERMLINE Rotarians have re-asserted their bragging rights over their Rotary rivals north of the Forth by recapturing The Gavel trophy, which is awarded annually to District 1010's indoor games champions. They took the title for the fifth time since 2006 by triumphing over the Old Meldrum club in the 2019 final in the Royal Hotel, Forfar. Keith McFarlane captained the winning team which included fellow Rotarians Ian Morris, Mike Williams, Ralph McCran, Graham Steedman, Andrew Bathgate, David Somerville and Gerry Gillespie.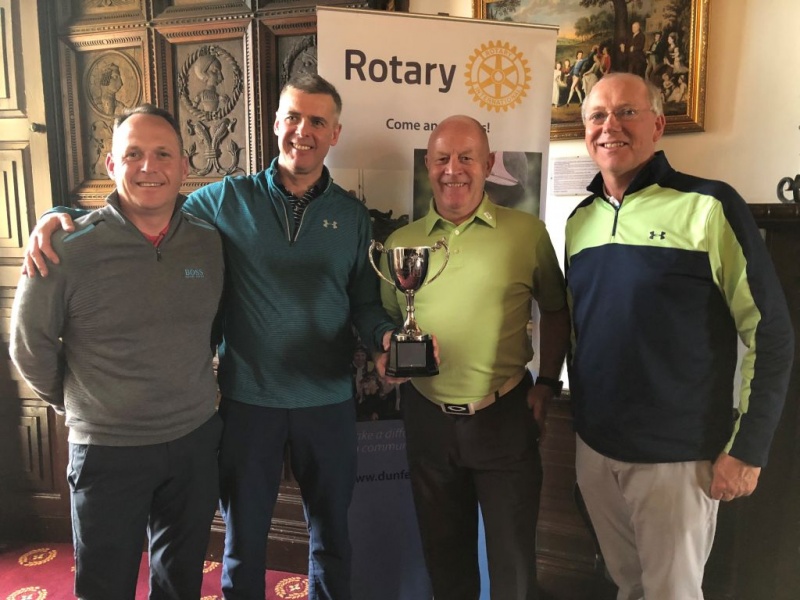 A team representing solicitors Malcolm Jack & Matheson became the first to lift Dunfermline Rotary Club's new centenary golf trophy when they won the inaugural Texas scramble competition over Pitfirrane golf course.
Sixty-four players contested the tournament which organisers Ronnie Pook and Tom Arnott plan to repeat in the run-up to the Rotary club's centennial in 2022. The inaugural event also provided a fund-raising boost to the club's charity trust fund.
The winning team, captained by Ralph McCran, held off close challenges from a Thomson Cooper Accountants team led by Mark Gibson and a Dunfermline Golf Club side captained by Andy Gordon, who finished in second and third places respectively.
Cash splash for campaign
DUNFERMLINE Rotary Club entered one of the 20 teams who splashed out at the Carnegie Leisure Centre in the 2019 Rotary Swimarathon - the annual sponsored swim in aid of the global End Polio Now campaign and local charities.
Organised by the Dunfermline Carnegie Rotary Club, this year's event saw 86 swimmers, representing 14 organisations, take the plunge on Sunday, 24th February, and cover a distance equivalent to the length of two marathons.
The Dunfermline team - which achieved 206 lengths of the pool in their allotted 25 minutes - comprised Brian Steer, Keith McFarlane, Claire Chalmers and Alan Mitchell and his daughter, Zoe.
Their incoming sponsorship donations will enhance the club contribution already made by the family of Rotarian David Chalmers, who staged a sponsored cycle ride around Loch Leven to mark World Polio Day in October. The £613 they raised was trebled to £1845 - courtesy of the 2:1 uplift pledged to the world-wide campaign by the Bill & Melinda Gates Foundation.
*Over 30 years ago, Rotary and its partners launched the ambitious initiative to eradicate polio throughout the world. Rotary has since raised over £1.3 billion to fund this cause and inputted countless volunteer hours to immunise more than 2.5 billion children, resulting in the incidence of polio plummeting by over 99.99%.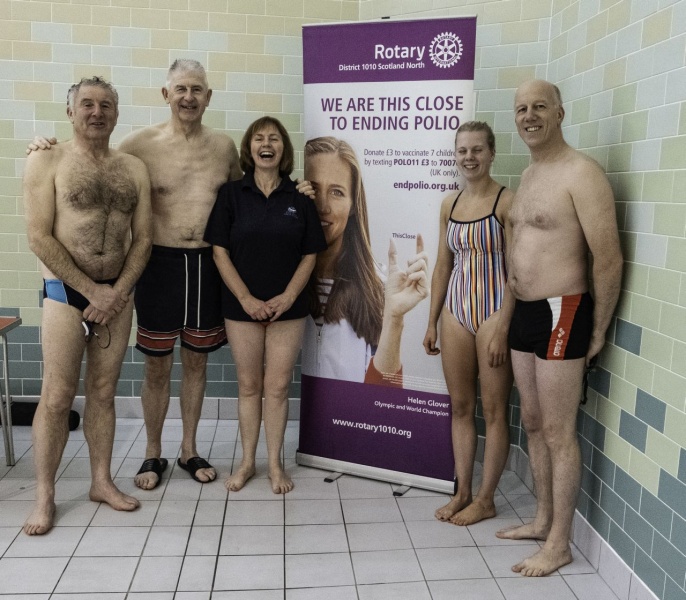 *Going to great lengths for the cause….from left, Keith McFarlane, Brian Steer, Claire Chalmers and Zoe and Alan Mitchell.
Ugandan centre makes the grade
THE £11,500 Burumbika Health Centre - principally funded by six Fife Rotary clubs and Rotary Foundation in a campaign spearheaded by Past-President David Lyth - has achieved a double endorsement.
The ex-NHS Fife consultant urologist identified the need for the Ugandan centre during a five-year retirement mission to Africa with his teacher wife, Helen, who was made an honorary member of Dunfermline Rotary Club on their return.
Past-President David told fellow Rotarians that as well as being highly recommended in a report by a government inspector, the remote centre in the Rwenzori Mountains had reached the minimum standard for a grade-two health centre.
Mr Lyth pointed out, however, that some' small snags' had emerged, including a request for a running water supply. Such a provision had not been factored into the project planning as it had been expected that everyone would rely on a nearby water source.
However, Mr Lyth added that he would be returning to Burumbika in April. He would be liaising with an experienced group of surface well diggers with whom he had worked in the past and whom he hoped to organise to address the issue.
Glad tidings for charities
SERVICE and local charities are to benefit to the tune of £2850 from the first tranche of donations from the 2018 Christmas concerts - presented in Dunfermline Abbey by the Band of HM Royal Marines Scotland and promoted by the Rotary Club of Dunfermline.
Charity trust fund treasurer Dr David Fraser reported to the club on 28th February that following the first round of disbursements from the concert proceeds, the charity account would be boosted by a residual four-figure balance which would be available for later distribution to more good causes.
THEY HIT THE RIGHT NOTE!

Six outstanding young musicians from three local High Schools are now confirmed for progression towards the District Finals of a national Young Musician Rotary competition.

The three local Rotary Clubs (Carnegie, Dunfermline & West Fife) jointly organised the heats, hosted by Dunfermline High School, and were delighted that Dunfermline HS, Queen Anne HS and St Columba's all agreed to participate by sending their best vocalists and instrumentalists.

The experienced judges, Frances McCafferty and Paul Wickham, were "absolutely delighted by the performances and the excellent standards set" and provided all participants with very constructive feedback sheets to aid further improvement.

The successful vocalists were Elizabeth Donaldson & Molly Jamieson (both Dunfermline HS) and Freya Riley (St Columba's).

The instrumentalists proceeding were Robert Shorthouse McLaughlin, Matthew Leitch & Rory Stewart (all from Queen Anne HS).

Quizzers are a charity whiz!
ANOTHER McKane Park question time has boosted Dunfermline Rotary Club's charity trust fund by over £380.
Organiser Brian Blanchflower acknowledged the support of all those who supported the event in any way…by participating and/or by donating raffle prizes.
"Congratulations to the team from Malcolm, Jack & Mathieson - named 'Tony Danza' and organised by Ralph McCran - on winning on the tie-break question and for the donation of their winnings to the proceeds," he said.
"My personal thanks to Alan Mutter, Linda Mill and Margaret Steedman for their much appreciated assistance on the night."
Rotarian Ian Morris, added, "Biggest thanks of the night go to Brian for organising the event. A great night was had by those who attended. But maybe next time use the book, 'Quizzes for Dummies', to set the questions. I had swatted up on all this year's Primary School Quiz questions, as set by John Anderson…and not one of them came up!"

Caution: Santas dashing!

THIS flurry of Father Christmases put a dash of fun into the run-up to the festive season as entrants in Dunfermline's first-ever Santa Dash.

The Rotary Club of Dunfermline brought scores of Santas under starter's orders for the festive fun run, which was staged at 1pm on Saturday, 17th November, as a novel curtain-raiser for the switch-on of the city's Christmas lights.

The non-competitive event saw participants cut a dash in Rotary-supplied Santa suits as they ran from the top of New Row to the Glen Gates...in the fore-runner for a possible annual addition to the city's festive calendar.

All the event profits will be channelled into the club's charity trust fund, which donates to good causes in Dunfermline, Fife and beyond.

In directing prospective individual and team entrants to the registration portal at dunfermlinerotary.org.uk, community convener Graham Steedman pointed out that the dashing Santas could also put a jingle in the stockings of their favourite charities.

"For the entry fee of £10, we provided the Dashers with a Santa suit to keep and a finisher's medal," he said.

The Dash was open to all over their eighth birthday and the field of subordinate Clauses set the scene for the later arrival of Father Christmas aboard the Rotary Club's special sleigh for the celebrity switch-on of the 2018 Christmas lights.

Another very good year…
THEIR 2018 wine-tasting evening proved to be another very good year for Dunfermline Rotary Club.

For the occasion not only proved to be a vintage social success but also poured a corking sum into the club's benevolent coffers.
The event on 2rd November saw Lewis Graham, of Majestic Wines, share some vintner's insights with a company of some 100 imbibers at the Pitfirrane clubhouse of Dunfermline Golf Club, the Rotarians and their guests being supplemented by a score of participants from the host club.

Lewis offered a masterly critique of six wines which spanned the sparkling, red and white spectrum, and which were complemented by a buffet purveyed by the Pitfirrane club.

Social convener and event organiser Past-President Tom Arnott reported that the fund-raising spin-off from the social event was expected to channel some £600 into the Rotary club's charity trust fund.

ON your bikes, guys! And remember your money-spinning mission will help the final push to rid the world of polio.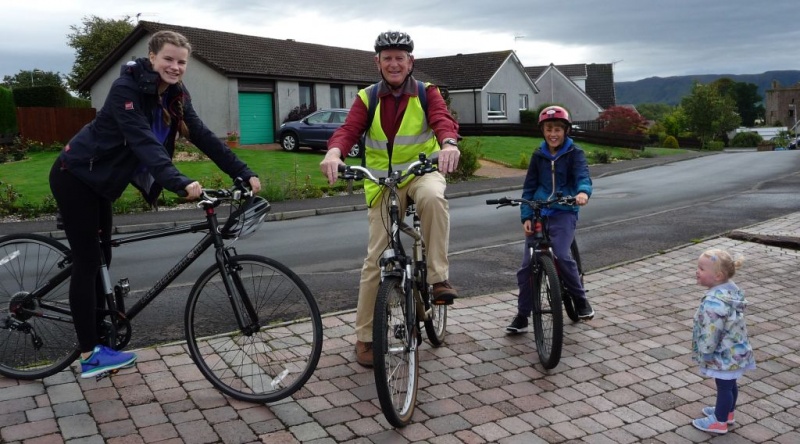 Little Ava, the 20-month-old grand-daughter of Dunfermline Rotarian David Chalmers, brings her grandfather and siblings under starter's orders as they mount up for a sponsored cycle around Loch Leven in support of World Polio Day on 24th October.
David and his grandchildren, Elle (13) and Alex (10), raised £615 from their ride, but their campaign contribution will be trebled to £1845 - courtesy of a 2:1 uplift pledged by the Bill & Melinda Gates Foundation.
Over 30 years ago, Rotary and its partners launched an ambitious initiative to eradicate polio throughout the world.
Rotary has since raised over £1 billion to fund this cause and the incidence of polio has plummeted by over 99.99% - from around 350,000 cases a year in 125 countries to just 22 in 2017. There are now only three polio-endemic countries: Afghanistan, Pakistan and Nigeria.
Dunfermline Rotary Club president Tom Sunter observed, "Whilst tremendous progress has been made, the final steps of this journey are proving to be some of the hardest, and 2018 has seen 14 cases so far this year."
In commending David and his grandchildren for their fund-raising efforts, President Tom explained, "Substantial support from the Bill & Melinda Gates Foundation is being given to Rotary's End Polio Now campaign, the result of which is that £2 is added to each £1 raised by David, Elle and Alex.
"It is estimated that some £100 million is still required to complete the job of making polio just the second human disease to be eradicated."
Fund-raising flutter

A fund-raiser flutter by the Rotary Club of Dunfermline has proved an odds-on winner for its benevolent fund.

Rotarians and their guests put on the style in a belated salute to Royal Ascot when they were brought under starter's orders on 21st September, at a fun race night at the Pitfirrane home of Dunfermline Golf Club.

The prize of a facial and nail bar experience was awarded for the best ladies' hat, and a raffle with superb prizes gave a further fillip to the proceeds of the tote betting on a seven-race card.

Fund-raising convener Andrew Watson this week reported that the event had raised a sum approaching £3000 for the club's charity trust fund, which donates to local, national and international good causes.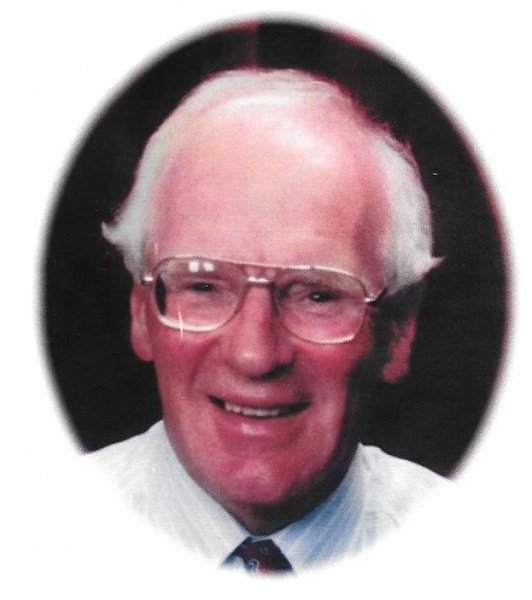 Rotarian pioneer who rolled out Britain's first wheelie bins.
Tributes have been paid to the memory of a well-known figure in Dunfermline Rotary, municipal and sporting circles, Mr Kenneth N. Fraser, who died on 23rd September, at his home in Perdieus Mount, Dunfermline. He was aged 86.
Kenneth, whose funeral was held on 1st October at Dunfermline Crematorium, retired in April, 1990, as director of environmental health to the former Dunfermline District Council, after a career in local-government service spanning more than 40 years in Dunfermline and Perth. He was regarded as a "pioneer in waste management in Scotland", introducing to Dunfermline District the first wheelie bins in mainland Britain.
As a member of the Rotary Club of Dunfermline since 1973, Ken was the second-longest-serving member of the club in which he held the presidency in 1984-85. He was also a former club sports convener and along with that of different playing partners, his name appears with the greatest frequency on the roll of honour on the club's Friendly Foursomes golfing trophy.
Former council colleague and fellow past-president, Eric Keenan, told Rotarians, "Ken was a credit to Rotary, epitomising all that a good Rotarian should be, and was an example to us all.
"He devoted his career to public service in Dunfermline. When I first knew Ken, he was the depute burgh sanitary inspector. In the mid 1970s he became Dunfermline's first director of environmental health, a post which he held with distinction until 1990.
"Ken was one of the old school, a true gentleman. His great love was Dunfermline Rugby Club, where he enjoyed the game as a player and finally as honorary president. I am privileged to have known and worked with Ken for so many years. We will all miss him, but not forget him."
Kenneth's long association with Dunfermline Rugby Club saw him serve variously as a player, referee and fixture secretary, culminating in his appointment as honorary president of the McKane Park club, with whom his son Richard and grandson Adam followed successively in his playing footsteps.
Kenneth was also a former president of Dunfermline Sports Club and a long-standing member of Dunfermline Golf Club.
He also served as a committee member of the Abbeyfield (Dunfermline) Society and as an elder of the former St Paul's Parish Church.
Kenneth is survived by his wife Christine, daughters Heather and Mairi, son Richard and three grandchildren.
Reflecting on his Rotary presidency, which was punctuated by such highlights as attendance at the District Conference at Gleneagles Hotel, Mr Fraser recalled shortly before his death, "The big social event of my year, and for that matter any year, was the Rotary ball held in Pittencrieff Park Pavilion. It was a sell-out, with a scramble for tickets. It was a charity function but fell by the wayside in modern times.
"Outwith my particular year, I can claim to have been part of the first crew of the club's annual Santa's Sleigh collections and thinking how generous the householders were then they opened their doors to us."
"INFECTIOUS enthusiasm" is how Morag McLullichdescribes her involvement with Dunfermline Rotary Club's latest international project in Kenya.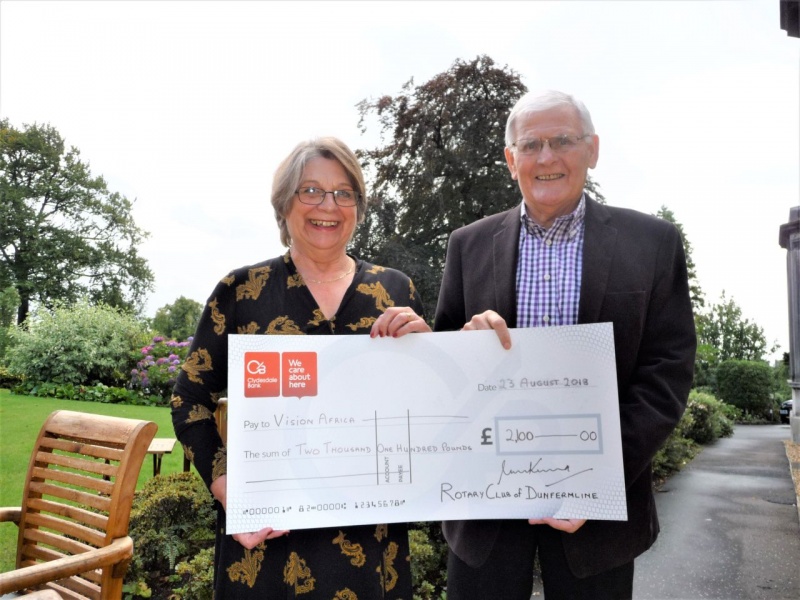 The retired Fife headteachervisited the club to accept,on behalf of the charity Vision Africa, a £2,100 cheque to fundspecialist therapy equipmentfor children with special needs.
Morag explained how children with disabilities, special needs and learning difficulties were being brought into the educational system instead of being stigmatised, branded a curse and hidden from public view.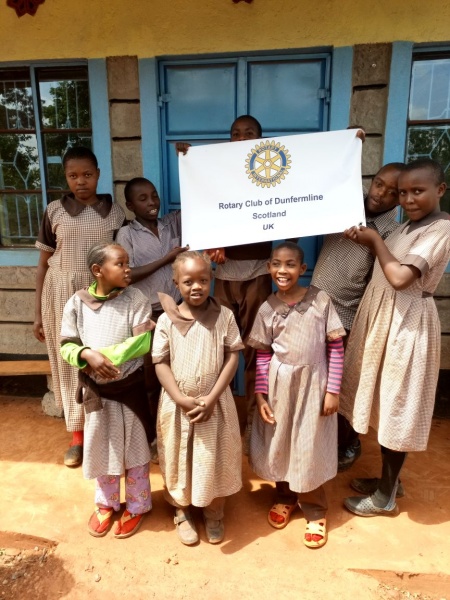 A special therapy unit has been built by Vision Africa at the Kirunguru School in the Murang'a County of Kenya and it was for this unit that Rotary funded the specialist equipment, including mobile therapy kits, required to assess the children to prepare for schooling.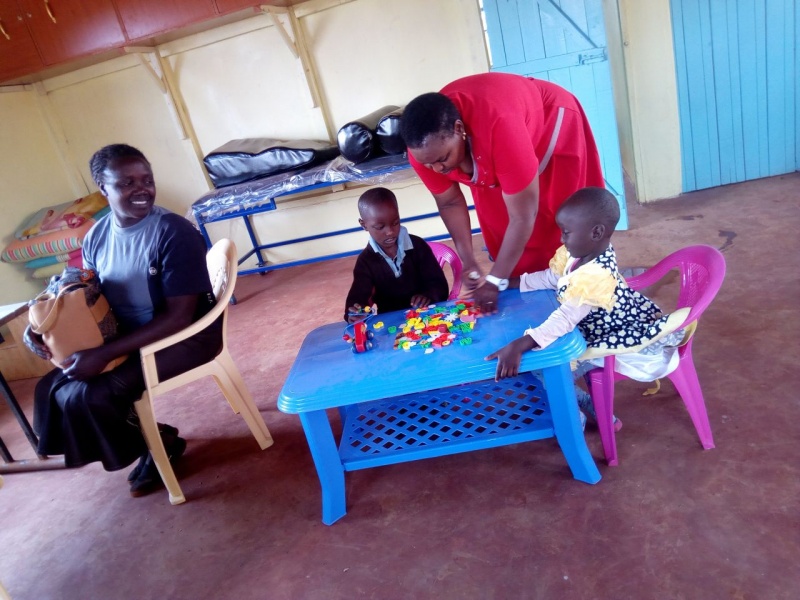 Also involved were members of the Rotary Club of Langata and their Rotoract Club who helped dig out the foundations and access for the therapy unit.
Morag acquired her "infectious enthusiasm"during visits to Kenya over a number of years to help Vision Africa develop the integration of children with special needs into mainstream education.She illustrated her talk with moving examples of how this early intervention in the lives of children with special needs had made a huge difference to the quality of their lives.
Vice-President Noel McKenna handed over the cheque,which comprises £1,100 from the Dunfermline club's charity account and £1,000 from Rotary Foundation, the main charity fund of Rotary International.
Mr McKenna recalled, "Our club's very first project with Vision Africa - to provide a water pump for a school in Kenya - was some nine years ago when, co-incidentally, I was president of the club. And it was a further co-incidence that it was Morag's daughter, Kirsty, who managed that project.
"I am pleased that we have maintained our relationship with Vision Africa, thereby demonstrating the international dimension of Rotary by supporting such worthwhile projects."
Morag voiced the thanks of Vision Africa for this latest support for its work - "and, in particular, of the children who will derive so much benefit from this equipment."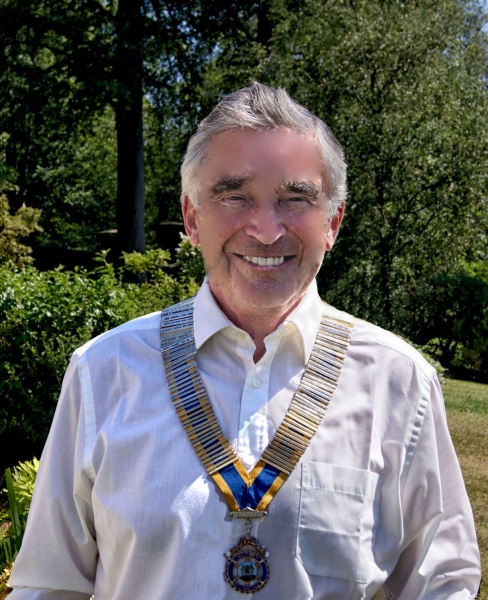 Captain Tom takes the helm
THE new man at the helm of the Rotary Club of Dunfermline, as it steers towards its centenary in 2022, is retired Royal Navy captain Tom Sunter, the last commander of Rosyth Naval Base.
As the club plots its course towards its year-long commemorations, Tom brings to the office not only the navigational skills of a distinguished Naval career but his post-service experience in civilian leadership roles within the Scottish business community.
On assuming the presidency, Tom pledged to re-affirm the club's community service mission…"to achieve the aim of working with, and for, our local community and especially at the youth and schools levels".
Tom has already played an active role in developing Rotary International's youth-development ethos by piloting pupil initiatives in 'hire' education and adjudicating local schools competitions in creative writing and philanthropic entrepreneurship.
Tom left the Senior Service in 1996 after holding numerous commands ashore and afloat. His service, which encompassed two seasons in the Antarctic and many years in the Far East, also saw excursions into other roles in counter-terrorism and anti-drugs operations in Miami and the Caribbean. His final posting was as the last Commander Rosyth Naval Base and Captain HMS Cochrane.
Since leaving the Royal Navy, Tom has fulfilled roles as chief executive of Business Enterprise Scotland and executive director of the Institute of Directors Scotland, as well as serving on the boards of the Scottish Fisheries Museum, Fife Enterprise and Lauder College. He has also been a Deputy Lieutenant for Fife.
Tom and wife Margaret have three daughters, four grand-children - and one whippet!
*In handing over to his successor the club insignia with his best wishes, the outgoing president David Lyth reflected on a year in which a stable and predominantly active membership had delivered £13,000 for good causes and secured the leadership succession over the next three years.