Report on RYLA and Interact Breakfast
Wed 20th September 2017 at 07.30 - 08.30
Report on RYLA and Interact Breakfast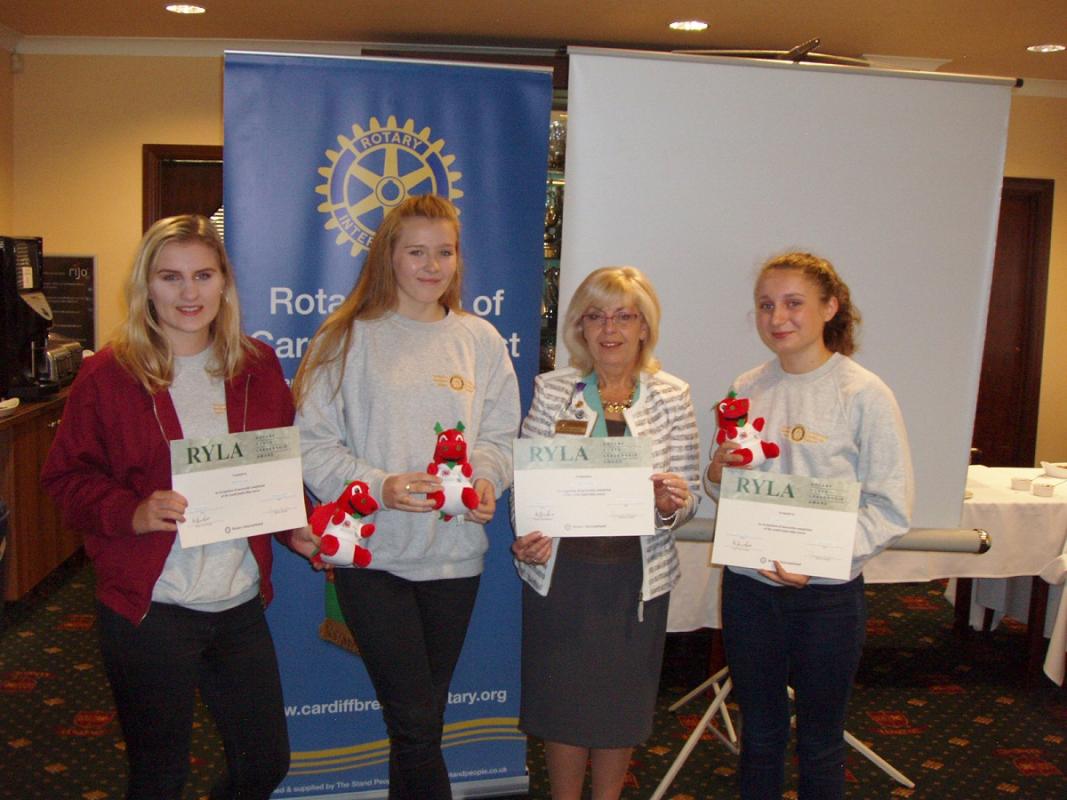 Today we welcomed the Presidents of our three Interact Clubs and the teenagers we had sponsored for RYLA (Rotary Youth Leadership Award) courses this summer, together with parents and school staff.
The Interact Presidents from Whitchurch High School, Howell's School and The Cathedral School gave us a review of their plans and events for the coming term, mainly to raise funds for the charities they have selected for the year - Interact clubs are asked by Rotary to support one home-based and one overseas charity each year.
Then the RYLA teenagers gave us well illustrated talks about their experiences from the weeks based in the Storey Arms Outdoor Pursuits Centre in the Brecon Beacons, including caving, canoeing, raft building and trekking by night. District Governor Maggie Hughes presented them with their certificates.
Here are their assessments of the week:
"My experience at RYLA was incredible, I have learnt many valuable skills that I am already using in my part time job, school work and everyday tasks. At the beginning I was apprehensive and nervous but as soon as I arrived at Storey Arms I knew I made a great choice in applying for this course. Everyone was super-friendly and welcoming and we all got stuck in with activities straight away. The whole week was exciting but challenging. We were pushed out of our comfort zones but had really rewarding experiences because of this. This course has taught me so much about leadership and also how leadership is not just taking control of a group - it's about teamwork - something I feel I have definitely improved on since my RYLA week. I have made great friends from this experience and we meet regularly. I would definitely recommend the course to anyone who wants to learn to lead as I feel the course has really helped me." Ellen
"During my week in Storey Arms I gained loads of new experiences, from learning how to lead small groups of people to making many new friends and building reliance. The course was a hands on learning experience that required you to enjoy being outside in rain or sun. There were lots if water based activities that were challenging but rewarding and at the end of every day I felt as if I had accomplished something. The people I met on this course came from all over South Wales. I have managed to stay in touch with the friends I made there and I hope that they will be friends for life." Seren
"As soon as I arrived, everyone was really friendly and welcoming, and with the help of team-building exercises, we all became great friends really quickly. The aim of the week was to develop the skills needed to be a good leader, and for me, this was particularly prevalent in enhancing my self-confidence and team working skills. In our teams, a pair of us would each lead a certain activity. I chose canoeing, and realised the importance of leading by example as an effective leadership method. We also took part in gorge walking and caving. The latter was a huge difficulty for me, but I persevered with my group and received a great sense of achievement from it. This week was an amazing experience and confidence booster for me, and I have made friends for life and great moments that I will cherish for the rest of my life! Thank you Rotary for this fantastic opportunity!" Juliette