2017 - 2018 What we did
Highlights of the year
Some of our activities in Year July 17 to June 18
Club's 'tremendous debt' to David
IN handing over to his successor the club insignia with his best wishes, the outgoing president David Lyth reflectedon a year in which a stable and predominantly active membership had delivered £13,000 for good causes and secured the leadership succession over the next three years.
President David congratulated his council for their hard work and forbearance during "the usual learning curve" of his first months in office. He looked back on a crowded year of fund-raising activities and projects which had also seen the club acquire a new projector and club banners and make a significant contribution to Rotary International's global campaign to end polio…a cause close to his heart after his own five-year medical mission in Africa.
He encouraged members to use the recently improved communications to promote closer engagement with District 1010.
While admitting tohaving required persuasion to take on the challenge of the presidency, he nevertheless told the club, "I'm glad to have done it."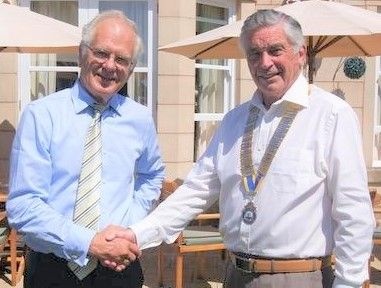 In handing over to David his past-president's badge, the new president, Tom Sunter,gave a warm vote of thanks to his predecessor for having steppedinto the leadership breach last year and ensuring the continuity of the club. He told him, "We owe you a tremendous debt."
President David, he said, had rallied through the year without a vice-president but with the support of an "outstanding council" He had also worked hard to confound the sceptics and raise the funding required to complete the Burumbika Health Centre in the Mountains of the Moon in Uganda, where he and his teacher wife, Helen, had spent three years during their five-year post-retirement mission to work among the poorest people in Africa.
Silverware double for Ralph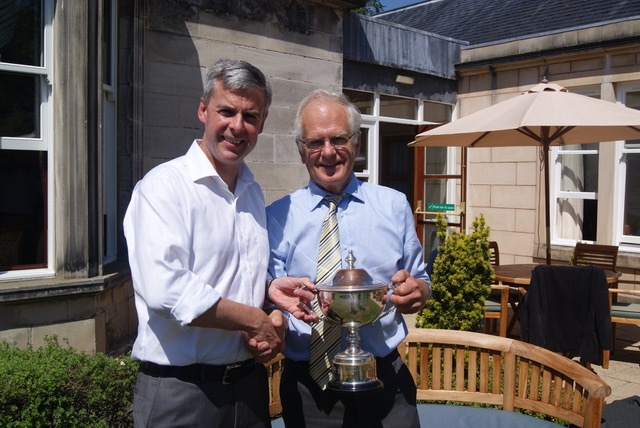 THE J.C. Thomson Trophy for Dunfermline Rotary Club's annual Stableford golf competition had less than 24 hours to dominate the trophy sideboard of Dunfermline lawyer Ralph McCran before having to budge up for a second piece of Rotary silverware….the Alistair Brown Trophy, awarded to the club's Rotarian of the Year.
He received the award on June 28th on the nomination of outgoing president David Lyth, who as one of his last official acts in office, cited the club secretary's innovative, humorous and faithful support during the 2017-2018Rotary year.
Rotarian McCran, who is a partner in the Dunfermline legal practice of Malcolm, Jack & Matheson, joined the Dunfermline club in 2013 and is continuing in his role as secretary for a further year.
As he accepted his second Rotary trophy in less than 24 hours - the golf trophy having earlier been returned to his custody at Pitfirrane for the fourth time in six years - Mr McCran quipped, "Do you get one of these every day of the week?!"
Rotarians and guests enjoyed a superb day with lunch and games in the sun at Keavil House Hotel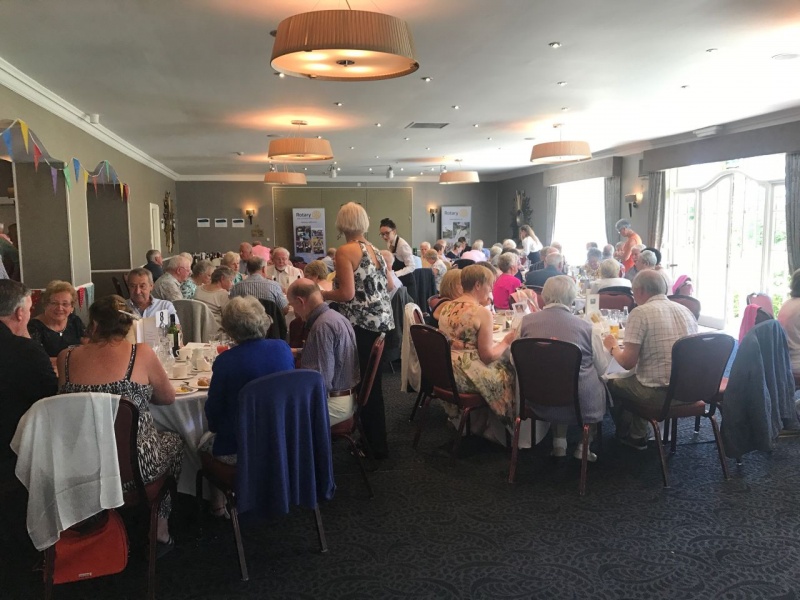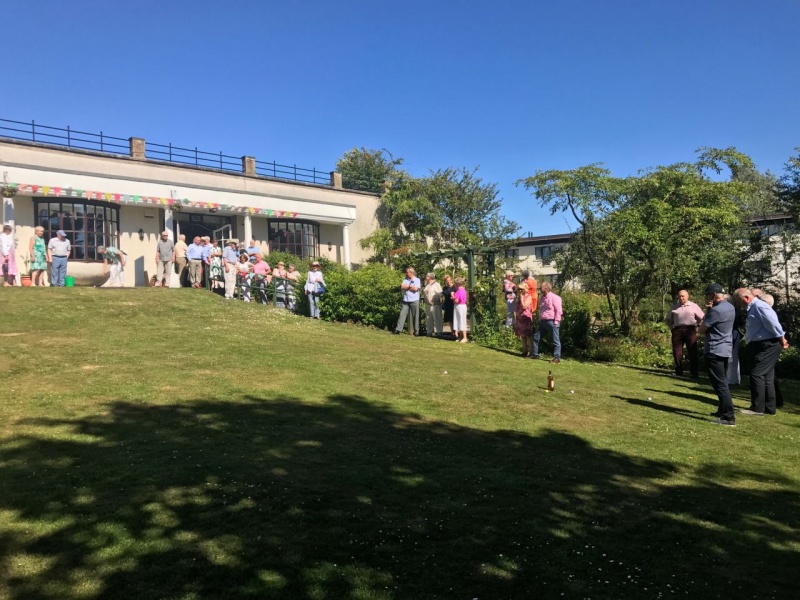 Putting - downhill - rough green - cut throat competition - lots of oohs and aahs!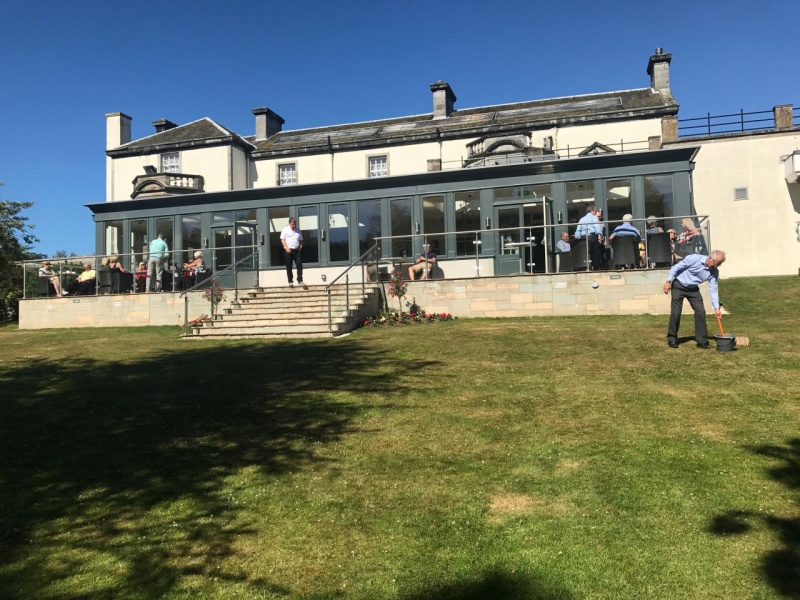 President David - "I'm forever blowing bubbles"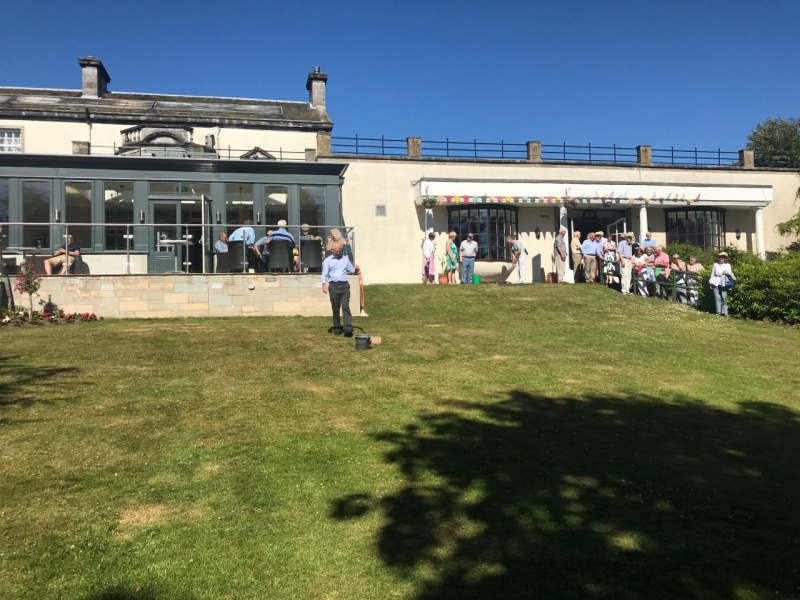 A TOTAL of £13,000 in charity donations - to local, national and international causes - has been disbursed by the Rotary Club of Dunfermline during the current Rotary year.

A raft of fund-raising drives including the annual Santa's sleigh runs with Round Tablers and the Christmas concerts in Dunfermline Abbey in partnership with the Band of Her Majesty's Royal Marines Scotland, have added a five-figure sum to the club's charity coffers.

Among the local beneficiaries are Dunfermline Samaritans and Shiresmill Therapy Riding Centre , who each received £500 grants, as well as Kincardine Community Association through Dunfermline High School's Youth Philanthropy Initiative (YPI).

Other local grant recipients have included Fife Carers Centre, which supports unpaid carers throughout Fife;Lochgelly-based Fife Young Carers, which focusesits support on children and young carers aged between eight and 25;Fife Festival of Music; Rosyth Sea Cadets, and St John's, Lynburn and Limekilns Primary Schools, which each provided choristers for the Abbey concerts.

National causes have benefited to the tune of £5,480, the beneficiaries being the RN & RM Trust;Kindred Scotland, which supports parents of children with complex needs; Cancer Research UK; Macmillan Cancer Support; Sense Scotland, which works with children, young people and adults with communication support needs; a Euroscola-sponsored pupil visit to the European Parliament, and Play as One Scotland, also a chosen beneficiary in the YPI competition.

On the international front, the club has raised £2100 towards the purchase of specialist therapy equipment for pre-school Kenyan children with special needs, contributed £1435 to Rotary International's "End Polio Now" campaign and purchased a £500ShelterBox for disaster relief.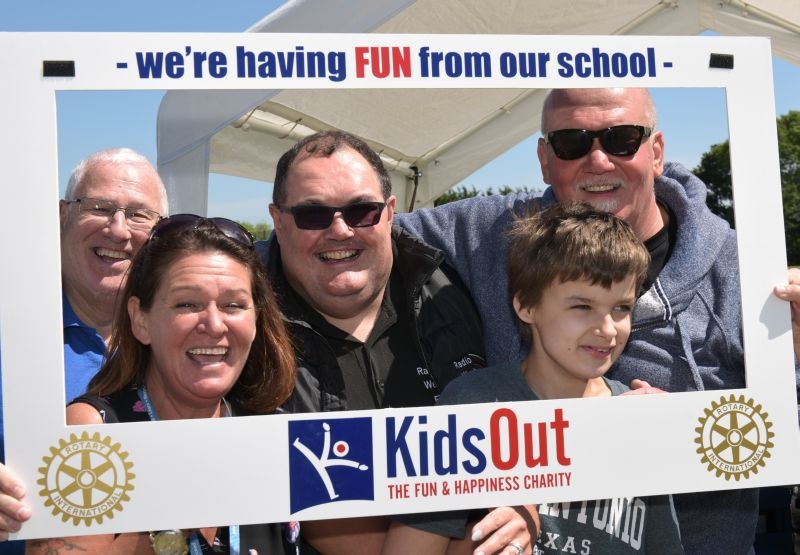 A NEW venue, coupled with entertainment and logistic innovations, saw West Fife Rotarians deliver a boostedKidsOut treat this year for some 160 local children with additional support needs.
Youngsters from Pitreavie and Cairneyhill Primary Schools, Calaiswood School and Queen Anne and WoodmillHigh Schools, accompanied by more than 100 carers, converged on Dalgety Bay Sports and Leisure Centre for a four-hour programme packed with marquee shows, fun attractions and sports and craft activities.
The KidsOut concept - which aims to "bring fun and happiness into the lives of disadvantaged children" - has been adopted by Rotary clubs nationwide,and this year's West Fife event was delivered by four local clubs: Inverkeithing&Dalgety Bay, Dunfermline, West Fife and Dunfermline Carnegie.
An organiser explained, "It's very much a team effort. This year, the joint planning committee also invited input from school staff members in the stagingof the type of events the kids would enjoy in a safe and relaxed environment.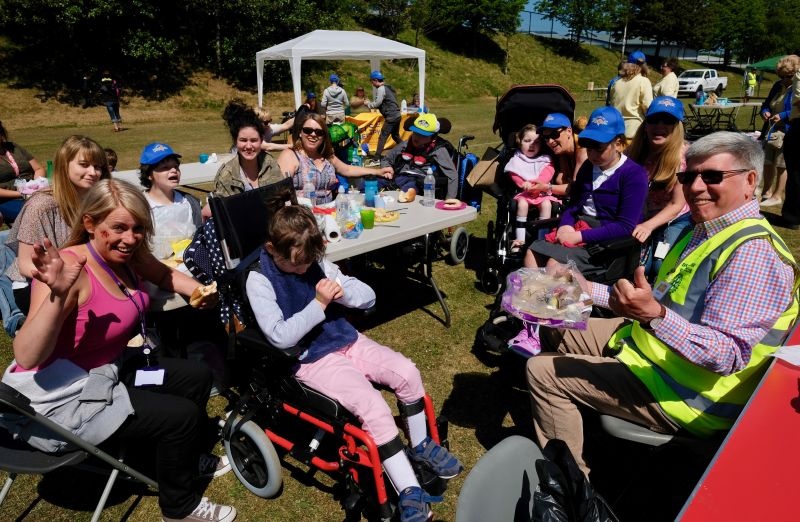 "A grant from the Carnegie Dunfermline Trust also enabled us to relieve the schools of the transport logistics for the kids' disparate needs, including the organising of special minibuses for wheelchair pick-up, and that helped to boost participation numbers this year."
Rotarians had been rewarded by the sunshine smiles which had outshone a day of "gorgeous weather".
"The partner clubs saw it as a fantastic success," he added. "The schools equally were absolutely delighted with the event, which gave the youngsters a special day out at the end of their school year.
"The Rotary clubs are grateful to our hosts, Fife Sports and Leisure Trust, and all those sponsors who help us deliver an event which has become a highlight of our service calendar."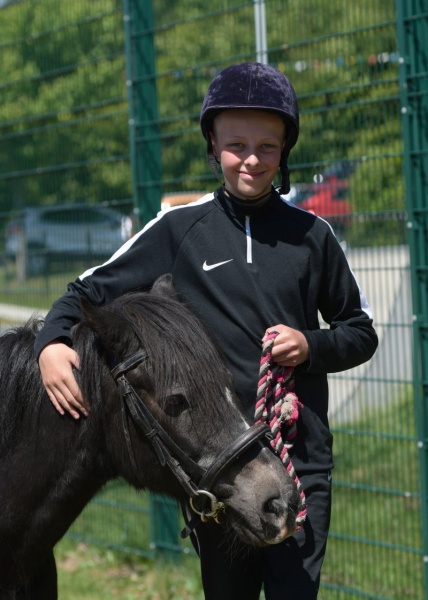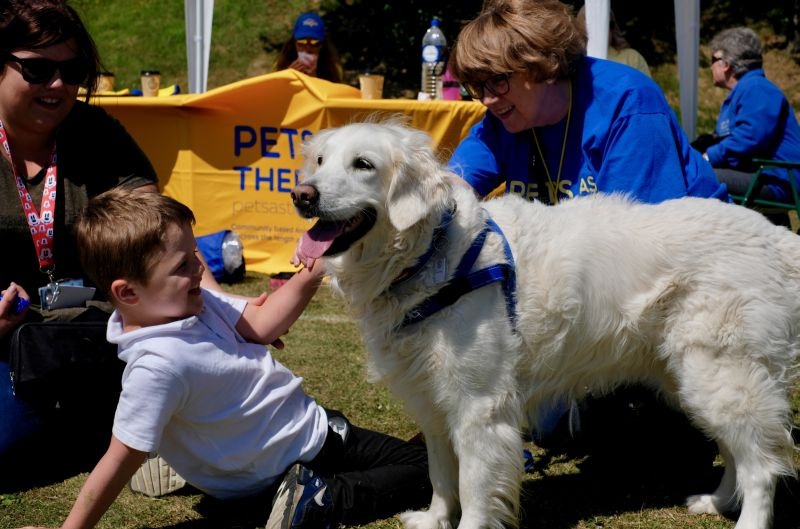 The "Animal Magic"-themed programme featured raptors from Elite Falconry, ponies from Tapitlaw Riding School, petting animalsand a mini zoo.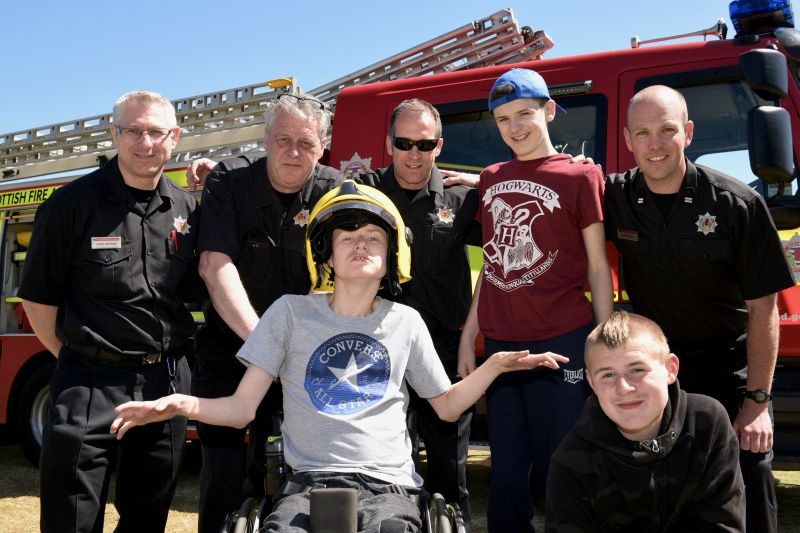 Bouncy castles, garden games and emergency-service vehicles were complemented by a wide spectrum of entertainment, includingmagic and bubbles shows, balloon artistry, face-painting and make-up, craft stations and an introduction to such sports as boccia, tennis and basketball by Fife Active Schools.
Pictures of happiness...courtesy of Jim Payne Photos.
All above images © Jim Payne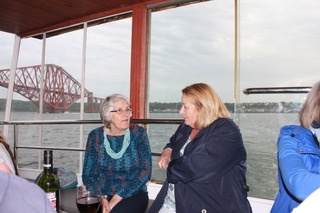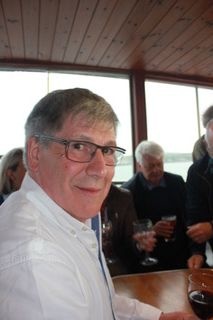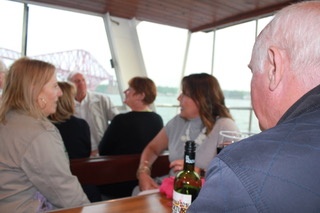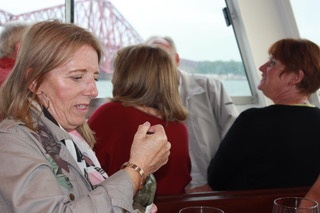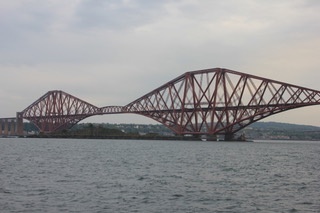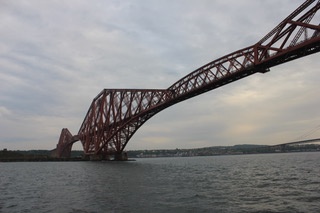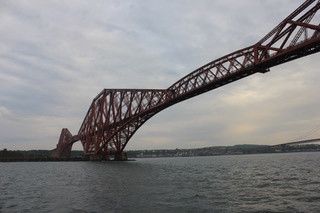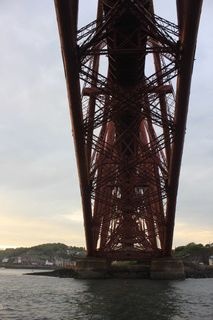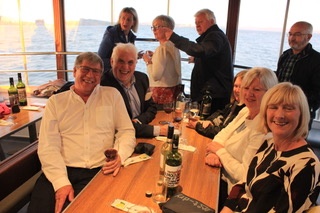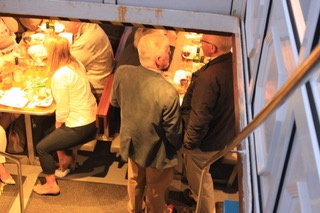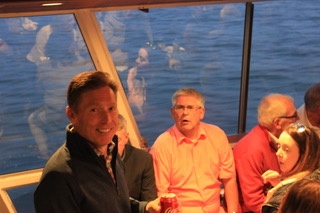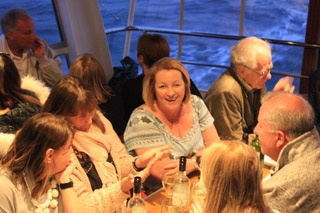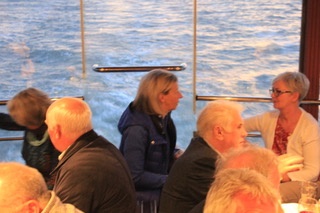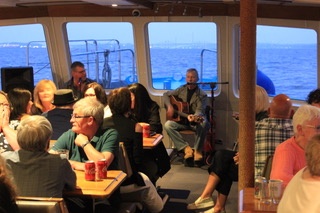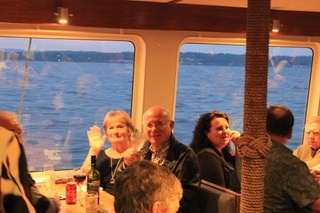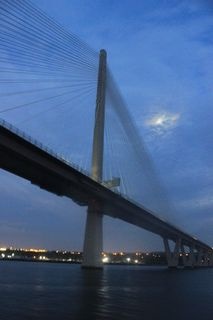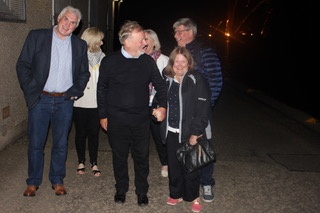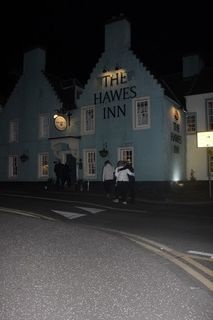 THE leadership skills of eight high achievers in four of the district's secondary schools have been recognised by the Rotary Club of Dunfermline.



The school captains and head boys and girls each received a £50 Amazon voucher from charity accounts treasurer David Fraser, as the club's youth and schools convener Brian Blanchflowertold the awardees, "With your real ability, determination and future focus, as well as your proven leadership skills, your own futures and that of this country should be in very safe hands."



Dunfermline High: Head girl, Beth Morman (17), 13 Hawthorn Park, Dunfermline, who is to pursue an engineering degree at Strathclyde University; and head boy, Robbie Pollock (17), 5 Walnut Grove, Dunfermline, who is to enter the medical faculty at Aberdeen University.



Queen Anne High: Captains Hannah Milner (18), 54 Fergusson Road, Dunfermline, who is to study dentistry at Dundee University; and Ross La Trobe (17), Tullibardine, Rumbling Bridge, who is to read law at Dundee University.



St Columba's High:Captains Kathleen McArthur (17), of Cluneybrook, Clune Road, Gowkhall, who is to undertake an accounting and finance degree at Heriot-Watt University; and Gabriel Slater (18), 7 McLauchlan Rise, Aberdour, who is to study physics at Dundee University.



Woodmill High: Head girl, Ellie Donaldson (18) 73 Queen Margaret Fauld, Dunfermline, who is targeting a business management degree at Edinburgh University; and head boy, Liam Gillan (17), 62 Castlandhill Road, Rosyth, who is to study civil engineering at Edinburgh University.


Putting young talent in perspective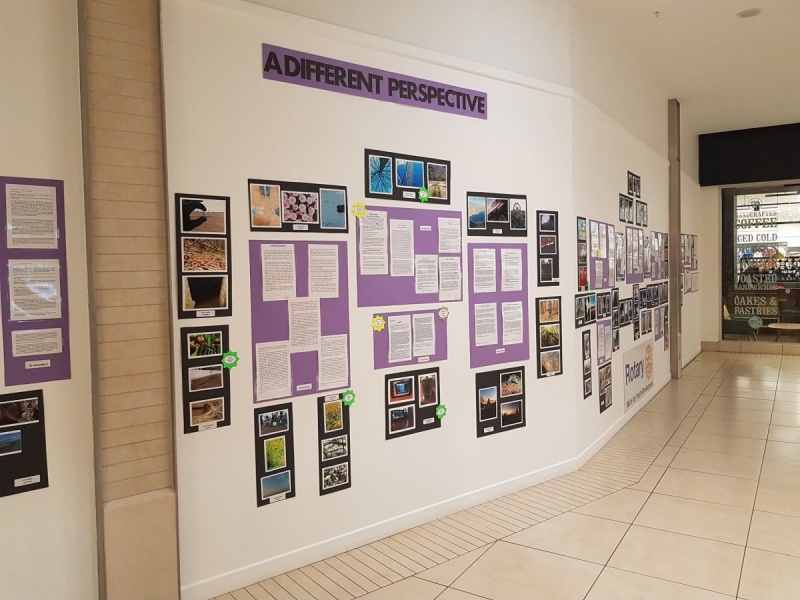 THE creative talents of the district's young writers and photographers have been showcased in a special exhibition which was mounted in the Kingsgate Centre by the Rotary Clubs of Dunfermline, Carnegie Dunfermline and West Fife. The montage featured prize-winning entries in the local heats of the young writers and young photographers competitions run annually as part of its youth development ethos by Rotary International in Great Britain and Northern Ireland, an arm of the world's largest service organisation for business and professional people with 1.2 million members in 168 countries.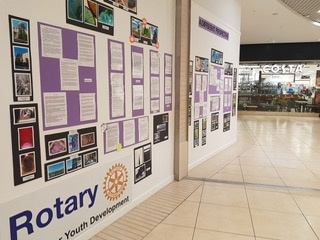 The three-stage national competitions – which are open to entrants across three age groups in school and college communities and youth organisations – tasked youngsters to demonstrate their nascent literary and photographic skills by interpreting the theme "A Different Perspective" in a 500-word story or poem and a portfolio of three photographs in colour or black and white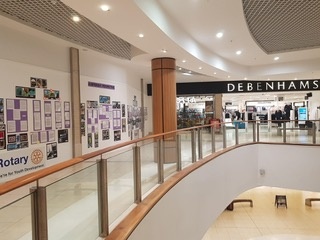 A spokesperson for the sponsoring clubs explained, "Our aim is to support and encourage the creativity of our young people through the development of their communication and photographic skills, and our judges found it challenging to select from the quality field the qualifiers to compete against fellow heat winners from other Rotary clubs north of the Forth." One of the heat qualifiers in the young writers' competition – junior Grace Campbell (9), of Carnock Primary School – added to her literary laurels by also winning the District 1010 round with her "Wolf's Tale" to advance to the RIBI national final. District runners-up awardees in their respective writers' categories were junior Katie Aitchison, Duloch Primary, and senior Mairead Reid, of St Columba's RC High School. Heat winners
Dunfermline Rotary Club:
Young writers
Junior (age 7-10), Sophie Falconer, Commercial Primary;
intermediate (age 11-13), Sophie McNutt, Commercial Primary.
Young photographers
Junior, Anna Williams, St Margaret's RC Primary;
intermediate, Katie Johnstone, Dunfermline High. West Fife Rotary Club:
West Fife Rotary Club
Young writers
Junior, Grace Campbell, Carnock Primary;
intermediate, Lucas Brown, Torryburn Primary.
Young photographers
Junior, Megan Woods, Carnock Primary;
intermediate, Keira McGurk, St Serf's Primary.
Carnegie Dunfermline Rotary Club
:
Young writers
Junior, Katie Aitchison, Duloch Primary;
intermediate, Dominika Falkiewicz, St Columba's High;
senior (age 14-17), Mairead Reid, St Columba's High.
Young photographers
Junior, Katie Wilson, Pitreavie Primary;
intermediate, Ryan Dempsey, Duloch Primary.
Special awards:
Young writers - Connor McGurk, St Columba's High.
Young photographers – Sophie Bonar, St Serf's; Allie King, Camdean;and Lucie McNeill, St Serf's.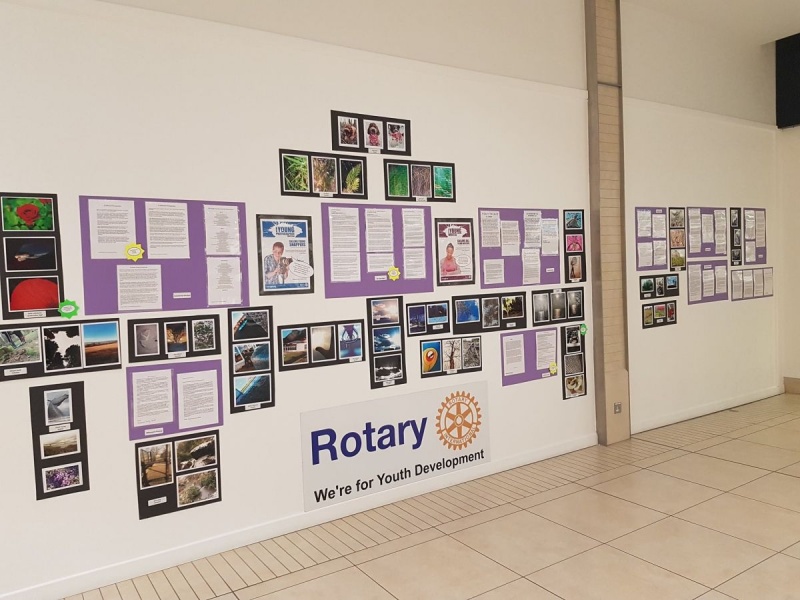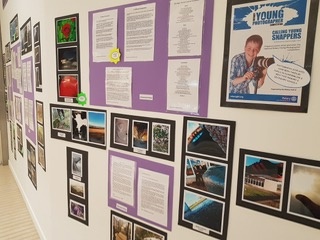 No resting on laurels, urges incoming president

THE Dunfermline club - with a record to be proud of and approaching its centenary of service to the community, both local and international -is far from languishing on its past laurels but its whole game plan must be predicated on team-work.
So insisted President-Elect Tom Sunter the last commander of the former Rosyth Naval Base, as he prepares to take the helm of the club this summer and pilot the club towards its centenary in 2022.

In revealing his council and draft programme for Rotary year 2018-19, the retired Royal Navy captain told the club assembly that realisingtheir aimof fulfilment, fun and fellowship required objectives and methodology."Because if we achieve those three we also achieve happy club members, and that's the best recruitment factor anybody could have," he said.

Mr Sunter pointed out that District 101 had 88 clubs. "We are larger than 77 of them," he said. "We have been around longer than 86 of them – the other two are Perth and Dundee. In the last year, the charity trust disbursed £33,000 in donations of one kind or another.

"I'm not suggesting we sit on our laurels. I'm not suggesting we ignore innovations and I'm not disputing the need for sensible recruitment. But I'm stating that to enhance our value and contribution, our whole game plan must be based on teamwork."

He explained that he and his senior and junior vice-presidents - past-presidents Noel McKenna and Alan Mutter respectively ­had been presented as a team, his prospective successors having taken on new roles and responsibilities which would have serious implications for the future of Rotary in Dunfermline and the club's forthcoming centenary. "

Our whole plan is based on team-work…and by teamwork, that means the involvement of everyone!" he said.

With conveners already tasking their teams, he said the first innovation would be the introduction at monthly lunch-time meetings of "Members' Tales", with members being invited to share interesting and amusing anecdotes drawn from their work or life experience.
On Sunday 8th April we organised a Daffodil Tea on behalf of
Contact the Elderly
.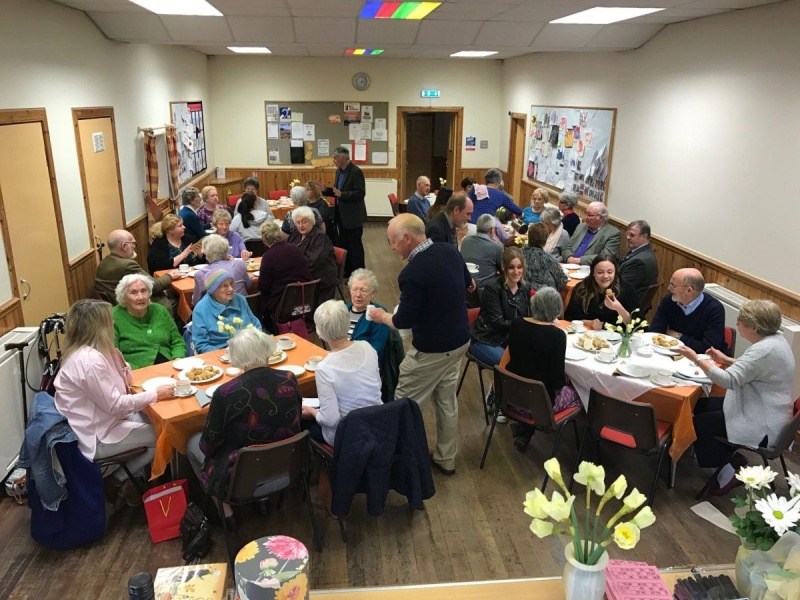 About 30 guests and 10 Rotarians (and their wives) enjoyed an afternoon of company, chatter and rather a lot of food, The Club owes many thanks to all the wives who prepared the food and ran the kitchen for us. Everyone enjoyed the afternoon and we are looking forward to making it an annual event.
Dunfermline Rotarians and Round Tablers hit the streets with Santa on 11th Decemberon a four-day musical sleigh ride round city neighbourhoods to put a festive jingle in their collecting tins for local good causes.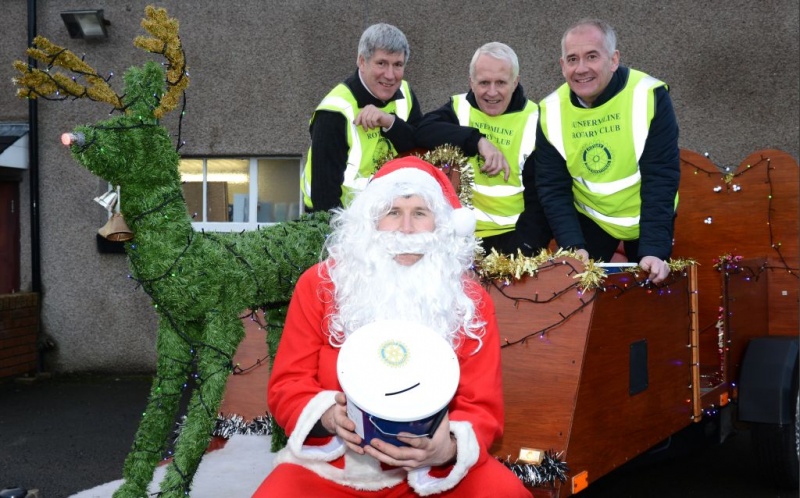 On 15th December Santawas due to make a four-day pit-stop at Tesco Fire Station's superstore…before returning to collect children's last-minute Christmas wish-lists outside the High Street entrance to the Kingsgate shopping mall on 22nd December. After their midweek sleigh run with Tablers, Rotarians were mobilised to continue the collection campaign in the car park of the Tesco Fire Station store on 15th, 16th, 17th and 18th December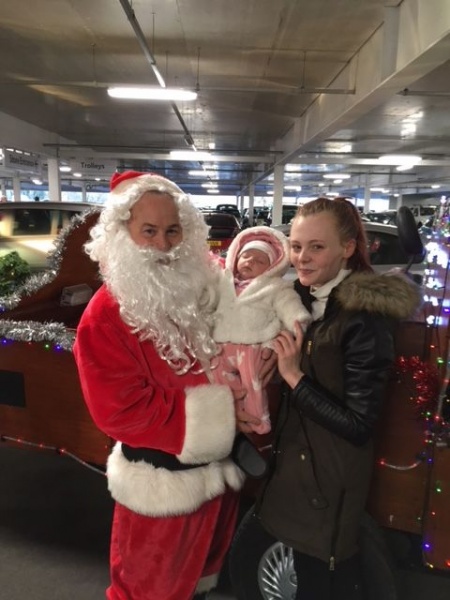 Rotary Club co-ordinatorGraham Steedman explained, "As Tesco says, 'Every little helps!' Santa is particularly grateful to the supermarket for again allowing Rudolph to pitch up outside their car park entrance."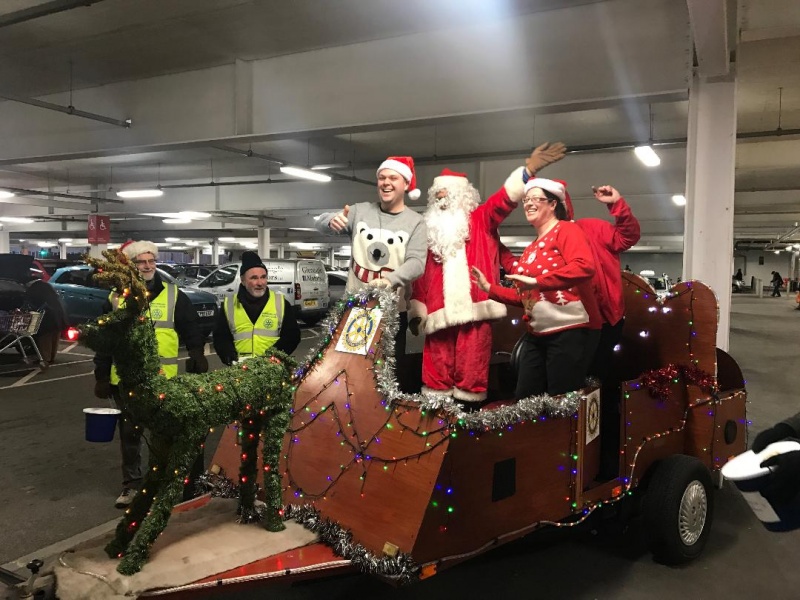 President Dave Lyth adds, "As well as bringing some Christmas joy into the lives of local children and families, the Rotary club's benevolent fund will be wrapping up the festive season withour annual range of donations to local good causes." Service and local charities meantimealso benefited from the two Christmas concerts stagedby the Rotary Club in Dunfermline Abbey on 13th and 14th December – a favourite festive fixture in association with the Band of Her Majesty's Royal Marines Scotland and local primary-school choirs.
In response to the delayed fulfilment of government's pledges ROCDiC have raised funds and organised a non-profit clinic that requires patients to pay the basic cost of drugs and service. From the photos you will see they have: · Ordered furniture: 2 tables, 2 chairs, 4 benches, 4 beds, 1 cupboard · Employed a nurse and a midwife, who have ordered drugs, and 8 pieces of basic medical equipment · Opened the clinic on 23rd November, and treated scores of outpatients in the first week and admitted 19 patients. The community is reported to be "Very Happy".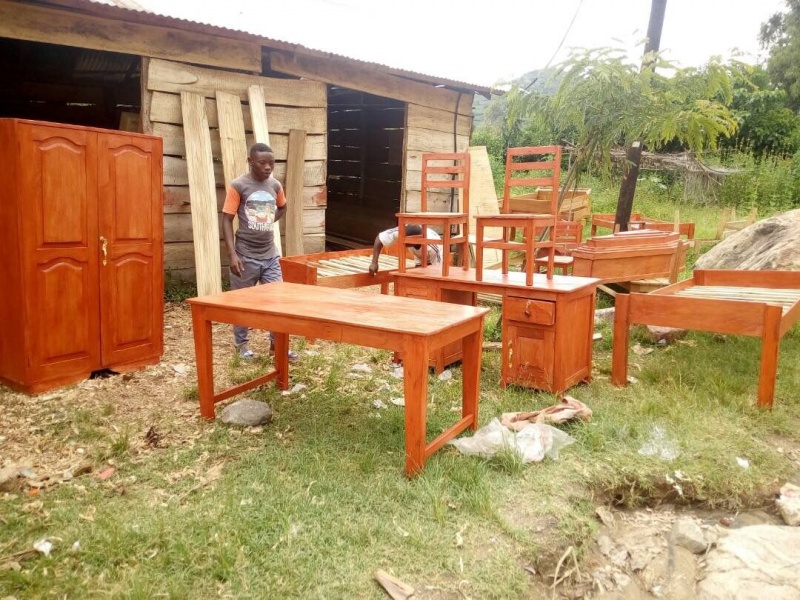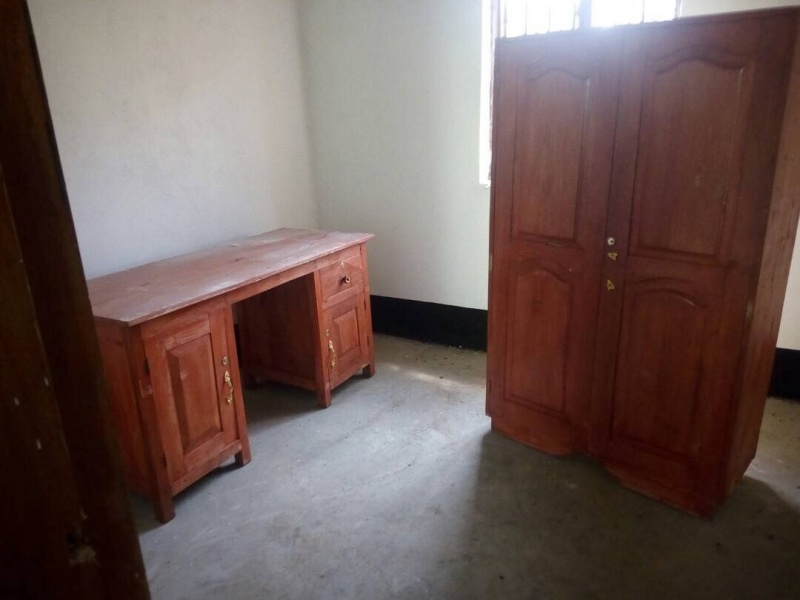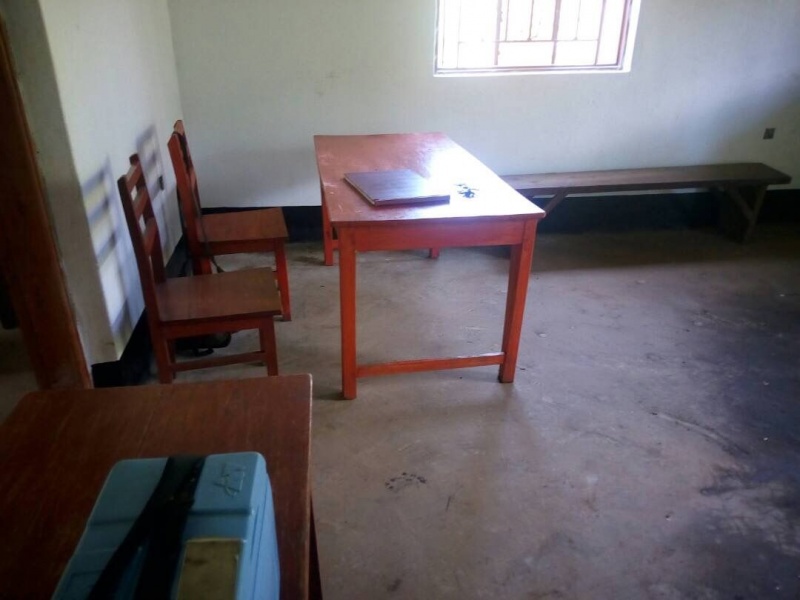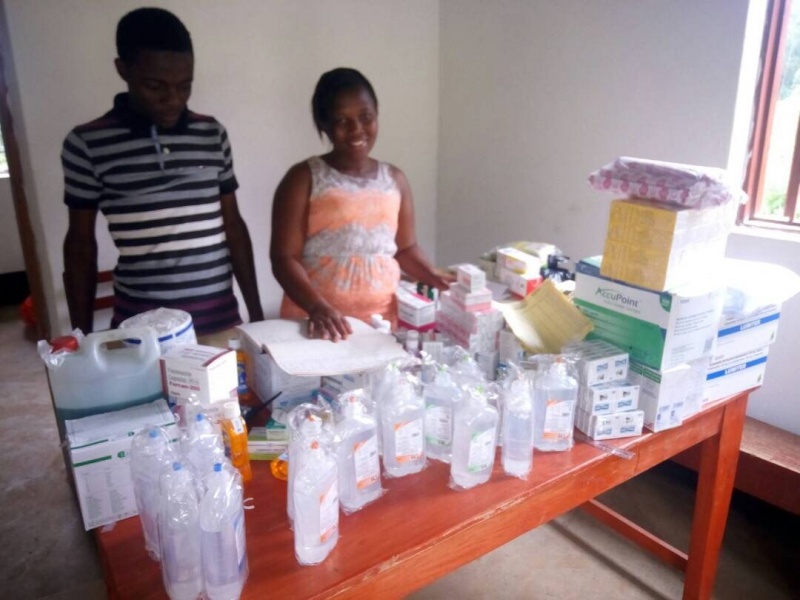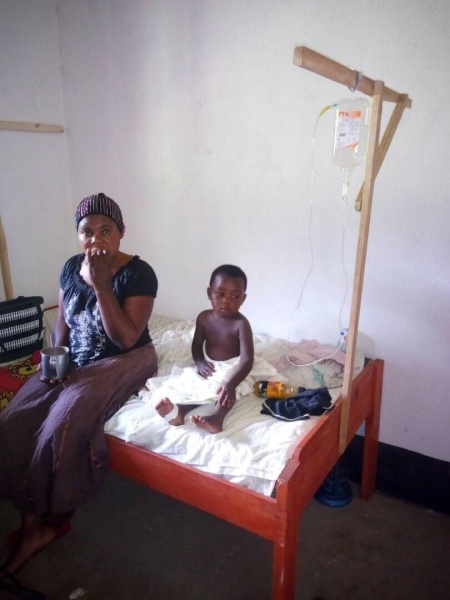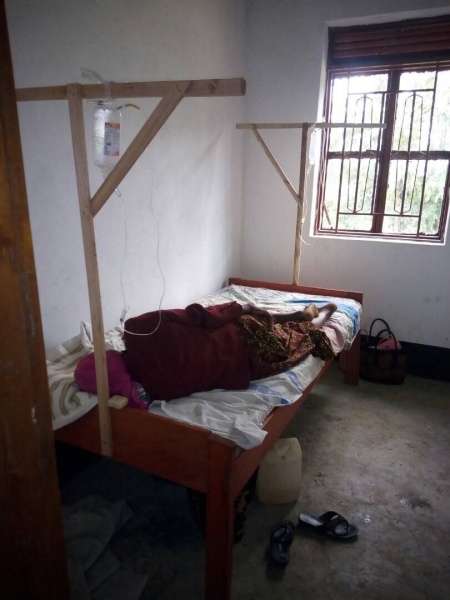 YOUNG choristers from St John's, Lynburn and Limekilns Primary Schools tune up for a favourite fixture in the festive calendar with musicians from Dunfermline's resident military band. The pupils converged on the rehearsal hall at MoD Caledonia, the Rosyth-base of The Band of HM Royal Marines Scotland, to clear the decks for two Christmas concerts in Dunfermline Abbey in association with the Rotary Club of Dunfermline. Rated the finest wind band in Scotland, the Marine musicians will be providing their annual festive fanfare in support of Service and local charities with performances on the evenings of 13th and 14th December. The Carnegie Dunfermline Trust have provided transport support for the primary-school carollers. For home-town aficionados of the band, the Abbey concerts provide Christmas counterpoint to the band's ongoing Carnegie Hall concert series,and together the performancesform the local flagship events for the band, under the baton of their director of music, Captain Matt Weites. Most band members play at least two instruments and the Royal Marines musician is rated one of the most versatile and adept in military music. The band travels extensively throughout Scotland, Northern Ireland and the North of England and have recently fulfilled overseas engagements in Norway, Gibraltar, Columbia and Dubai. Regular ceremonial duties include the Royal Edinburgh Military Tattoo, beating retreat on Horseguards Parade, ship launches, homecoming parades and remembrance services. Christmas concert tickets, priced £12.50, are now available from the Carnegie Hall box office, The Gift Shop in Queensferry Road, Rosyth, and Sew Yarn Crafty! in Dunfermline's High Street. Photos courtesy (and copyright) of Jim Payne Photos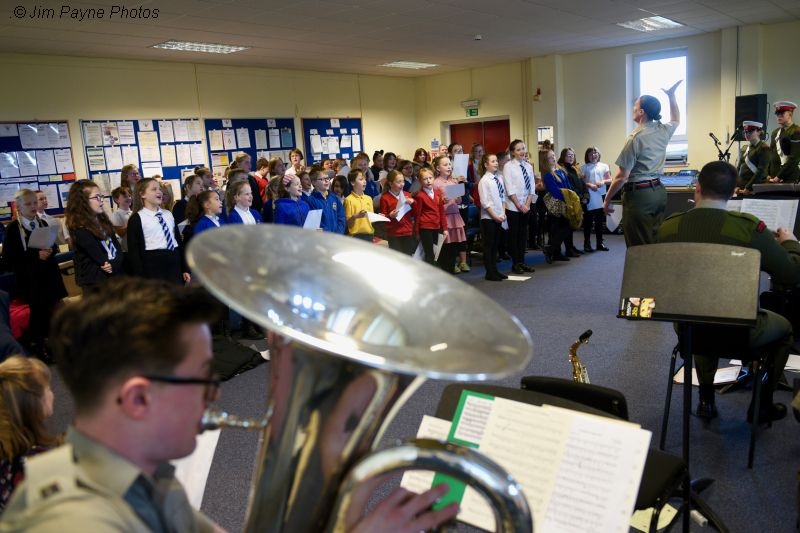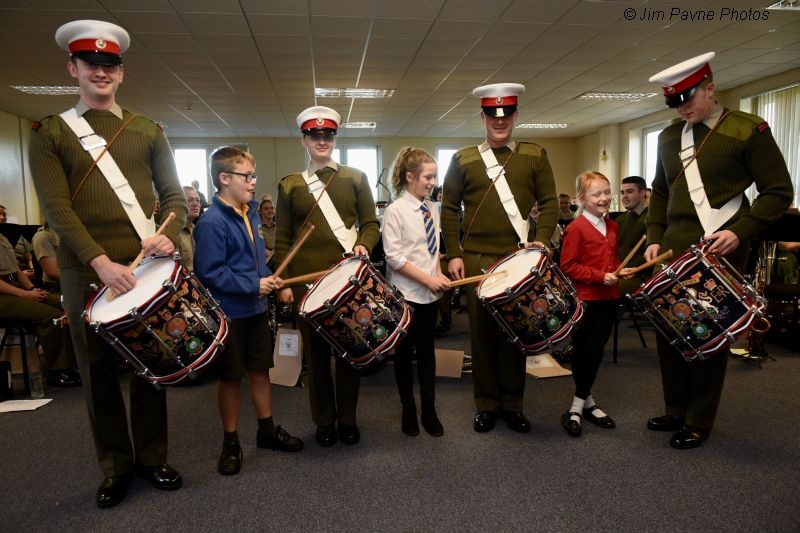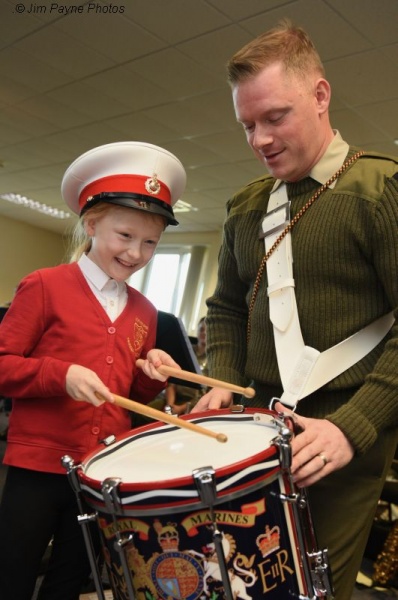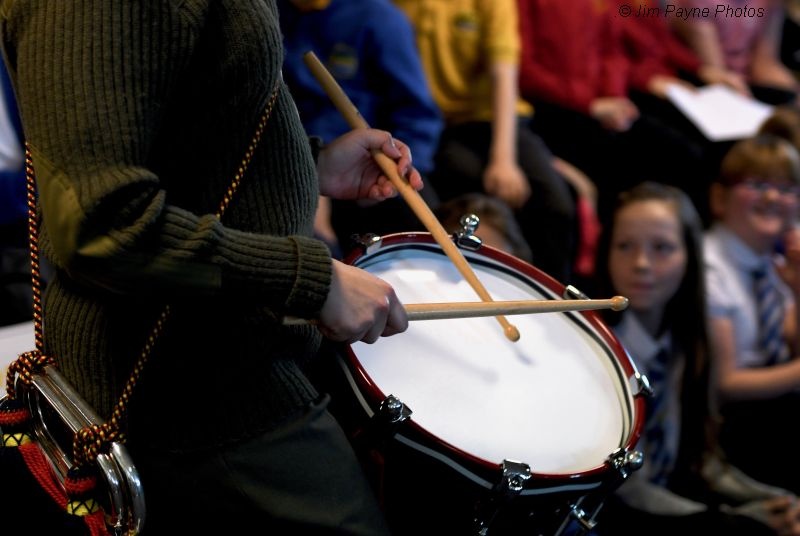 At Dunfermline Sports Club, McKane Park a quiz was enjoyed by nearly a hundred keen participants. Not only was good time had by all the magnificant sum of £750 was raised for the Club's Trust fund. In due course donations will be made to local good causes.
The Rotary Club of Dunfermline have despatched some 260 Christmas 'boxes' to deprived children and communities in Eastern Europe, as part of the collective drive by Rotary clubs north of the Forth. The club's international convener, Rotarian David Chalmers, explained, "The shoeboxes will be driven by Rotarians to Ukraine, Moldova, Romania, Albania and Bulgaria. Local Rotarians will then ensure that the boxes will be delivered to where they are needed most. "Shoeboxes containing gifts will go to children's homes, kindergartens, as well as to hospitals and deprived communities where Christmas presents would otherwise be more or less non-existent. "Those boxes containing household goods will be delivered to communities where there is considerable poverty and social deprivation." In addition to member donations, the club has acknowledged the support of pupils of: Limekilns and Pitreavie Primary Schools; the congregations of: Holy Trinity and St Andrew's-Erskine Churches; Townhill and Bellyeoman Brownies, and the staff of the Child Support Agency in Kirkcaldy, pictured presenting their donations to President David Lyth (right) and Past-President Eric Keenan.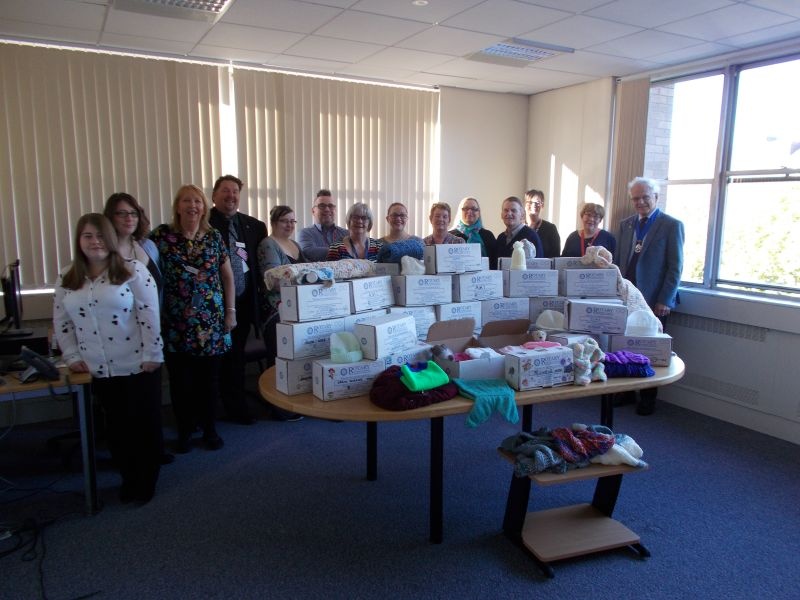 This year, Rotary District 1010 is aiming to fill 13,000 shoe-boxes. We received the following thankyou letter. Message from the ChairmanA big thank you to everybody who has given the gift of a shoebox this year. It promises to be another bumper year for the scheme and the elves are very busy in the warehouse sorting the boxes as I write. A delivery of approximately 12,000 boxes will depart in the next few days for Ukraine followed by a further delivery to Romania and Moldova of 12-14,000 boxes in the New Year. This time of year is particularly difficult for the warehouse and transport team as we collect the boxes from around the country and nobody wants their boxes to miss the Christmas deliveries. I would like to extend a special thank you to all our helpers who co-ordinate the delivery and collection of boxes in their local areas. Without their local knowledge, our task of delivering and collecting nearly 70,000 boxes each year would be much harder. As many of you know, after 18 years as Chairman, Peter Clare decided it was time for a change and I am grateful to the trustees for giving me the chance to lead the charity going forward. It is due to Peter's commitment and dedication that the Shoebox Scheme has grown to its current level and I am pleased that he has agreed to continue as a Trustee and develop the international distribution arm of the charity. The demand for our boxes continues to rise and we are only limited by the number of filled boxes we receive each year. We could easily double our capacity and still not meet all the requests for boxes that we receive, so please, keep up the good work and spread the message – every box filled is a little drop of happiness for somebody somewhere. On behalf of the Trustees and Management team, may I wish you a Very Merry Christmas and a Happy and Prosperous New Year.Nigel Danby - Chair of Trustees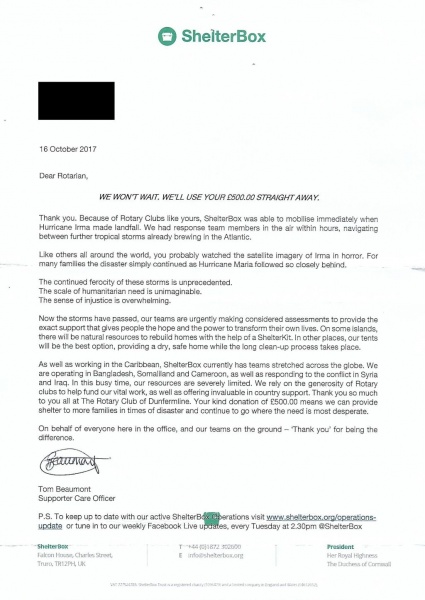 THE Rotary Club of Dunfermline has donated £500 to the ShelterBox response to the Caribbean hurricane disasters. The UK-based charity - whose project partnership with Rotary International has seen it evolve its global network of affiliates - provides emergency shelter and resource kits for families robbed of their homes by conflict or natural disaster. The Dunfermline club has regularly used ShelterBox as the delivery vehicle for its response to international relief appeals, and the club council considers it would be good practice to attempt to donate £500 a year to ShelterBox to replace the boxes sent to relieve disasters around the world.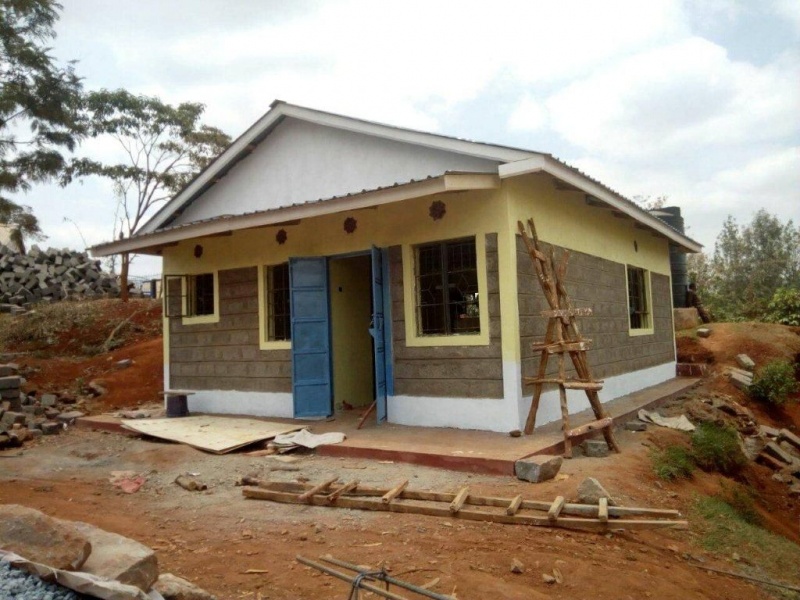 The nearly completed building in Kenya for conducting specialist therapy sessions for pre-school children who have special needs. These sessions will cover such as speech therapy, occupational therapy, physiotherapy, group play therapy, parents workshops and peer support. Our Club is providing the specialised therapy kits to support this initiative
President David's new mission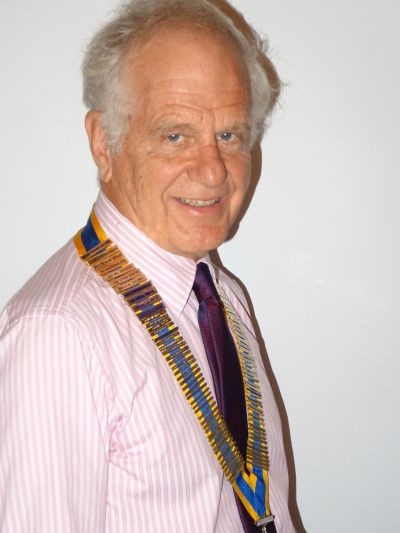 THE Rotary Club of Dunfermline has installed as its president a Rotarian the club had honoured in 2009 as a "humbling exemplar" of the movement's motto, Service Above Self.
For the past 10 years, the club has supported initiatives by Townhill surgeon David Lyth and his teacher wife Helen - herself an honorary member of the club - both during and after their post-retirement mission to Africa to work among the very poor in the continent in which they both grew up.
After 10 years' service with NHS Fife, consultant urologist David took early retirement to spend five and a half years workingin Sierra Leone and Uganda - a time which the couple have described as the "most rewarding of their lives."
Their mission was crowned in May when they returned to Uganda to celebrate the completion of an £11,500 health centreto serve a scattered community of 13,000 in the foothills of the Rwenzori Mountains.
David had spearheaded the fund-raising drive which saw six Fife Rotary clubs and Rotary Foundation finance the construction of the purpose-built Burumbika Health Centre
The club had already supported the couple's surgical and educational initiatives in a fistula clinic and street school in Freetown, Sierra Leone, and a mission hospital and rural school in Kagando in Uganda, where David also initiated urology camps and helped to disseminate key sanitation and drinking-water messagesthrough apublic education campaign whichchecked atyphoid epidemic.
In returning to the central African mission fields, the father of four was following in the footsteps of his Anglican bishop father and his doctor grandfather who founded a missionary society which ran 10 hospitals, in one of which he was born.
David, whose early medical career was punctuated by service in Iran, Bahrain and Saudi Arabia, came to Fife in 1997 after four years of clinical research in urology in Essex.Pride in the club's international aid record - which also saw the completion this year of projects in Kenya and Ethiopia - was also expressed by outgoing president David Somerville, who reported that during a busy and eventful year the club had raised a disbursed over £10,000 to national and local charities.
The new president pledged to continue the current team-building, recruitment and profile-raising initiatives to ensure the future of the club in the run-up to its 2021 centenary and beyond.
Assistant governor for Area 8, Heather Stuart, confirmed the support and resources available at District 1010 level "to help the club deliver its ambitions".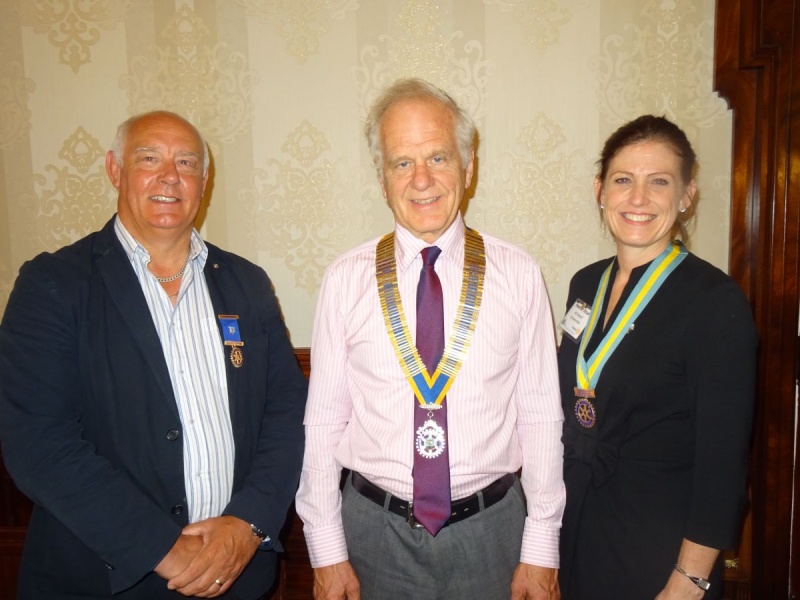 President David Lyth, flanked by Past-President David Somerville and Area 8 Assistant Governor Heather Stuart.