2015 and earlier
An item by item description of our activites
What we've being doing
DUNFERMLINE'S leading pupils have described to Rotarians the "challengingbut rewarding" experiences of their memorable tenure as head boys and girls of the area's four high schools – a 'whirlwind year' which had given them skills to carry into their future lives.
The following High achievers each received from President Graham Steedman, of the Rotary Club of Dunfermline, £50 of Amazon vouchers in recognition of the leadership qualities they had demonstrated during the current academic year:
Dunfermline High: Head girl, Chelsea Morrice (18), 21 Kyle Crescent, Dunfermline, who is now bound for the European University of Madrid to undertake a degree course in dentistry; head boy, Jeremie Juan (17), Dornoch Place, Dunfermline, who plans to study medicine at Aberdeen University
Queen Anne High School: Head girl, Laura Hood, (17), 65 West Baldridge Road, Dunfermline, who is to pursue a history degree at Edinburgh; head boy, John Craig (17), 6 Miller Avenue, Crossford, who is to study mathematics, with economics, at Edinburgh.
St. Columba's High: Head girl, Niamh O'Donnell, (17), 8 Crathie Way, Dunfermline, who is to read French and politics at Glasgow University; head boy, Michael McKenzie (17), 40 Dornoch Place, Dunfermline, who is to study history at Aberdeen.
Woodmill High: Head girl, Jodi McFarlane (17), 18 Gilfillan Road, Dunfermline, who is to read history at Edinburgh University; head boy, Bruce Taylor (17), 17 Earn Grove, Dunfermline, who is to study politics, also at Edinburgh.
KIDS Out 2015 was much more than a stroll in the park for the 130 youngsters who were guests of local Rotarians at the annual picnic treat in Pittencrieff Park for children with additional support needs.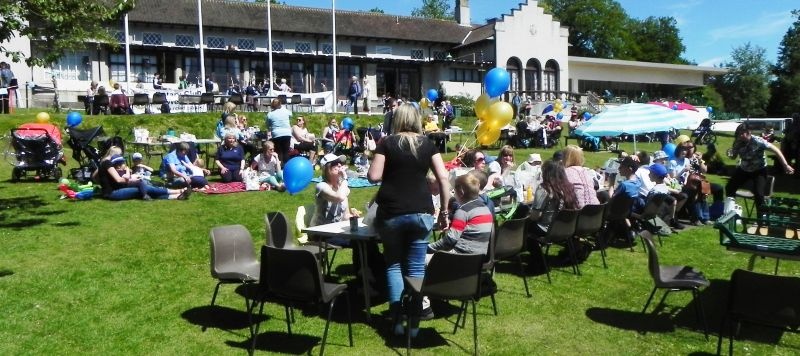 For the kids had fun face-time with the first-responder services and enjoyed a range of attractions from pony rides, a balloon artist and a puppeteer to Pets As Therapy (PAT) dogs, a bouncy castle and ball pit.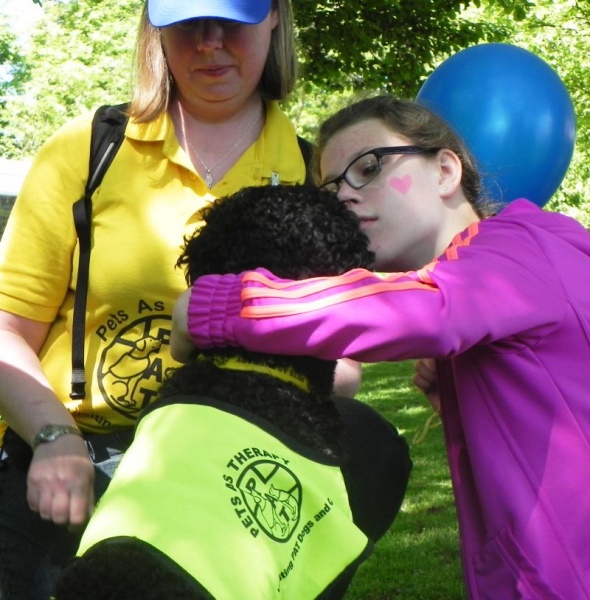 Lochgelly High School Pipe Band blew away the clouds to ensure the sunniest Kids Out event of recent years.
Kids Out, which has become an annual fixture in the ASN schools' calendar, is a joint initiative by members of the Dunfermline, West Fife and Inverkeithing & Dalgety Bay Rotary Clubs.
Dunfermline Club president Graham Steedman said, "A fantastic day was had by all – kids and Rotary volunteers alike. The happy smiles of the youngsterseven outshone the event's best weather for years."
IN response to the Nepal earthquake disaster, the Rotary Club of Dunfermline have voted to despatch two ShelterBoxes to aid the international relief effort. The boxes, which contain an assortment of life-supporting aids, together cost £1180 – which matches the club's response to the relief of victims of the cyclone which recently devastated Vanuatu. The club has this year raised over £40,000 for a whole raft of deserving causes at home and abroad.
THE community service of a retired Dunfermline police commander through his contributions to the force and to the Rotary movement has been recognised by the Rotary Club of Dunfermline.
Rotarian Brian Steer - described as "possibly the best president the club never had" received a Paul Harris Fellowship, coupled with honorary club membership, from District Governor Keith Hopkins at the club's 2015 charter dinner in Garvock House Hotel.
President Graham Steedman explained that Fellowship honorees were individuals who meet the high professional and personal standards set by the movement's founder, and honorary membership was conferred only very selectively on Rotarians whose service was 'greatly valued'.
The honours recognised individuals not only for their services to Rotary, but also for the outstanding leadership qualities demonstrated during their working lives,from which the whole community had benefited
Dunfermline-born Brian, who lives in Glenrothes,began his police career in 1968 with Edinburgh City Police andtwo years later was awarded a Queen's Commendation for Brave Conduct for saving the life of a distressed woman on a store rooftop.
He thereafter rose to the rank of chief superintendent within Fife Constabulary, retiring in 1998 as commander of its Western Division, based in Dunfermline.
In 1988, Brian was the lead investigating officer involved in Fife's only political assassination attempt during which VinkoSindicic was dispatched to kill exiled Croat leader Nikola Stedul in Kirkcaldy's Glen Lyon Road.
President Graham observed, This had all the hallmarks of a classic spy novel, with a gunman licensed to kill being sent by communist Yugoslavia to the Fife town. Of course,Sindicic had not bargained on coming up against Fife's finest - and he was promptly caught, arrested and prosecuted, ultimately being sent to prison for 15 years.
On retiral, Brian assumed the voluntary roles of secretary of the Retired Police Officers' Association (Scotland), and secretary of the association's Fife branch, his 10 and 15-year tenures respectively being recognised by the award of honorary membership of the association.
Brian entered Rotary in 1997 and had since fulfilled multiple roles within the club. For many years, he organised the annual Kids Out picnic in the park for children with additional support needs; he organised two successive charity dinners as the club's major fundraisers; and he hada long record of service as the club's protection and health & safety officer.More recently, he had been the driving force behind what had become one of the club's main calendar events - the schools employability skills programme.
President Graham added, If ever anyone ticked all the boxes for what our motto, Service above Self, stands for - not only in his Rotary involvement but also in his police work - it's Brian Steer,who is possibly the best president this club has never had!
Honorary membership has also been conferred on retired master baker Ian Terris, of Limekilns, a club member since 1966.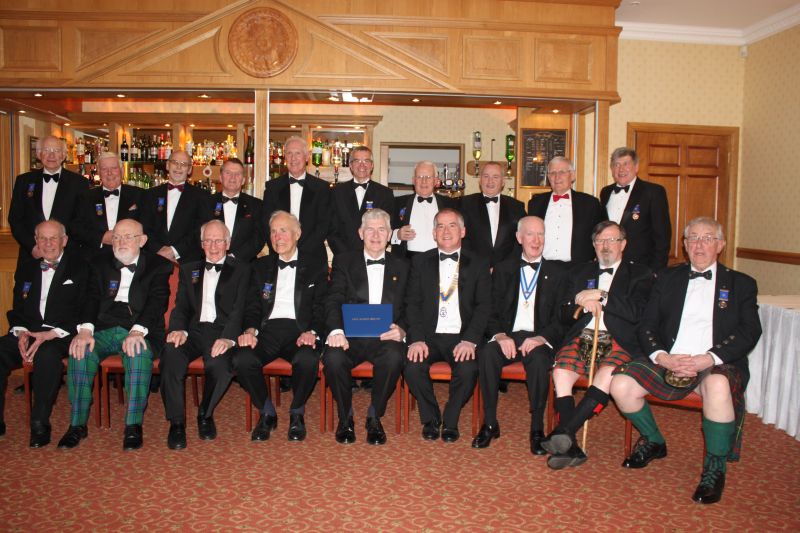 Paul Harris Fellow Brian Steeris pictured (centre, front row), with President Graham Steedman and 17 of the club?s past-presidents.
GLAD tidings are on the way to a second wave of charities thanks to the Christmas fund-raising endeavours of the Rotary Club of Dunfermline.
Having already placed cheques totalling £5000 into the Christmas stockings of nine local good causes, Rotarians gave an extra festive fillip to their benevolent fund by ringing up £7368 in the joint proceeds fromtheir Santa's sleigh collections around local neighbourhoods and two festive concertsin Dunfermline Abbey, in association with the Band of Her Majesty's Royal Marines Scotland.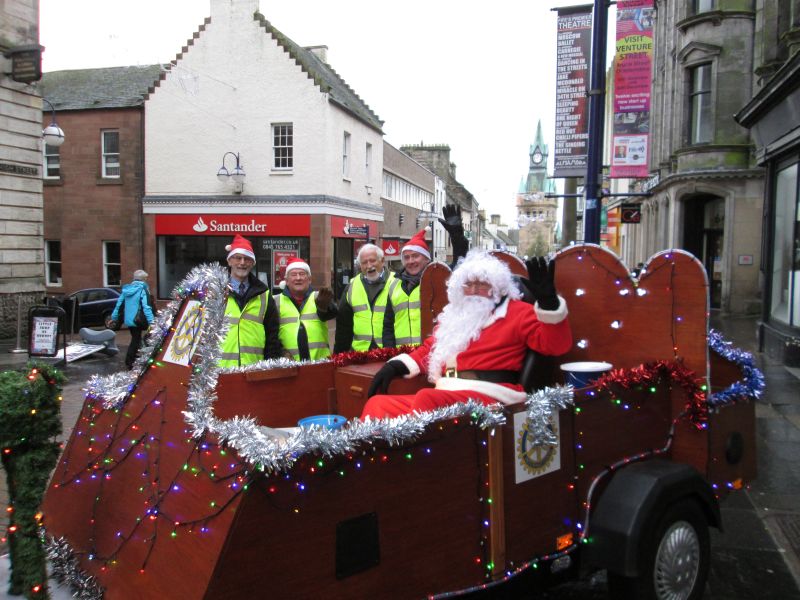 Latest beneficiaries include four military charities RN & RM Charitable Trust;Fife branch of SSAFA,which offers lifelong support to the Forces and their families; Seafarers UK and Combat Stress. Also sharing in the proceeds are the two Rosyth primary schools whose choirs performed at the Abbey events: St John's and King's Road.
The club is also to give a four-figure sum to the charity, Playlist for Life, for whom they are piloting the local iPod donation drive to improve the lives of those living with dementia by giving them digital access to personally meaningful music.
DUNFERMLINE folk singer cum friendship ambassador Gifford Lind will be packing more than his guitar with him when he flies out to perform on 31st January at a Burns Supper in Dunfermline's twin town of .
For the convener of Dunfermline-Trondheim Twinning Association will be exploring with his Norwegian counterparts initiatives to mark during 2015 the 70th anniversary of arguably the oldest twinning link in Europe
Gifford reminded Dunfermline Rotarians, whose predecessors helped to cement the original friendship bond, The link was formed in 1945 and the very first ships to free Trondheim brought with them a bond of friendship which had been adopted by a group of over 1000 young people meeting in the Regal Cinema in Dunfermline.
It was an initiative which was taken because there was the feeling that something should be done to win and sustain the peace. So it was very laudable and very worthwhile thing at the time, and really something for which the young people of should be given a great deal of praise for having initiated and carried out.
Recalling that there had since been many visits exchanged and friendship links forged, he said, "I first got been involved way back in 1998, and it has taken me outside of Dunfermline and made me look back at the place. I think we all need to do that, because it lets you see your own place and your values in a different way. it also lets you hear what other people think of your own town."
Gifford stressed there was a great deal of emotional connection with Dunfermline amongst older people in Trondheim and the younger people were now hearing about it as well.
This year will be the 70th anniversary of the start of that twinning and I have a list of initiatives to be taken this year to try to make things happen, he said.
Three years ago we did a democracy project involving young people from the twinned cities The more I think about it, the more I realise that democracy is what this is all about, because if you have a democracy that doesn't involve everybody, some people will get to the position where they may think to do something violent against others. So inclusion is important.
That was confirmed to me when we were planning visit from the Youth Council of Trondheim. A young man blew up the centre of and then went up to an island and shot a large number of young people. The young people who were due to visit us had relatives and friends who were killed in that incident. When we realised that, I put the point to the organiser that maybe we should call the visit off. He said, "No. We need to come. We need to develop democracy. We need young people to understand it."
That represents one of the priorities that we would see in renewing the bond of friendship this year, which is to get young people involved in democracy, in talking to one another and in being friends with one another.
HIRE education is already paying dividends for two fifth-year pupils of Dunfermline High School.
For Sarah MacDonald and Robyn Pattison have been awarded iPad Air tablets by the Rotary Club of Dunfermline as the High performers in the third Rotary employability skills project run in association with the school.
Sarah (16), of Garvock Hill Dunfermline, and Robyn (16), of Backmarch Road, Rosyth, received their iPads from President Graham Steedman to acknowledge their performance in the 2014 round of theproject which gives senior pupils of Dunfermline High School expert mentoring on how to get their feet on the first rung of the jobs ladder.
The girls acknowledged, in turn, the input by Rotarians and school staff to a process which they said had developed skills which they would apply throughout their lives.
We have delivered exactly 140 shoeboxes to the depot in Perth.
The toys & young people's clothing will be taken to countries such as Romania, Belarus, Bulgaria, Albania, Croatia, Kosova and Moldova and delivered to kindergartens, to children's homes, to disabled children, to hospitals, to deprived communities and so on where Christmas presents will be more or less non-existent and the household goods will go similarly to communities where there is considerable poverty and social deprivation.
Thanks to members, familes and friends who filled the boxes and David Chalmers who organised and delivered them
THE Rotary Club of Dunfermline has landed a record £24k in funding which - over the next two years - it will plough into the most ambitious international project in the clubs 93-year history.
'Delighted!' was how President Graham Steedman greeted the news of his club's success in assembling the investment packageto provide training courses in agribusiness and home-care management for disadvantaged young people in Kenya - so that they can have opportunities for independence through employment or self-employment.
International& Foundation convener David Chalmers reported to the special general meeting that the club's financial contribution of £3550 from its own fund-raising had been the catalyst for grants of £300 and £11,000 respectivelyfrom the club's Rotary District and from Rotary Foundation, the movement's international charity, with the balance being contributed by their Kenyan partner Muthaiga Club,who will oversee and support implementation of the project on the ground..
The year-long agribusiness course will teach a wide range of farming skills such as use of farm tools and equipment, irrigation/drainage, crop production, soil fertility, livestock management and marketing.
Mr Chalmers explained, At the end of the course graduates, will retain the tools they trained with and will work on family land or take up paid employment or set themselves up in self-employment. An added benefit will be that the food grown during the courses will be sold for re-investment in the project.
Farming in many parts of Kenya is carried on by old-fashioned inefficient methods so more productive use of the land will be to the benefit of the community generally.
The six-month home-care management course will cover home nursing and first aid, food/beverage production and service, nutrition, house-keeping and child care.
Said Mr Chalmers, The objective is to equip graduates with skills which enable them to obtain better paid jobs in domestic service or in the catering and hospitality service where unskilled workers are poorly paid and undervalued.
Thecourses will be delivered at the Seed of Hope Centre in Kariti in the Murang a District of Kenya. Dunfermline Rotarians havealready carried out several very successful projects with Seed of Hope,which was established by the UK-registered charity, Vision Africa.
David added, The funding for this project will cover the first two years of operation and thereafter it is planned that it will be self-funding by means such as the sale of agricultural produce.
The Dunfermline Rotarians responsible for this project are David Chalmers, David Steele and Alan Mutter.
AS they gear up for their annual Santa sleigh rides around local neighbourhoods from 15th December, Dunfermline Rotarians are to stuff more than £5000 into the Christmas stockings of 10 charities and good causes.

The club's benevolent fund is to give £1000 to Calaiswood School, Duloch, which provides special education for children and young people with complex and additional support needs.
Eight local charities are also to receive early Christmas presents of £500 each: The Salvation Army; the Riding for the Disabled Association; Home Start; Crossroads care attendance scheme; the Scottish Mental Health Association's Going Forth training centre; Fife Council social work department; Safe Space; and Maggie's Fife.
The club has also agreed to donate part of the proceeds of the Christmas concerts by the Band of HM Royal Marines Scotland in Dunfermline Abbey on 17tt and 18th December to SSAFA, the charity for the Forces and their families.
Spreading Malala's message...
Pupils at Dunfermline High School were inspired to take receipt of their "Malala

Desk".
Fife Council, in partnership with the Rotary Club of Dunfermline and the Alhambra Theatre, are in the process of delivering a Malala

Desk to every school in the Dunfermline area. The desks are inscribed with a message from the young girl who was shot for attending school and who has recently been awarded the Nobel Peace Prize. The inscription reads: "Let no-one be forgotten"
The United Nations Convention on the rights of the child proclaims: "Every child has the right to an education, to be healthy, to grow up safe and be heard."
Cllr Helen Law, area chair for the City of Dunfermline, says, "We want all of our children to learn in a supported environment, to grow up as confident

individuals and to go on and play an active role as citizens in their own right."
Provost Jim Leishman

commented, "Considering what Malala

went through just to be able to engage in learning should act as an inspiration for all our young people."
The desk would act as a constant reminder to all that "you can't put a price on a good education".
Alan Mutter, past president of the Rotary Club for Dunfermline, said his organisation was proud to be associated with such an initiative and he hoped that the young people realised the significance of a positive school experience in paving the way for them to become the business people of tomorrow.
Bill Fletcher, of The Alhambra, agreed and reflected on the recent success of the theatre's summer schools as a means of providing learning for young people that was exciting, dynamic and engaging.
"Anything that inspires young people to engage with the learning process is good in my book and it gives me great satisfaction that the theatre can add to the wider educational experiences available to our young people," he said.
THERE are currently around 70 Fife ex-Servicemen on the casebooks of Combat Stress, the UK's leading military charity specialising in the care of veterans' mental health.
Retired wing commander Jim Lawrence, the charity's regional welfare officer for the East of Scotland, told Dunfermline Rotarians that the area within a 10-mile radius of central Dunfermline was one of his caseload 'hotspots' and that the calls on Combat Stress nationally were increasing by some 12 per cent a year.
In token of the centennial commemorations of World War One - and the 95thanniversary of the charity's foundation to deal with shell-shock casualties from the trenches - Rotary club president Graham Steedman presented Mr Lawrence with a Combat Stress donation of £1000.
Mr Lawrence - who covers a patch from the Borders to the Shetlands with two mental-health nurses - explained that there were some 5000 cases on the charity's books across the UK and some 750 on its active client list in Scotland, where one of the three UK treatment and support centres was located in Ayrshire.
DUNFERMLINE Rotarians have roped in Provost Jim Leishman as the first Fife civic head to be invested by the club as an honorary member.
The honour was bestowed on the Pars legend just over a year after he Bonded with the Magnificent 007s seven intrepid members of the club to abseil, SAS style, from the Forth Bridge to boost Rotary charities and his own community foundation which he set up in memory of his late wife, Mary.
President Graham Steedmansaid he was delighted to welcome the Dunfermline Athletic director, in his role as Provost of Fife, into honorary membership as the club believed he possessed all the qualities required in a Rotarian to honour the movement's ideal of Service Above Self.
'We know you will find inspiration, service and enjoyment in the fellowship of this club and the worldwide Rotary movement', he said.
Provost Leishman said his travels as Provostover the past two years and his six charity daunders along the Fife coastal path has been eye-opening experiences. Fife is an amazing place, he said. Sometimes we overlook what we have here on our doorstep.'
The founder of the Mary Leishman Foundation, which has raised some £700,000 for local good causes, told Rotarians, "Im very privileged and honoured to be made an honorary member of this club today.Your Rotary magazine says, 'We are for communities'. I would like to think that is one of the positives I share."
He added, "All the money you have raised not only here but for the worldwide community is a credit to you and shows just what a fantastic job you do."
THE Rotary Club of Dunfermline has placed its presidency in safe hands
For pledging to continue its two pioneering service strands in the 2014-15 Rotary year is well-known businessman, Graham Charles Steedman, managing director of Premier Services () Ltd., the Dunfermline-based security systems and environmental services firm.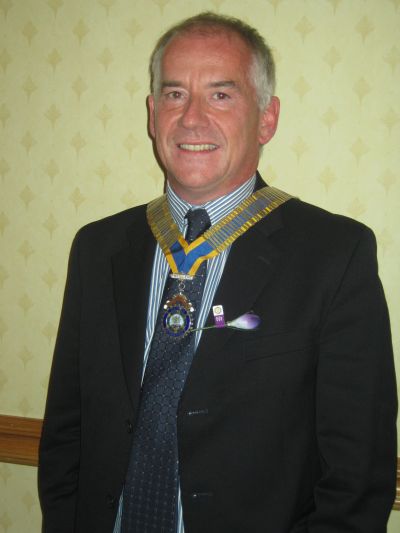 Graham was invested in office by outgoing president Alan Mutter, to whom he said he could pay no bigger tribute than to follow the template laid down by his predecessor during 'one of the best years in Rotary, which has reinvigorated my enthusiasm for the club.'
He re-affirmed the club's focus on two developing service strands - piloting the donation drive for iPods and similar devices for Sally Magnusson's new charity, Playlist for Life, to give dementia sufferers access to personally meaningful music; and rolling out for a third year the ground-breaking employability skills project which offers higher education to senior pupils of Dunfermline High School, giving them expert mentoring on how to set their feet on the first rung of the jobs ladder.
Following a successful year in which the club had secured charitable status and given financial assistance to no fewer than 20 charities, Graham said the programme would continue to be punctuated by events such as the Kids Out picnic in Pittencrieff Park for children with additional support needs; the Santa's sleigh Christmas door-to-door canvass and collection of presents for distribution to deserving families through Fife Council's social work department;the Christmas concerts in Dunfermline Abbey with the Band of HM Royal Marines Scotland, and the club's sell-out fund-raising dinner which had last year raised more than £13k. for the benevolent fund.
Born and educated in Dunfermline, Graham co-founded Premier Services in 1987 after working for 10 years in computer software with Hewlett-Packard, with whom he saw service in , German and the .
He joined Rotary in 2005 as an extension to his 15 years' distinguished service to the Round Table movement in which he held office as Dunfermline Table chairman and area chairman.
Graham is a long-standing supporter of Dunfermline Athletic, both personally as a season ticket-holder and corporately through his company's commercial sponsorship. He is also a member of Dunfermline Golf Club and a former assistant Scout leader with the 40th (Touch) Group.
Graham and wife, Margaret, have a daughter and two sons, and live at , .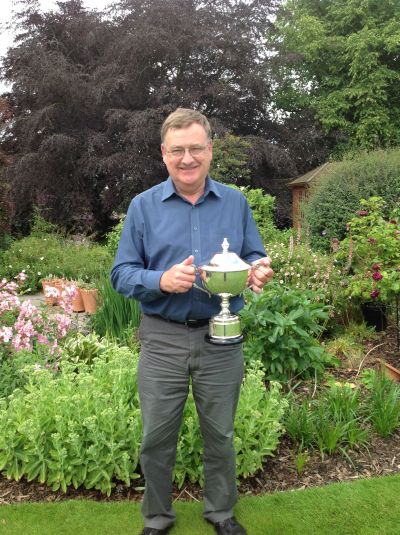 As one of the final acts of his presidency, Alan presented the Alistair Brown Trophy for the 'Rotarian of the Year' to Dr David Fraser, a member since 2004 and club secretary for a third term, on whom he said he had relied heavily during his presidential year.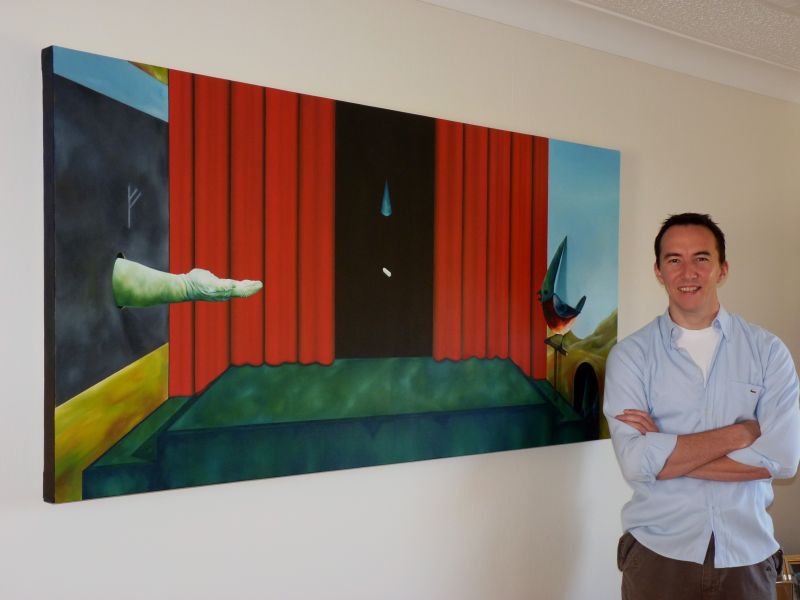 PROFESSIONAL artist Ian Moir is on the threshold of realising his dream of converting the former Dunfermline Fire Station into a high-profile community arts centre.
The 36-year-old prize-winning painter, who is recognised as one of the best emerging contemporary artists in Scotland, shared with Dunfermline Rotarians the personal vision behind his drive to turn the Art Decobuilding in Carnegie Drive into a creative grass-roots hub to connect the arts with the local community.
The founder of the Fire Station Creative explained, ?If everything goes according to plan, we hope to be open at the end of this year. It?s encouraging to know that we can proceed with the confidence that we have successfully galvanized a spectrum of political as well as community support for the project.?
Ian told Rotarians, ?I'm delighted to be able to report that we've now raised over ?250k in total, which is more than we need for the internal renovation of the building and first year of operation as a business. This money came from the Common Good Fund, Creative Scotland, Fife Council, the Fife Environment Trust and the Robertson Trust. Fife Council have been especially generous and helpful in facilitating our plan.?
Ian explained that Fire Station Creative was now a registered charity which, through the new arts centre, aimed to raise cultural standards, create career, learning and networking opportunities, and deliver a programme of exhibitions to which the public would have free access.
?The team which has carried the project this far, and will continue to carry it forward, is a mixture of experienced professionals in finance, marketing, retail, studio provision, politics and, of course, the arts,? he said.
Ian insisted that the context in which the project had been born was essential to understanding the motivation behind it and the ?subsequent value it will bring to our community?.
After living for 10 years in central Glasgow where he had graduated from the School of Art, Ian said his decision to return to Dunfermline and reconnect with his roots ?was, without any doubt, one of the best decisions I ever made in my adult life?.
?While there were plenty of professional opportunities in the big city, I felt that I was never getting to connect personally with the people whom I wanted to enjoy the art that I make,? he said.
?Coming back, I felt as if I had rejoined something greater than myself and that this was going to be a healthy thing for me as an artist. You see, I had come out of an environment and an education that places ?the artist? in an ivory tower. It follows therefore that the public seldom get to interface with the artist, which has the effect of creating a kind of exclusiveness to what you are doing.
?Now, let me assure you that when an artist aspires to be exclusive, although they may succeed, they cease to function as a cultural force in any meaningful way.?
Arguing that a disconnect has occurred between the prevailing system of contemporary art and the public, he offered his definition of that an artist should be.
?At the very least, an artist is an individual who has the ability to make their work connect with their fellow human beings,? he said. ?For that to happen, there must be consideration and empathy. They should see themselves not as superior but integrated. Their role is to mediate between their imagination and the community, to do it well, with skill and craftsmanship. Only on that basis, do artists have the right to breach taboos and push the boundaries of style, technique and taste.

?Since man is instinctively creative, we should take some comfort. Good artists and designers with the power to penetrate the collective psyche, to astound and to raise the quality of your life are absolutely everywhere. Take my word for it. It?s simply a matter of providing them with platforms to do so, and for us to do so with the correct attitude, one of generosity and trust.

?When I say us, I mean you and me, the influencers, the organisers, the fund-raisers within our community. May we never defer to authorities and institutions to take care of this on our behalf. This is our town, our community, our culture. It turns out that we are the people that we have been waiting for.?
Ian recalled that when he had first moved back to Dunfermline in 2007, there was no public exhibition space available.
?The only proper venue was in Pittencrieff House, and that had been closed and is still being used by Fife Council for storage while the new museum is being developed next to the library,? he said. ?Throughout the course of this project, many people, especially politicians, have queried why the public might require a grass-roots community art centre as well as a new museum and gallery. The fact that this question can even be asked, speaks to the heart of the problem that you will find in towns all over the country.?

Pointing out that local museums, which deal with local heritage, were describing to the public a historical narrative, he said, ?It should be obvious, but somehow isn't, that the public will take no interest in their past if they are not inspired and enriched by the present. This is exactly how a sense of continuity is arrested and apathy sets in. After apathy, acquiescence to the status quo.

?In other words, if your children and grandchildren don't get a sense of personal continuity and how this provincial life can contribute to the national zeitgeist, they simply leave town uninspired or stay and continue to think that the arts will have nothing to do with them or the place in which they live.?

Ian added, ?People often say to me, when I tell them what I'm involved in, that the arts isn't really their thing. I think, oh really? If so, you'd better stand up because that chair you're sitting on was designed by someone from the creative sector. And you'd better take your clothes off, because they're not your thing either. And when you go home, I suppose there are no pictures on your walls, or patterns on your wall paper. Have you no internet? The websites were crafted by designers. Have you no television? Who makes the dramas? Do you not go to the cinema? Have you no house? Who designed the beer bottle you're holding, the football strips or marketed your business enterprise.

Contending that creativity is ?essential to living?, Ian argued, ? It is therefore incumbent upon us, as a community, to support the platform, a safe house if you will, so that our creative people can make things and express the complexity of modern life, here in Dunfermline.
Here, we have everything we need. We have history, great schools, majestic parks, architectural beauty and a growing population. There is even a heritage of great artists and writers.?
Ian pointed out that ?one of the most technically and imaginatively brilliant painters? in Britain's history had been born born a stone's throw from his own house on Buffies Brae.
However, he suggested, ?I'm certain that if I stop someone on the High Street and ask them, ?Who was Sir Joseph Noel Paton??, they will give no positive response. Perhaps the same test could be carried out for Robert Henryson, the Chaucer of the North, also from Dunfermline. Now imagine asking a passerby in the provincial towns of England, ?Who was Turner, Constable, William Blake or Hogarth?? You might well get a flash of recognition, regardless of whether the artist hailed from there or not.

?So I?m sure you will agree,? he told Rotarians, ?that we, as a community, need to invest more faith in our own value as a cultural entity. And that, I believe, should always start with the present.?

Ian insisted that ?art and all other creativity is about people, for people.?
He explained, ?That is why I commissioned a feasibility study to demonstrate the need for a cultural facility in Dunfermline?a building that will provide a rotation of magnificent exhibitions, a cafe, studio spaces, rehearsal space, classrooms, and more.
?Young people will have regular access to learning programs and mentorships with a community of painters, sculptors, photographers, designers, illustrators and other craft workers. This will generate a network of people and opportunities will arise for successive generations. After a period, the public will have an expectation of excellence. And going forward, we hope they will accept nothing less.?
THE leading pupils of Dunfermline?s four high schools have received leadership awards from the Rotary Club of Dunfermline.
Gift vouchers were handed over to the following by President Alan Mutter at the club?s weekly meeting in Garvock House Hotel:
Dunfermline High: Head girl, Karyn Stewart (17), 8 Dick Street, Dunfermline, who is to undertake a geography degree at St Andrews University; head boy, Lewis Steer (17), 16 Hailes Place, Dunfermline, who is to study veterinary medicine at Edinburgh University.
Queen Anne High: Head girl, Kirsty Heigh (17), 59 West Baldridge Road, Dunfermline, who is to study medicinal chemistry at Edinburgh University; head boy, Calum Bonthron (18), 1 Craigluscar Lane, Dunfermline, who is to read psychology at St Andrews University.
St Columba?s High: Head girl, Niamh Mussen (18), 8 Earn Grove, Dunfermline, who is to read law and English at Glasgow University; head boy, Kieran Jack (17), 12 Parkneuk Road, Dunfermline, who is to study chemical engineering at Edinburgh University.
Woodmill High: Head girl, Eilidh Reid (18), 7 Blackwood Way, Dunfermline, who is to read ecnomics and finance at Edinburgh University and whose award was accepted on her behalf by depute head girl Kate Schafferius; head boy, Christopher Sparling (17), 79 Scotland Drive, Dunfermline, who is to study chemical physics at Heriot-Watt University.
The Rotary Club of Dunfermline successfully won the District Gavel Challenge for the third time in four years on Tuesday 29 April.
In the final, which was played at the neutral venue of the Queen's Hotel in Dundee, home of the Rotary Club of Claverhouse, Dunfermline defeated The Rotary Club of Banchory by 22 points to 10 points.
Dunfermline had won the trophy in 2011 and 2012, but after a shock defeat away to Inverkeithing & Dalgety Bay had been eliminated at the group stages in the 2013 campaign
Team captain Eric Spreng said ' we were delighted to get our hands back on the trophy after missing out on the hat-trick last year. It was a great team effort with all participants playing a big part in the final. It was very close at 8 points each at the half way stage but our concentration and commitment saw us pull away in the second half.
The team that played in the final against Banchory was Eric Spreng, Ralph McCran, Tom Arnott, Andrew Bathgate, Mike Williams, Keith McFarlane, Graham Steedman and Ian Morris.
Dunfermline won all their games on the way to the final, defeating Burntisland, Cowdenbeath and Alloa in the group stages, and won a very tight semi-final away to Crieff. Other club members who played in the team in the earlier rounds were Gerry Gillespie, Andrew McGeorge, David Walker, Alan Watson and Alex Elder.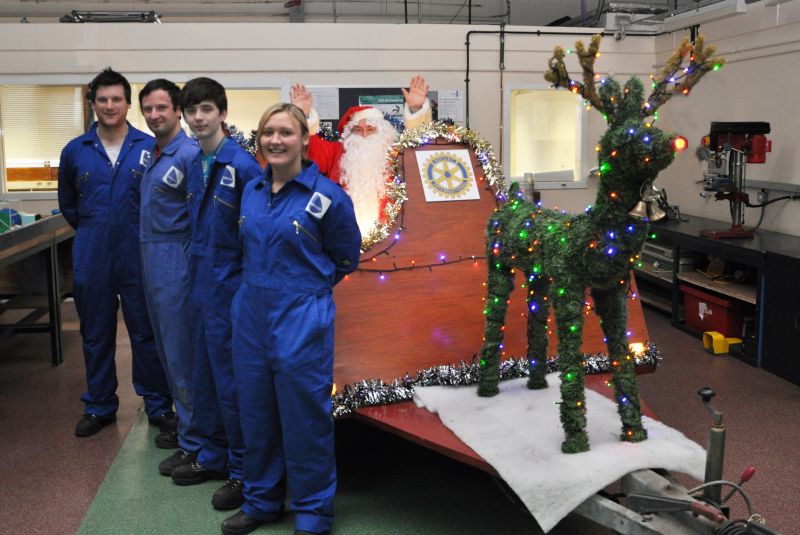 BABCOCK apprentices at Rosyth Dockyard have turned Santa?s little helpers by giving an early ?MoT? to the sleigh on which Father Christmas will be touring neighbourhoods later this month.
The apprentices have been improving the sound and lighting systems on the sled aboard which Santa will be helping Dunfermline Rotarians to put an extra jingle in their collecting tins for local charities.
As Santa and Rudolph road-tested the sleigh this week, club president Alan Mutter explained, ?The sleigh will be touring from 16th to 22nd December and we hope the public will again give a festive fillip to the club?s benevolent fund.
?The club has already disbursed ?5000 in early Christmas presents to nine local good causes. We have also dispatched two ShelterBoxes to typhoon victims in the and Service and local charities will benefit from the two Christmas concerts we are staging in Dunfermline Abbey on 18th and 19th December, in association with the Band of Her Majesty?s Royal Marines Scotland.?
The apprentices were also thanked for their input by Rotarian Tom Arnott - the local garage owner whose team last year conjured up the sleigh from a caravan chassis ? and by Rotarian David Steele, who is organising the tour itinerary.
Between 6pm and 8pm, Santa will be touring the following districts: 16th December, Queen Margaret Fauld estate; 17th December, and Garvock area; 18th December, Bellyeoman and Headwell area; 19th December, and area; 20th December, Garvock, and estates; 21st December, Parkneuk and Milesmark; and 22nd December, Limekilns.
The grand tour climaxes on the weekend of 21st and 22nd December when Santa is due to make afternoon pit-stops at the Mercat Cross in ?s High Street between 12 noon and 4pm each day.
And it worked - we were given ?2550 by generous residents of Dunfermline.
From the Dunfermline Press
DUNFERMLINE Rotarians have solved the riddle of the ?mystery? Santa ? the good Samaritan who donated two sacksful of gifts for distribution to deserving kids at Christmas.
The unknown lady donor surprised Rotary collectors with the presents when Santa?s sleigh made a pit-stop in High Street on 21st December during their week-long tour of local neighbourhoods in aid of local charities.
President Alan Mutter - who appealed through the Press letters column for the generous donor to make contact, so that her gesture could be appropriately acknowledged by the club - explained, ?It turns out there was not just one mystery Santa?but a whole streetful of them!?
Namely, Jane Russell and her neighbours in , Keltybridge.
Jane, who is BADMINTONscotland?sTayside and Fife regional development officer, said, ?I am delighted to know the presents went to children in and around . Please give all the credit for the presents to the residents of ?they deserve it.?
Jane explained, ?I was brought up in Rosyth, and I run a youth club on Friday nights in the Community Wing of Inverkeithing High School. I know there are many children who, through various circumstances, don't get much or anything at Christmas.
?Years ago, when I stayed near in Dunfermline, my next-door neighbours were the minister and his wife from . They are now retired and living in . Each Christmas Evelyn would ask me to buy a gift for a child she knew wouldn?t get much at Christmas. I loved the idea of helping a child at Christmas and decided, when I moved to Keltybridge three years ago, that I would try something similar.
?Initially,I just asked my immediate neighbours to help. The response was so good I decided to e-mail everyone in the street - there are 19 houses - and nearly everyone has contributed in the last couple of years. I do thank them, but it would be nice for them to know that their presents really do make a difference.
?I decided each year to ask the residents to buy a present up to the value of ?10, wrap it and mark on it whether it was for a boy or girl and the age. Most of the residents take part and some buy more than one present. In previous years, I have given the presents to a local charity in Kelty and the Salvation Army.?
Mr Mutter told Jane, ?We were delighted to forward your gifts to less fortunate families in through the social work department of Fife Council. This is something our members do every Christmas, and it is a task from which we take considerable pleasure. Your outstanding and generous donation made a very big difference to several families this Christmas. I cannot thank you enough.?
To allow his fellow Rotarians to endorse his personal thanks, Mr Mutter has invited Jane to attend a weekly meeting of the club as their special guest.
Jane added, ?I really want the presents to go to local children, so working with the Rotary Club and its social work contacts would be the ideal scenario.
If Rotarians are keen, I would like to make this an annual donation?and I'm sure I can rope in more neighbours and friends to donate.
?I am a lucky person. I know the way to true happiness is through helping others. Who knows? It might lead to other streets doing collections for kids at Christmas!?
On Thursday, 14th November the Club agreed to fund two shelter boxes. Within 24 hours two boxes with our name on them were on the way to the Phillipines.
A shelter box is an emergency home for four people who have lost everything. You can see what a box contains
here
. Even the box becomes useful as a water or fuel tank.
January:
We have decided to call off Glenfest. Administrative and financial obstacles have made it impossible. We had great support from a super line up of bands and from local food suppliers.
November:
Planning is well in hand for Glenfest - Dunfermline Food and Music Festival.
Set aside May 30 and June 1st next year for a great event in The Glen.
Click on the images below to see more about Glenfest.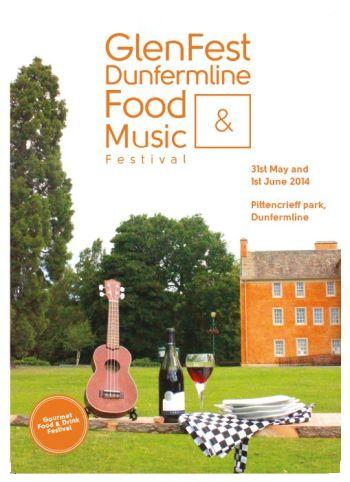 All proceeds to Club Benevolent Fund. Tickets from David Steele/John Haxton or Carnegie Hall (01383 602303)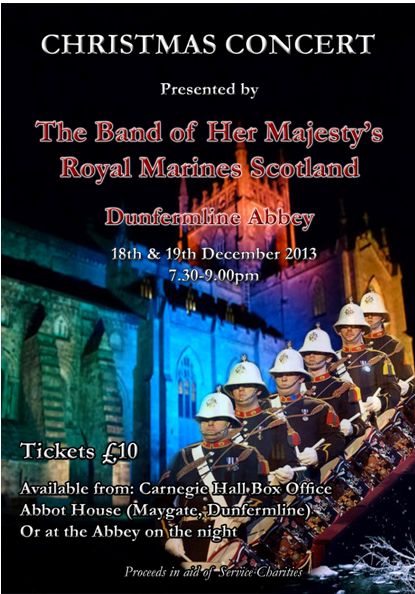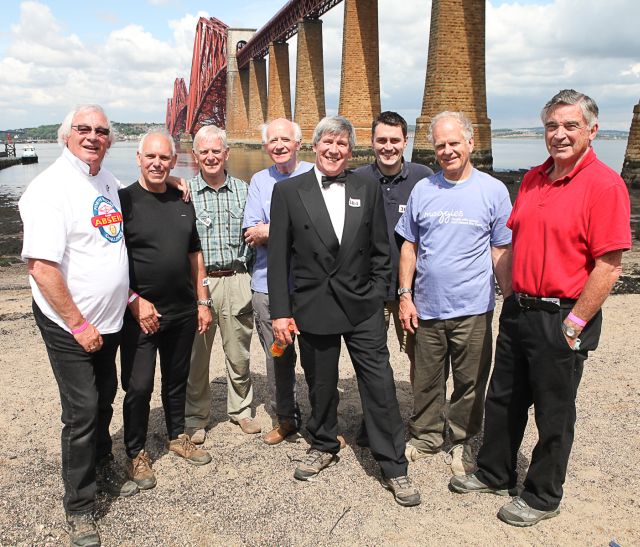 IT was hard hats off to Big Jim Leishman and the Magnificent 007s from Dunfermline Rotary Club on Sunday as they Bonded together to drop 165 feet from the Forth Bridge.
South Queensferry Rotary Club?s world-famouscharity abseil did not prove a bridge too far for the Pars legend and his Rotary companions who immediately began roping in sponsorship pledges for a range of good causes, including Jim?s own Mary Leishman Foundation and a range of Rotary charities, including the event?s core beneficiaries: Maggie?s and Alzheimer Scotland.
The seven-strong Rotary team ? aggregate age 439 years ?launched themselves off the approach viaduct of the iconic structure in true James Bond style?none more so than maiden abseiler Tom Arnott, a ?fully-paid-up member of the Fear of Heights Club?.
Rotary president Bill Runciman, himself an experienced abseiler and mountaineer, said, ?Tom was star of the day in his dinner jacket. His was a major personal achievement and one which I?m sure will be prominent in the family archive. I think we all Bonded and I am so grateful to everyone for their participation. It was good fun. Well worth repeating!?
As he came back to earth Tom reflected, ?My mind is still in the clouds. After considerable persuasion my hand released its vice-like grip on the railings and I was off, with the first part of the drop spend staring at the rope a few inches from my nose.
?The sounds of cheers from below gave me the courage to complete the trip down but there was an overwhelming sense of relief on reaching the bottom. The fear I went through is nothing compared to that teenagers with cancer must feel and that is why I did the abseil for Teenage Cancer Scotland.?
While our brave boys are throwing themselves off the ere is much to celebrate here on the home front.
St Margaret?s School from Dunfermline were the winners by just one point, of the District Final of the Primary School Quiz held at Race Course with an audience of 300 and against 15 other schools.
For more details click Here
On Friday in the Birthday Honours List our fellow member Angus Hogg was awarded an MBE
In the same list, Margaret Dean, Lord Lieutenant of Fife, wife of our fellow Rotarian Brain became a CVO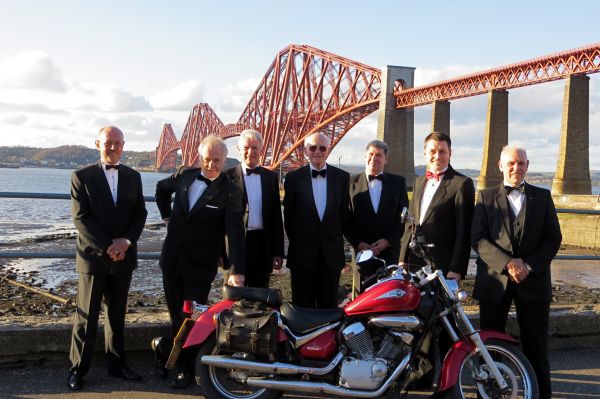 June 16 - Seven brave Rotarians will jump off the Forth Bridge to raise money for needy causes. Click here to read all about them and to make a donation.
The team will bond with Dunfermline legend - Jim Leishman .
Entrants will be registering at 13:00 and descents begin soon thereaftre - why not have an afternoon out in South Quensferry and be inspired to donate?
Traffic in South Queensferry can be busy but a trip on the train across the Forth Bridge to Dalmeny might also be a funthing for youngsters.
June 12 - A sincere thank-you to everyone who turned out to help at Kids Out on Wednesday 12th. June. We had 140 kids there - more than in recent years - reasonable weather, and a smooth hitch-free operation. Special thanks are due to Alistair Justice for his efficient planning.
The Rotary Club of
cordially invite you to our prestigious???
CHARITY GALA DINNER
7.00 for 7.30pm, Friday 8th November 2013, Keavil House Hotel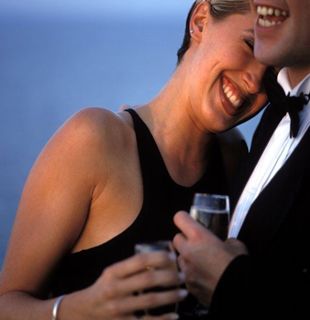 Drinks on arrival
Superb four course meal and coffee
Raffle
Entertaining Speaker-Willie Allan
Auction
Music & Dancing to the fabulous Royal Marine Dance Band
Tickets ? 50
Dress Formal
Carriages at 1.00am
St Margaret's School, winner of the Dunfermline round went on to win the Area 8 Final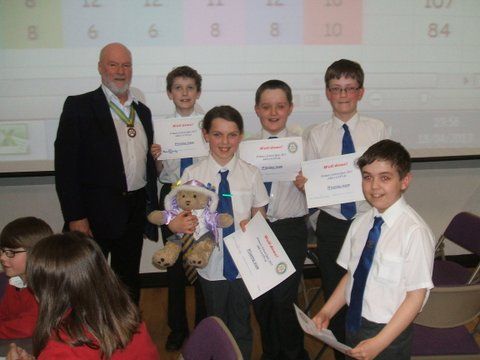 The trophy was presented by John Anderson at a school assembly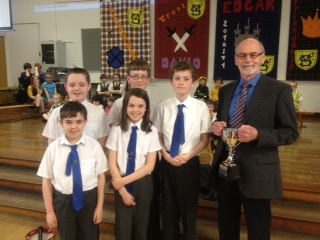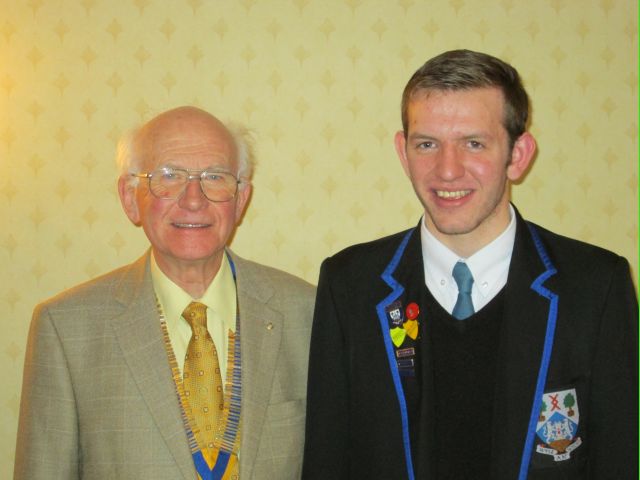 Craig Stephens of Woodmill High School, shown here with President Bill Runciman, was our representative on this year's visit to the European Parilament in Strasboutg. Craig visited the club on 14th March and gave an amusing report on his experiences. See more about Euroscola at District 1010 website and see some of the Scottish candidates in action here.
From our roving reporter:-
Sixth-former Craig Stephen, 101 Queen Margaret Fauld, Dunfermline, has just returned from Strasbourg after becoming an MEP for day, deliberating EU policies in the hemicycle of the European Parliament.
For the Woodmill High School prefect, who already has an unconditional offer to study French and international relations at St Andrews University, participation in the European Parliament's Euroscola programme with 500 delegates from 27 member states was the perfect preparation for his oral French exam through first-hand exposure to the French language, culture and cuisine.
"It was a great way to improve my French," he told his sponsors from the Rotary Club of Dunfermline. "I can't imagine the benefits it has given me overall. Thank you for giving the opportunity It was one of the best experiences of my life."
During his five days in Strasbourg, in which students aged between 16 and 18 took part in surveys and plenary and committee discussions simulating the European Parliament, Craig contributed to a plenary debate on migration policy but found his peers were focused on whether the UK was likely to be in the EU in five years' time.
"Hearing the opinions of those in the EU first hand was really informative," he said. "I got the impression we were being judged by the other states, as we are quite Euro-sceptic They were all for Scotland joining if we became independent."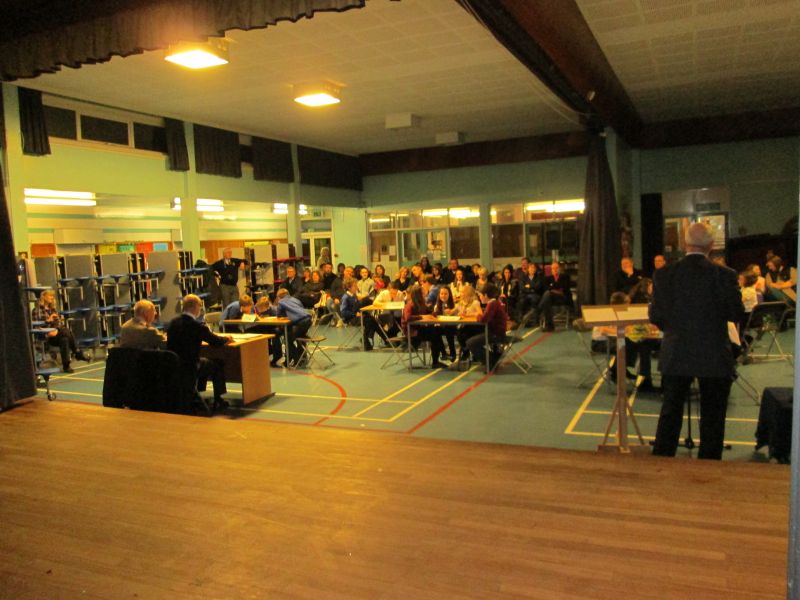 March 6th at Commercial Primary School - 6 Local Primary Schools competing for certificates, medals and a cup for the winning school. Question Master Tom MacMillan, Question Setter John Anderson. Prizes presented by President Bill Runciman. Certificates prepared by Brain Dean. Help on the night from Leslie Botten, Alistair Gellan, Russell Matthews, Brian Steer, Alex Elder, Bill Spence, David Thomson. 30 contestants, lots of parents and siblings, lots of Rotarians, cakes baked by parents, fizzy drinks, tea and coffees. A perfect Rotary project in the community.
The contestants were as follows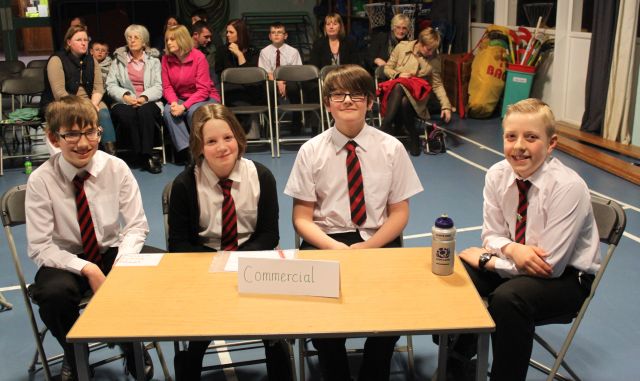 Commercial Primary School
Cameron Hogg
Niall Dowds
Lewis Carter
Emma King
Lewis Crozier (Reserve)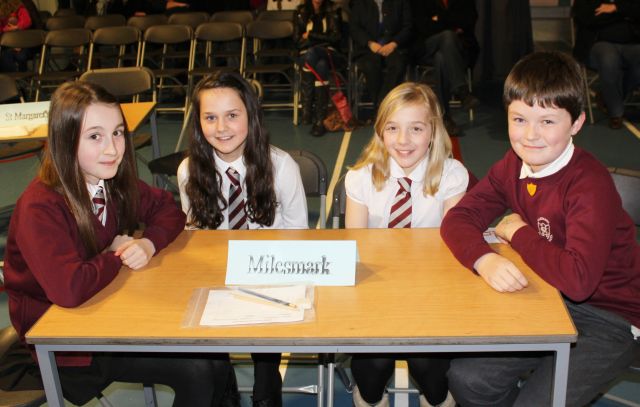 Milesmark Primary School
Eilidh Thomson
Ailie Mara Todman
Sean Richmond
Rebecca Mitchell
Jessica Steven (Reserve)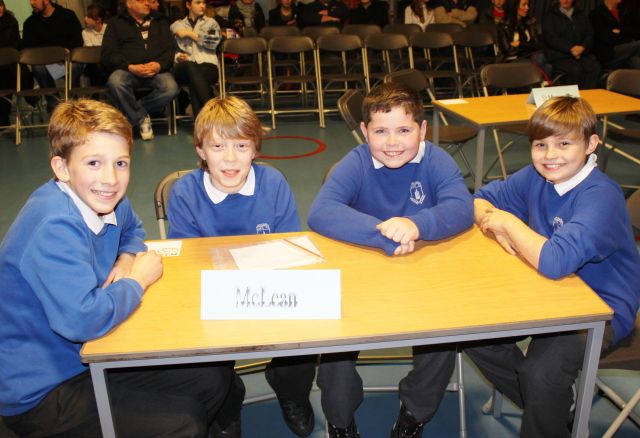 McLean Primary School
Gregor Simpson
Sam Telfer
Euan Sloan
Evan Russell
Nicola Cook (Reserve)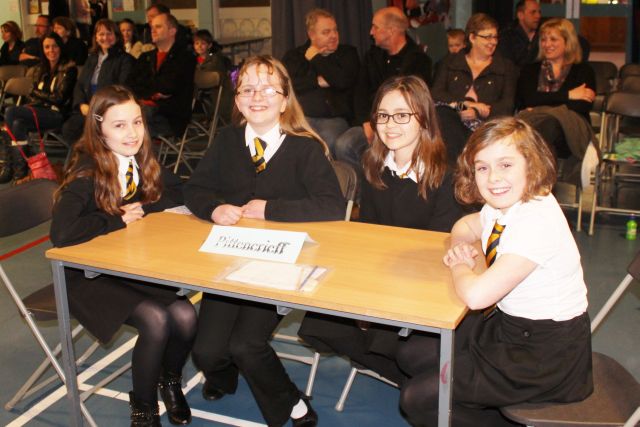 Pittencrieff Primary School
Zoe Brown
Gracie Christie
Beth Avery
Summer Barrett
Kayleigh Lark (Reserve)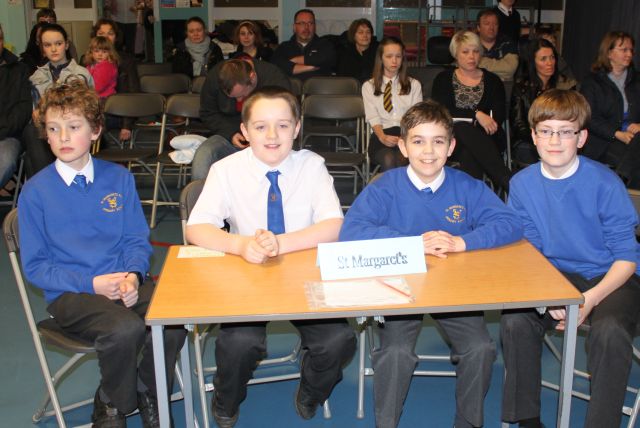 St Margaret?s Primary School
Robbie Brown
Stanley Wilkinson
Samuel Martin
Caitlin Wilson
Stuart Ridley (Reserve)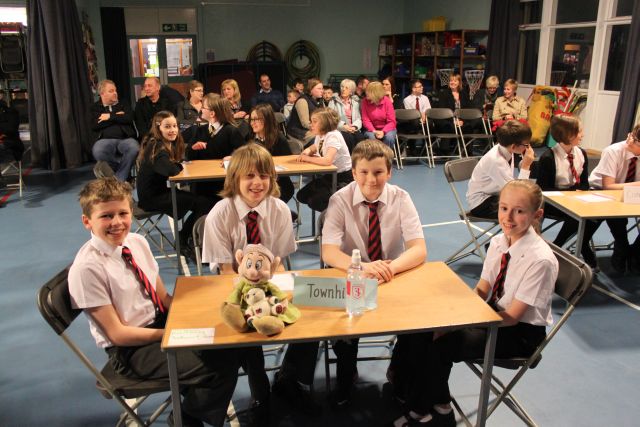 Townhill Primary School
Lewis Cumming
Ryan Graham
Greig Rowe
Skye Marshall
Callum Russell (Reserve)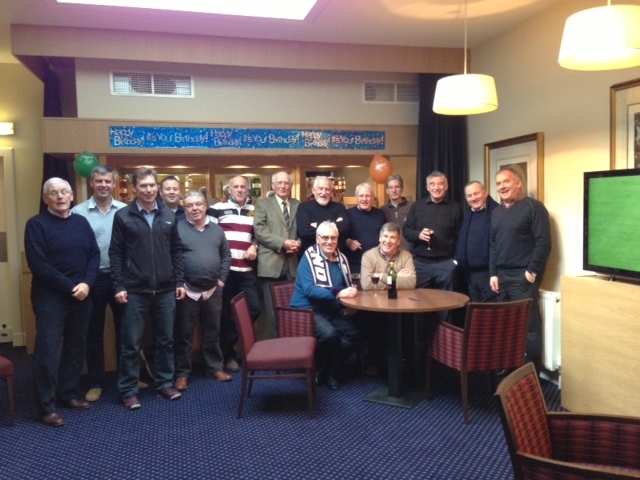 Dunfermline Rotarians looking happy before the kick off at Twickenham. A good afternoon with lots of banter. The wifes went to afternoon tea and joined in for an evening buffet.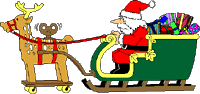 Keavil House Hotel Crossford
6th December - 7 for 7:30
Names and numbers to David Fraser by 2nd December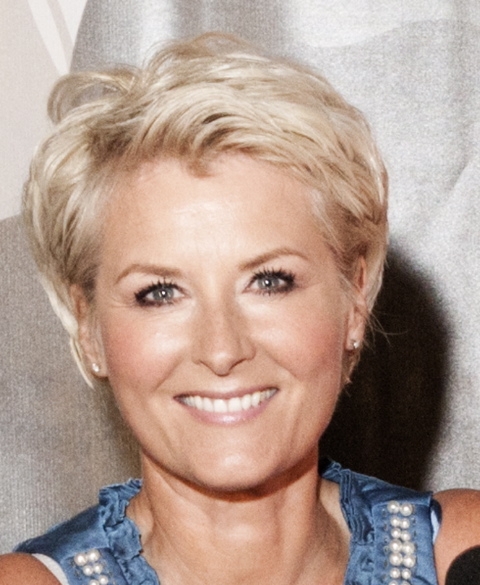 with
sports journalist and television presenter
Alison Walker
Friday 9th November2012
Keavil House Hotel, Crossford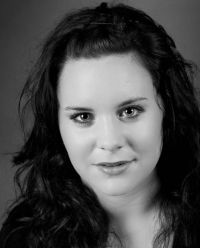 Alison McFarlane will entertain,
with Scottish and 60's items