Presidents Page
Message from the Three Wise Men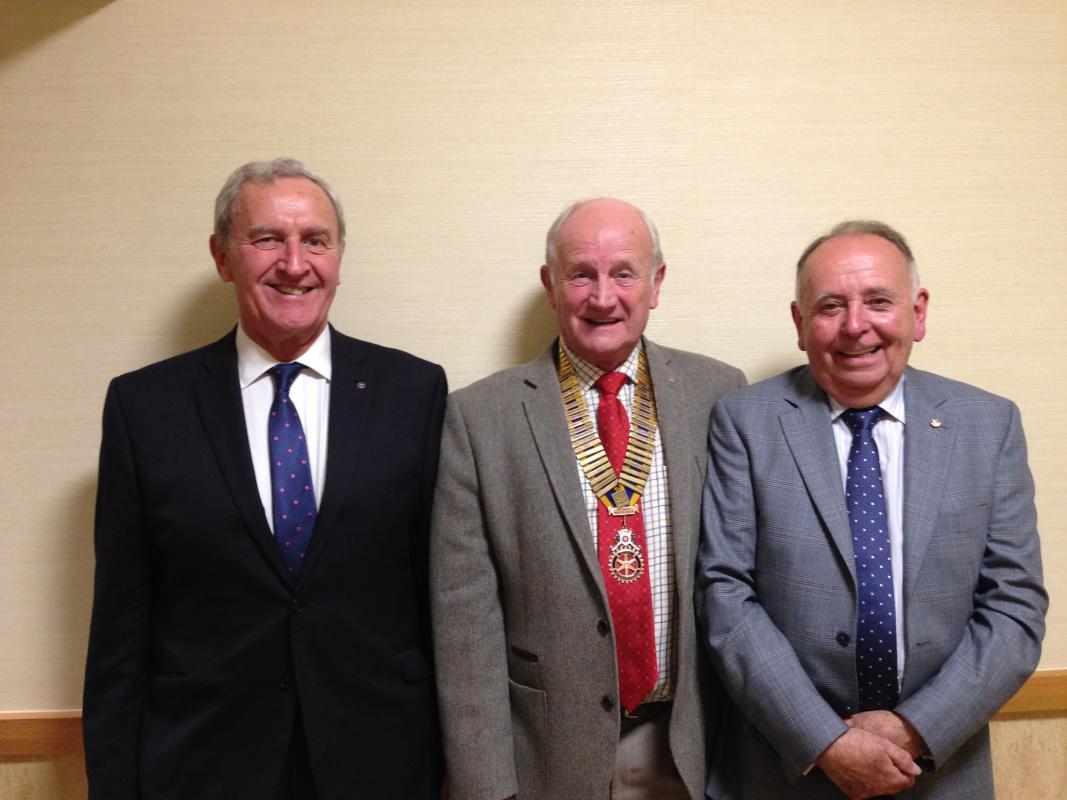 Presidents Neil Worth, Alan Atkinson & John Dent
As with most organisations nowadays the membership find themselves extremely busy and difficult to fit everything in.
In 2017 Preston South Rotary Club, along with a number of other Clubs, found itself in this position regarding electing a new President. So step forward 3 Musketeers agreeing to share this role. First volunteer myself, Neil Worth (again) from July to October, along with sighs from the Club. Second volunteer Alan Atkinson (again) from November to February, along with cheers from the Club. Finally third voluntee5r John Dent (again) from March to June , along with sighs of relief from the Club. Ask a busy person and they will get the job done and a willing volunteer is worth 10 pressed men.
Preston South is a vibrant Rotary Club.
The Club works hard but has fun in doing so. We hold an Annual Golf Day at Penwortham Golf Club, now in its 26th year, and Annual a Sports & Comedy evening, this year at Wellington Park, Leyland both of which are extremely successful not only well attended but also raising significant amounts for local, national and international charities.
Internationally, we are very activre in supporting one of our members doing great works in Swaziland, and with our backing long may he carry on.
In addition, working with other Rotary Clubs we have achieved great things such as the construction, with North of Preston & Longridge Rotary Club, of a new footbridge over the River Lostock in the grounds of St Catherine's Hospice for the benefit of patients and visitors alike.
The Annual Steam Rally held at Banks organised jointly with Kirkham & Rural Fylde Rotary Club raises significant funds currently amounting to some £300,000 over the past few years.
More recently we have worked jointly with Preston Amounderness and south Ribble Clubs in manning Father Christmas sleighs to raise funds.
Joint enterprises with other Clubs MUST be the way forward.
The Club is pleased to be working with young people through the Rotakids initiative and credit goes to Past President Tom Taylor for getting 3 local primary schools on board. I accompanied Tom to Lancaster University along with Children and teachers from our schools for the Rotakids Conference, and what a fantastic event it was. We have cemented some great friendships with the children who hopefully will become the Rotarians of the future.
Having fun within the Rotary family is of paramount importance to our Club, whilst building friendships throughout our District. Our sporting prowess is legendary within Rotary District 1190 and we have made many new friends along the way. The Grey Games competition is always well fought over and we have been fortunate to be very successful in this competition. With many golfers, bowlers, snooker players and darters we have a slightly sporty inclination. We try to steer clear of the District Quiz, which must say something.