Irwell Vale Flood Appeal
Rotary District 1190 has granted £2,000 to Rossendale Rotary Club, for the Irwell Valley Flood Appeal.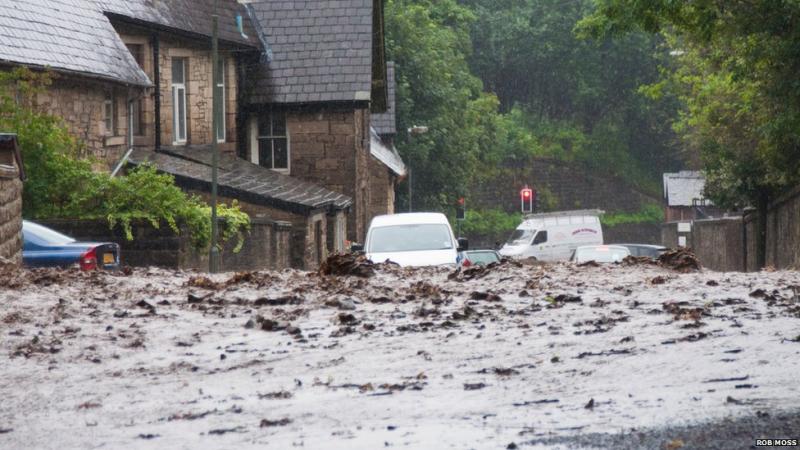 Rossendale Rotary made a grant application (see below) to Rotary District 1190, for funds. Not only did District grant these funds, but they gave us enough to pay for the entire project.
Application
The flooding in Rossendale on Boxing Day was mainly confined to the valley of the River Irwell.
The village of Irwell Vale was completely cut off and almost all parts of the settlement were
Inundated with flood water and mud. The damage to buildings was extensive. Although the ground floor of the Community Centre in the village was flooded to a depth of 50cms it did stay open during the crisis serving hot meals to the villagers. Indeed the Centre used the top rings of a gas cooker to provide hot meals for ten days after the flood.
The Centre was an attractive café with seating for 20-30 people before the flood. Its main function was to cater for village activities but at the weekend it also attracted walkers, cyclists and travellers on the East Lancashire Heritage Railway. It was staffed by volunteers.
Sadly as a result of the flood the café has effectively been gutted. It is hoped that the insurance
company will finance the restoration but it has been suggested that the two outer doors to the café will need to be upgraded to storm door status if future damage is to be avoided from another flood. The cost of replacing these doors to the required standard would not be covered by the insurance company.
The project would involve replacing the two Community Centre's doors at an estimated cost of £2000.
Replacement of the doors would help to ensure the sustainability of the Centre in the future.
We are hoping that £1000 could be provided from the Distric Flood Disaster Fund