Fundraising
Support locally and internationally
There is no separate fundraising committee but that does not mean the club is no longer raising money for good causes. On the contrary, in recent months Chelmsford has distributed donations to more local organisations than ever before as we'll as continuing to support international projects.
Plant Sale
Two of our members live side-by-side in the same road. For some years one of their other neighbours has held an annual plant sale in his back garden to raise funds for the Cystic Fibrosis Trust. This year he kindly agreed to hold the plant sale jointly with us to raise funds for Rotary charities as well.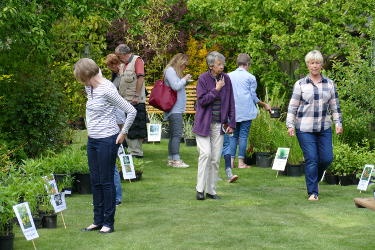 The plant sale took place on the afternoon of Saturday, 18 May 2019. The weather forecasters had predicted rain but in the event it was warm and dry.
There were an estimated 500 plants on sale. In addition there was a sale of children's books and tea and cakes for sale as well.
The garden was full of people soon after the sale opened at 2 pm. These included neighbours, Rotarians and their spouses and others. Tony Bugden PHF, an Honorary Member of the Rotary Club of Chelmsford Mildmay, was on hand as the "resident plant expert". It was a sociable occasion as well as a chance to raise money for good causes, buy some useful plants and get some free gardening advice.
£420 was raised for Rotary charities. Any surplus plants were donated to the local Scout Group for their plant sale a few days later.
Spring Jumble Sale
Twice a year our Rotary Club holds a jumble sale in Danbury Village Hall. Our first of 2019 was held on Saturday, 27 April. A number of our members went along in the morning to set things up and start sorting out the jumble. We had the help of local volunteers who regularly assist at jumble sales in the village hall. We have to admit that they are much more proficient than we are!
The locals know exactly how the tables should be placed and what sort of jumble should go where. This helps their regular customers to go straight to the spots where there are likely to be things to interest them.
Once the tables had been put up, we started to get things in from the cars and pile them up in the lobby. Since there is very limited parking space outside the village hall, it was more urgent to get everything into the hall rather than try to sort them at that stage. As each car was emptied the owner was able to take it across the road to the public car park.
Then we each grabbed bags and started to sort through what was inside in order to put them in the right places. A few times a member would hold something up and ask "Does anyone know what this is?" A member sorting out clothes could be seen holding something up from time to time in an effort to work out whether it was for a man or a woman.
Really good clothing went on a central table, other better-quality items went on another designated table and expensive items like vacuum cleaners went on to the stage for auction.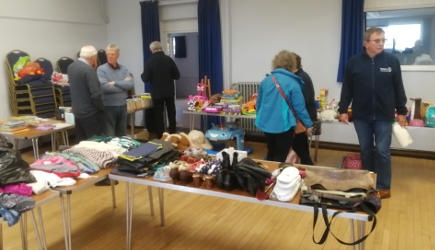 The picture shows a few of our members looking to see whether there was any more setting-up to be done. Some planned to go home after morning coffee but another car full of jumble arrived, so they stayed for a while to carry it in and sort it out.
The jumble sale itself started after lunch, with other members helping alongside our local volunteer friends. The proceedings were as manic as jumble sales usually are.
We raised £467.41. We are grateful to all those who turned out to help set up, sort and sell the jumble and clear up afterwards. We also thank everyone who cleared their attics and donated jumble and to those members who helped ferry it to Danbury.