Featured pages
Rotary Club of Chelmsford - welcome! Please scroll/swipe down through this page to find out more about us, in addition to the pages linked in the menu, top-left.
---
About us


Club Council for 2017-18
Sitting: President Keith Otter and 1st Vice President Anne Moriaty. Standing: Frank Tew (Youth Service), Keith Dabbs (Foundation and International), Eddie Cassels (Secretary), Jenny Black (Membership), Stan Keller (Public Image), Janice Goodman (Community and Vocational), Philip Goodman (Immediate Past President). Not shown: Bob Booker (Treasurer)
Our Club President welcomes you to the club website and invites you to join members in the Fellowship of Rotary. We meet on Thursday lunchtime 1pm at the Hampton Leisure Centre (formerly called Marconi Social Club) Beehive Lane, Chelmsford CM2 9RX. If you wish to obtain further information contact the Secretary - Tel. 01245 263133. To discover more about Rotary and Rotarians go to the RIBI website.
Chelmsford Rotary Club is the original club in the city formed way back in 1927. Since this time members have brought a richness of life to many people in the community and moved on with a broader involvement to incorporate numerous local and international projects. Rotarians offer their services in many different ways. If you have recently moved to the Chelmsford district and wish to put something back into the community, we can offer you an enjoyable and stimulating way of doing so.
The club has a major international project ongoing with Girls High Schools in Sahiwal, Pujab, Pakistan. We are helping to build schools with better facilities & improve the quality of life for studentts. It is also financially helping CHESS, who seek to relieve homelessness and related hardship and distress amongst single adults in Chelmsford and Essex, for the next 5 years. These are but two of the many ways that Rotary in Chelmsford has moved forward in offering a Service to Mankind.
You would be very welcome to come along to a meeting to hear more of what Rotary does and how you could be involved. Just phone or complete the contact form on this website.
21 September 2017: Quiz
Our President ran a quiz at our Rotary meeting today. Here are the questions from the round on Literature. The answers are below, so don't scroll down until you're ready.
Name the Three Musketeers
Name the Three Men in a Boat
Who was Sherlock Holmes' landlady cum housekeeper?
What was the name of the wood where Winnie the Pooh, Piglet, Tigger and Kanga played?
One fictional character's final thoughts before his death are: "It is a far, far better thing that I do, than I have ever done; it is a far, far better rest that I go to than I have ever known." One mark for the name of the character and another for the name of the book.
Which fictional character is this passage talking about: "… it was always said of him, that he knew how to keep Christmas well, if any man alive possessed the knowledge."?
Many years ago there was a public outcry when one of the GCE Examining Boards named The Kon-Tiki Expedition as one of its set books for English Literature. Why?
Harry Potter is strongly disliked by Professor Snape. What subject does Professor Snape teach?
Name the novel on which the play Toad of Toad Hall is based.
The Anglo-Saxon Chronicles were written in Old English by a number of different writers. Which famous writer wrote in Middle English?
The answers are as follows:
Athos, Porthos and Aramis
George, Harris and J. (Two teams wanted a bonus mark for knowing the name of the dog: Montmorency.)
Mrs Hudson
Hundred Acre Wood
Sydney Carton in A Tale of Two Cities
Ebeneezer Scrooge (in the very last paragraph of the story)
It is only available in English in translation, having originally been written in Norwegian
Potions
The Wind in the Willows
Chaucer
Senior Guests' party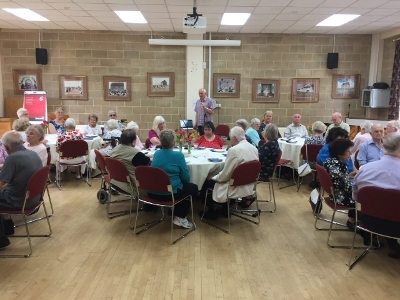 We held our annual Senior Guests' Party on Saturday, 8 July 2017. This year for the first time it was in the Chelmsford Cathedral Chapter House, which proved a convenient and popular venue. Some forty invited senior citizens enjoyed an excellent and very sociable afternoon tea, hosted by members of the Rotary Club of Chelmsford. Those who were unable to get to the Chapter House under their own steam were given lifts by Club members.
We thank Janice Goodman and all of our Community and Vocational Committee for arranging the party and all those other Rotarians who provided transport for those guests who needed it and helped with the serving and washing up.
90th Anniversary Dinner
As mentioned above, our Rotary Club received its charter in 1927, one of 24 Club charters granted that year. All 24 Clubs are still operating.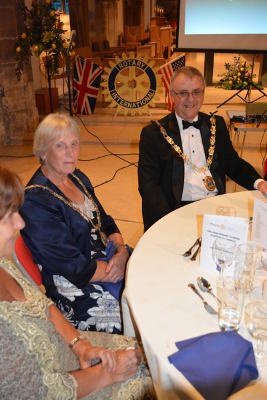 On the evening of Friday, 9 June 2017, we celebrated our 90th Anniversary with a black-tie dinner in Chelmsford Cathedral. The nave was converted into a large dining hall. President Philip Goodmand originally told the caterers there would be 90 people dining but in the end it was 92. My wife and I were two of those. The dinner was attended by the Mayor and Mayoress of Chelmsford and guests from other Rotary Clubs, including some originally sponsored by our own.
When we arrived there was a choice of Proseco or a soft drink to start. Each table had a bottle of red wine and a bottle of white wine, plus water. Dinner started with grace, said by one of our Club members Alan Sayles, a URC lay minister. Our Immediate Past President, Graham Furnival, acted as Master of Ceremonies.
The first course was melon with prawn and smoked salmon, followed by roast breast of guinea fowl and pancakes with lemon cream and raspberry coulis for dessert. After coffee was served Our 1st Vice President, Keith Otter, proposed the Loyal Toast.
Our Area Governor, Ann Holmes, proposed the toast to the Club. Our President proposed the toast to the guests, to which the Mayor replied. The after-dinner speaker was Christine Beedle, an Essex businesswoman who had founded both her own business and the Rotary Club of Chelmsford Centurion.
All in all, it was a very convivial and memorable occasion. Click here for our photo gallery of the event.
Dinner at the House of Commons
On the afternoon of Wednesday, 29 March 2017, a party of us from the Rotary Clubs of Chelmsford and Chelmsford Rivermead, plus spouses and a few others, went by coach to the Houses of Parliament for a dinner at the House of Commons hosted by our local MP, Sir Simon Burns.
On arrival we made our way quickly through the security checks and to the central lobby. A policeman on duty there warned some of us that we would not be allowed any further until 7 pm and suggested we made our way to the Strangers' Gallery in the House of Lords and watch the proceedings. We did that, along with our spouses.
The debate was on a proposed amendment to the Digital Economy Bill, although we never did learn what the amendment was about. When a division was called and members started leaving the chamber to vote one of the gentlemen ushers came up and kindly explained the procedure. Once a division has been called, members of the House of Lords have eight minutes to get to the lobbies. In the past this was timed using two hour glasses, one lasting three minutes and the other five. Now it is done electronically but the hour glasses are still on the clerk's desk and duly turned over.
The amendment was carried or, in House of Lords parlance, "The 'Contents' have it."
At 7 pm we duly made our way to the Thames Pavilion, where there was a bar where I bought us drinks and we went out onto the terrace. The view of St Thomas's Hospital on the opposite bank of the river evoked thoughts of those who had been taken there after being injured in the attack on Parliament the previous week.
At 7:30 we made our way to our allocated dining room. Paul Beasley-Murray, the President of the Rivermead Club, welcomed us all and said grace. We then enjoyed a very pleasant and relaxed dinner. The waiting staff all glanced at our place cards so they could address each of us by name.
Sir Simon spoke to us at the end of the dinner. He started by paying tribute to the way the police and the parliamentary staff had handled the attack the previous week. He had known nothing about the attack until he joined some constituents on the terrace. Two armed police had come through and told them all to get back into the building; they had made their way to the central lobby. Since at that point there were reports that there had been two attackers in the car, and only one had been found, no one was able to go home until all the buildings in the "Parliamentary Estate" had been thoroughly checked, which was not until later that evening. Work was resumed in both Houses of Parliament as normal the following morning.
Philip Goodman, President of the Chelmsford Club gave the vote of thanks, after which we all slowly started wandered back to the stop where we were meeting the coach.
Part of Westminster Hall had been roped off and flowers put there. There was also a picture someone had made of Westminster Bridge with the words "We are not afraid" suspended beneath it. Certainly there was no indication while we were in the area that there was any lasting disturbance or disquiet. Everyone was going about their usual daily lives, inside the Houses of Parliament and outside.
There was a buzz of conversation on the coach until we got on to the motorway, then most people seemed to have dozed off or got lost in their own thoughts. We eventually got back to Chelmsford shortly after midnight.
Happening soon...
Meetings and events happening soon
Thursday 28th September 18.30
Evening meeting Little Channels: Camerata Singers
---
Tuesday 3rd October 18.00
Council Meeting
---
Thursday 5th October 13.00
Business Meeting
---
Thursday 12th October 13.00
Julie Leggett & Christine Menzies: Hearing Help Essex
---
Thursday 19th October 13.00
Rob Saggs: CHESS
---
future events completed calendar district events local events
---
---
Rotary News
Be part of a global network of volunteers, trying to make the world a better place. Please also see the 'links & news' page for information from the local district and live feeds from Rotary International and Rotary International in GB&I.
Rotary Young Citizen Awards
---
Watch coverage of the 2017 'Rotary Young Citizen Awards', highlighting outstanding young people.
Details on RotaryGBI.org
How Rotary is Funding Polio Immunization in 2017
---
Find out more about Rotary fighting disease
Details on Rotary.org
---
Meetings & Venue
Where and when:
We meet on Thursdays at 12.45 for 13.00
(
Fifth Thursday of the month is an evening meeting at a different venue - contact the Secretary or Attendance officer for details.
)
Hampton Leisure Club (formerly Marconi Sports and Social Club) Beehive Lane, Great Baddow, Chelmsford, Essex CM2 9RX
01245 269422