Featured pages
Rotary Club of Chelmsford - welcome! Please scroll/swipe down through this page to find out more about us, in addition to the pages linked in the menu, top-left.
---
About us


Club Council for 2017-18
Sitting: President Keith Otter and 1st Vice President Anne Moriaty. Standing: Frank Tew (Youth Service), Keith Dabbs (Foundation and International), Eddie Cassels (Secretary), Jenny Black (Membership), Stan Keller (Public Image), Janice Goodman (Community and Vocational), Philip Goodman (Immediate Past President). Not shown: Bob Booker (Treasurer)
Our Club President welcomes you to the club website and invites you to join members in the Fellowship of Rotary. We meet on Thursday lunchtime 1pm at the Hampton Leisure Centre (formerly called Marconi Social Club) Beehive Lane, Chelmsford CM2 9RX. If you wish to obtain further information contact the Secretary - Tel. 01245 263133. To discover more about Rotary and Rotarians go to the RIBI website.
Chelmsford Rotary Club is the original club in the city formed way back in 1927. Since this time members have brought a richness of life to many people in the community and moved on with a broader involvement to incorporate numerous local and international projects. Rotarians offer their services in many different ways. If you have recently moved to the Chelmsford district and wish to put something back into the community, we can offer you an enjoyable and stimulating way of doing so.
The club has a major international project ongoing with Girls High Schools in Sahiwal, Pujab, Pakistan. We are helping to build schools with better facilities & improve the quality of life for studentts. It is also financially helping CHESS, who seek to relieve homelessness and related hardship and distress amongst single adults in Chelmsford and Essex, for the next 5 years. These are but two of the many ways that Rotary in Chelmsford has moved forward in offering a Service to Mankind.
You would be very welcome to come along to a meeting to hear more of what Rotary does and how you could be involved. Just phone or complete the contact form on this website.
19 April 2018: BOTs
Unfortunately we lost touch with the speaker we had scheduled for today. One of our members stepped into the breach at about an hour's notice and told us he would talk about "BOTs".
He explained that the BOTs are the British Overseas Territories. In the days of the British Empire they would have been known as colonies but this new term has been adopted. The United Nations' Decolonisation Committee meets regularly and focuses on the overseas territories still controlled by the United Kingdom, France and the United States, but without taking any practical action.
He gave us a quick description of the British Overseas Territories. Most of the BOTs are self-governing with their own parliaments, political parties and government ministers.
Most visitors to Gibraltar go there to climb the Rock and see the Barbary Apes and the view across to Africa. It came as a surprise to many that the Gibraltarians were entitled to vote in the United Kingdom's EU Referendum.
There are two British Sovereign Bases in Cyprus. These are two small areas used primarily by the RAF and administered by the Ministry of Defence rather than the Foreign and Commonwealth Office. One can pass through them almost without noticing and they use the Euro instead of sterling. Any change in their status is subject to the reunification of the island.
Bermuda is famous for sunshine, cruises and sailing. The main product of the Turks and Caicos Islands is salt. The Cayman Islands are a well-known financial centre and tax haven.
Anguilla became independent as part of St Kitts Nevis Anguilla but wasn't convinced it was being treated fairly by the other islands and asked to come back under British rule. Its population of 13,000 was hit badly by a recent hurricane, as were the British Virgin Islands.
The population of Montserrat is only 6,000. A few years ago it suffered a volcanic eruption which destroyed the capital. A new capital is still being built.
St Helena has a population of 5,000 - and a recently-built airport. The population of Tristan da Cunha is just 200.
The Falkland Islands are well-known because of the Falklands War. South Georgia, which was the first place occupied by the Argentinians during that war, is home mainly to penguins. It was originally used by Norwegian whalers.
The Pitcairn Islands, where the mutineers from the Bounty took refuge, is very remote and has a population of around 50. The British Antarctic Territory is occupied exclusively by scientists.
Before their independence Mauritius and the Seychelles administered a number of other Indian Ocean islands. On independence these were excluded from the new countries and now form the British Indian Ocean Territory. The residents of Diego Garcia were moved to Mauritius and it is now a US military base, although still British-owned.
A quick survey of the thirty members present to see how many had been to each British Overseas Territory produced the following result:
| | |
| --- | --- |
| Gibraltar | 12 |
| British Sovereign Bases in Cyprus | 5 |
| Bermuda | 3 |
| Turks and Caicos Islands | 1 |
| Cayman Islands | 4 |
| Anguilla | 0 |
| British Virgin Islands | 5 |
| Montserrat | 0 |
| St Helena | 1 |
| Tristan da Cunha | 0 |
| Falkland Islands | 2 |
| South Georgia | 0 |
| Pitcairn Islands | 0 |
| British Antarctic Territory | 1 |
| British Indian Ocean Territory | 0 |
Young Musician
We held the local heat of the Rotary Young Musician competition on the evening of Friday, 12 January 2018, at St Cedd's School, who kindly allow us to use their hall and piano for this occasion each year. The Mayor and Mayoress attended. There must have been around 60 people present, including the competitors, their accompanists and family members, and interested Rotarians. Our President acted as MC.
We only invited entries from those who have gained distinctions in specific musical classes at the annual Chelmsford Competitive Festival of Music, Speech & Drama. This year we invited thirteen young people to take part. Ten accepted but one had to withdraw a few days beforehand, leaving us with nine competitors on the night: five instrumentalists and four vocalists. Their ages ranged from 12 to 17.
We drew lots for the order of performance shortly before the start. This decided that the instrumentalists should go first. We had a flautist, a guitarist, two pianists and a trumpeter.Each person was asked to perform for not more than ten minutes. They played a variety of classical and modern pieces. All the performances were of a very high standard, giving the two adjudicators a difficult job.
They were followed by the four vocalists, three of whom were female and one male. It is the first time for many years that a male vocalist has taken part. They similarly had a maximum of ten minutes each. They sang a mixture of classical, traditional and modern songs. Two of the competitors only sang in English while the other two both chose English, German and Italian songs. They all sang without scores or texts, which cannot be easy when you are singing in a language that is not your native tongue. The standard was again very high.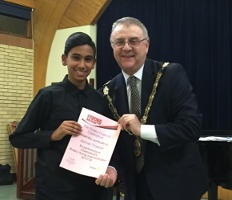 After all the competitors had performed we paused for refreshments while the adjudicators debated between themselves. When all came back together, the adjudicators commented generally on the performances they had heard and addressed a few remarks to each competitor before announcing the winners. They were the flautist, Lottie Anstee, and the vocalist Abbie Ward. The Mayor of Chelmsford, Councillor Duncan Lumley, presented all the competitors with certificates and the winners with trophies as well.
Lottie did not enter the competition last year but won two years ago. This is the fourth consecutive year that Abbie has entered and the third consecutive year she has won. Both will now go through to the District Final next month. Last year Abbie made her way through to the National Final. [Update: Both Lottie and Abbie won their sections of the District Final and will now go forward to the Regional Final.]
We thank Radha Thakkar for allowing us to use her photograph of her son, Jayman, (who played the classical guitar) receiving his certificate from the Mayor.
Winter jumble sale
The biannual jumble sale occurred at Danbury Village Hall
Rotarians and Danbury folk turned up to man their stalls.
November 4th began quite wet with signs of inclement weather.
But no time to fret, and with lots to do, the team all pulled together.
The jumble kept on rolling in, a sign we like to see,
Unpacking bags and sorting goods, being organised is the key.
Plastic here, metal there, and toys in the room next door,The Danbury ladies have it pegged, we couldn't ask for more.
The lunchtime stroll for eats on the green, has now become a ritual,
with jacket spuds and sarnies great and milkshakes — brilliant victuals.
Back at the hall the crowds roll in, no time to take a rest,
The signs are looking very good, this sale could be our best.
By 3 o'clock the crowds have gone, it's time to clear away.
Home for tea, feet up, chill out, it's been a very good day.
At the last count the money raised was £617. The photograph shows some of our members relaxing after their efforts.
Chelmsford City Showcase
On Wednesday, 15 November 2017, the Chelmsford City Council organised a "City Showcase" at Hylands Park. This was a day of business seminars with stalls in the marquee publicising local business and charities. The five Chelmsford Rotary Clubs jointly ran one for Rotary. Each Club took a 1½ hour slot; ours was from 13:00 to 14:30.
Each Club was asked to provide two people but in the event four of our members turned up to help.
The picture shows Jenny Black, Keith Otter and Bob Booker. Graham Furnival took the picture.
We were able to engage a number of those looking at the stalls in conversation. The Rotary Club of Chelmsford Mildmay had provided some leaflets on next May's Baddow Races. "Are you a runner?" proved a useful opening gambit, even if the reply was usually on the lines of "Do I look as though I can run?" Some did take away entry forms, often with a promise to take part themselves or pass the forms on to someone interested in running.
One person did admit "I'm only looking for freebies." You can't win them all!
It was encouraging to discover that most of those who stopped had at least heard of Rotary and had some idea what we were about. We gave out some information leaflets and District magazines. One person told us that her father had been a Rotarian and some of her early memories were of rattling collection tins. (She wouldn't be allowed to rattle them these days.) We tried to persuade her to follow her father's footsteps and become a Rotarian herself. She said she would definitely think about it - once she had retired.
However, we did sign up one potential member, who has already been invited to come to a meeting as a guest. Hopefully some of those who took information away will make further enquiries as well.
From our point of view it was an enjoyable and useful time. Our thanks to the Rotary Club of Chelmsford Rivermead for coordinating the Clubs' efforts.
Happening soon...
Meetings and events happening soon
Thursday 26th April 13.00
Fellowship
---
Thursday 3rd May 13.00
Annual General Meeting
---
Thursday 10th May 13.00
Charlotte Barmby: RAF Benevolent Fund
---
Thursday 17th May 13.00
Fellowship meeting
---
future events completed calendar district events local events
---
---
Rotary News
Be part of a global network of volunteers, trying to make the world a better place. Please also see the 'links & news' page for information from the local district and live feeds from Rotary International and Rotary International in GB&I.
Family Rotary club use skills to kick-start local charities
---
Rotary members unite to tackle world hunger
---
---
Meetings & Venue
Where and when:
We meet on Thursdays at 12.45 for 13.00
(
Fifth Thursday of the month is an evening meeting at a different venue - contact the Secretary or Attendance officer for details.
)
Hampton Leisure Club (formerly Marconi Sports and Social Club) Beehive Lane, Great Baddow, Chelmsford, Essex CM2 9RX
01245 269422