Club Council and Officers for 2016-17
President Philip Goodman (centre) with Stan Keller (PR and Public Image), Janice Goodman (Community and Vocational Service), Eddie Cassels (Secretary), Jenny Black (Membership), Keith Otter (Youth Service and 2nd Vice President), Bob Booker (Treasurer), Graham Furnival (Immediate Past President), and Ray Shaw (1st Vice President).
Our Club President welcomes you to the club website and invites you to join members in the Fellowship of Rotary. We meet on Thursday lunchtime 1pm at the Marconi Club premises, Beehive Lane, Chelmsford CM2 9RX. If you wish to obtain further information contact the Secretary - Tel. 01245 263133. To discover more about Rotary and Rotarians go to the R.I.B.I. website www.ribi.org
Chelmsford Rotary Club is the original club in the city formed way back in 1927. Since this time members have brought a richness of life to many people in the community and moved on with a broader involvement to incorporate numerous local and international projects. Rotarians offer their services in many different ways. If you have recently moved to the Chelmsford district and wish to put something back into the community, we can offer you an enjoyable and stimulating way of doing so.
Chelmsford is the first City in Essex and we congratulate the Council and its citizens on achieving this status. It is the home of many world achievements, none more so than the birth of radio. The club has broadcasted the message of Rotary ever since its inception.
The club has a major international project ongoing with Girls High Schools in Sahiwal, Pujab, Pakistan. We are helping to build schools with better facilities & improve the quality of life for studentts. It is also financially helping CHESS, who seek to relieve homelessness and related hardship and distress amongst single adults in Chelmsford and Essex, for the next 5 years. These are but two of the many ways that Rotary in Chelmsford has moved forward in offering a Service to Mankind.
You would be very welcome to come along to a meeting to hear more of what Rotary does and how you could be involved. Just phone or complete the contact form on this website.
Help us to Celebrate our 90th Anniversary!
Jazz Night - a date for your diary
A Tree Walk in Hatfield Forest
On 19 September, twelve members and guests were shown around Hatfield Forest by a very knowlegable National Trust guide, Keith. Part of Hatfield Forest was designed by Capability Brown, who planted various exotic and non-native varieties such as Giant Redwood. We also saw Oak trees which are around 1,000 years old and learnt about how the forest was managed by pollarding and coppicing.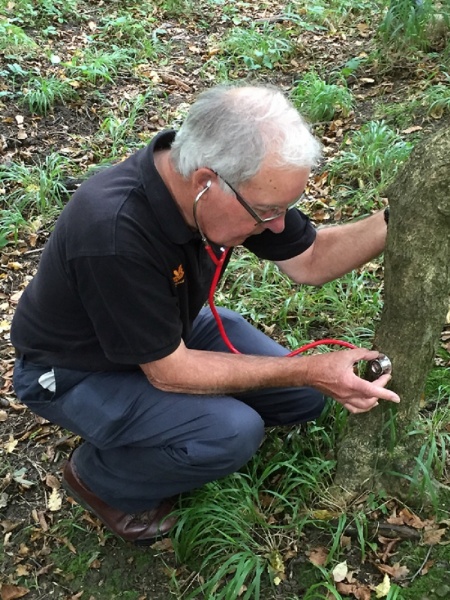 You might wonder what Alan Scott is doing. He has taken talking to trees one step further and is listening to them instead! We all had a try at this, but it is quite difficult to hear the flow of water and nutrients inside the trunk.
Senior Guests' Party
On Saturday 25th June 2016, the Community & Vocational Committee held its annual party at Trinity Methodist Church Link. We were host to 38 guests, the majority of whom were picked up from their homes by members of the club and taken home again afterwards.
On arrival, everyone was given a non-alcoholic Pymms followed by a quiz. Surprisingly, most people knew the colour of a Spanish postbox but few knew what the highest mountain was before Everest was discovered.
We then had our entertainment, which this year was a musical interlude given by four students of Bridget Metcalfe, who spoke at one of our club meetings earlier in the year.
Then we had tea, which is always well received and our guests eventually went home with their 'goody bag', a real treat which they all look forward to. Apart from thunder and a heavy downpour while we were having tea, the weather was very kind to us.
Our guests vary in age and mobility but they all appear to greatly enjoy this afternoon. They don't have to worry about transport to and from the event and they always have a very sociable afternoon with good food.
I am extremely grateful to all those members who p
rovided our guests with transport to and from the party and who baked cakes. I would also like to thank Philip, Graham, Angela and Anne (Scott) for staying and helping during the afternoon. It is always very hectic but immensely satisfying when things go well.
As usual, Sheena ran a sales table for Farleigh Hospice, which raised a pleasing £90.00
Janice Goodman
Visit to the Hanningfield Smokehouse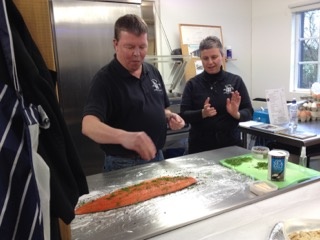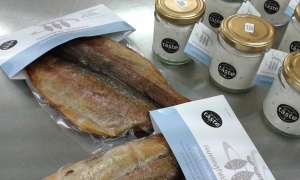 On Saturday 20 February a group of members and partners visited the Hanningfield Smokehouse where Colin and Katja showed us how they prepare their fish, pate, olives, garlic and cheeses.. There was plenty of opportunity for tasting the finished products, and of course for buying them too! Look out for their food on sale at local farm shops, farmers' markets and Chelmsford Co-Op.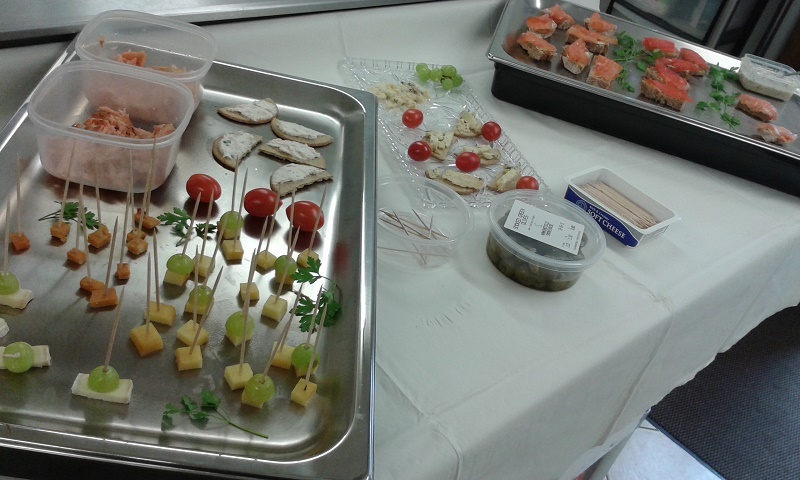 Fundraising in Danbury
President Graham preparing the auction of goods at our jumble sale in Danbury.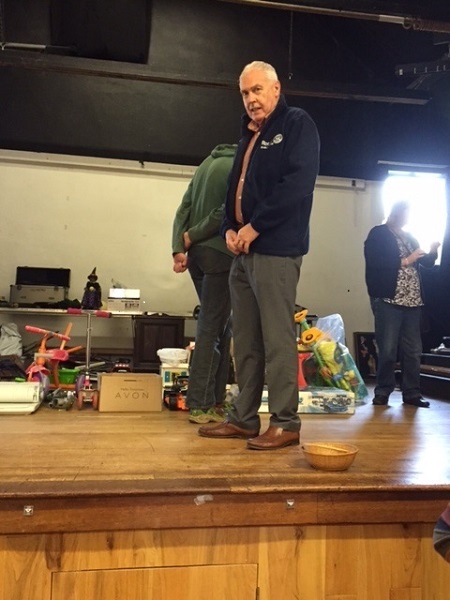 And Vice President Phil looking very happy in his new club fleece!
A Day at the Races!
Well, just an afternoon really - with tea and lots of cake! This was a social event organised by Alan Scott and attended by around 30 members, partners and friends. Everyone enjoyed themselves (even if they were proved to be poor judges of which horses would win), and Alan was asked to present the prize to the owner of 'Ninety Minutes', winner of the second race.
Climbing O2 summit to celebrate Rotary Milestone
Eddie Cassels joined a group of Rotarians from all over the country who scaled the O2 Dome on Monday 23 February to celebrate Rotary's 110th birthday. He raised funds for Rotary�s End Polio Now campaign Walk for Water, which helps provide clean water for children in Africa.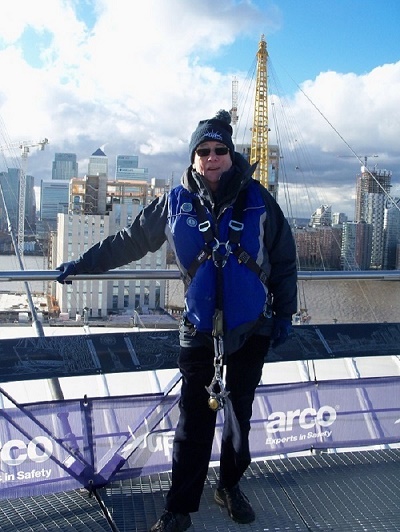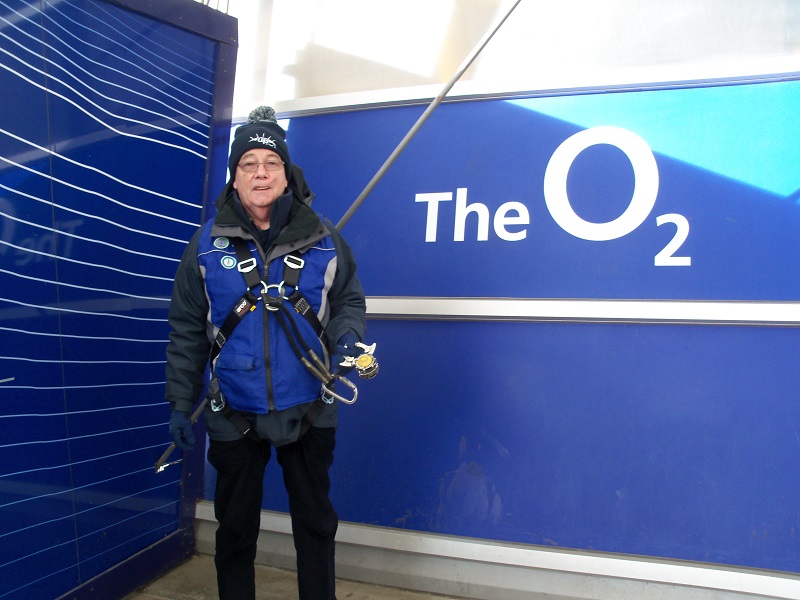 Photograph Competition 2014/15
Chelmsford Rotary Club held a winter photo competition open to members of the five Chelmsford Rotary Clubs and Rotaract. The subject was 'Winter in Essex' and open to indivividual interpretration. Judging took place on 2 April and the winning photo was called 'House - North Fambridge by Angela Dickman of the Chelmsford Rotary Club. Runner up was 'Logs - Thrift Wood' by Alisair Simpson of the Chelmsford Milmay Rotary Club.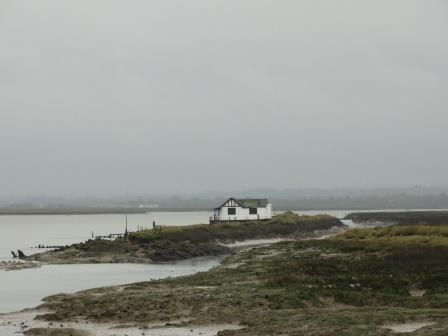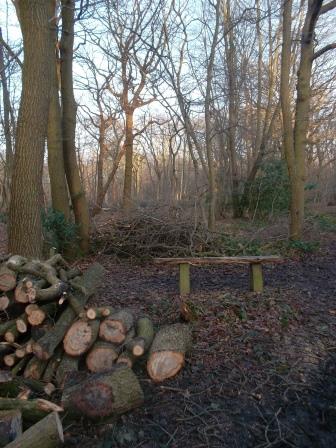 Pictured below, Rotarian Angela Dickman receives her winners prize, a cheque for �30 from Chelmsford Rotary Club President, Jenny Black.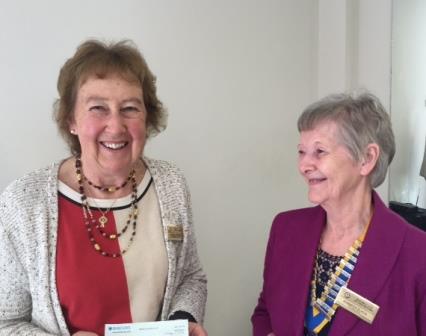 Annual Jumble Sale
Our annual jumble sales will take place on Saturday 13th June 2015 and Saturday 31st October 2015 at Danbury Village Hall.
Jazz Night - 2015
Keep an eye out here for details of our next Jazz Night.
It seems impossible that so many festival-goers just walk away at the end of the event leaving tents, sleeping bags, tables, chairs, mattresses and a huge amount of rubbish! Charities have a window of one and a half days to collect whatever they can, the rest is cleared by contractors and mainly goes to landfill. This year we were collecting smaller tents and sleeping bags for CHESS, the Chelmsford charity which helps the homeless.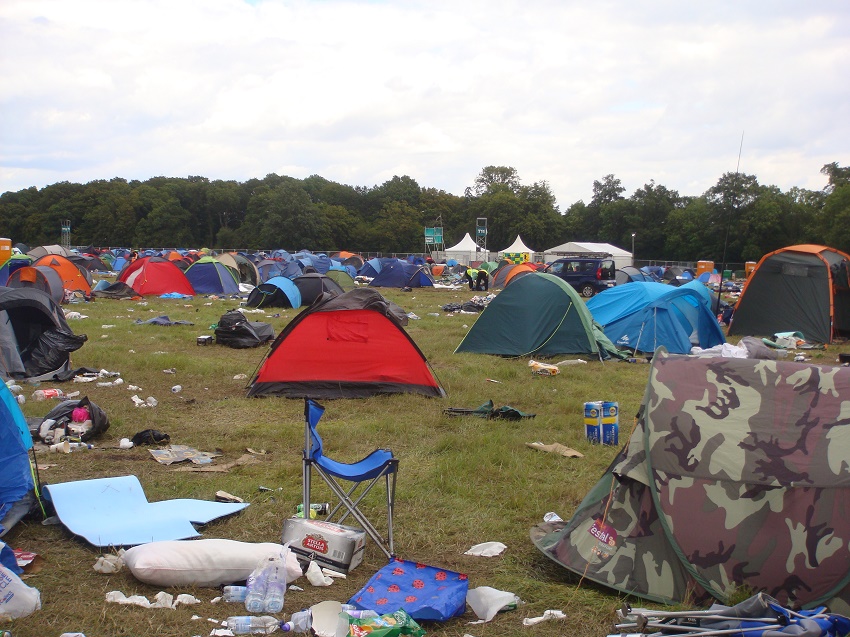 This is the scene at the festival ground - and it stretches as far as the eye can see.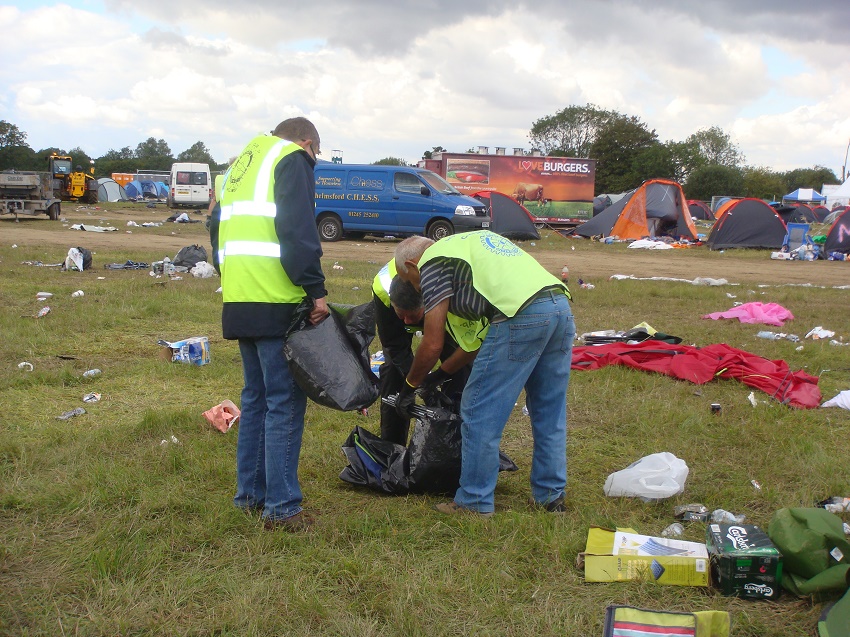 Packing tents into bags - not always easy, but it is important to keep all the tent poles and pegs with the tent. The CHESS van is standing by to take away whatever we can salvage.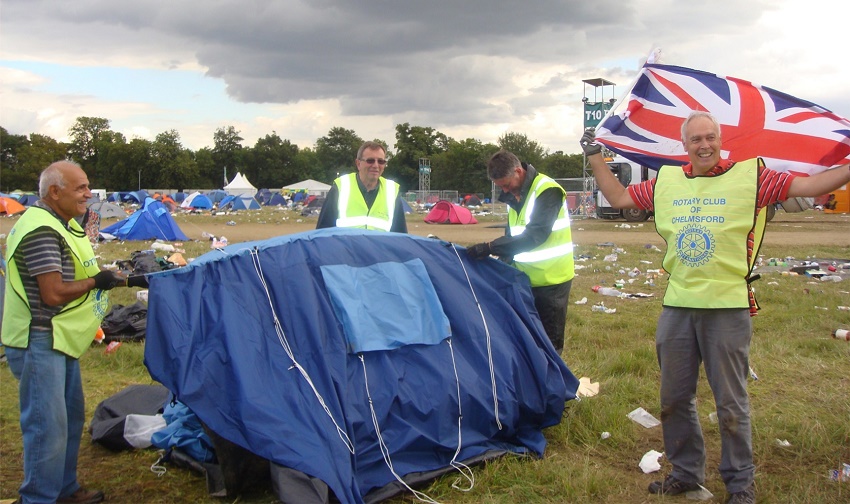 Meeting Details
Interested in joining Rotary
In the next 30 days...
Meeting Information...
We meet on Thursdays at 12.45 for 13.00 (Fifth Thursday of the month is an evening meeting at a different venue - contact the Secretary or Attendance officer for details.) Marconi Sports and Social Club, Beehive Lane, Great Baddow, Chelmsford, Essex CM2 9RX tel: 01245 269422