Morecambe Bay Walk
Sat 10th September 2016 at 11.15 - Wed 13th September 1916 - 09.00
This was a walk across the Bay under the leadership of the Queen's Guide Cedric Robinson and team.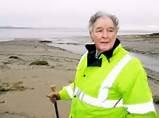 | | | |
| --- | --- | --- |
| Rotary Club | | of Skipton |
The walk across Morecambe Bay with the Queens Guide, Cedric Robinson, took place on Saturday 10th September 2016. It was open to Rotarians, Friends and Family.
Beginning from the foreshore at Arnside, late morning, the walk was around 9 miles distance and took perhaps 4½ to 5 hours to complete. Everyone did complete without any real incidents.
There were several hundred people on the walk made up many others and not just the RC Skipton. The walk's guide was assisted by a team of people, there to ensure our safety.
During the walk we had to negotiate the channels and gullies, soft sand and river channels with flowing water. It was generally a flat terrain but hard going in places, considering the obstacles.
There were no toilets on the walk (but lots of 'natural facilities') !
Rescue facilities are available in Morecambe Bay but on this occasion were not needed to be deployed.
Our own entry fee of £10 was in support of the Club's International Funds. The Guide and his team make no charge but we considered it appropriate to 'tip' in gratitude at the end of the walk.
Donations to our cause may still be made at http://uk.virginmoneygiving.com/team/MBW
This was a fun event on a perfect day (weather wise) and was undoubtedly enjoyed by all who took part.
Our thanks to all who have (and might) still donate.