Charity Golf Day
Fri 25th August 2017 at 12.00 - 17.00
Our annual Charity Golf Day which raises funds for various charities, including Trossachs Mobility and the David Nott Foundation.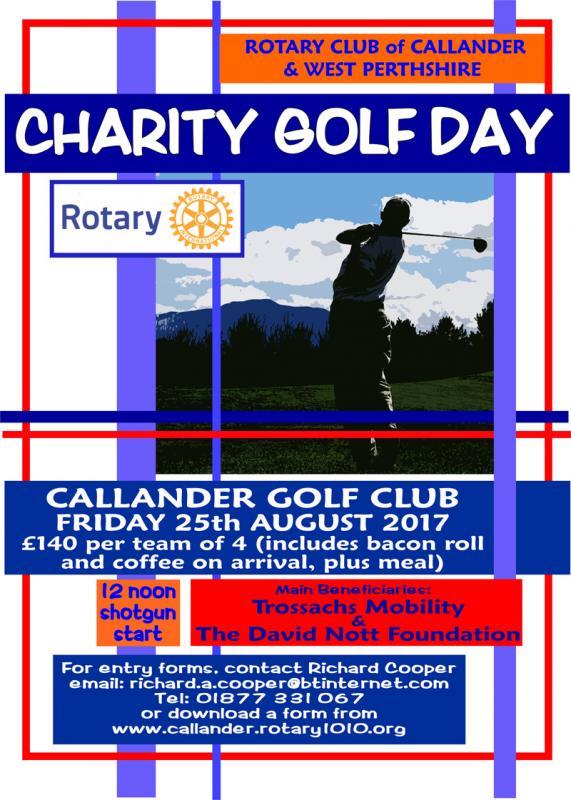 Our Charity Golf Day has been running for many years now and is our number one fundraising activity. Once again the event was blessed by decent weather and 10 teams took to the fairways. The purpose of this event is to raise funds for our Charity Account which we use to disburse funds to a variety of charities and causeses. However, a portion of the funds raised will go to the specific charities of 'Trossachs Mobility' and an international charity - 'The David Nott Foundation'. The event took place at Callander Golf Club on 25th August and followed the 'Shotgun' format.
Once all expenses were met, the event raised a net sum of just over £1,800. Our thanks go to all those who took part in the event as well as the local businesses and individuals who either sponsored a hole or provided prizes. Indeed some, did both.
'Trossachs Mobility', based on Main Street, Callander was created to enable anyone with limited mobility to explore the beautiful Trossachs countryside. More information can be found by visiting their website - trossachsmobility.com.
'The David Nott Foundation' is a UK registered charity which provides surgeons and medical professionals with the skills they need to provide relief and assistance in conflict and natural disaster zones around the world. More information can be found by visiting their website - davidnottfoundation.com.