Featured pages
Rotary Club of Jedburgh - welcome! Please scroll/swipe down through this page to find out more about us, in addition to the pages linked in the menu, top-left.
---
About us
Please note that we are trying to get our site brought up to date and improved. Desperately in need of a website expert!
2017 Scottish Rotary National Grayling
Fishing Competition
To be held on Saturday 2nd December 2017 on the River Teviot
GraylingFishingCompRules_2017_event.doc

Graylingentryform_December_2017.doc

Welcome to the Rotary Club of Jedburgh, from President Tony Rae and all the members

.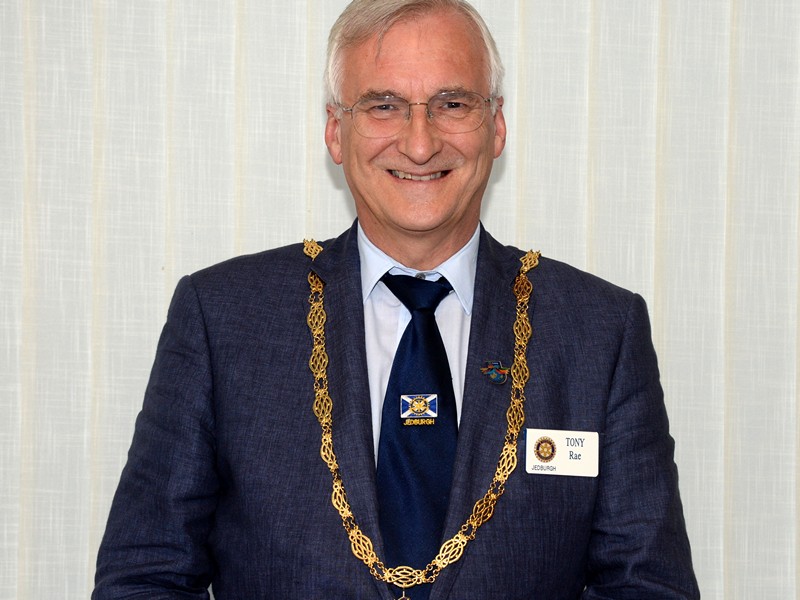 2015/16 – The Rotary Year Ahead
It is a great privilege and responsibility to be chosen to lead The Rotary Club of Jedburgh as President and I am honoured that the members have considered that I am up to the task ahead. Thank you for your approval and endorsement. Past-President Gordon has led the Club with great enthusiasm and determination for the past two years and he is going to be a hard act to follow!
Some time ago Britain's then oldest man – the Rev Reginald Dean – died at the age of 110. He was interviewed on TV at the age of 108. During that interview he offered some wise advice. "Each person should, at some point in their life, ask three questions: Who am I? Why am I here? Where am I going?" The start of the new Rotary Year is a good time to ask these questions in terms of Rotary.
Who are we?
We are a diverse group of people – business folk and professionals from a wide range of occupations with a wide range of experience, expertise and skills, although many of us are retired (or supposed to be!).
Why are we here?
We are in Jedburgh Rotary Club because we share certain ideals and principles. We develop friendships and acquaintances as an opportunity to serve others, here in our community, in the Borders and further afield. We hold to high ethical standards. We apply the ideal of service in our personal, our work and our community lives. We encourage the advancement of understanding, goodwill and peace. We enjoy the fellowship and fun we have in the Club and in its activities. Above all, we try to adhere to "Service Above Self".
Where are we going?
Our World is in a constant state of flux and our society is changing rapidly – and alarmingly. Life for us now is very different compared to what it was when Rotary was first conceived by Paul Harris in the early 20th century. Our country – and the world – is a very different place to what it was when the Rotary Club of Jedburgh was first chartered 40 years ago. We face many challenges.
In spite of the obvious wealth of the western world, there is a growing need even here in our own country and community for financial help for people experiencing difficulties in everyday life – for both adults and children. I will encourage the Club to continue to seek out and respond to these needs in our community by, for example, continuing to support the local Food Bank and the Borders Children's Charity to name but two.
Our children are our future and I will endeavour to increase our support of the local schools and nurseries. It is also important to encourage our young people to develop their abilities and learn new skills. The Club will be running the Young Writers and Young Musicians competitions. We will promote sports through the Junior Fishing and Junior Golf competitions and we will encourage leadership skills by sending a boy and a girl to the RYLA week on Loch Tay in 2016.
Looking further afield, many of our International initiatives and projects are on-going. For example, our promise to raise £1000 for "End Polio Now" for each of 5 years enters its third year. One area I wish to move forward is the provision of clean water in Third World countries. We have already "dipped a toe the water" by providing the funding for a "Community Life Straw" for a school in Africa through our link with the Fort Lauderdale Rotary Club in Florida. I would like to take this initiative much further, as providing the means to get clean water can save and improve life for hundreds of people.
Finally, I look at our Club. Over the last 40 years the Rotary Club of Jedburgh has made a difference. To continue the work that we do and to continue to be able to make a difference in our community and beyond, we need to bring new blood into the Club – both men and women, hopefully a bit younger than the majority of us! – to share fellowship and fun. We need to tap into fresh ideas and have the vitality to make that difference. Each of us must strive to raise the profile of our Rotary Club as a dynamic but caring local organisation so that others will want to join. Increasing the membership will ensure that the Club goes forward with strength and purpose into the years ahead, putting 'Service Before Self'.
Tony Rae
President
Annual General Meeting Report
The report of Jedburgh Rotary club's year can be read here. You will be supprised at how much one small club can do in a year. If you would like to get involved please contact us.
Rotary Easter Egg Donation to BGH
Jedburgh Rotary Club were delighted when Beverley Turner at the Jedburgh Chocolate Shop offered to donate a huge chocolate Easter Egg as a raffle prize, tickets to be sold in aid of Rotary funds. President Gordon Stuart and his wife, Jane, went into the shop to stock up on chocolate and bought some raffle tickets.
Gordon was dumbfounded when some time later, it was his ticket that was the lucky winner! Gordon decided to donate the giant egg to the Children's Ward at Borders General Hospital, and can be see here handing it over to staff.
The gesture really brightened the day of the children and staff at the ward. Many thanks to the Jedburgh Chocolate Shop, who donated both the egg and the proceeds of the raffle to win it. Thanks also to the customers who bought tickets, raising about 50 pounds for Rotary charity funds.
Plans For the Future
The Rotary Club has structured how it will provide support to the jedburgh and wider community please click the link
Shoes for Chernoybl Children Project Report
To read the report click the link. to read about the visit click the link.
Paul Harris Fellow
On Friday 8th November 2013 President Gordon had the privilege to award the Paul Harris Fellow to TWO members of the club during his presidents night. The First recipient was Dr Eddie Muir and them to Rtn Mike Bryden. This was a very popular decision with the club and President Gordon and all Rotarians at Jedburgh congratulate them.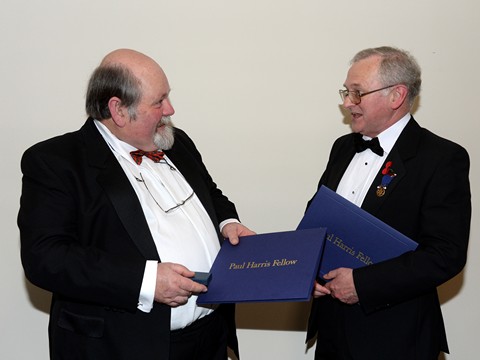 Junior Fly Fishing at the Hass Loch
On Saturday 21st September Jedburgh Rotary Club held another of their highly successful Junior Fly Fishing days, thanks to the generosity of Jedforest Angling Association. The day was held at the Hass Loch near Carter Bar and nearly a dozen youngsters aged between 6 and 16 took part. Some of the anglers were experienced, but most of them were trying fly-fishing for the first time. Full article
Handover to President Gordon 4th July 2013
A new bell rings in the Jedburgh Rotary Club's annual calendar. President Steve handed over his chain of office to President Gordon Stuart. In Steve's address to the club he thank all the members for their support during his year in office and wish Gordon a very happy and fruitful year.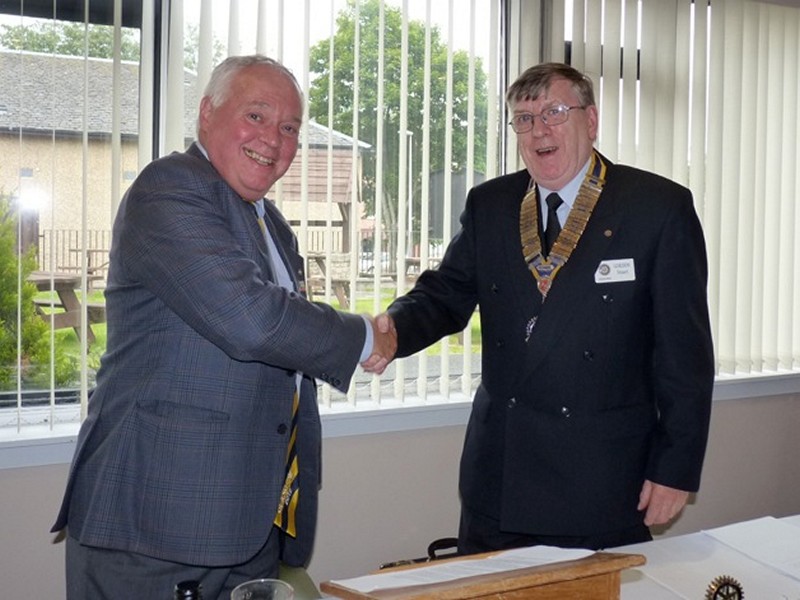 VISIT OF CALLANT GARY RAMSAY JUNE 2013
The Jethart Festival Principals with President Steve Smith at the end of June.
L to R - Right-Hand Man Iain Chisholm, Callant Gary Ramsay, President Steve Smith, Left-Hand Man Ryan Miller, Herald Allan Learmonth

CITIZEN OF THE YEAR AWARD JUNE 2013
Rotary President Steve Smith welcomes Brian (Chico) Woods to the Club meeting to receive his Citizen of the Year award
SUPPORTIVE PARTNERS SUPPORTING ROTARY
The Jedburgh Club has been given a Masterclass on fundraising from three of the Members wifes. (L-R Jane Stuart, Cleland Sudlow and Liz Spowart). They have been attending car boot sales across the Borders to raise funds for Rotary. To date they have raised £2000. This is a brilliant effort by the ladies who took thgis on to show us how to do it.
Thanks for the lesson Jane, Cleland and Liz.


---
Rotary News
Be part of a global network of volunteers, trying to make the world a better place. Please also see the 'links & news' page for information from the local district and live feeds from Rotary International and Rotary International in GB&I.
Rotary Young Citizen Awards
---
Watch coverage of the 2017 'Rotary Young Citizen Awards', highlighting outstanding young people.
Details on RotaryGBI.org
How Rotary is Funding Polio Immunization in 2017
---
Find out more about Rotary fighting disease
Details on Rotary.org
---
Meetings & Venue
Where and when:
We meet on Thursdays at 1800
The Carters Rest, Abbey Place, Jedburgh TD8 6BE
01835 864745