Welcome to the Rotary Club of Westminster West.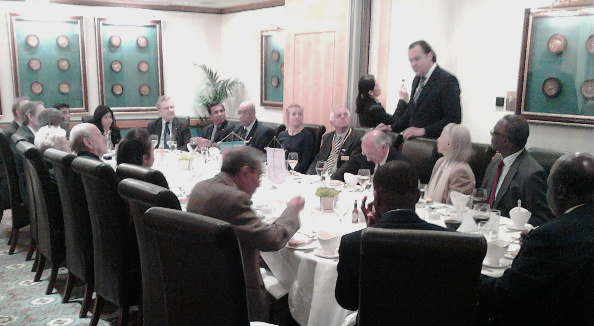 The Rotary Club of Westminster West is an active club centrally located in Victoria, London. It meets at The Rubens Hotel, Buckingham Palace Road - literally across the road from the rear of Buckingham Palace. As a result, this Club has the exceptional feature of attracting both national and international visitors to its meetings.
The club has lady members and its Rotarians are delighted to offer warm fellowship to all visiting Rotarians at their meetings, which are held every Wednesday at 12.45pm for the start of the meeting at 1pm.
The Club has a year-end recess and does not meet from mid-December till the end of the 1st week of January.
All non-Rotarians interested in finding out more about Rotary are encouraged to contact the Club by clicking on the 'Join Rotary' button. We would be pleased to hear from you and there is no obligation to join the Club. You may be invited to attend a meeting to explore Rotary.
Club meetings run for one hour from 1pm to 2pm. The lunch costs £20 per person and consists of a three course meal. There are two choices of starters. The main meal consists of a buffet from the hotel's carvery. There are a variety of choices to suit everyone's expectations. The dessert comprises a good selection of English specialities from the dessert trolley. This is one of the best 'value for money' lunches in a Central London boutique hotel. All visiting Rotarians may bring their spouses and guests to the luncheon meetings. The dress code for visiting Rotarians is smart casual or jacket and long pants. A tie is optional.
Come and enjoy great fellowship with a sumptious lunch. Visiting Rotarians may turn up for the meetings without any advance notice to the Club.
Meeting Details
Interested in joining Rotary
Meeting Information...
We meet on Wednesdays at 1300 hrs (The Club meets on the 1st & 3rd Wednesdays of each month. ) Meeting Venue: the BBar next to the Rubens Hotel - 43 Buckingham Palace Road, London SW1W 0PS tel: 020 7958 7000