Welcome to the Rotary Club of Sandwich
The Rotary Club of Sandwich is part of District 1120 and was founded on 5th January 1956. Its membership is made up of residents of Sandwich and surrounding villages. Currently there are 36 members but we are always pleased to welcome anyone who wishes to join us.

The Charter for the club is mounted on a panel which is displayed during club meetings
We are an active club with a number of events including the Golf Day, which in 2017 will be held on Friday 5th May. Further details and applications to play can be found on the Events Pages
The second major event is the Annual Duck Race on the River Stour on August Bank Holiday Monday.

We are involved inSandwich Salutes the 40's weekendand further details can be found on the Events Page

We are "twinned" with two contact clubs, Armentià¨res in Northern France and Renaix in Belgium.
Fellowship Walk, The Time Capsule and the Plaque
Fellowship Walk
In 2005 Sandwich Town Council wrote to Kent Highways recommending that the footpath which runs in a south easterly direction from the junction of Whitefriars Meadows and the Cattle Market alongside the Guildhall Car park to the Rope Walk be named Fellowship Walk in recognition of one of the fundamental principles of Rotary which is Fellowship.
Originally, opposite to the end of Fellowship Walk, on the bank of the Butts a rose bed was planted, however the subsequent growth of the surrounding trees meant that the roses failed to flourish and the rose bed is now in the grounds of St. Peters Church.
The Time Capsule
In 2006 the Rotary Club of Sandwich celebrated its 50th anniversary. One of the events to mark this anniversary was that the club buried a time capsule alongside the footpath know as Fellowship Walk. Tony Cook, a previous Club Secretary was President and he was assisted by the President Elect David Robertson in placing the capsule. The Capsule, which is enclosed in lead contains a number of memorabilia tracing the club's history and details are lodge in the Town Archives with instructions that it be recovered in 2056.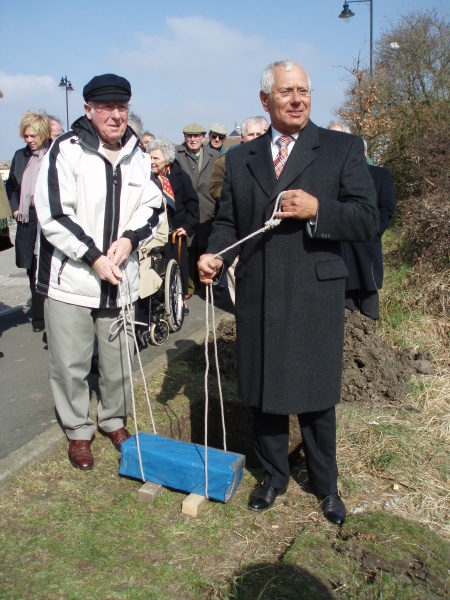 The Plaque
In February 2007 a plaque was placed at the location of the Time Capsule this was unveiled by the then President David Robertson. the Mayor Cllr Simon Leith and Mayoress took part in the unveiling.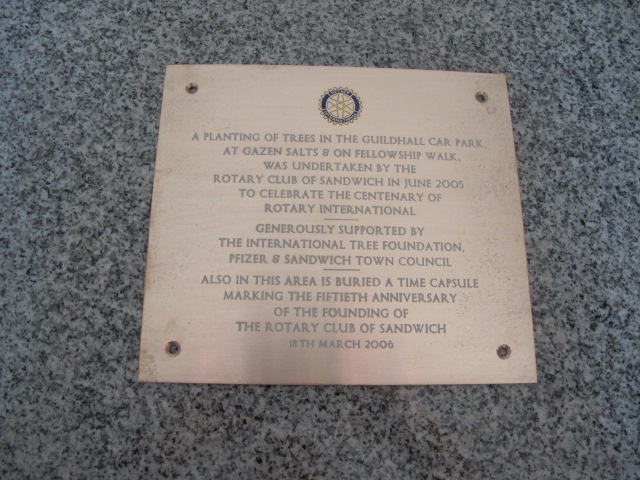 Recently the club decided that the mounting of the plaque was too low and afforded an attraction from certain canine residents of the town. It was removed and a more appropriate granite pillar was acquired. This has now been erected and the plaque has been remounted on the pillar.
Meeting Information...
We meet on Tuesdays at 1900 ((1st Tues at Kings Arms Hotel, Strand Street)) The Bell Hotel,
Sandwich CT13 9EF tel: 01304 613388