Welcome to the Rotary Club of Sandwich
The Rotary Club of Sandwich is part of District 1120 and was founded on 5th January 1956. Its membership is made up of residents of Sandwich and surrounding villages. Currently there are 35 members but we are always pleased to welcome anyone who wishes to join us.

Sandwich is a famous medieval town and has a variety of historic buildings. The picture below depicts the Barbican, one of the two surviving gatehouse protecting the town. The Barbican stands next to the bridge over the River Stour to the north of the town.The other gate house known as Fishergate is some 130 metres away along the Quay.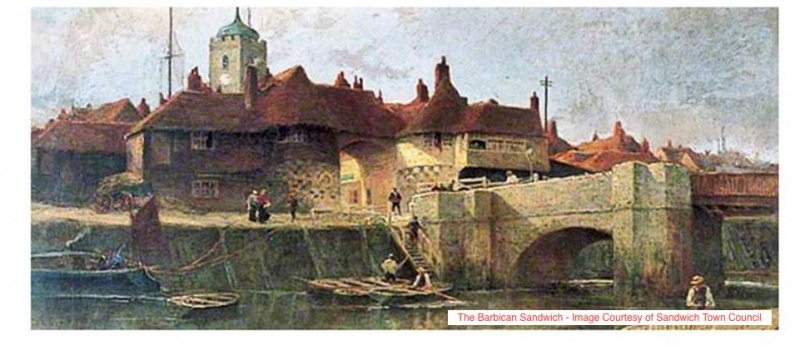 The majority of our meetings are help in the Bell Hotel which is behind the Barbican.

On Bank Holiday Monday at the end of August the club holds its second major event which is the Annual Duck Race on the River Stour on August Bank Holiday Monday.
We are an active club with a number of events including the Golf Day, which in 2017 was held on Friday 5th May.

We were involved in Sandwich Salutes the 40's weekendand, further details can be found on the Events Page

We are "twinned" with two contact clubs, Armentiàres in Northern France and Renaix in Belgium.
Chris Trim

On Saturday 20th May, the club learnt the sad news that the immediate past president, Chris Trim had passed away after a long and dignified fight with his illness. He will be greatly missed.His funeral was on Wednesday 31st May 2017
Meeting Information...
We meet on Tuesdays at 1900 ((1st Tues at Kings Arms Hotel, Strand Street)) The Bell Hotel,
Sandwich CT13 9EF tel: 01304 613388